Summer has officially begun! That is why Cowboy Charcoal and I have been hard at work making some killer recipes to cook in the warmer weather. One recipe is this Rum and Cola Shrimp recipe cooked in a wok of the hot coals. Little ode to one of my favorite drinks to have on a hot summer day.
Rum and Cola Shrimp ode to Cuba Libre?
One of my favorite drinks during the summer time is then Cuba Libre. This is a simple cocktail that combines white rum, cola and lime juice. It is both refreshing as it is delicious. I obviously love rum in my food… But as I was sitting in my backyard grilling as usual, when I had an epiphany! What if I used these flavors to grill something? And that was the beginning of this Rum and Cola Shrimp recipe.
With the sweetness of the rum and cola combining with the citrus flavor of the lime, I thought it would be really cool to use this on some seafood grilled over some hot Cowboy Charcoal and some good wood chunks.
Cooking this Rum and Cola Shrimp
You are gonna start out with some delicate shrimp that are seasoned with the classic trio of salt, pepper and garlic. Add a little oil into that mixture and you should be ready to start cooking. Preheat your Cowboy Charcoal and then add a cast iron wok over the flames. I chose a wok because it helps to cook the shrimp deeper in the Rum and Cola Sauce.
Next, add the shrimp! Grill till they are a "C" shape. That is the ideal way of knowing if they are fully done. Once they are good, you will pull them off and start making the sauce. Deglaze the pan with the rum and then add all the other sauce ingredients. Once the sauce has reduced my half, you are ready to add the shrimp back in! Let the Rum and Cola shrimp soak in the sauce for about 30 seconds, then top with your garnishes. It's that easy!
Time to Eat
This is a simple and fun little recipe to try in your backyard over some hot Cowboy Charcoal! Throw it over some rice, fried plantains or just eat it right out of the skillet. Can never go wrong with a cook Rum and Cola Shrimp! Cheers!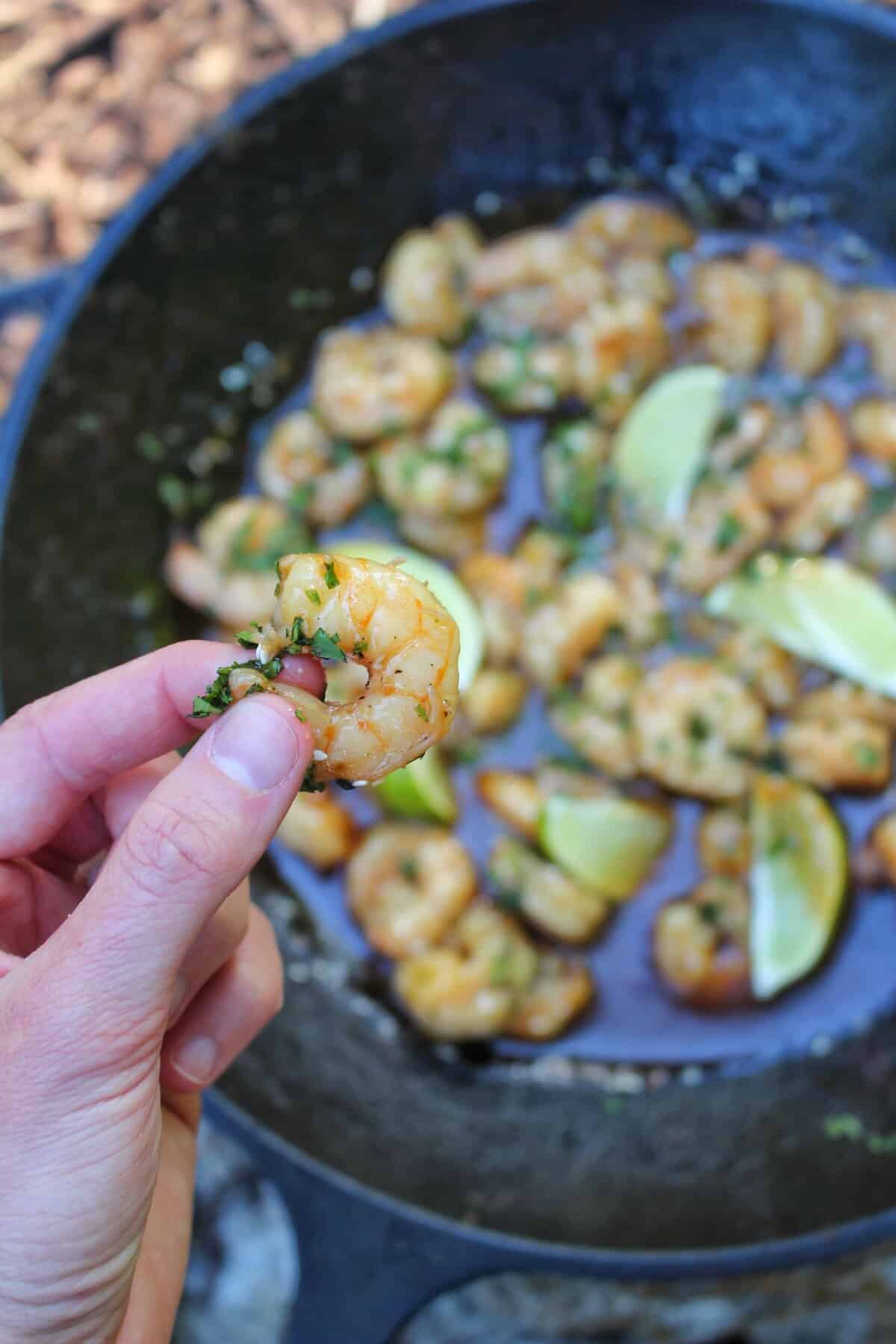 This article does contain affiliate links to products that we personally use and support. Purchasing an affiliate product does make us a small commission at no cost to you. This helps us continue creating for our website. All words and opinions are our own, and we appreciate your support!
Rum and Cola Shrimp
Short, simple and sweet recipe for the outdoor cooking lifestyle. Try these Rum and Cola Shrimp for a refreshing meal!
Ingredients
Shrimp:
2

lbs

of Shrimp

peeled & deveined

2

tsp

of Sea Salt

2

tsp

of Black Pepper

2

tsp

of Garlic Powder

2

tbsp

of Olive Oil

Sesame Seeds

for garnish

Chopped Cilantro

for garnish

Wedged Limes

for garnish
Rum & Cola Sauce:
⅛

cup

of White Rum

½

cup

of Cola

¼

cup

of Teriyaki Sauce

1

tsp

of Agave Syrup

1

Lime

juiced
Instructions
Using Cowboy Charcoal, fill one chimney full of coals, light and let preheat for 15 minutes for medium high heat (about 350F). Pour coals into the grill into one pile for direct cooking.

Lather your shrimp in olive oil then season with sea salt, black pepper and garlic powder. Preheat your wok/skillet 2-3 minutes before cooking and add a little oil to it as well.

Add your shrimp and cook for 3 minutes or until almost done. Once done, pull off shrimp and let rest.

Re-add your wok/skillet to the grill and deglaze using rum. Let the rum simmer for 2-3 minutes until slightly reduced, then add cola, teriyaki sauce, agave syrup and lime juice. Let sauce simmer until reduced in half. Still often to prevent burning.

Once sauce is done, add shrimp back to the skillet and simmer in sauce for 30 seconds. Garnish with sesame seeds, cilantro and limes! Enjoy!