Memorial Day Weekend marks the beginning of summer and the start to the official Grilling Season. What does that mean? Well, it means that you need to get outside and cook something! How about some Spiced Rum Chicken over hot Cowboy Charcoal? This recipe is easy to make perfect while you drink your beer and enjoy the sunshine. Find some tips below to make it epic!
Keys to Making this Spiced Rum Chicken:
1. Marinate Overnight
I have said it before and I will say it again, the key to getting juicy delicious chicken in marinating it. That is right, prepping the chicken the night before and letting it sit in the fridge with the marinade will help seal in flavor and give moisture on the meat.
Now sometimes you do not have 12 hours to marinate a chicken, so I recommend letting it marinate for at least 4 hours. While a 4 hour marinated chicken will taste different than a 12 hour marinated chicken, overall it will be super delicious. So plan ahead and marinate your Spiced Rum Chicken!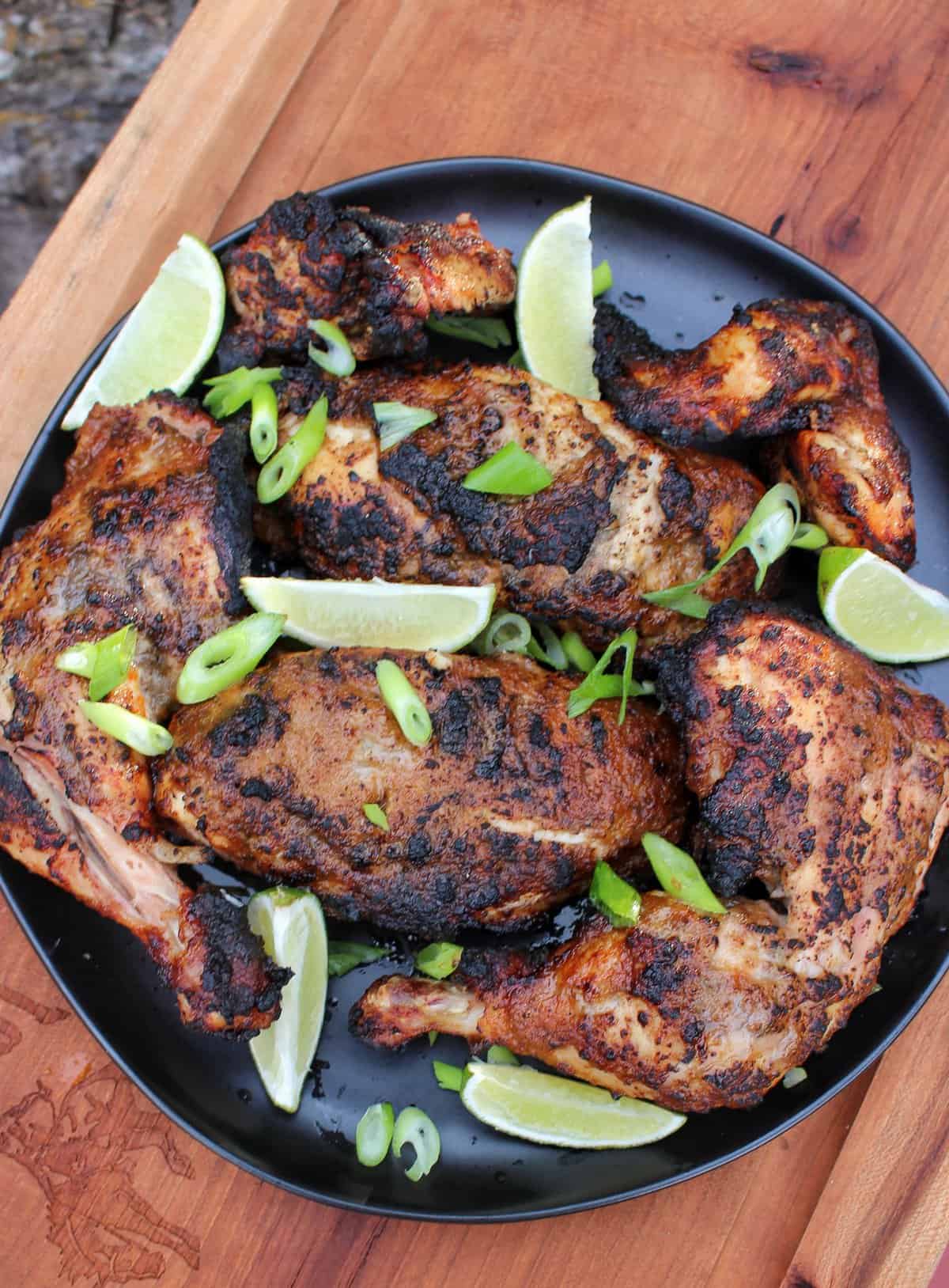 2. Two Zone Cooking
For this cook, I tried a unique cooking style where you sear the chicken quickly to get a crust and then smoke it until it is done. This can only be accomplished by doing two zone cooking with your Cowboy Charcoal.
What is two zone cooking?
Well, this is the process of having one side of your grill filled with hot coals and one side completely empty. This is great for getting juicy chicken because you can quickly sear to get that crispy crust and then pull them over to the indirect heat side to slowly cook without losing the crust or moisture. Try it on this Spiced Rum Chicken and you will not regret it.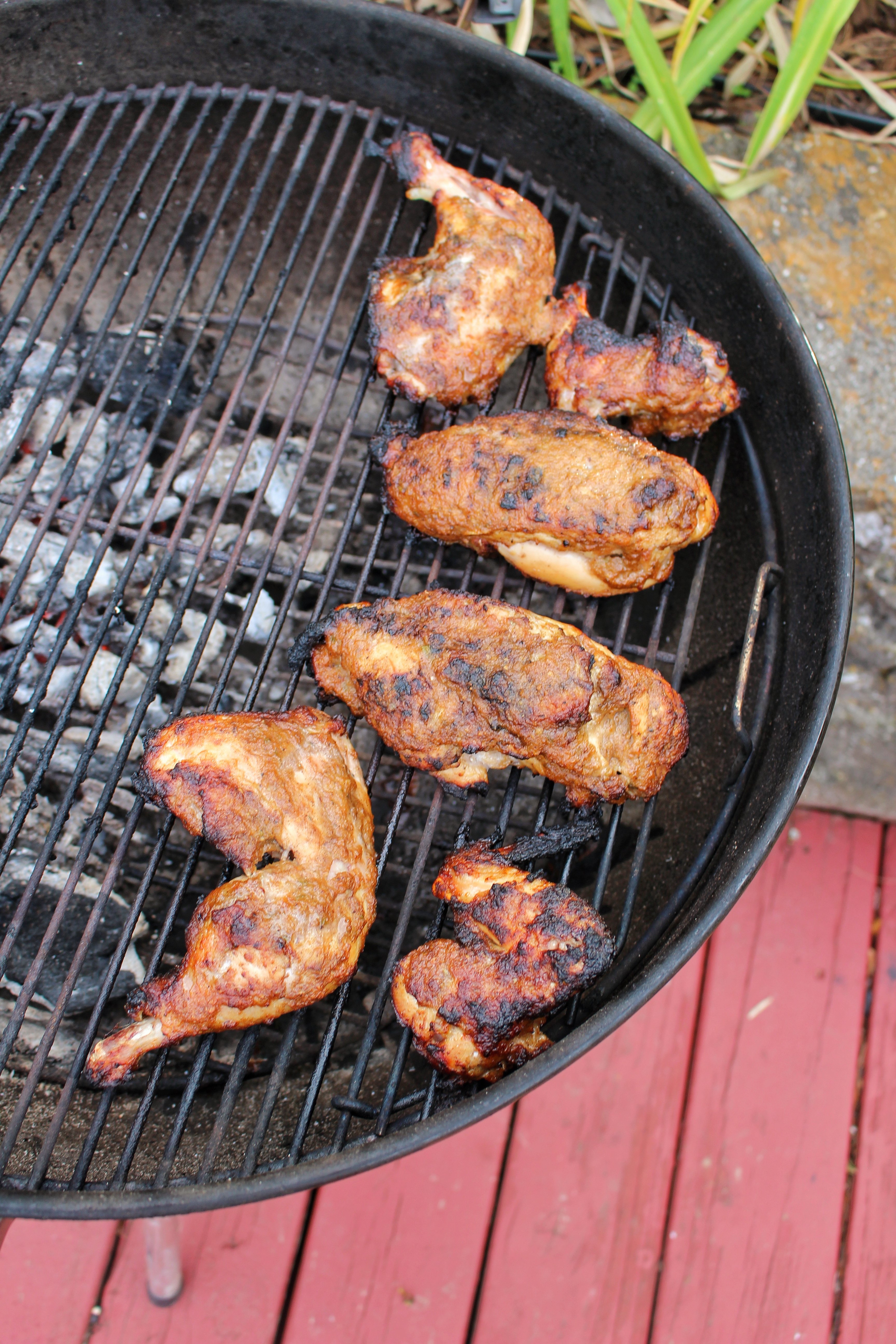 3. Mix it Up with Wood Chunks
Last but not least, add some wood chunks to your Spiced Rum Chicken. There are a ton of ways to use wood chunks when grilling, but I highly recommend mixing them in with the Cowboy Charcoal as fuel. While wood chunks are primarily thought of as going on top coals to add smoke flavor, however I love using them as a fuel source. They will mix in with the coals and get the fire hotter faster. They will also give off even more smoky goodness as they continue to burn. Try it now with your Cowboy Charcoal!
Time to Eat some Spiced Rum Chicken
Spend Memorial Day cooking over fire with family and friends. Try any of my recipes! I have some great cooks that go super will when used with Cowboy. This Spiced Rum Chicken, however, might be the ticket to a uniquely satisfying cook for the weekend. Enjoy!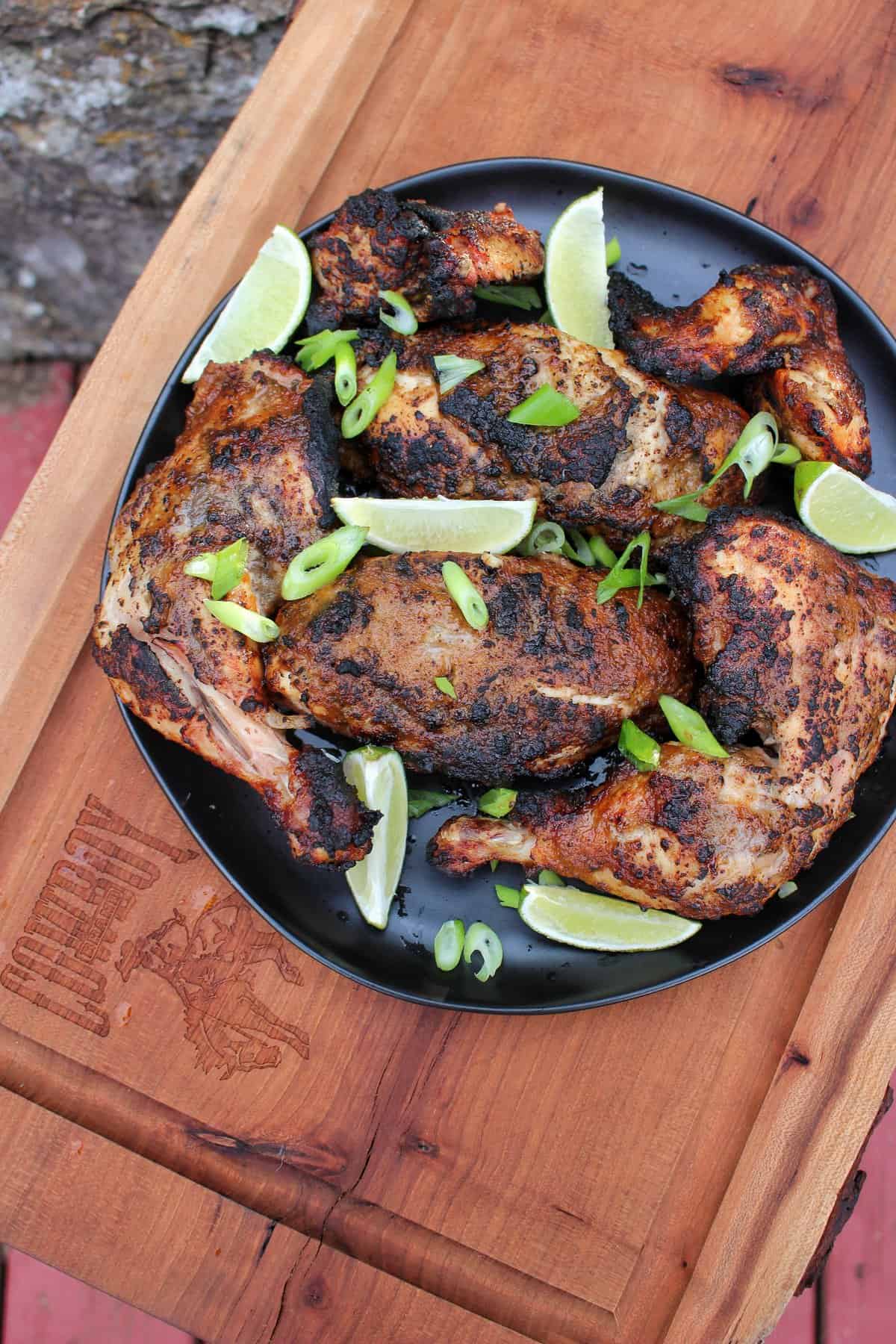 This article does contain affiliate links to products that we personally use and support. Purchasing an affiliate product does make us a small commission at no cost to you. This helps us continue creating for our website. All words and opinions are our own, and we appreciate your support!
Spiced Rum Chicken
Wanna spice things up for Memorial Day Grilling? Try this Spiced Rum Chicken full of savory sweet flavor with a little kick at the end.
Ingredients
Chicken:
8

Piece Chicken

Scallions

for garnish

Limes + Juice

for garnish
Marinade:
¼

cup

of Pineapple

cubed

¼

cup

of White Onion

cubed

¼

cup

of Spiced Rum

⅛

cup

of Teriyaki Sauce

2

tbsp

of Scallions

chopped

2

tsp

of Habanero

chopped

4-6

Garlic Cloves

2

Limes

juiced

1.5

tbsp

of Sea Salt

1

tbsp

of Cinnamon

2

tsp

of Black Pepper

1

tsp

of Allspice

1

tsp

of Nutmeg

1

tbsp

of Olive Oil
Instructions
Add all your marinade ingredients to a blender and blend until smooth. Place your chicken in a food safe container and add marinade. Mix thoroughly and place in the fridge to marinate overnight.

Using Cowboy Charcoal, fill one chimney full of coals, light and let preheat for 15 minutes. Pour coals into the grill into one pile on one side of the grill for 2 zone cooking.

Add your chicken skin side down onto the grill to sear for 2-3 minutes. Once seared, pull chicken over to the indirect cooking side, top with extra marinade and let cook until 165F internal (about 45 minutes).

Once the chicken is done, pull off and let rest. Top with scallions and lime juice. Enjoy!