Are you a bacon lover? Do you wrap everything in bacon like I do. You just cannot get enough of that delicious pork flavor that bacon has to offer. Well do I have the perfect recipe for you! Pork belly is like bacon on steroids. And you can eat massive chunks of it at a time!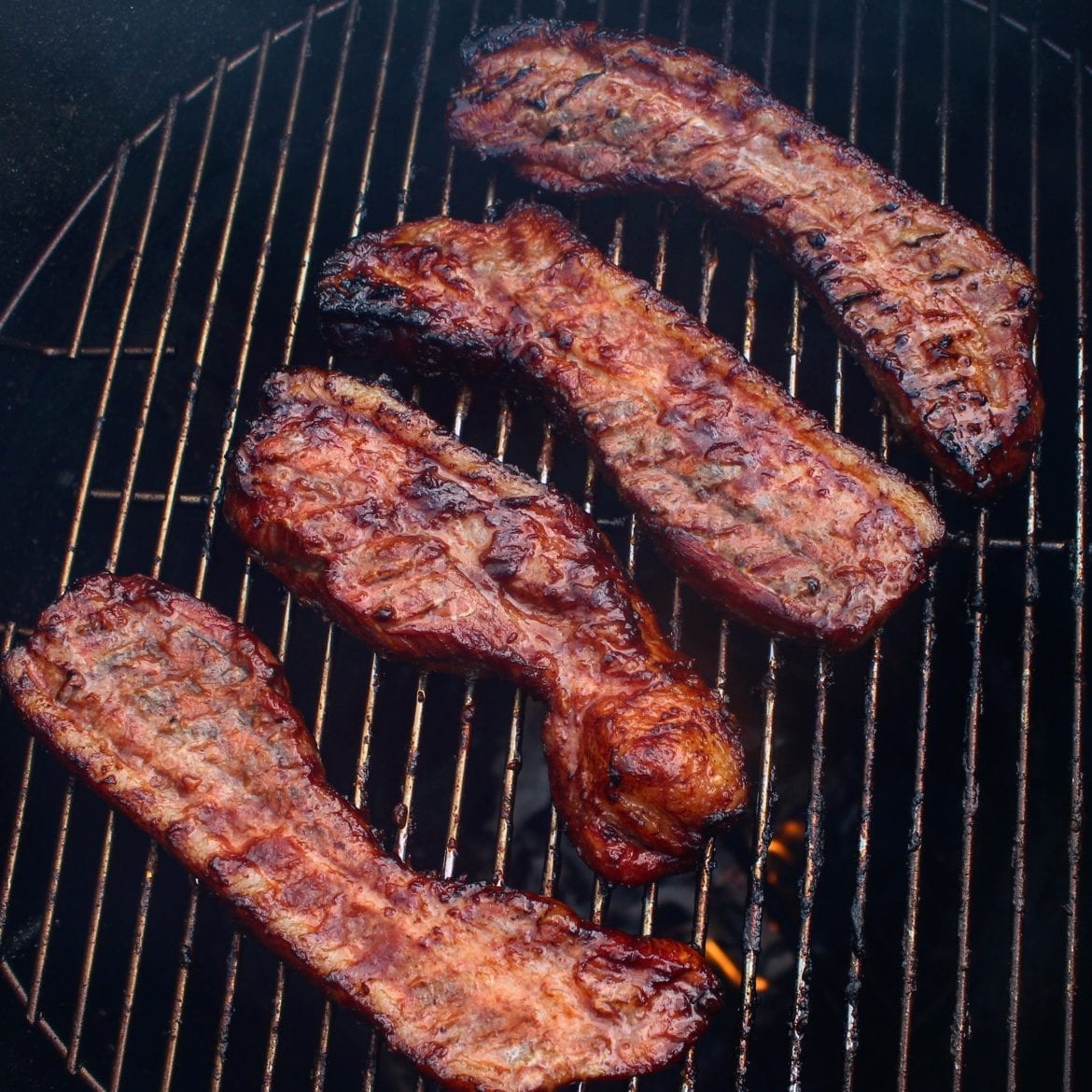 RELATED ARTICLES: Try Another Pork Recipe like Campfire Pork Loin!
Introducing my new, Smoked BBQ Pork Belly recipe. Its basically bacon covered in tangy bbq sauce. Start off with marinating the pork belly in bbq sauce for over 4 hours. Let the tangy and sweet flavor seep into the meat. Then, smoke this bad boy over some hot Cowboy Charcoal for a couple of hours. You will be left with a glorious chunk of smoked meat that is almost edible candy.
What to serve with the Smoked BBQ Pork Belly!
Having Smoked BBQ Pork Belly is starting to become a family tradition in the summer. We love the tangy and fatty pieces of pork belly that are made over the fire from the dish. So what do you serve with it? Well besides a glass of ice cold beer, I highly recommend a few different things:
Grilled Street Corn – This is also a family favorite. Grilled corn with cotija cheese, spice and some other delicious ingredients. Make sure to find a quality recipe, but I highly recommend making this as a side.
Sugar Snap Peas – My sugar snap peas recipe is super simple: lemon juice, garlic, sea salt and black pepper. Top it all with some panic crumbs and you are in heaven.
Chile Lime Shrimp – You may not believe me, but pork belly surf and turf is awesome. Try it yourself here!
Glistening with bbq sauce!
Smoked BBQ Pork Belly
Try making something almost as good as bacon! This is Smoked BBQ Pork Belly will leave you wanting more and keep you cooking over hot Cowboy Charcoal.
Ingredients
4 1 1/2

inch

sliced of Pork Belly

1

Bottle of Cowboy Range Style BBQ Sauce

A pinch of salt
Instructions
Season the pork belly with a pinch of salt. In a bag, place the pork belly and half a bottle of Cowboy Range Style BBQ Sauce. Place bag in fridge, and let marinate for at least 4 hours.

Use some Cowboy Hardwood Lump Charcoal to light fire and let burn for 10-15 minutes. Once charcoal is white hot, push to one side for indirect grilling.

Once smoker is around 225F, place pork belly in grill and let smoke for 2 hours. Make sure to maintain heat throughout cook. Add a couple chunks of hickory for added flavor!

When meat reaches an internal temp of 160F, pull off and enjoy! For some more flavor, sear the pork over direct heat for about 20 seconds per side once you pull it off the smoker.
This article does contain affiliate links to products that we personally use and support. Purchasing an affiliate product does make us a small commission at no cost to you. This helps us continue creating for our website. All words and opinions are our own, and we appreciate your support!