Smoked Beef Short Rib & Guinness Chili Recipe
When the colder weather comes rushing in, everyone wants heartier food. I know in my family, there is nothing like a meaty chili that warms up your soul during the cold and snow. Thick and full of ground beef, ground pork and shredded smoked short ribs sounds right down my alley. Maybe a pint of Guinness Draught as well? Definitely try out this new Smoked Beef Short Rib & Guinness Chili below. Your soul will thank you.
Sponsored by Guinness US
The Key to Good Chili
Everyone thinks that the epicenter of all good chili is the meat. While the meat is the key to most of the texture and heartiness, it is not the key to good chili. The key is adding the vegetables, seasonings and liquids at the right time. Let me explain:
You might be surprised how at the end of the cook it will be hard to find the veggies you added at the beginning. This is because they have cooked into the heart of the chili adding tons of flavor. It's hard to go overboard with the veggies if you char them up and get them soft. They are the backbone of every good chili. Don't underestimate them!
After you have charred the veggies, you have to add the seasoning. I love adding the seasoning on to cooked veggies because as the veggies dissolve into the chili so will the seasonings. This gives equal flavor throughout the Smoked Beef Rib & Guinness Chili.
Finally, the liquids. These are your best friend for the last punch of flavor. The real key is how much you reduce them. By reducing the Guinness chili for an hour, this will allow the liquids to surround all of those melted veggies and spices. You will end up with a powerful instigator of flavor. So whatever you do, treat your veggies, seasonings and liquids with the same respect you show the smoked short ribs. Now about those ribs…
Smoked Short Ribs & Guinness Draught
Smoking short ribs is so much fun. I personally love the flavor smoked beef ribs have to offer. The key here is getting the right ribs. I recommend getting 3 inch prime beef bone in cuts of short ribs. The bone will help add some flavor in the cooking while also providing stability as the ribs cook. These ribs are very dense in fat so allowing the fat time to cook into the meat is key. There are plenty of ways to cook these short ribs, but in this recipe I opt for hot & fast. Cooking at 300F for 5-6 hours will create a great flavor, nice bark and will help make this cook happen in a shorter amount of time. Shred the rib meat out so that every bite in the chili is packed with heartiness.
Next, by adding the Guinness Draught you make this Guinness chili rich and creamy. The complex nutty and roasted flavor from the beer helps to make a deep flavor profile on this Winter style chili. After you have let it cook into the chili for 1 hour, you will see how much amazing flavor the Guinness Draught offers.
Topping your Smoked Beef Short Rib & Guinness Chili
In the end, this deeply rich and meaty Guinness chili is perfect to warm your spirit on a cold day. I top mine with some sharp cheddar cheese and sour cream while I pour myself another pint of Guinness Draught. Whatever you do not eat, save for the next day. You did not hear it from me… but 2nd day chili is better. Anyway, enjoy this recipe! Slainte!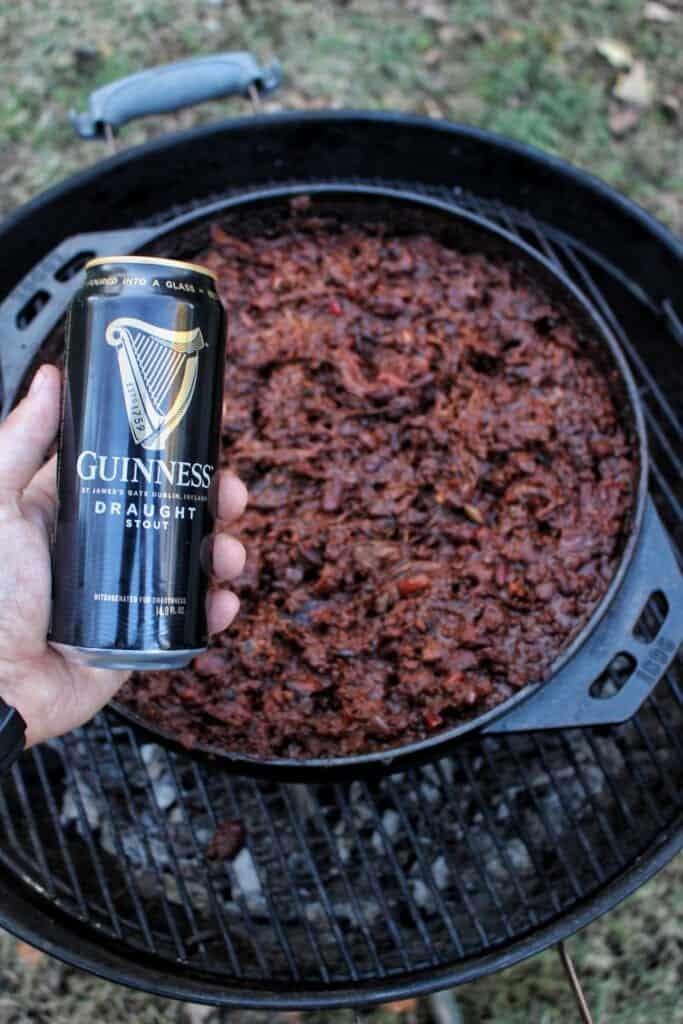 This article does contain affiliate links to products that we personally use and support. Purchasing an affiliate product does make us a small commission at no cost to you. This helps us continue creating for our website. All words and opinions are our own, and we appreciate your support!
Smoked Beef Short Rib & Guinness Chili
This Smoked Beef Short Rib & Guinness Chili is the perfect food to warm you up this winter. Enjoy some delicious chili from the fire with the fantastic taste of Guinness!
Ingredients
Smoked Beef Short Rib Ingredients:
4

lbs

of Short Ribs

Salt & Pepper

to taste

Oil
Guinness Chili Ingredients:
2

lbs

of Smoked Short Ribs

chopped

1 16

oz

can of Guinness Draught

1

lb

of Ground Beef

1

lb

of Ground Pork Sausage

1

large red bell pepper

chopped

1

red onion

chopped

4

cloves

of garlic

minced

3

jalapenos

chopped

1/4

cup

of chili powder

1

tbsp

ground cumin

1

tbsp

of dried parsley

2 15

oz

cans of dark red kidney beans

1 15

oz

can of black beans

1 28

oz

can of diced tomatoes

1 6

oz

can of tomato paste

1/4

cup

of puréed Chipotle

1

bar of dark chocolate

1/4

stick of butter

Salt

to taste

Oil
Instructions
Preheat your smoker (or indirect grill) to 300F.

Top with oil and season short ribs with salt & pepper liberally. Add to smoker and cook till they are extremely tender, around 205F internal. This should take about 5-6 hours. Refill smoker with charcoal as needed.

Once short ribs are done, pull off, wrap in tin foil, and let cool in a cooler for at least one hour.

Preheat your grill for direct cooking. Place dutch oven over fire for 2 minutes to preheat before cooking.

In dutch oven, add butter and oil. Let melt. Next, add chopped bell peppers, chopped onions, chopped jalapenos and minced garlic. Let brown (about 2 minutes). Next, add chili powder, cumin and dried parsley. Stir and coat veggies thoroughly. Add ground beef and ground pork to mixture and let brown (about 3 minutes). Next, add kidney beans, black beans, tomato paste, chipotle puree, dark chocolate and Guinness Draught. Mix thoroughly. Cook chili for 1 hour over medium-high heat. Stir occasionally, let chili boil and leave the lid off chili in order to thicken to your liking.

As the chili is cooking and the beef is rested, remove the bones from the beef ribs and shred. Add shredded beef to chili and stir. Let cook for another 10 minutes.

Serve chili with cheese, sour cream and a pint of Guinness Draught. Enjoy!