The Holidays are the perfect place to bring fire, food and people together. This is your opportunity to unite your home with the one thing that everyone loves: good food. My Smoked Rack of Lamb recipe will help in creating that opportunity for you and your family.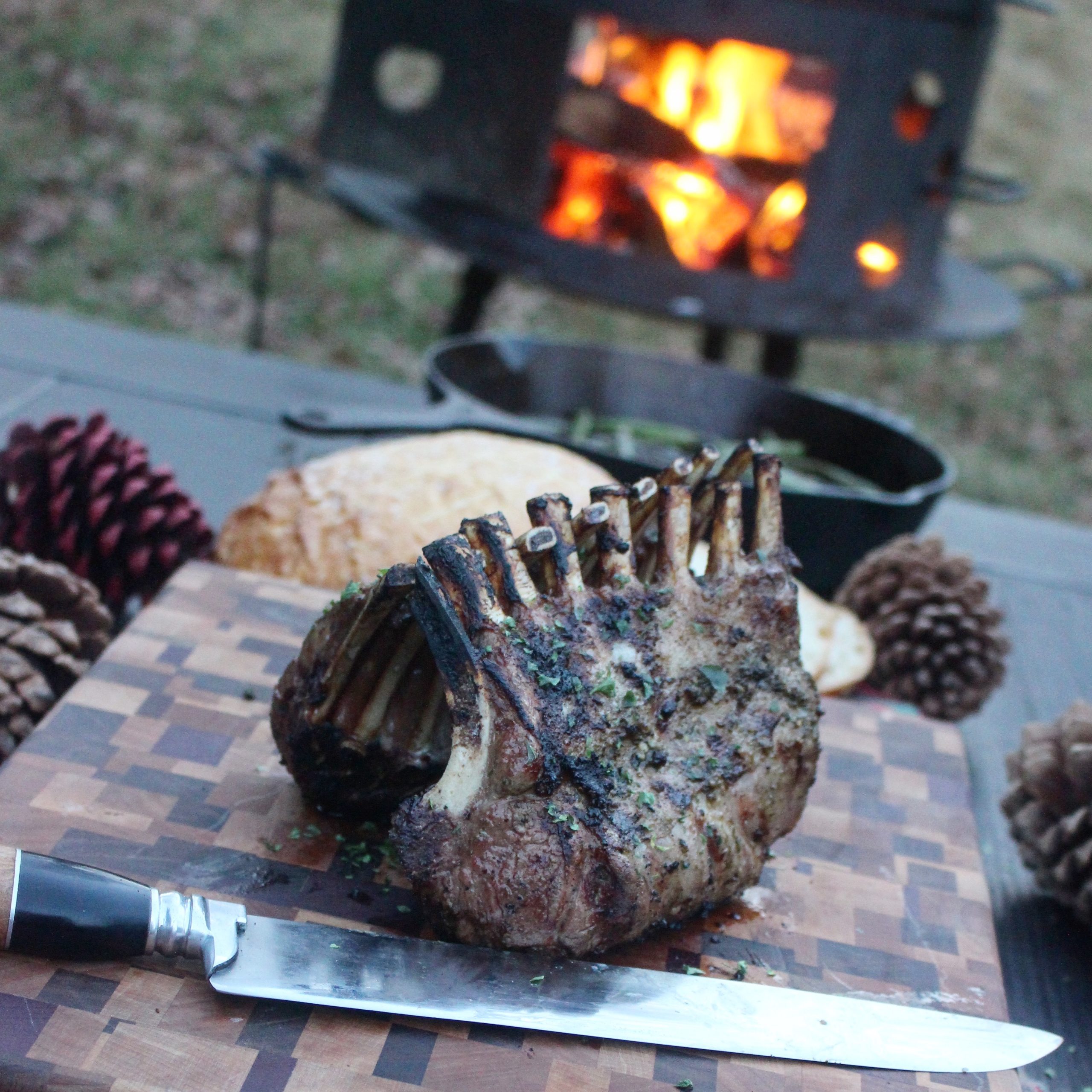 Filled with hickory smoke and herb butter sauce, this rack of lamb is like nothing you have ever tasted before. Serve the smoked rack of lamb with a side of cheesy potatoes, green beans and salad for a full holiday meal. Plus one whole rack of lamb can feed 3-4 people, so when you buy two then you are definitely going to fill up the whole family.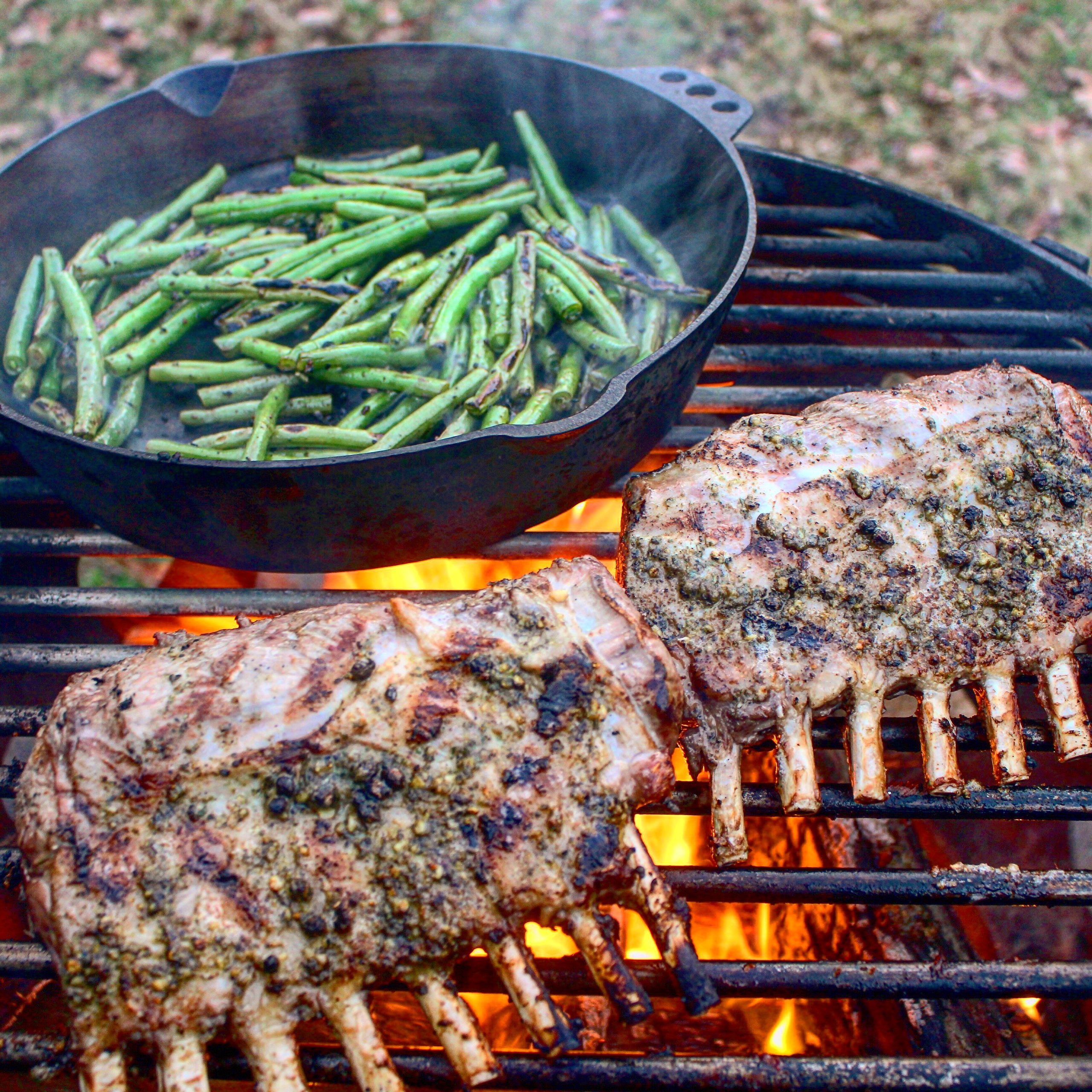 Also try my American Lamb Tacos Al Pastor or my smoked lamb leg!
So find a local butcher that sells American rack of lamb, and try my recipe during this wonderful time of year! Have more questions? Check out my FAQs when cooking this recipe below!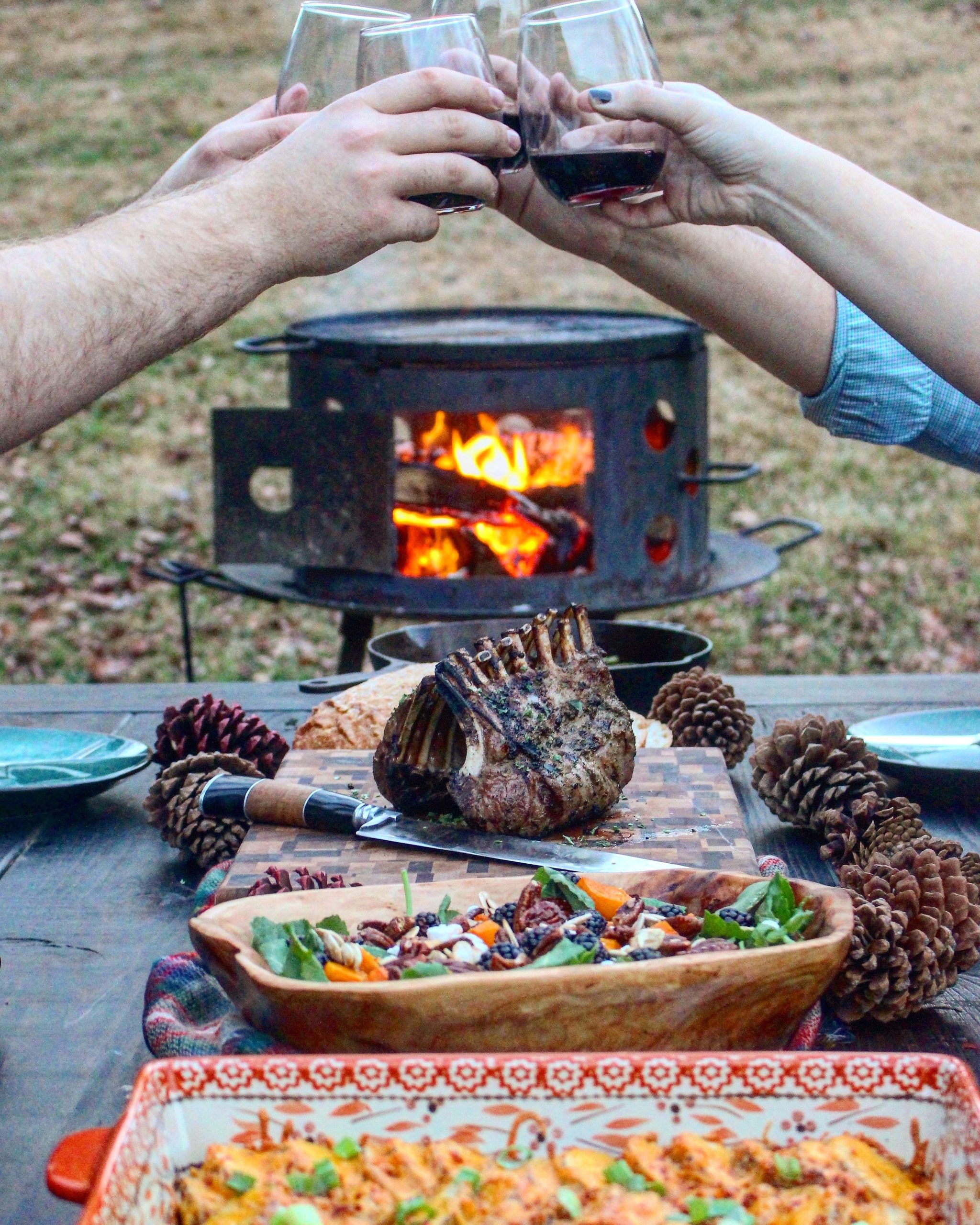 FAQs for the Smoked Rack of Lamb Recipe
Why smoke rack of lamb?
Smoking food is a delicious way of adding subtle flavor for a longer period of time. When you smoke a rack of lamb, then you can delicately add amazing flavor without the harshness of grilling directly of a fire. The sear at the end of the recipe also makes sure that the flavor is trapped inside the meat while still getting a crust on the outside!
What to serve?
I serve my rack of lamb with cheesy potatoes, green beans and a salad. This dish can easily be served with many things including rice, beans, twice baked potatoes, brussel sprouts and various kinds of salad.
At what temperature is it done?
Here is the temperature chart for the smoked rack of lamb:
– Rare: 125F
– Medium-Rare: 135F
– Medium: 145F
– Well-Done: 155F
Where can you buy American lamb?
Click here to locate American lamb near you!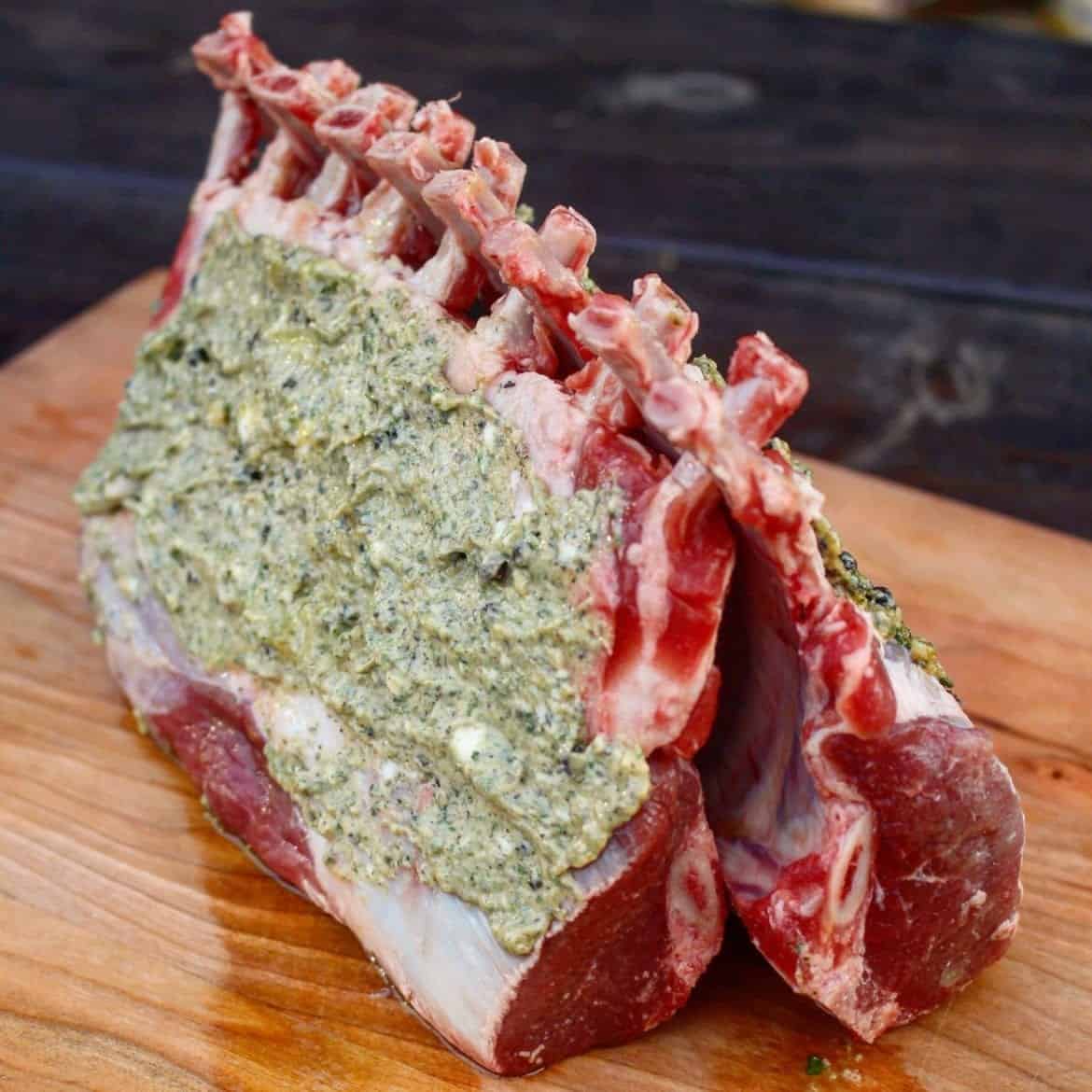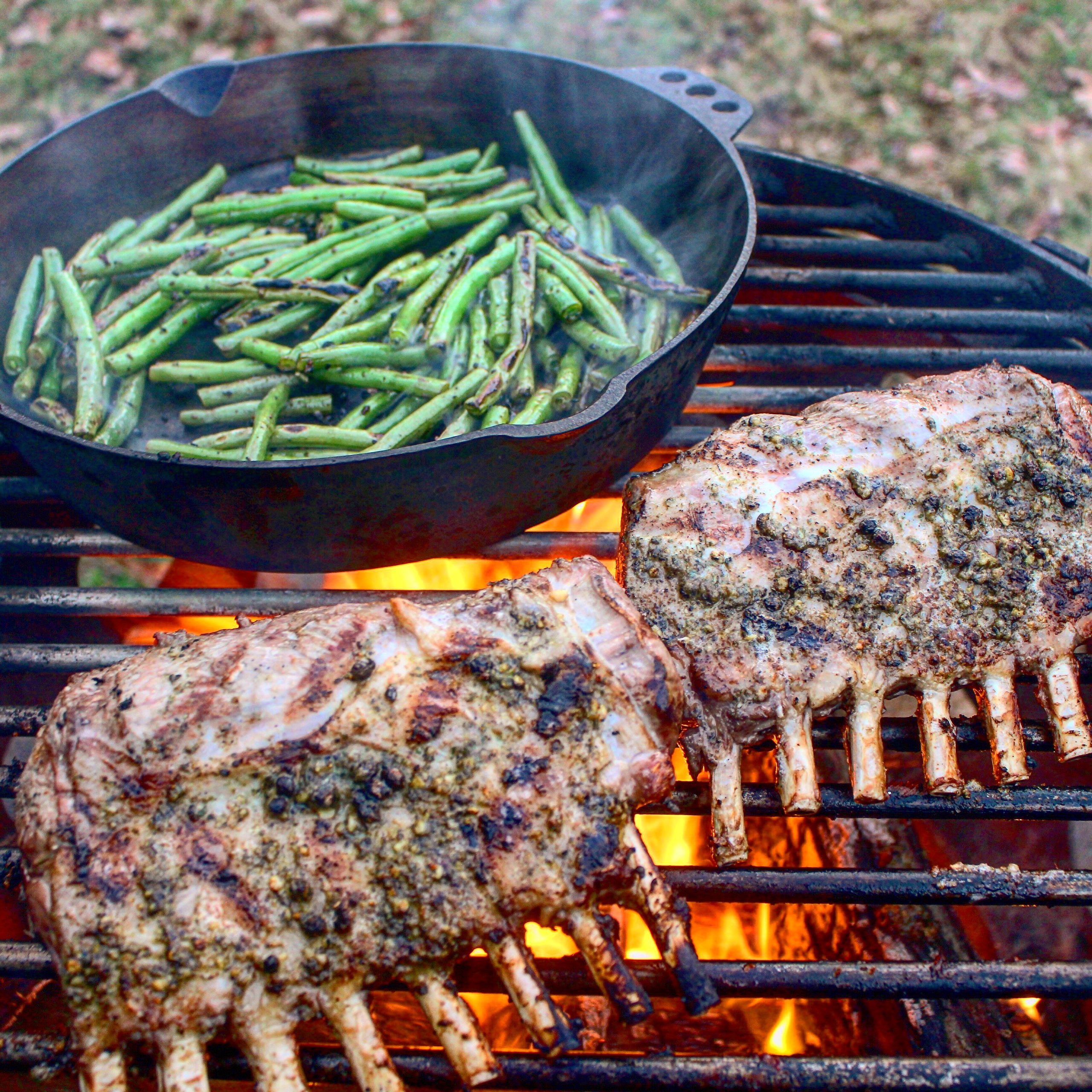 Smoked Rack of Lamb
Rack of lamb that is smoked and then seared to perfection.
Ingredients
Lamb Ingredients
1

whole American rack of lamb

2

tbsp

of olive oil

Salt & pepper
Herb Butter Paste Ingredients
1/4

cup

of butter

2

tbsp

of olive oil

2

tbsp

of parsley

finely chopped

1

tbsp

of cumin

1

tbsp

of minced garlic

Salt & pepper
Instructions
In your smoker, build up heat until you reach an even 225F. NOTE: I recommend using hickory or apple wood for subtle smoky flavor.

In a bowl, mix all the ingredients for the Herb Butter Paste thoroughly.

Rub rack of lamb with olive oil and season with salt & pepper. On the side without bones, rub the Herb Butter Paste evenly.

Place lamb in smoker at 225F for 1.5 hours or until the internal temperature is at 135F (medium-rare). NOTE: About 15 minutes before pulling the lamb out, start a hot fire in order to sear the outside layers.

When the lamb is ready, pull it out of the smoker and quickly sear the lamb on both sides for 1 minute each.

Let lamb rest for 8-10 minutes.

Enjoy your delicious and adventurous meal!
This article does contain affiliate links to products that we personally use and support. Purchasing an affiliate product does make us a small commission at no cost to you. This helps us continue creating for our website. All words and opinions are our own, and we appreciate your support!