Poor Man's Burnt Ends are here and they're anything but poor. These burnt ends were made with cuts from a chuck roast, instead of the typical brisket burnt ends. They cook in about half the time of brisket burnt ends and still give us that deep, rich flavor we all know and love. I fired up some Cowboy Charcoal and seasoned the burnt ends with my very own Tennessee Smoke seasoning.
As the kids would say, the flavoring was "on point!"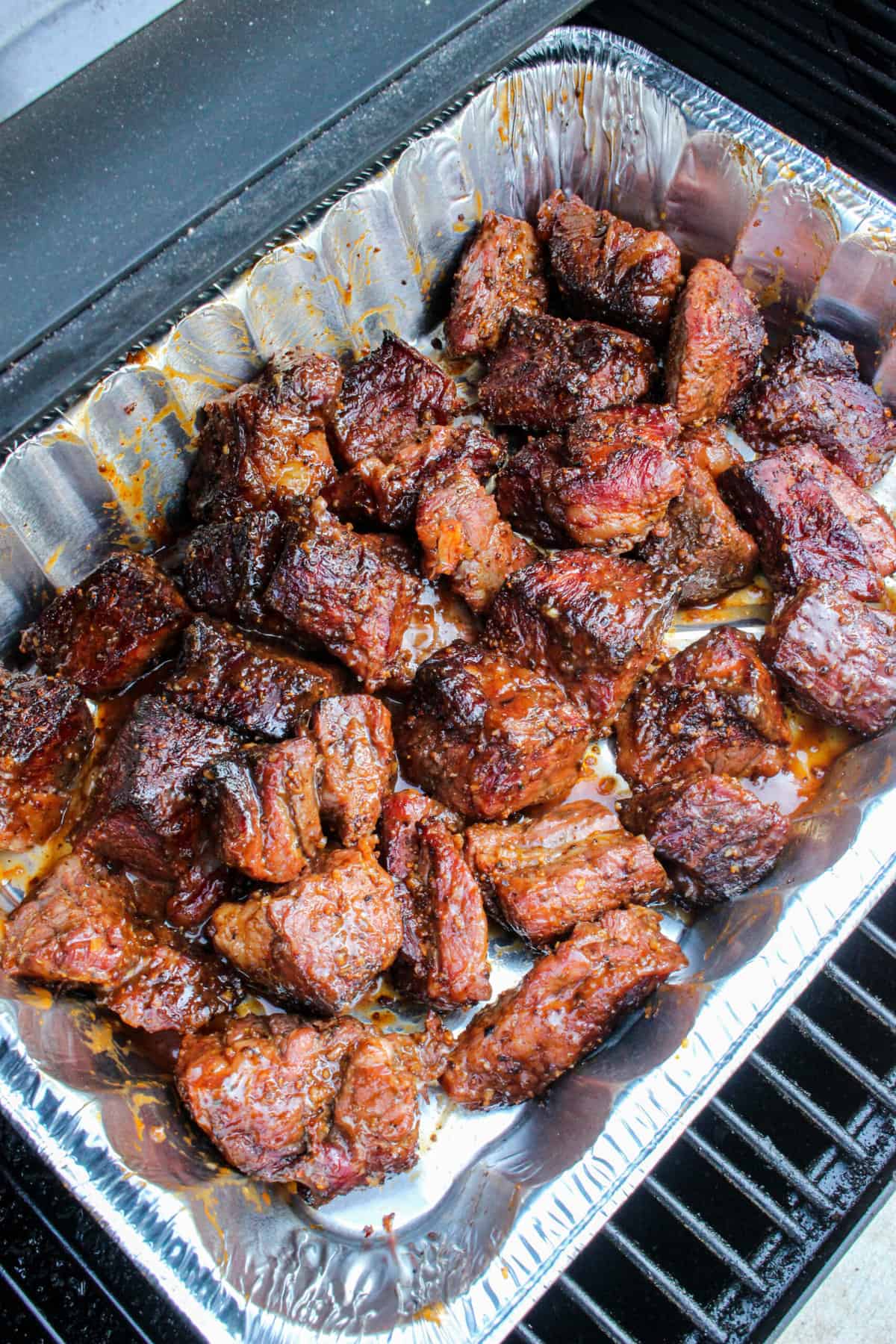 Who You Calling a Poor Man
As I continue to get older, I realize that being poor is really more of a state of mind than anything else. That's another chat, for a different blog, at another time.  Burnt ends are classically made with the point ends of a brisket, they are delicious but you do have to work for them.
Our cut of meat for this recipe is a chuck roast. It's hard to beat the brisket flavor, but I will say these burnt ends come pretty close. Oh, and did I mention the Poor Man's Burnt Ends can be cooked in about half the time! Yeah, lots of reasons to give this recipe a try. 
To start, get a chuck roast and cut it into cubes. I placed all of my burnt ends in a large bowl because it makes it easier to season them. Drizzle oil across the top of the burnt ends and use your hands to mix.
Next, reach for that Tennessee Smoke seasoning and started splashing it across the top of the burnt ends. Mix the seasoning in by hand and add more seasoning until each cube has an even coat of seasoning on all sides.
Then, I used a cooking sheet with a slightly raised grid insert to set the burnt ends on.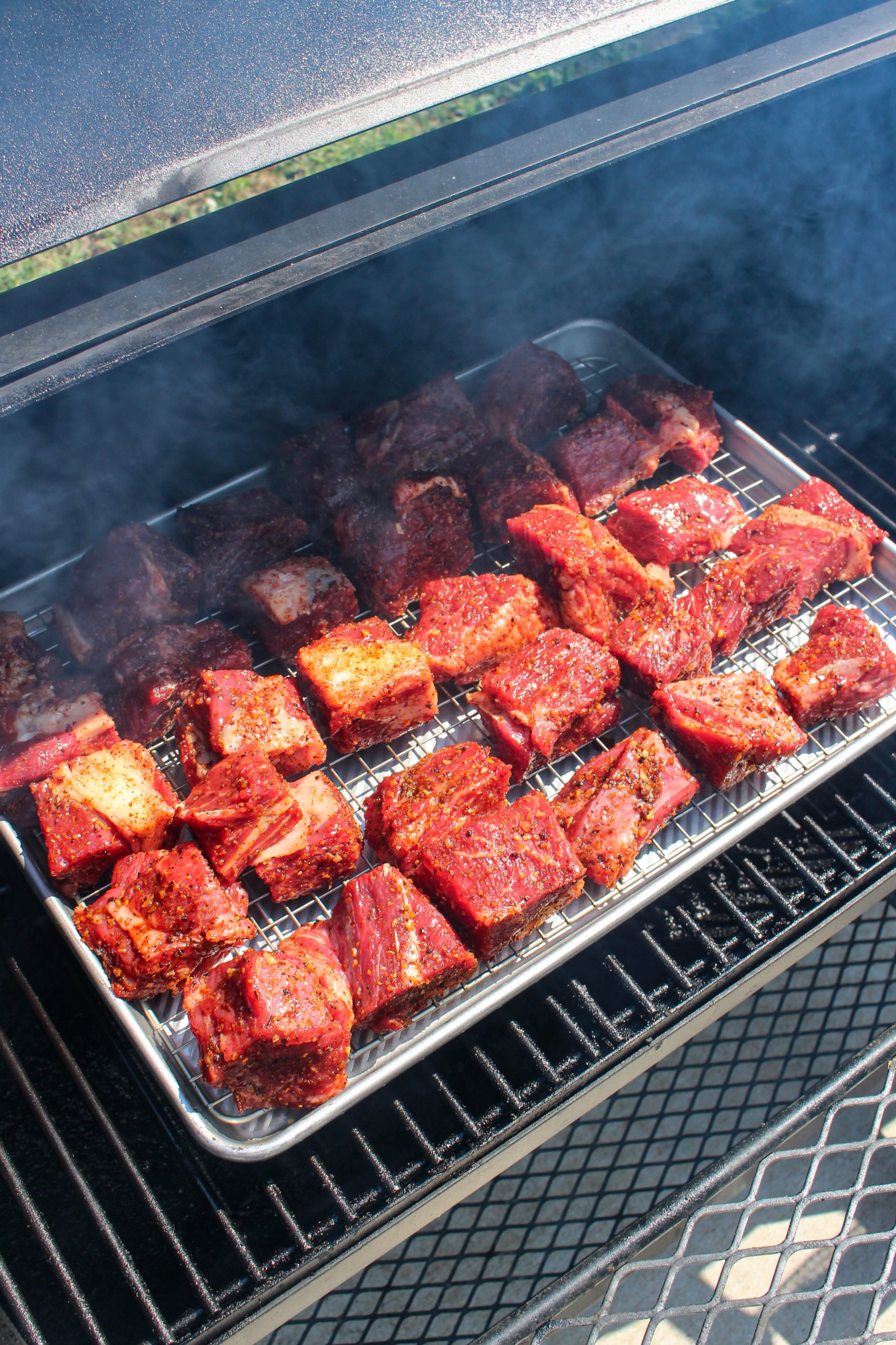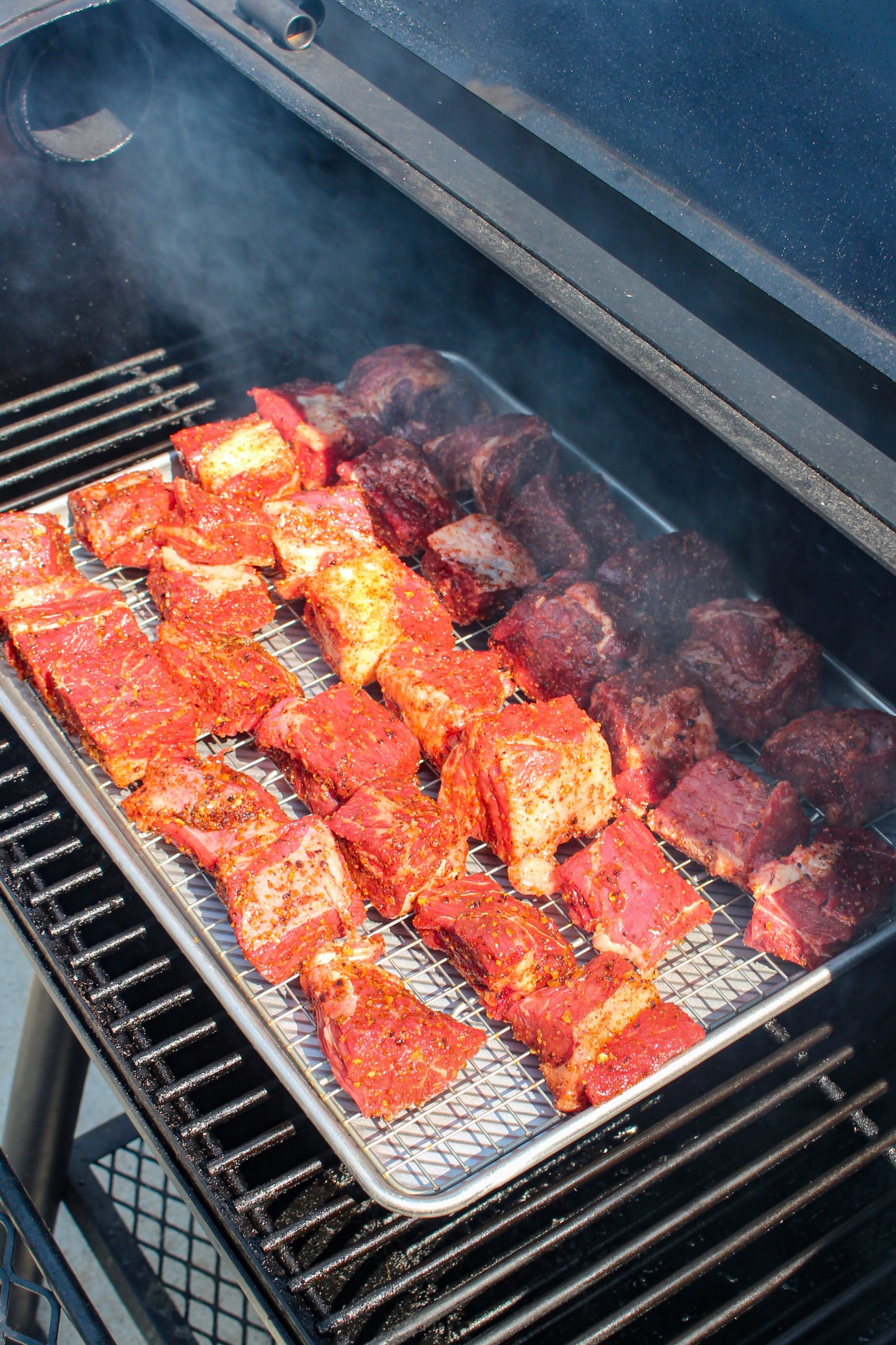 This Poor Man's Burnt Ends
Up next comes the smoking part of the recipe. For these Poor Man's Burnt Ends, I used my offset smoker, fueled and powered by Cowboy Charcoal's Lump Charcoal. It burns hot and clean, so it's a natural choice every time.
I dumped two charcoal chimneys worth of hot orange coals into the charcoal chamber and let the smoker preheat to 275F. Once the smoker becomes preheated, add the Poor Man's Burnt Ends to the smoker and close it up for the next 1.5 hours. 
Sometimes I get asked why I like using Cowboy Charcoal for smoking. Like I said above, it just burns really clean, giving a pleasant smoker flavor. This also really helps in creating an even temperature so that I do not have a ton of fluctuation while cooking.
Lump charcoal is ideal for all of that. Plus if you want some extra flavor, just add some Cowboy hickory wood chunks!
Since we all like to be efficient with our time, let's get to work on the spicy bourbon barbeque sauce while the burnt ends are cooking. I added a grill grate insert over the hot coals in the charcoal chamber and added a small cast iron skillet.
After the skillet becomes hot, add all the habanero hot sauce ingredients and whisk them together. Keep whisking until the sauce thickens a bit, then remove from the heat.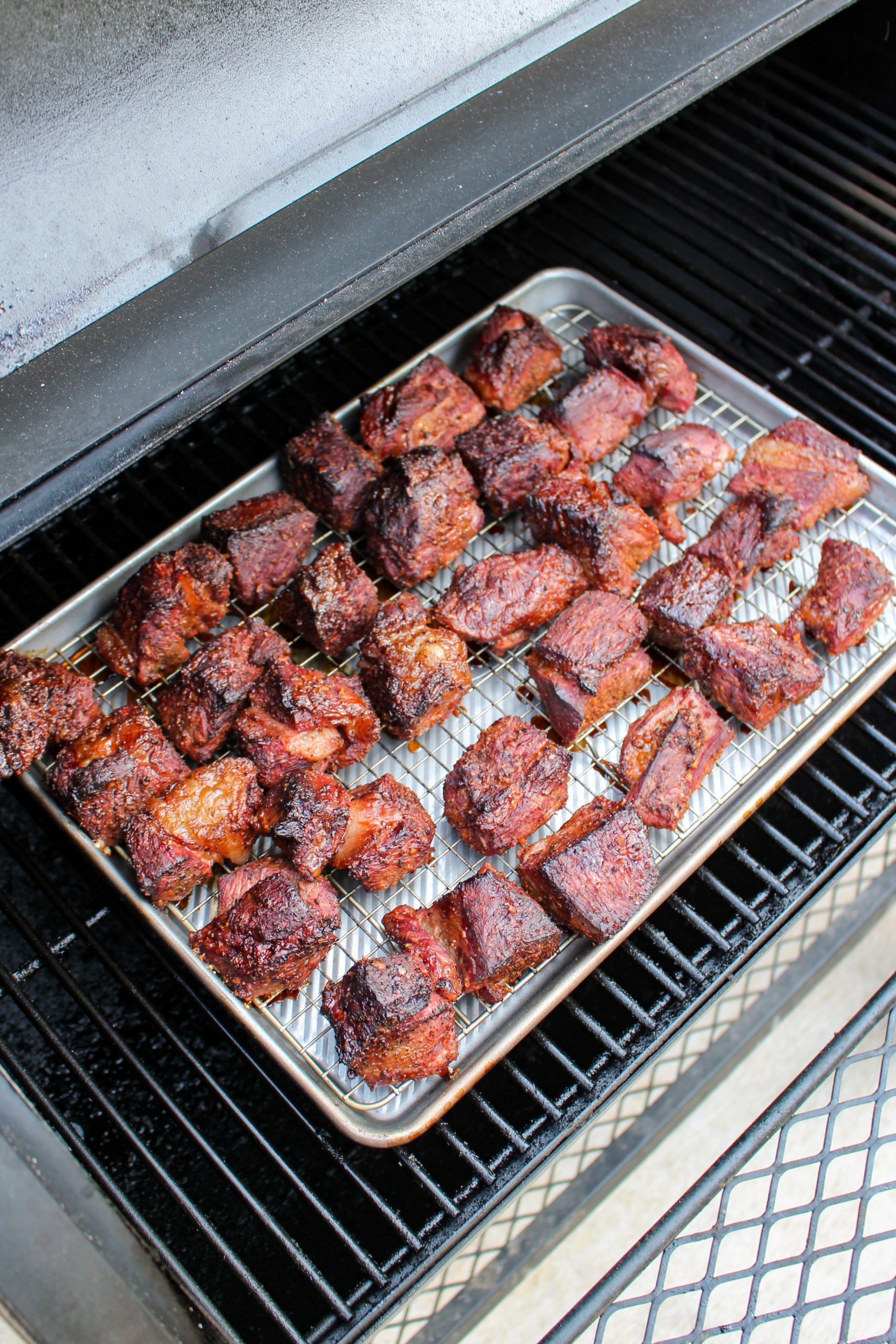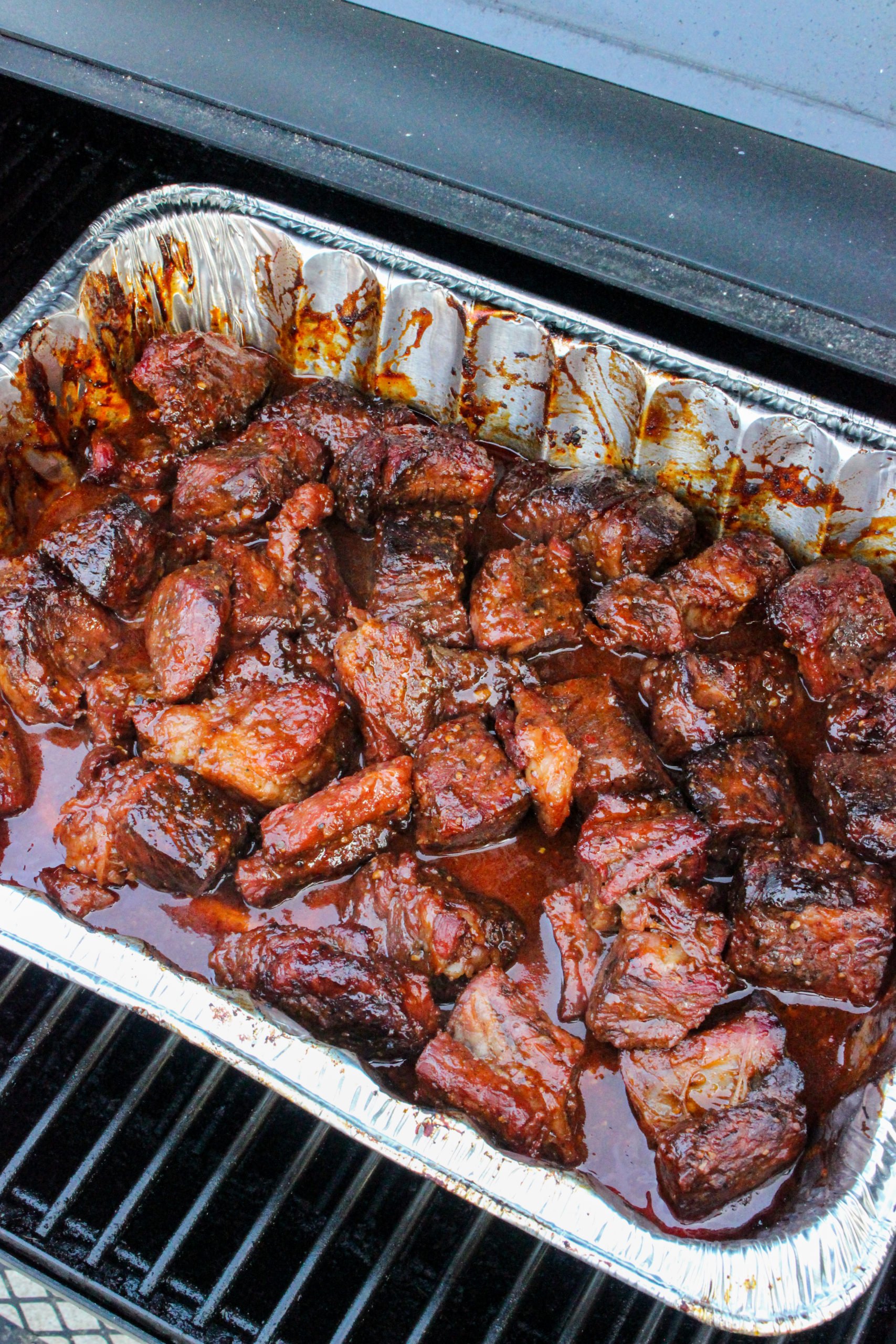 When it All Comes Together – A Hallelujah Chorus
Continue to let these Poor Man's Burnt Ends cook until they reach an internal temperature of 165F. Then, remove them from the cooking sheet and toss them in a deep aluminum tray. Set that tray (the the burnt ends) back into the smoker.
Now, grab that spicy bourbon barbecue sauce and pour it across the top of the Poor Man's Burnt Ends. I then mixed the burnt ends around to make sure they all received an even coating of the barbecue sauce.
Let the burnt ends cook for another 2.5 hours, until they are tender. You should be able to tear them apart with little effort.
Then, remove them from the smoker and place them on a serving dish. Right before serving them, I used a spoon to glaze them with a bit more of the barbecue sauce and gave them a light dusting of some more Tennessee Smoke.
Now, time to eat. Best enjoyed with friends and family! Cheers!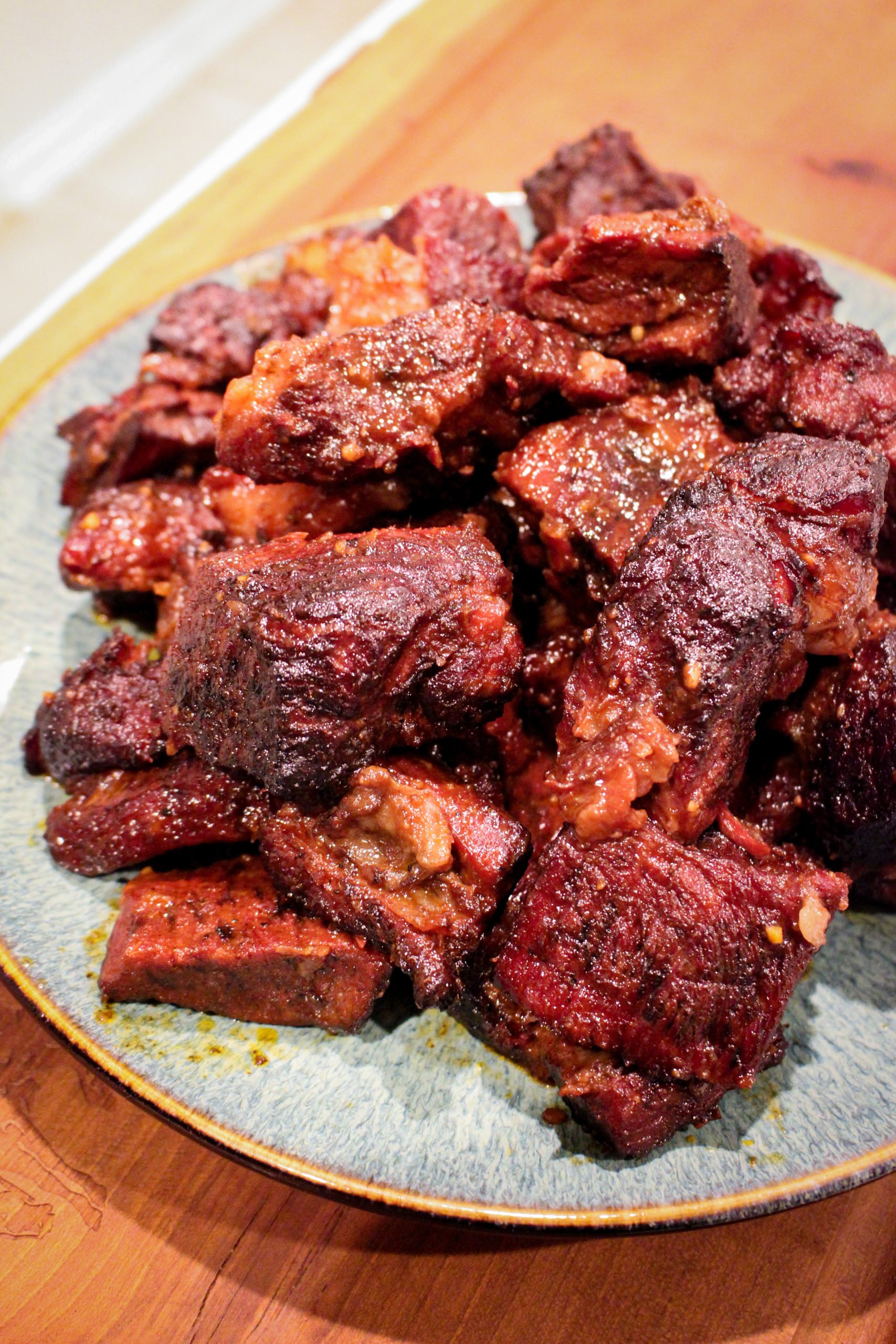 For more delicious (and exclusive) recipes, check out my cookbook Food X Fire!
Needing more spice in your life? My spice line can help with that. Check them out here.
Full Length Recipe Video on YouTube!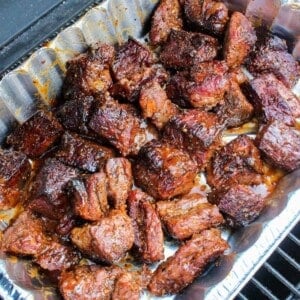 Poor Man's Burnt Ends
Poor Man's Burnt Ends are here and they're anything but poor. They're rich in flavor and cooked until they fall apart. Delicious!
Ingredients
Spicy Bourbon BBQ Sauce:
¾

cup

Ketchup

½

cup

Apple Cider Vinegar

4

oz

Bourbon

1.5

tbsp

Hot Sauce

1

tbsp

Brown Sugar

½

tbsp

Garlic Paste

½

tbsp

Worcestershire

Salt

to taste
Instructions
Cube your chuck roast into 1" size cubes and place in a bowl. Lather with canola oil and then season with Tennessee Smoke Seasoning or your favorite BBQ seasoning. Place the cubes onto a baking tray with about ½" separation between each cube. Place in the fridge for 1 hour to set, then let come to room temperature 15 minutes before cooking.

Preheat a grill or smoker using a two zone fire with Cowboy Charcoal to 275F. Add some hickory chunks or chips for added smoke flavor.

Place the beef onto the smoker to cook for about 1.5 hours until they begin to soften. As the beef smokes, heat up a medium high fire for the BBQ Sauce. Add a skillet with the bourbon to simmer for 30 seconds. Next, add the rest of the ingredients for the BBQ sauce and let simmer until thickened. Once warm and well incorporated, pull the BBQ sauce off the heat to cool.

After 1.5 hours on the smoker, pull the beef off and place into a medium size foil bin. Top the burnt ends with the BBQ sauce and mix around. Cover the bin with aluminum foil and place back on the smoker to cook for another 2.5 hours. Add more BBQ sauce if needed so that there is a decent amount of liquid in order to break down the burnt ends.

Once the burnt ends are tender and can easily break apart, pull them off and let cool for 10 minutes. Toss the cooled burnt ends in some of the foil bins sauce, season with a little more BBQ seasoning and enjoy!
Nutrition
Calories:
574
kcal
|
Carbohydrates:
16
g
|
Protein:
44
g
|
Fat:
29
g
|
Saturated Fat:
12
g
|
Polyunsaturated Fat:
3
g
|
Monounsaturated Fat:
15
g
|
Trans Fat:
2
g
|
Cholesterol:
155
mg
|
Sodium:
743
mg
|
Potassium:
947
mg
|
Fiber:
1
g
|
Sugar:
13
g
|
Vitamin A:
270
IU
|
Vitamin C:
6
mg
|
Calcium:
56
mg
|
Iron:
5
mg