Nothing says it time to party like a mouth full of meat balls! The national dish of Sweden, or Ikea, or whatever. The point is, they're tasty and we're making them, but we're making them on a whole new level! The Spicy Meatball Sub. Bacon wrapped and habanero infused. It's time to ride this meat rollercoaster.
The Meat of the Matter
Meatballs, at their heart, require good meat. Obviously, we're using ground meat. Or we'd be making steak balls…?
Anyway, a high-quality ground beef is one of the secrets to the Spicy Meatball Sub.
If you have a favorite burger blend you get from your local butcher, by all means, use that! Something involving ground chuck, brisket, short rib, or even sirloin would be incredible.
Some of those can be rather difficult to source though. So, my recommendation is the old faithful: ground chuck.
Avoid the bargain tubes of mystery ground beef; because those could be full of peckers and lips for all we know. Stick to major muscle groups that are identified on the packaging, like chuck.
For more with beef, check out my French Onion Patty Melt, California Burrito Style Burger and Loaded Chili Cheese Fries.
Now, beef isn't the only protein going into our balls. We're wrapping these lil guys in some meat magic. Bacon. Arguably the most flavorful cut of meat from any animal ever.
Besides adding flavor to our tasty balls, it's also going to add a good bit of moisture. The bacon wrap will allow them to stay juicer during the cook because encapsulating the meatballs in a layer of fat protects and flavors the meat.
Spicy Meatball Sub Sauce – The Red Sauce
This isn't a Spicy Meatball Sub without a good red sauce. Personally, I think tomatoes are the devil's fruit. Why? Because they're just awful.
If you like them, I'm sorry you had such a horrible childhood. The only place tomatoes belong is in a pizza sauce and/or a wildly flavorful spicy red sauce.
With that being said, let's get down to business.
A good red sauce is way easier to make then most folks make it out to be. Start by getting yourself a can of crushed San Marzano tomatoes, because these are quality, they're class.
San Marzano are the bees' knees because they are canned and sealed at peak freshness from the best of the best tomatoes. Honestly, even fresh tomatoes pale in comparison.
They are the base for our sauce.
For more saucy recipes, check out my Steak and Cheesy Pasta, Steaks with Gorgonzola Mushroom Cream Sauce and Ribeye with Bourbon Cream Sauce.
Tomatoes are powerfully flavored, and therefore, they can easily overpower an entire dish. It's a good thing to be heavy handed when seasoning a red sauce. So don't be fearful in using lots of garlic, onion and seasoning.
We're adding cayenne, red pepper flakes, and an entire habanero to this Spicy Meatball Sub sauce; and it's really not that spicy. Go heavy, go hard.
Accoutrements
As with most sandwiches, this is basically a vehicle for cheese. We're using two varieties of cheese in this Spicy Meatball Sub recipe because we can.
Shoot, use more cheese. Live your truth. Mozzarella and provolone are fantastic on meatball subs and with each other.
If you're feeling frisky, add in some parmesan. Don't be timid.
Buns are a big deal to me. As that say in that British movie, "Bread maketh the man."
Because of this, I went with a top opening brioche bun for my subs. Don't neglect the details and the final result will reward you. Happy bread hunting.
For more delicious recipes, check out my second cookbook Flavor X Fire or my first cookbook Food X Fire!
Needing more spice in your life? My spice line can help with that. Check them out here.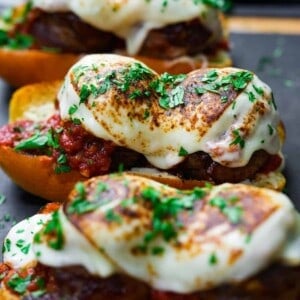 Spicy Meatball Sub
Spicy Meatball Sub for all your saucy, bacon wrapped, meatball sandwich needs!
Ingredients
Meatballs:
2

lbs

Ground Chuck

1/2

cup

Parmesan

1

Egg

2

tbsp

Worcestershire Sauce

1

Shallots

4

cloves

Minced Garlic

1

tbsp

Oregano

1

tsp

Salt

1/4

cup

Gaucho Steakhouse

6

Slices

of Bacon
Spicy Red Sauce:
28

oz

can San Marzano tomatoes

1

tbsp

Evoo

6

cloves

Minced Garlic

1

Shallot

1

tsp

Salt

1

tsp

Pepper

1

tsp

Red Pepper Flakes

1

tsp

Cayenne

1

Habanero
Sub rolls:
shredded Mozzarella Cheese

sliced Provolone Cheese

chopped Parsley
Instructions
Meatballs:
Pre Heat smoker to 350 degrees.

Combine Ground Chuck, parmesan, egg, w sauce, shallots, garlic, oregano, salt, and Gaucho Steakhouse Rub in a large bowl. Mixing thoroughly.

Divide meat mixture into 12 equally sized balls. Wrap each ball with half a slice of bacon, securing with a toothpick or pin.

Cook meat balls indirect for 15-20 min, or until 155 degrees internal.

Cover and set aside to rest.
Spicy Red Sauce:
Heat a small pot over medium heat. Add in evoo, garlic and shallots. Cook 2-4 min, until fragrant.

Add in seasonings, habanero, and can of crushed tomatoes. Stir occasionally and cook until sauce has desired thickness, about 10 to 15 min.

Once meatballs and sauce are cooked, it's time for assembly. Open sub rolls and put down a layer of shredded mozzarella, a layer of sauce, meatballs, more sauce, and finally a few slices of provolone cheese.

Using a torch, melt the cheese on top. Garnish with parsley if you're feeling fancy and enjoy!
Nutrition
Calories:
563
kcal
|
Carbohydrates:
6
g
|
Protein:
33
g
|
Fat:
44
g
|
Saturated Fat:
16
g
|
Polyunsaturated Fat:
3
g
|
Monounsaturated Fat:
20
g
|
Trans Fat:
2
g
|
Cholesterol:
155
mg
|
Sodium:
1248
mg
|
Potassium:
596
mg
|
Fiber:
1
g
|
Sugar:
2
g
|
Vitamin A:
387
IU
|
Vitamin C:
6
mg
|
Calcium:
166
mg
|
Iron:
4
mg