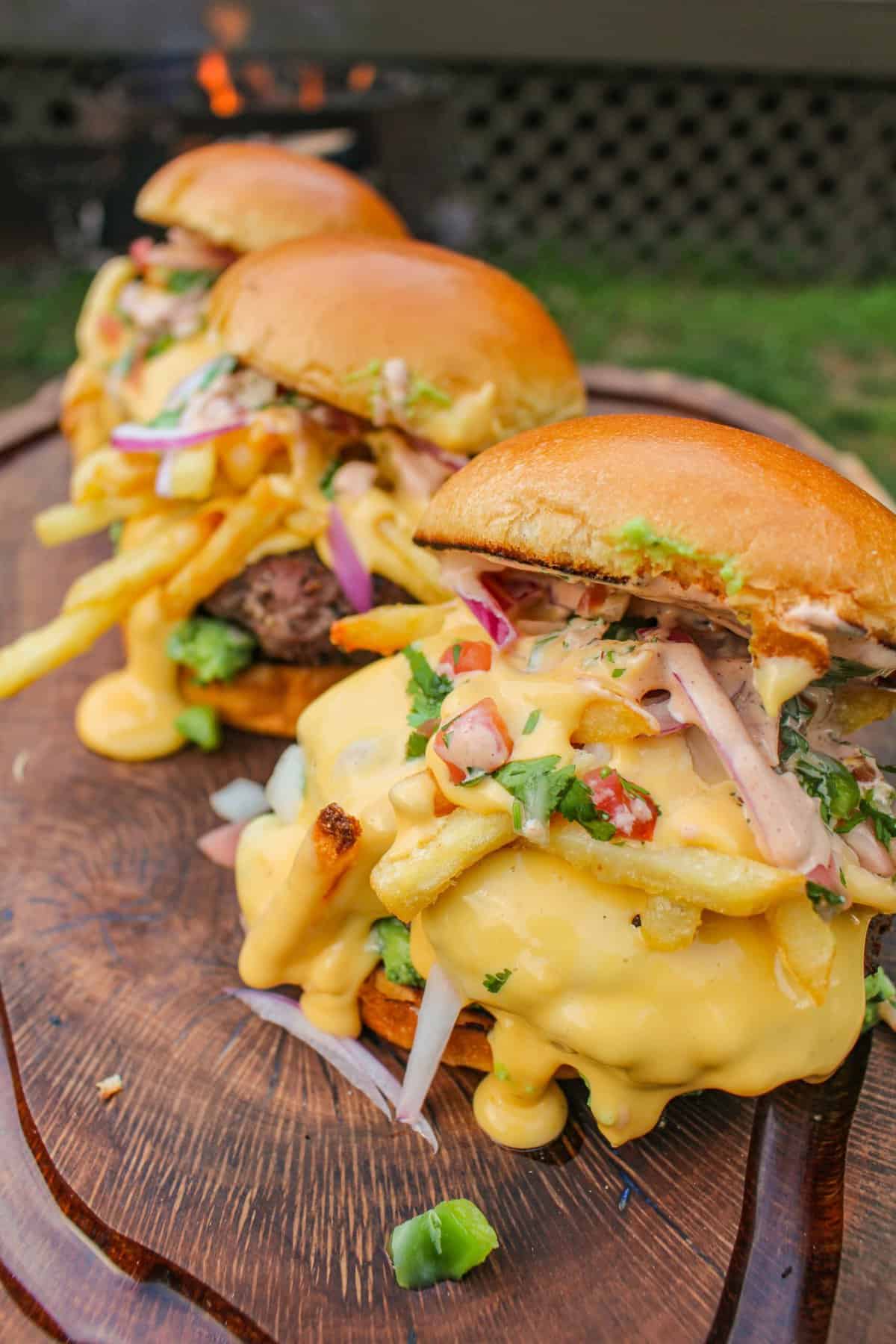 This California Burrito Style Burger is an epic way to kick off burger month! A perfectly toasted burger bun is slathered with chipotle lime mayo, then layered with juicy burger patties, fresh guacamole, crispy French fries, and a melty cheese sauce!
Why You'll Love This California Burrito Style Burger
Let's take a trip to the West Coast! Based on the famous California Style Burritos we know and love, these great burgers are like a ticket to San Diego. You might ask, what is on a California burger? They aren't just any burger, they're loaded with cheese sauce, chipotle lime mayonnaise, and guacamole… But it's the French fries that set them apart. Add that fire-roasted taste to this delicious recipe and your life will be changed forever.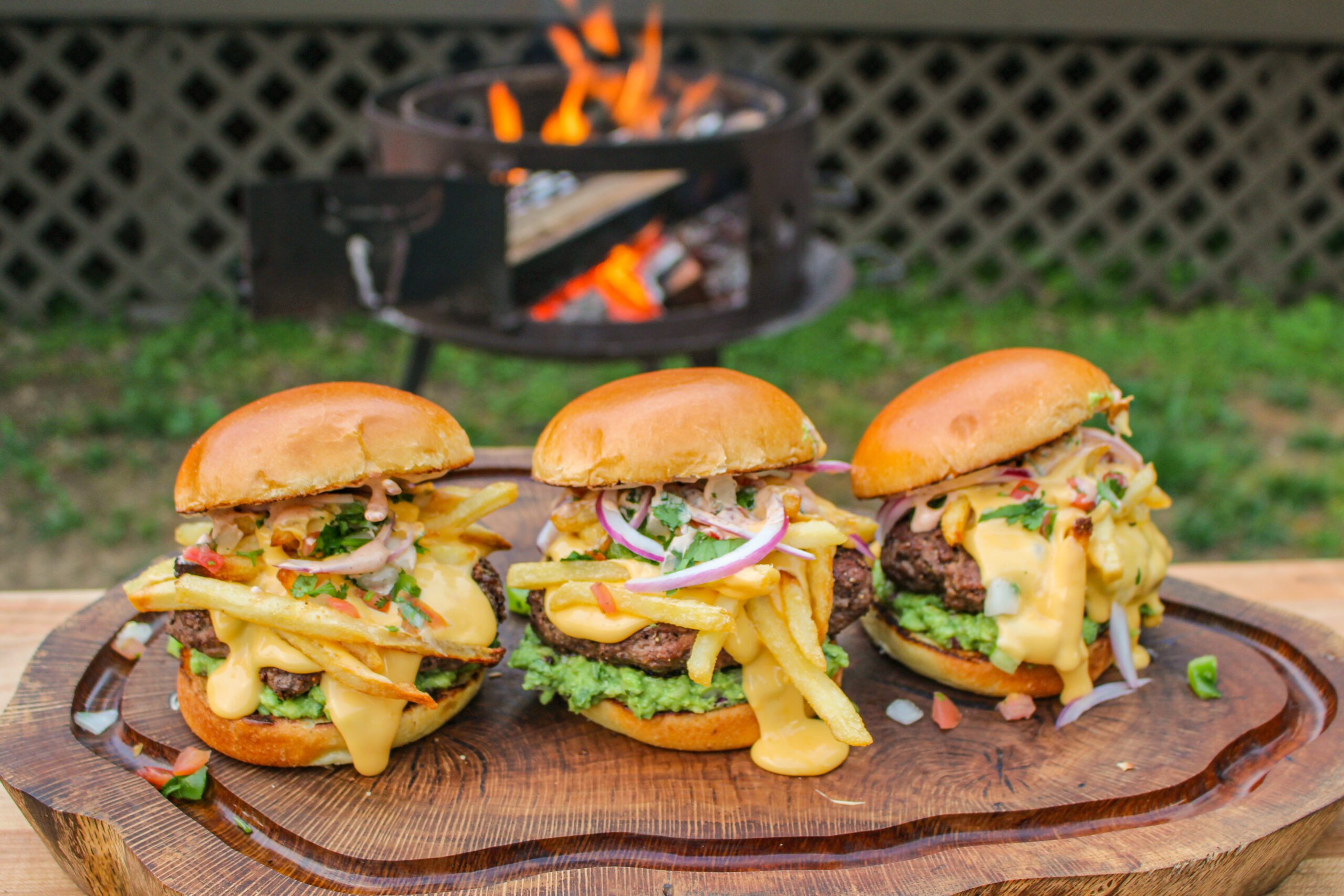 California Burger Ingredients
Believe it or not, you can prep and cook this entire recipe in under an hour! There are a few different components to this recipe, but they're all deliciously simple. You'll start out with the standard hamburger ingredients: some lean ground beef seasoned with kosher salt, black pepper, and garlic powder, as well as some toasted brioche buns.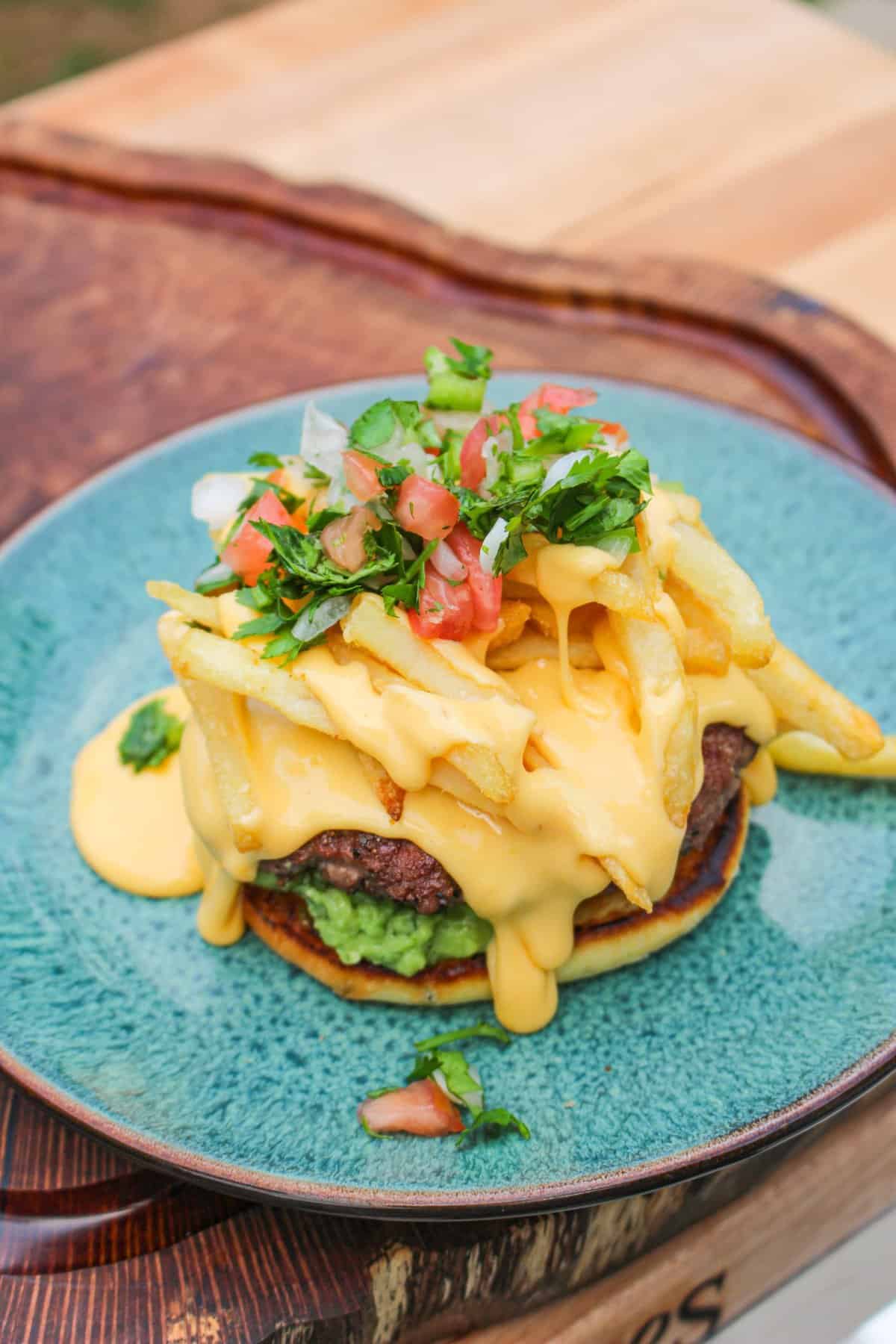 The chipotle lime mayo is exactly what it sounds like: mayonnaise, chipotle purée, and lime juice. The cheese sauce is a mixture of Velveeta, whole milk, and hot sauce. You'll also mix up some guacamole made out of fresh avocados, diced raw onions, chopped cilantro, chopped serranos, lime juice, and kosher salt. Last but not least are the French fries. You can go the simple route and bake some frozen fries, or fry your own!
Form the Beef Patties for your California Burrito Style Burger
To create this awesome burger, first, we'll make our beef patties. To do so, portion out 1/2 pound sections of ground beef. Form each portion into patties, and then set the formed patties on a tray.
Place the tray in the fridge to allow the meat to chill for 30 minutes. Don't skip this step! Chilling the patties helps reinforce their shape so they don't fall apart when you try to cook them. No one likes a crumbly California Burrito Style Burger…or any crumbly burger for that matter.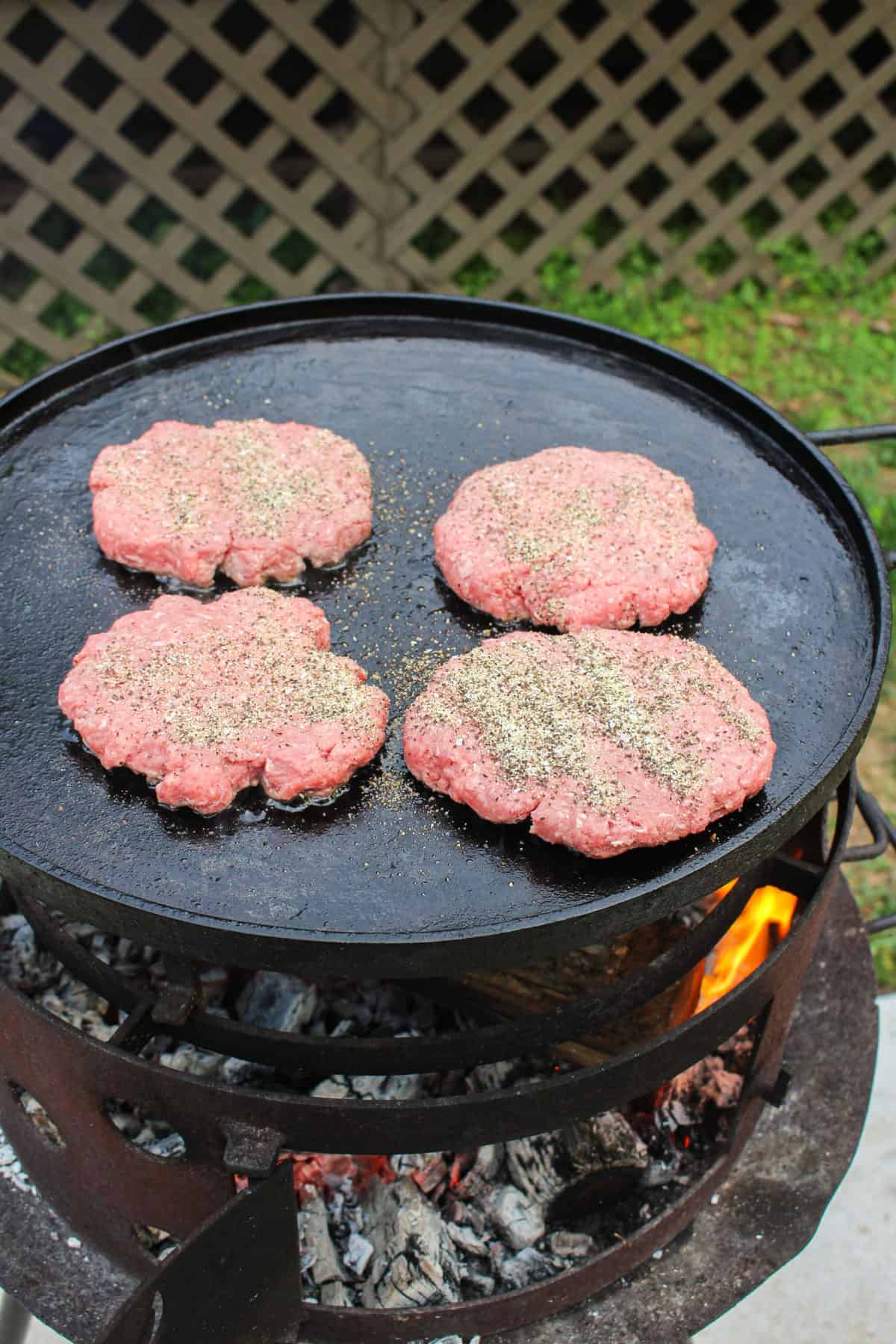 Make Your Guacamole
Next up, we're whipping up a quick but incredibly flavorful batch of homemade guacamole.
So, start with 5-6 ripe avocados. Open each avocado up and remove the pit, then use a spoon to scoop the meat of the avocado out into a bowl. Use a fork to mash the avocado up until your desired texture is reached. I prefer it smooth, but feel free to leave chunks if that's what you prefer.
To the bowl with the avocado, add finely diced red onions, chopped cilantro, chopped serrano peppers, lime juice, and salt. Make sure you taste it to make sure it's just the way you like it, then set it aside.
Looking for more ways to use homemade guacamole? Check out my Shrimp "Al Pastor" Tacos, Smoked Chorizo Queso, or Loaded Steak Fries!
Cook Your California Burrito Style Burger
Now, it's time to cook the burger patties! First, preheat the grill to a medium-high heat of around 400ºF. Add a large skillet or plancha to the grill. Allow it to heat for a couple of minutes, then place the burger patties into the skillet.
While the skillet is preheating, I like to also get my fries cooking. Remember, you can cook your own French fries for that made-from-scratch vibe for your California burger. However, there's also a lot of moving pieces in this recipe, so opting to bake some frozen fries is also a great option. Back to the burgers. Season each burger patty with salt, pepper, and garlic powder, then cook them for 4-5 minutes per side or until a nice crust has formed. Don't forget to verify that the internal temperature is 165ºF.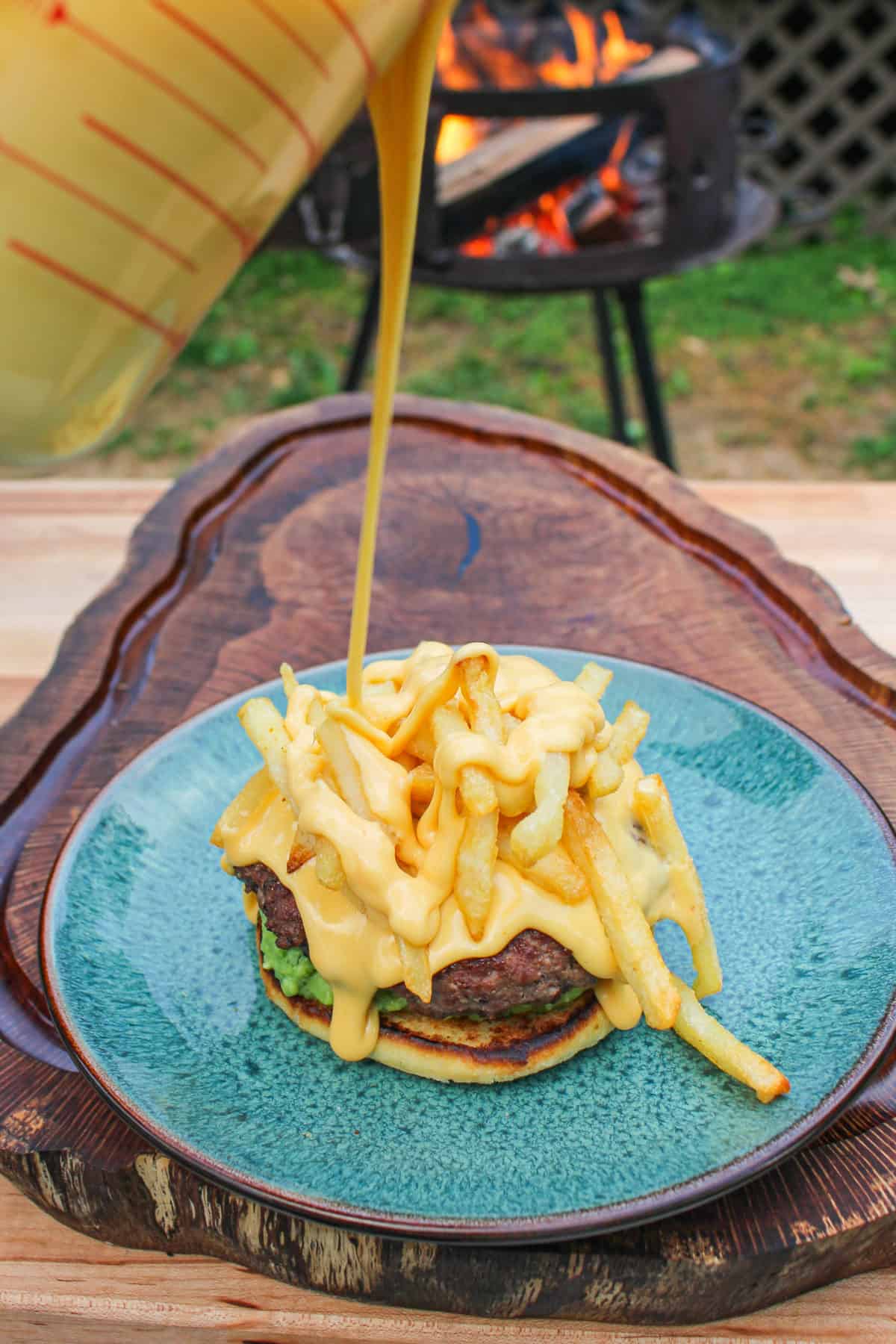 Don't Forget the Condiments!
While the beef patty is the obvious MVP of any burger, we can't overlook the toppings! And this California Burrito Style Burger would not be the same without the chipotle lime mayonnaise and cheese sauce. Plus, these delicious condiments could not be more simple to make.
For the chipotle lime mayonnaise, mix together mayonnaise, chipotle purée, and lime juice.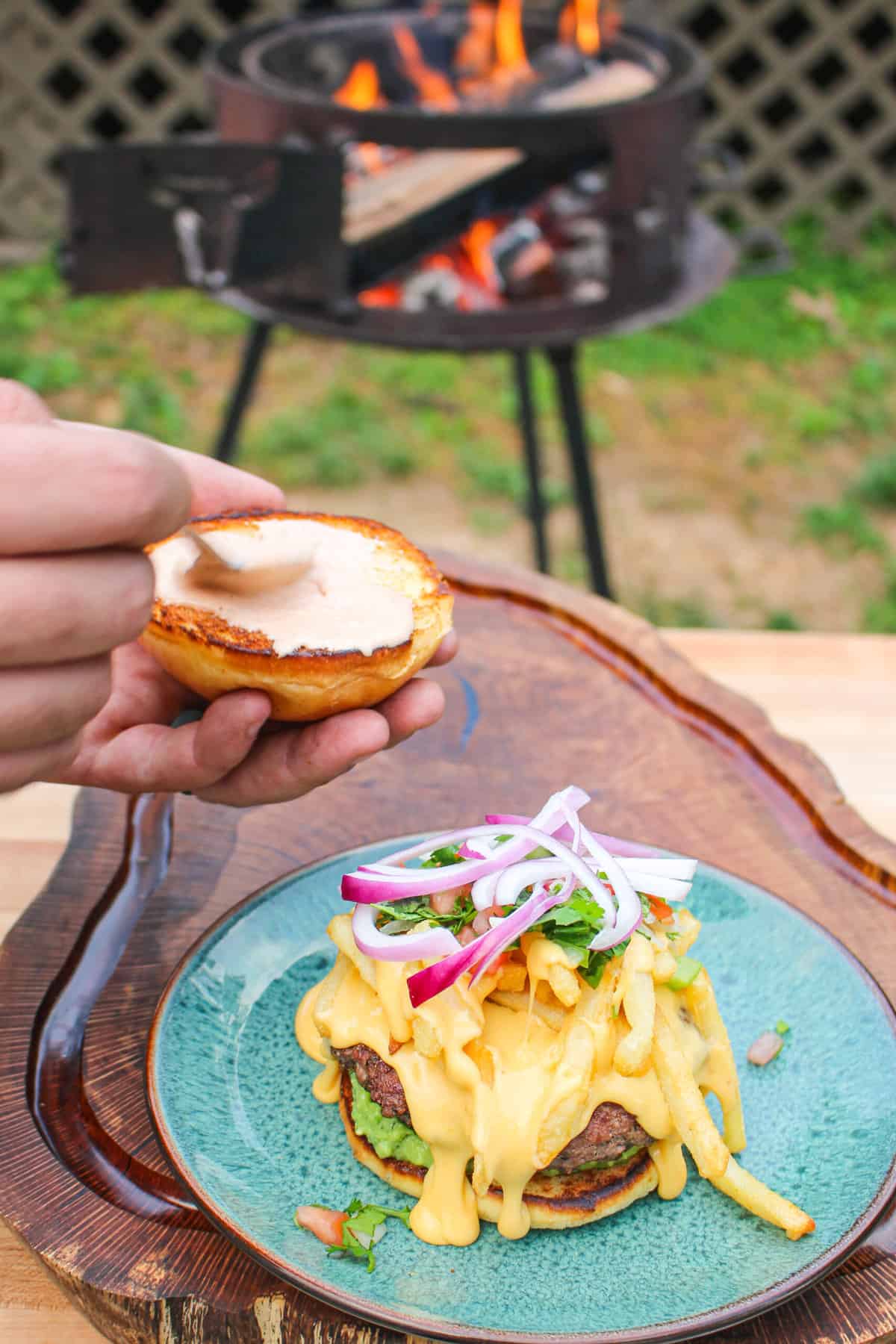 For the cheese sauce, place a cast-iron skillet onto the grill. Let it preheat to a medium temperature of around 325ºF. The lower temperature works better for cheese so it doesn't burn. Add Velveeta cheese cubes into the hot skillet along with a drizzle of hot sauce. Stir constantly while the cheese melts, then slowly add in milk until your desired cheese sauce consistency is reached. Keep stirring! We don't want a lumpy, burnt cheese sauce.
For more with melty cheese, check out my Grilled Cheese BBQ Cheeseburger, Blue Cheese Crusted Steaks and Philly Cheese Sausage Skewers.
Assemble and Serve
My assembly process begins by toasting the buns. This is a quick step and nothing is better than serving a delicious burger on a warm, freshly toasted bun!
Next start to layer your burger by placing the bottom bun onto a plate. Top it with a spoonful of guacamole, a burger patty, a drizzle of cheese, a handful of French fries, more cheese, pico de gallo, and sliced red onions. Slather the top bun with your chipotle lime mayonnaise, then add it onto the California avocado burger.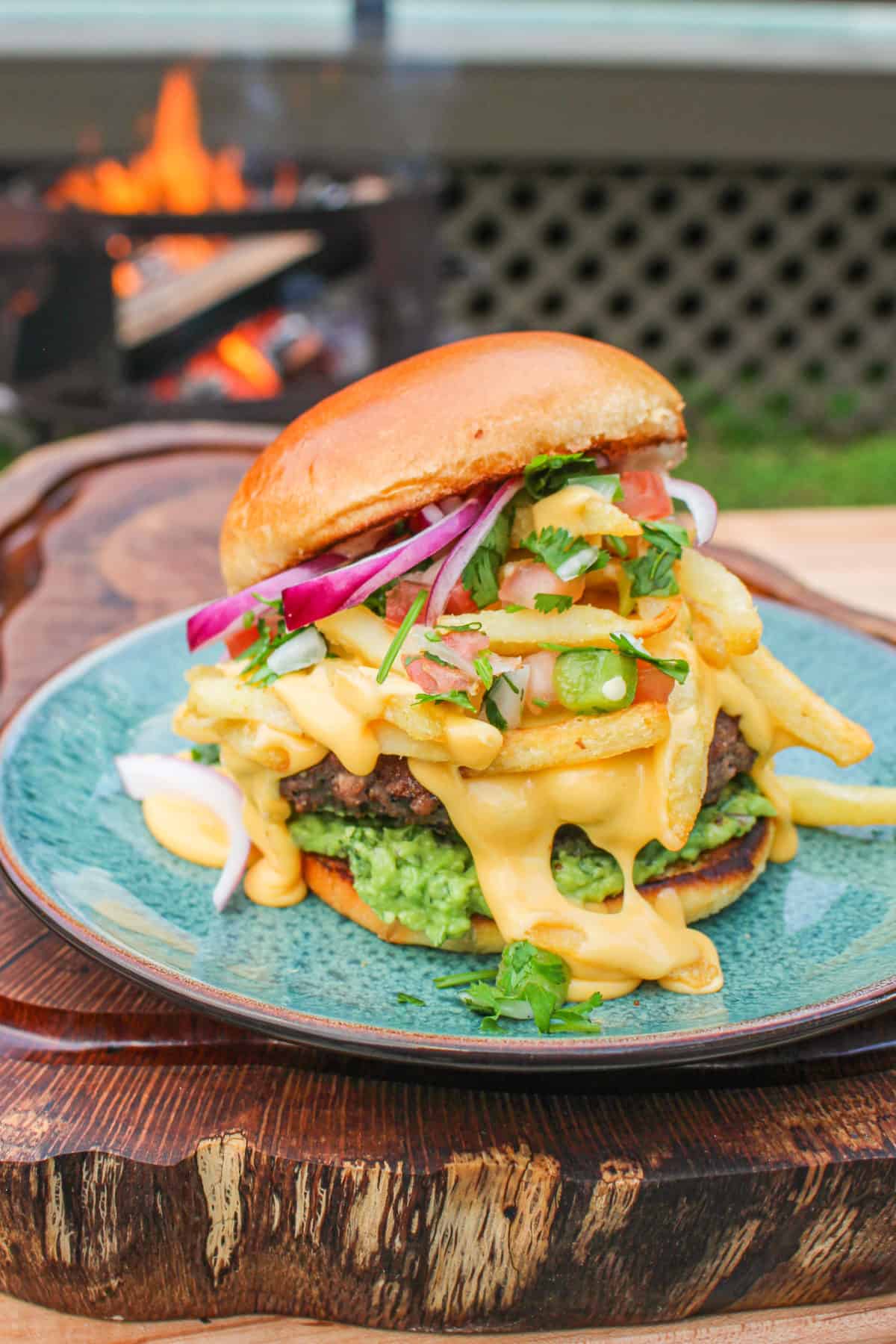 It's your choice if you'd like to have onion rings, tortilla chips, or fresh vegetables on the side.
Now dig in! This meal is so worth the mess!
California Burrito Style Burger
This California Burrito Style Burger is made with chipotle lime mayo, juicy burger patties, guacamole, French fries, and cheese sauce!
Ingredients
Beef:
2

lbs

Ground Beef

80/20

1

tbsp

Kosher Salt

1

tbsp

Black Pepper

1

tbsp

Garlic Powder

Burger Buns

toasted

Canola Oil
Chipotle Lime Mayonnaise:
¾

cup

Mayonnaise

1.5

tbsp

Chipotle Purée

1-2

medium Limes

juiced
Cheese Sauce:
16

oz

Velveeta Cheese

cubed

Whole Milk

to desired thickness

1.5

tsp

Hot Sauce
Guacamole:
5-6

Ripe Avocados

removed from shell

1

cup

Red Onions

finely diced

½

cup

Chopped Cilantro

2

tbsp

Chopped Serranos

3-4

medium Limes

juiced

Kosher Salt

to taste
Toppings:
Sliced Red Onions

Pico De Gallo

French Fries
Instructions
Begin by forming ½ lb patties of ground beef, set onto a tray and place in the fridge to firm for 30 minutes. In another bowl, add together all the ingredients for the Chipotle Lime Mayonnaise. Finally, open up each avocado and remove the seed. Scoop out the meat of the avocado and place in a bowl. Mash it together until you have an almost smooth texture. Add the rest of the ingredients for the guacamole to the bowl, mix and place in the fridge until ready to use..

Preheat your grill to high heat (around 400F) adding a cast iron skillet/plancha to the grill 2 minutes before cooking.

Add your burgers to the skillet and season the top side with salt, pepper and garlic. Cook the burgers for about 4-5 minutes per side or until they have a nice crust and are about 165F internal. Once the burgers are done, pull them off and keep them warm until ready to serve.

Add another cast iron skillet to the grill, letting the heat cool down to a medium temperature (around 325F) to start making your cheese. Add the cubed cheese to the skillet along with the hot sauce. Stir and let fully melt. Once melted, begin adding your whole milk to find your desired consistency. Add the milk slowly and then stir it in well. I prefer to add about 1-1.5 cups of milk, but you enjoy it how you like. Continually stir the cheese sauce until it is warm and ready. Pull off once done.

Right before assembling, make sure to toast your burger buns over the fire for a nice golden brown crisp.

Finally, start assembling your burger. Add the bottom of the burger bun, spoonful of guacamole, top with ½ lb burger patty, drizzle of cheese, french fries, more cheese, pico de gallo, sliced red onions and the top burger bun smothered in chipotle lime mayonnaise. Repeat this for all your burgers. Serve and enjoy!
Nutrition
Calories:
1569
kcal
|
Carbohydrates:
50
g
|
Protein:
68
g
|
Fat:
126
g
|
Saturated Fat:
36
g
|
Polyunsaturated Fat:
25
g
|
Monounsaturated Fat:
52
g
|
Trans Fat:
3
g
|
Cholesterol:
226
mg
|
Sodium:
4095
mg
|
Potassium:
2437
mg
|
Fiber:
21
g
|
Sugar:
15
g
|
Vitamin A:
2034
IU
|
Vitamin C:
53
mg
|
Calcium:
768
mg
|
Iron:
7
mg