Tired of all the big meals are similar flavors that the holidays bring? Spice things up a bit with these Spicy Mezcal Drumstick Skewers. Marinated in a habanero mezcal sauce overnight and then cooked over live fire. The mezcal brings a robust smoky flavor while the habanero cements the spiciness. It is an epic cook for any time of year.
What is Mezcal?
The first thing that you might be wondering is, what is mezcal in these Spicy Mezcal Drumstick Skewers? That is a valid question, and I am so excited to share this with you if you have never heard about it. Similar to tequila, the agave plant is the base for Mezcal. The process is the defining factor between the two. For tequila, the agave plant steams before it is distilled. For Mezcal however, the plant is cooked in large open earth pits over fire before being distilled (just what we like to hear). I have loved this drink for a long time, and it is only fitting to make it an amazing recipe: the Spicy Mezcal Drumstick Skewers.
Have you pre-ordered my cookbook: Food by Fire???
Let's Prep and Cook these Spicy Mezcal Drumstick Skewers
Once I snagged myself a bottle of mezcal (this recipe would also go great with my single barrel rye), I started prepping the chicken drumsticks by marinating them overnight. Instead of toning down the smokiness of the mezcal, I amped it up with habanero hot sauce. The large smoky & spicy flavor is definitely needed on these wings.
Next, I skewer the drumsticks. When ready, I place them over the fire to cook for 20-25 minutes over medium-high heat. I am shooting for the drumsticks to be around 175F. Though this is ten degrees above the norm, I think the dark meat from the drumsticks can take the heat.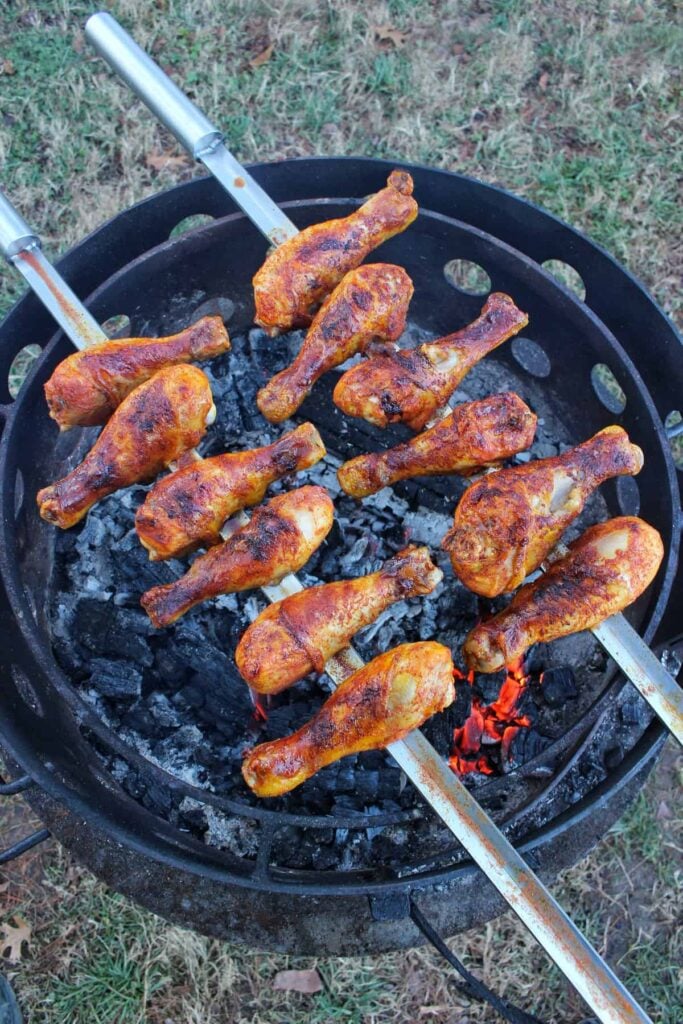 After flipping the Spicy Mezcal Drumstick Skewers a couple of times, it is time to pull them off to rest for a minute. I will then quickly prepare the Avocado Salsa that will go on top. I prep the salsa last as to keep the avocados fresh & green! You are more than welcome to prepare the salsa earlier if you like! Add the fresh salsa over these skewers and we are in business!
Time to Eat!
This is a fun recipe for anytime of year. I was craving some summer grilling in the middle of December, but feel free to make this work for any event. These Spicy Mezcal Drumstick Skewers are the perfect compliment to the fire cooking process. Cheers!
Spicy Mezcal Drumstick Skewers
Tired of the same old stuff? Spice things up a bit with these Spicy Mezcal Drumstick Skewers. 
Ingredients
Chicken:
12

Chicken Drumsticks

2.5

tbsp

of Achiote Seasoning

3

Limes

juiced

2

Navel Oranges

juiced

8

oz

of Mezcal

2

tsp

of Habanero Hot Sauce

1

tbsp

of Canola Oil
Avocado Salsa:
2

Ripe Avocados

diced

2

Small Roma Tomatoes

diced

1

Serrano Pepper

diced

¼

of a Red Onion

diced

3

tbsp

of Cilantro

finely chopped

2

Limes

juiced

1

tsp

of Sea Salt
Instructions
In a food safe bowl or bag, place your chicken drumsticks. Add the achiote seasoning, lime juice, orange juice, mezcal, habanero hot sauce and canola oil. Mix together thoroughly then place in the fridge to marinate for at least 4 hours but ideally overnight.

Preheat your fire to a medium-high temperature (around 350F).

Pull the chicken drumsticks out of the bowl and begin skewering them. Make sure to only skewer them on one side as to avoid breaking the bone. If possible, pour any of the excess marinade over the top of the skewered drumsticks for added flavor.

Add your skewers over the fire and cook for about 20-25 minutes until they reach 175F internal. Rotate the skewers every 5-7 minutes to avoid getting burnt on one side. Once done, pull them off and let rest for 2-3 minutes.

Mix together the ingredients for the Avocado Salsa.

Top the drumstick skewers with the avocado salsa and enjoy!