Sweet Teriyaki Sake Smoked Ribs to round out my new Spirit-Infused spice line! Did I save the best for last? Possibly, because these ribs were incredible. The blend makes this recipe so easy to make, the only thing you really need is some time to spend outside cooking. I mean, don't twist my arm, but I'd opt for an afternoon smoking ribs anyday. Y'all give this one a try, you won't regret it.
So Sweet Teriyaki Sake I Smoked It Twice
Yes, I did cook this recipe twice. The first time it started dumping rain about 3/4ths of the way through the cook. The ribs still turned out fantastic, but our photography and videography suffered from the downpour. We decided to go ahead and make it again so that we could really show off how fantastic these ribs are. Needless to say, my parents, sister, brother-in-law and wife were all totally fine with me making six racks of these Sweet Teriyaki Sake Smoked Ribs within a three day period.
To get things started, grab three racks of pork ribs. I trimmed up the edges and cut some of the excess meat off the rack and then got to seasoning. Using mustard as a binder, I squeezed one line down the top of each rack and spread it around before flipping the ribs over and doing the same thing on the other side. Next comes the Sweet Teriyaki Sake. I covered every inch of these ribs in a light layer of the seasoning before heading outside to the smoker.
Smoked Ribs
I preheated my offset smoker to about 225F and then set each rack of Sweet Teriyaki Sake ribs on the grill grate. Now, close the smoker and let them cook for about 3 hours. We're waiting for the outside to caramelize and become a lovely, ruby red color. Once we hit that point, we're ready for step two: wrapping.
To wrap the ribs, first grab some aluminum foil. Take a long sheet of it and lay down three cuts of butter, a sprinkle of brown sugar and a drizzle of mirin. Pull one rack of ribs off the smoker, place them top side down (on the butter) and then place another layer of butter, brown sugar and mirin on the face up side of the ribs. Now enclose the ribs in the foil and place it back on the smoker. Repeat this process two more times for the other two racks of Sweet Teriyaki Sake Smoked Ribs. We'll leave them on the smoker to cook for another two hours.
Sweet Teriyaki Sake – Sake BBQ Glaze
About 30 minutes before the ribs are done, add a small grill grate and cast iron skillet to the charcoal chamber. That's right, we're making a Sake BBQ glaze! Add the Sake to the skillet first and let it reduce for a bit. Then, toss all the remaining BBQ glaze ingredients to the cast iron skillet and whisk together until it reaches a sauce-like consistency. Now, pull it from the smoker and set it to the side.
After the ribs have finished their two hour phase of smoking, pull them from the smoker and remove them from the foil. Place them back on the smoker and grab that BBQ sauce. I used a basting brush to coat a generous layer of the sauce on each rack of Sweet Teriyaki Sake Smoked Ribs. Then, close the lid and let these ribs finish cooking for another 20 or so minutes at 350F.
Time to Chow Down
When the ribs are done, pull them from the smoker and set on a serving platter. I garnished mine with some chopped scallions and then it was time to dig in. I could literally pull the bone straight out of these ribs. They were tender, juicy and so freakin' delicious. Best enjoyed with friends and family. Cheers!
Sweet Teriyaki Sake Smoked Ribs
Sweet Teriyaki Sake Smoked Ribs are all things good. Complete with a Sake BBQ glaze, these ribs are tender, juicy and so freakin' delicious!
Total Time
6
hours
30
minutes
Ingredients
Ribs:
3

St. Louis Style Pork Ribs

2-3

tbsp

of Sweet Teriyaki Sake Rub

2

tbsp

of Dijon Mustard

as binder

Chopped Scallions

for garnish
Crutch:
9-10

tbsp

of Butter

3

tbsp

of Brown Sugar

3-4

tbsp

of Mirin
Sweet Teriyaki Sake BBQ Sauce:
¼

cup

of Ketchup

⅛

cup

of Sake

1.5

tbsp

of Rice Wine Vinegar

1.5

tbsp

of Soy Sauce

1

tbsp

of Garlic Chili Paste

1

tbsp

of Honey

2

tsp

of Mirin

1.5

tsp

of Black Garlic Sauce
Instructions
Trim the pork ribs of any excess fat and carefully remove the membrane on the back of the ribs. Lather with mustard and season thoroughly with Sweet Teriyaki Sake seasoning. Place in the fridge for 2 hours to set.

Preheat your smoker for indirect cooking around 225F. Add some wood chips or wood chunks to the smoker for added flavor.

Add the ribs to the smoker on the indirect heat side. Cook for about 3 hours or until the outside is caramelized and a light ruby red color.

After 3 hours, pull your ribs off the smoker. Lay down a layer of aluminum foil with 3 tbsp of butter spaced out on the foil. Add some brown sugar and drizzled mirin over the butter. Top the butter mixture with one of the pork ribs with the bone side facing up. Add more butter, mirin and brown sugar on top of the rib. Carefully wrap in the foil until tight and secure. Repeat this step for all of the pork ribs.

Once done wrapping, add the ribs back to the smoker with bone side facing up. Cook for another 2 hours. About 30 minutes before the ribs are done, add a basting skillet over medium high fire. Add the sake first to reduce it by half. Next, add all the ingredients for the Sweet Teriyaki Sake BBQ Sauce to the skillet and let simmer until thickened (about 10 minutes) making sure to stir occasionally. Once done, pull off and let cool.

After 2 hours, unwrap the ribs and discard the foil. Place all the ribs back on the smoker and increase the heat to 350F. Begin glazing the outside of the ribs until with the BBQ sauce. Continue to cook the ribs for another 15-20 minutes until they are caramelized on the outside but tender on the inside.

Once done, pull the ribs off and let rest for 3-5 minutes. Serve with chopped scallions. Slice and enjoy!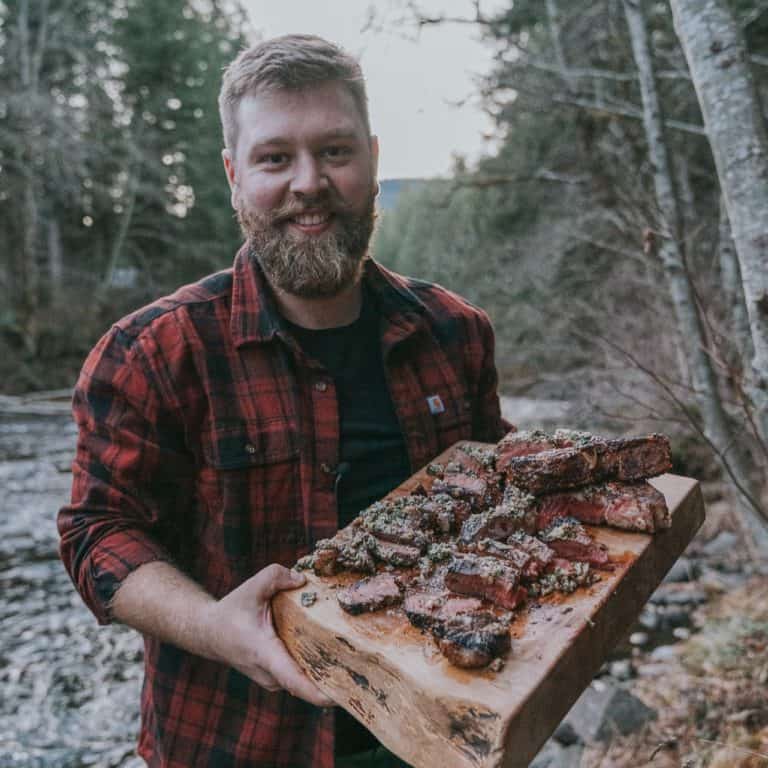 Derek is the driving force behind Over the Fire Cooking. He started cooking with live fire in 2016 and decided to start a social media page so his friends and family could follow the journey. Fast forward to today and Over the Fire Cooking has spread across multiple platforms with millions now following Derek's fire cooking journey. He's a southern fellow who enjoys everything from classic BBQ to Central and South American inspired dishes. Whatever he's cooking up, it's guaranteed to be so freakin' delicious!