Who else wants to crush some pork ribs right now. Smoky, savory and sweet all in one delicious bite sounds too good to be true. This weekend I conquered a new frontier in ribs on my Oklahoma Joe's Highland Smoker: the Smoked Honey Teriyaki Ribs. This was the first time I had ever tried that flavor combo on smoked ribs, and you are going to love this recipe!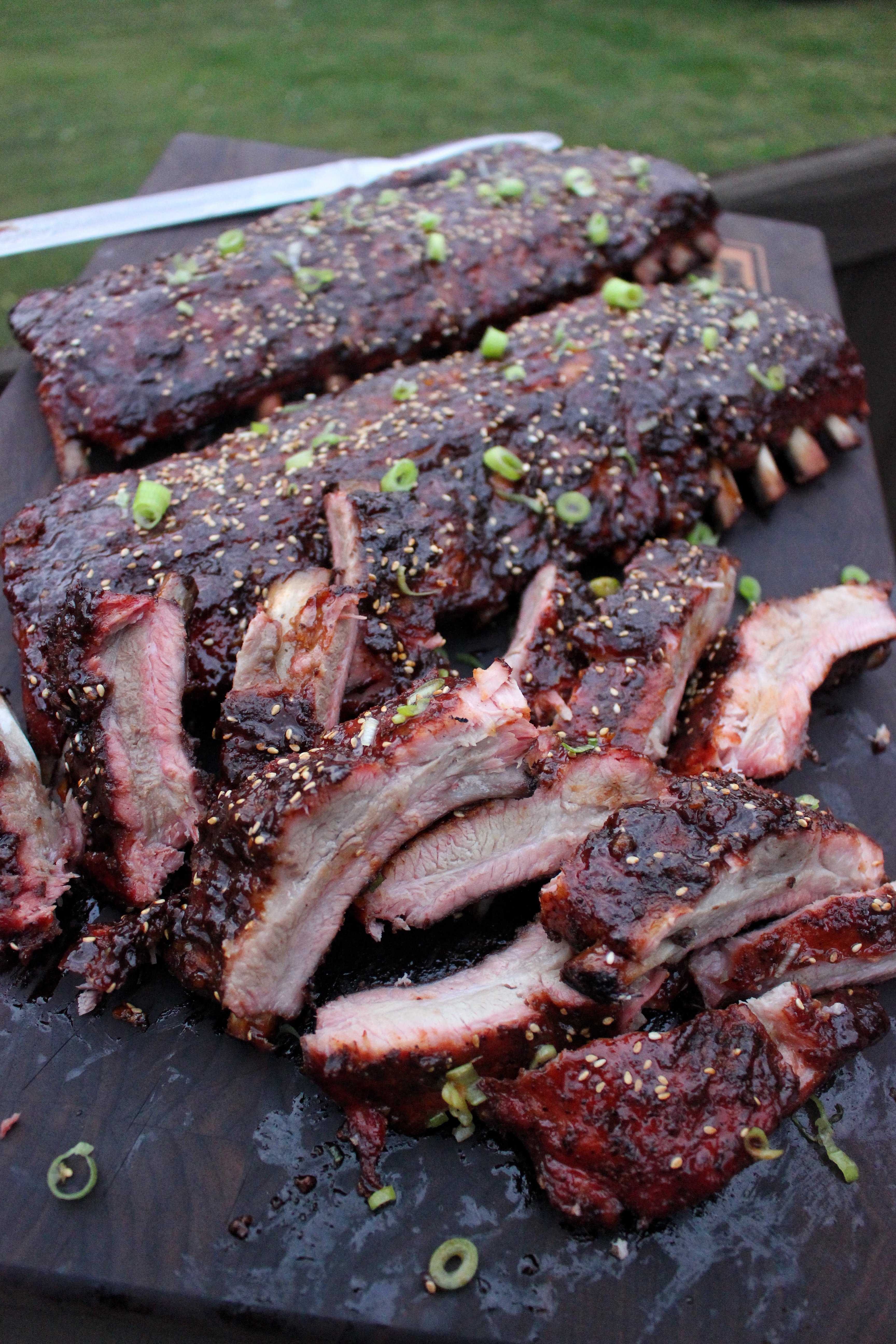 Refresher Course on Smoking Ribs
While I have done a few different rib recipes in the past, it is always a good idea to do a refresher course for those that might not know a few details. Let's break this down!
The Ribs: Firstly, I prefer using St. Louis Style Ribs for this cook. They have lots of meat on them with a great amount of fat. There are plenty of other pork ribs on the market, but I highly recommend getting this style for this specific cook.
Take off the Membrane: Next, I like to take the membrane off the ribs before I begin seasoning them. The membrane is the thin almost translucent wax paper like layer that sits over the top of the actual rib bones. Using a butter knife and smoke paper towels, you have easily rib it off and discard it. While you are welcome to try and rip it off with just your hands, I will leave that to the adventurous. We want to take this off and it will make the ribs chewy and not as tender. Try to take it off right before you season!
Let the Meat Rest: I highly recommend letting the meat rest in the fridge for at least 2 hours after seasoning it. This will help the seasoning set into place so that it does not fall off during cooking. The seasoning is the base layer of flavor so anything that falls off is a delicious bite being washed away.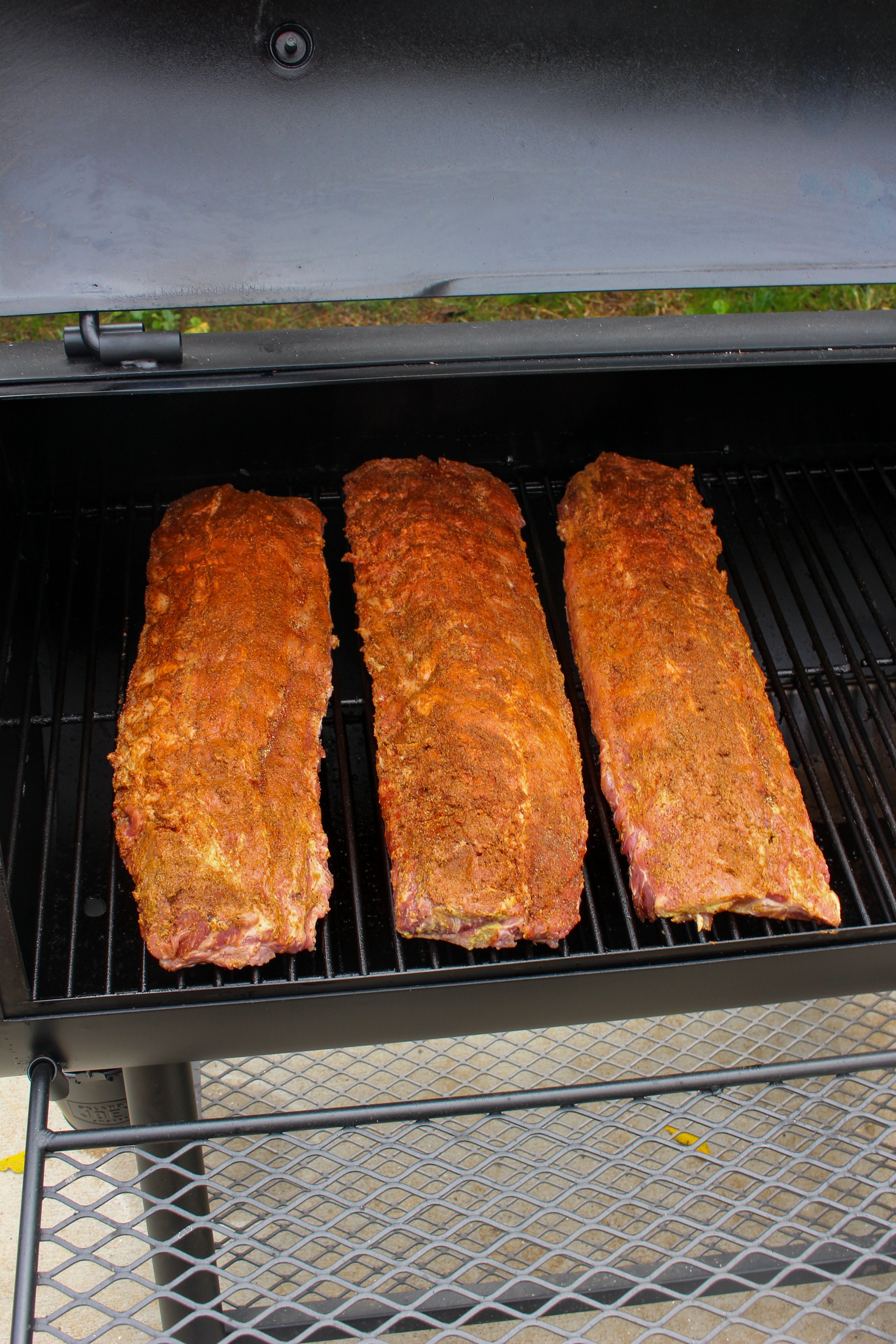 Let's Get to Smoking
Preheat your Oklahoma Joe's Highland Smoker: While this might seem like a given, making time for your smoker to preheat is sometimes forgotten. Wait until you reach an even 250F with clear blue smoke coming out the chimney before adding the ribs. Billowing white smoke will make the ribs bitter, and too much or too little heat will cause inconsistent cooking. Be patient and wait until the right moment.
3-2-1 Method: We will be practicing the 3-2-1 method for these ribs. What that means is we will break the cooking down into three sections: 3 hour cook unwrapped, 2 hour cook wrapped and 1 hour cook glazed. The first 3 hours will help the meat to absorb your smoke and let the seasoning set. It is important to spritz during these hours as the meat can dry out without care. The 2 hours are about adding more flavor by wrapping in butter, brown sugar and honey. This adds the sweetness and speeds up the cooking process. The last hour is about building a crust. Glazing these ribs with the Honey Teriyaki sauce will help make a delicious bark on the outside ready to devour!
Tend to your Fire: Whatever you do, make sure to tend to your fire in the Oklahoma Joe's Highland Offset Smoker. Keep adding coals as needed so that you maintain an even temperature!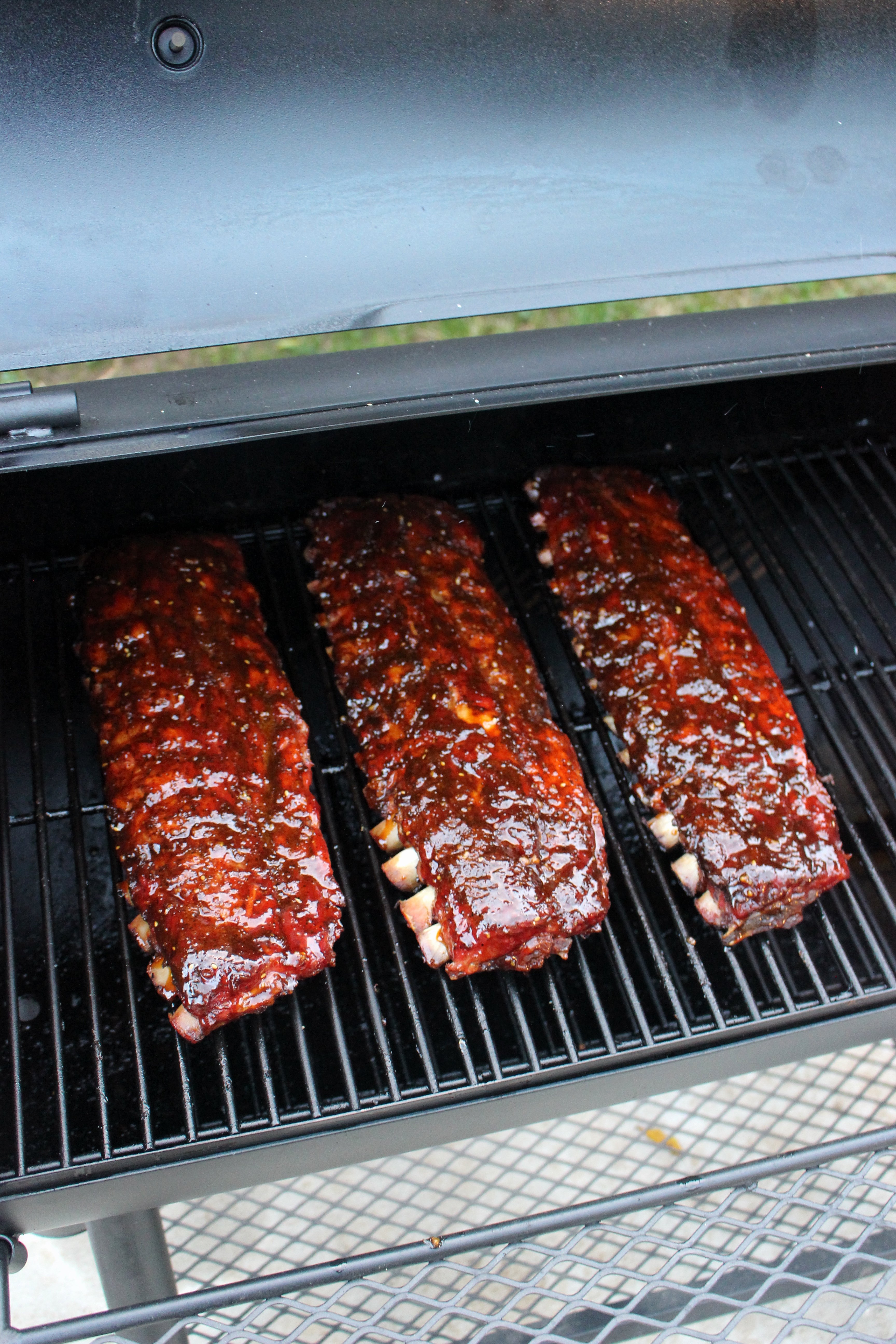 Let's try some Smoked Honey Teriyaki Ribs!
Now that you have had a very quick refresher course, then let's talk about these Smoked Honey Teriyaki Ribs. While a lot of classic ribs recipes call for lots of sweet candy sugar, these ribs will be slightly more savory.
While they will still hold a sweet crunch on the outside, these ribs are the ideal finger food for watching the game or feeding the family. They do not take forever to make, and they are a unique flavor compared to the other ribs. Cheers!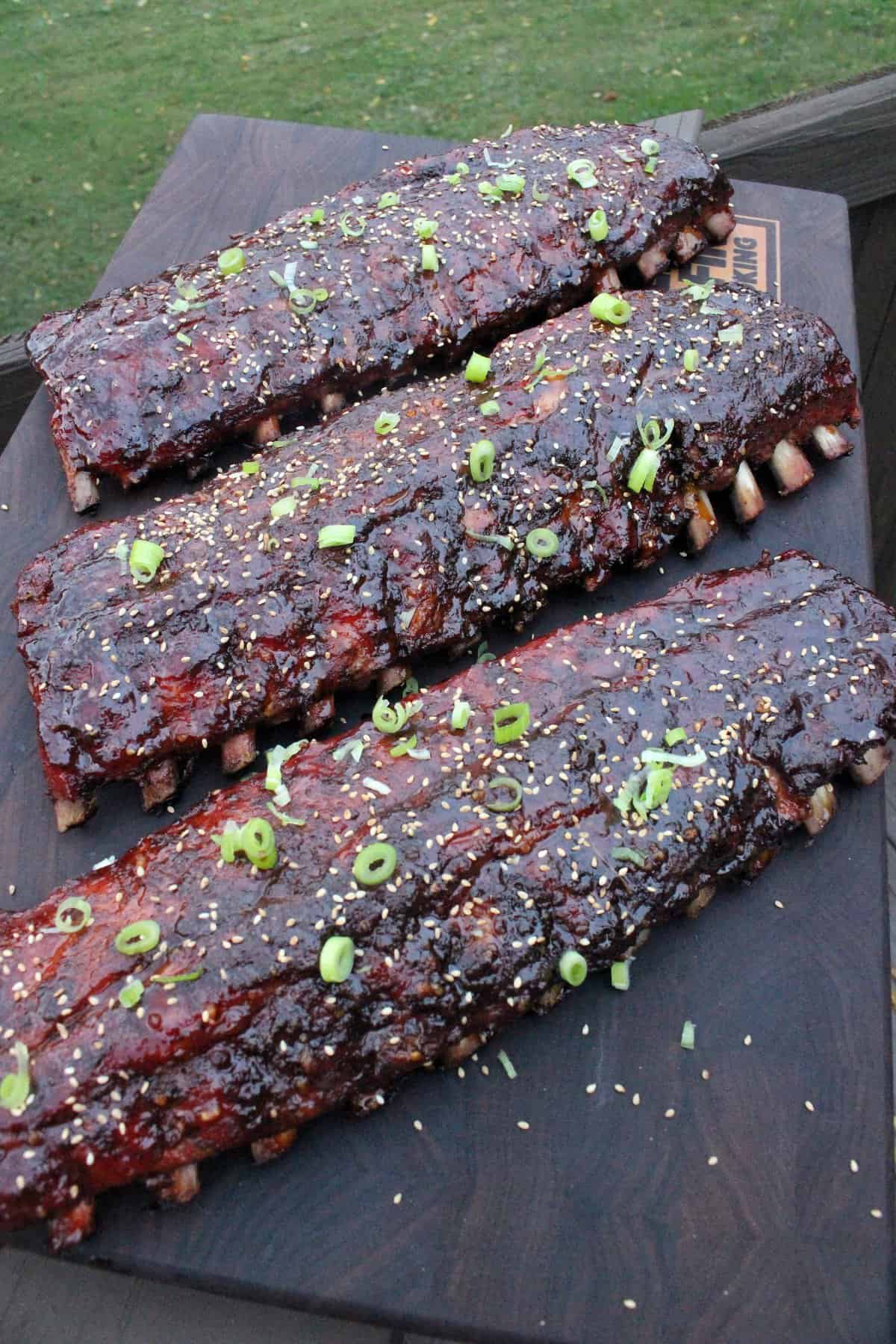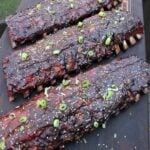 Print Recipe
Smoked Honey Teriyaki Ribs
Get your offset smoker going with these Smoked Honey Teriyaki Ribs. Using my Oklahoma Joes Highland, we make some epic ribs!
Ingredients
Ribs:
3

St. Louis Style Pork Ribs

3

tbsp

of Spicy Mustard

2

tbsp

of Kosher Salt

1.5

tbsp

of Black Pepper

1

tbsp

of Garlic Powder

1

tbsp

of Paprika

2

tsp

of Cinnamon
Spritz:
12

oz

of Apple Cider Vinegar
Crutch:
18

tbsp

of Butter

6

tbsp

of Honey

6

tsp

of Sugar
Honey Teriyaki BBQ Sauce:
¼

cup

of Teriyaki Sauce

4

Garlic Cloves

pressed

2

tsp

of Ginger

pressed

2

tbsp

of Honey

2

tsp

of Sriracha
Garnishes:
Green Onions

chopped

Sesame Seeds
Instructions
In a food safe bowl, mix the salt, pepper, garlic, paprika and cinnamon. Trim the pork ribs of any excess fat and carefully remove the membrane on the back of the ribs. Lather with dijon mustard and season thoroughly. Place in the fridge for 2 hours to set.

Preheat your Oklahoma Joe's Highland Smoker for indirect cooking around 250F. Add some wood chips or wood chunks to the smoker for added flavor.

Add the ribs to the smoker on the indirect heat side. Cook for 3 hours. Every 30 minutes, spritz the ribs with the apple cider vinegar.

After 3 hours, pull your ribs off the smoker. Lay down a layer of aluminum foil with 3 tbsp of butter spaced out on the foil. Add some brown sugar and drizzled honey over the butter. Top the butter mixture with one of the pork ribs with the bone side facing up. Add more butter, honey and brown sugar on top of the rib. Carefully wrap in the foil until tight and secure. Repeat this step for all of the pork ribs.

Once done wrapping, add the ribs back to the smoker with bone side facing up. Cook for another 2 hours.

After 2 hours, unwrap the ribs and discard the foil. Place all the ribs back on the smoker and increase the heat to 375F. Add a basting skillet over the coals or on the hot side of the smoker. Add all the ingredients for the Honey Teriyaki sauce and mix together thoroughly. Glaze the outside of the ribs until completely covered with the Honey Teriyaki sauce. Continue to cook the ribs for another 30-60 minutes until they are caramelized on the outside but tender on the inside.

Once done, pull the ribs off and let rest for 3-5 minutes. Garnish with green onions and sesame seeds. Slice and enjoy!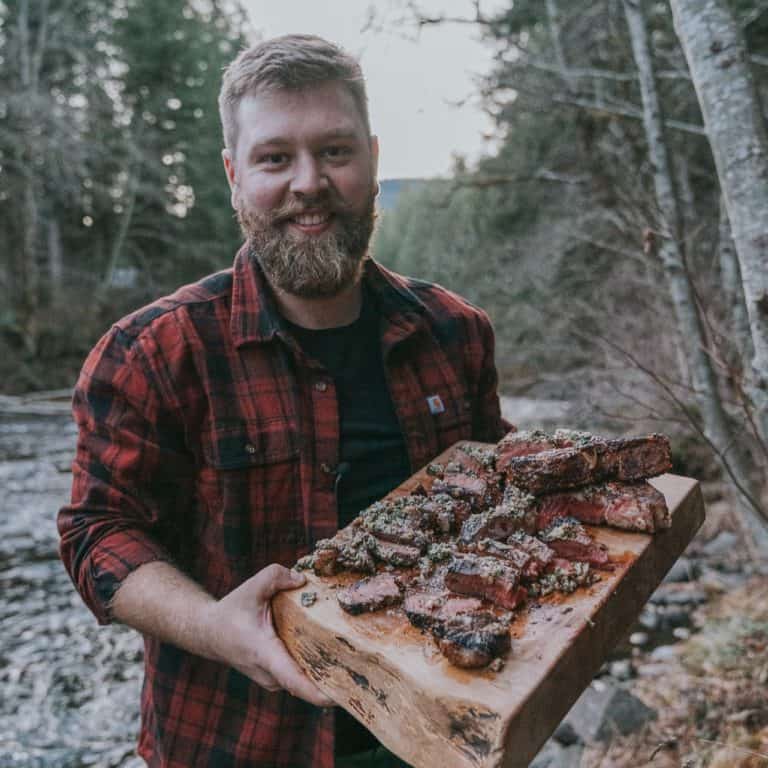 Derek is the driving force behind Over the Fire Cooking. He started cooking with live fire in 2016 and decided to start a social media page so his friends and family could follow the journey. Fast forward to today and Over the Fire Cooking has spread across multiple platforms with millions now following Derek's fire cooking journey. He's a southern fellow who enjoys everything from classic BBQ to Central and South American inspired dishes. Whatever he's cooking up, it's guaranteed to be so freakin' delicious!