What is Flap Steak? Who thought of flap steak as a name? Today, I am making Teriyaki Bourbon Flap Steak Tips over some hot Cowboy Charcoal on my grill. It is a tender delicious blend of steak tips and stir fry. But to make this recipe amazing, you first need to know what sirloin tips are and how to best make them.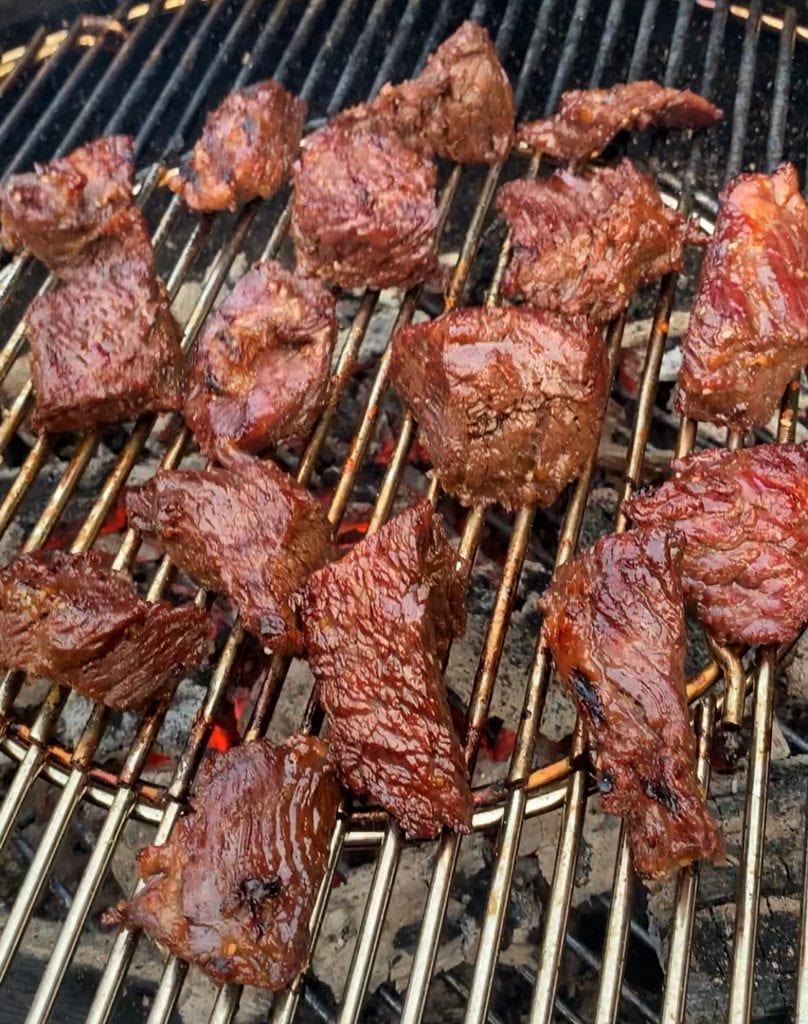 What is Flap Steak?
Flap steak comes from the bottom sirloin beef. It is usually long, fatty and very thin. This is an excellent cut to substitute for skirt steak, flank steak or hanger steak recipes! It is traditionally pretty unique inside of the United States grilling culture. It, however, has been gaining tons of popularity lately because of its uniqueness and its size! Flap steak tastes good with soy sauce, pepper, and garlic.
How do you cook Flap Steak?
Traditionally, flap steak is first marinated (or not), seasoned and then grilled over the fire quickly. It is great for tacos, sandwiches and skewers. But what about for these Teriyaki Bourbon Flap Steak Tips with a hint of stir fry action? Let's find out! Marinate the flap steak for at least 30 minutes.
The Teriyaki Bourbon Flap Steak Tips
In my recipe, I sliced the flap steak into thin pieces and then marinated them in teriyaki sauce, bourbon, mushrooms, onions and spices. This will allow the meat to absorb the flavor really quickly while creating a unique blend on sirloin tips and stir fry. Pulled out the wok, place it over some hot Cowboy Charcoal, and cooked the steak with veggies until the veggies were browned. Finally, I pulled the Teriyaki Bourbon Flap Steak tips out of the wok and placed them on the grill to finish. The flap steak cooking time is 30 minutes.
In the end, the crispy but tender steak tips can be added to rice with mushrooms and onions. It's a fun twist on outdoor cooking!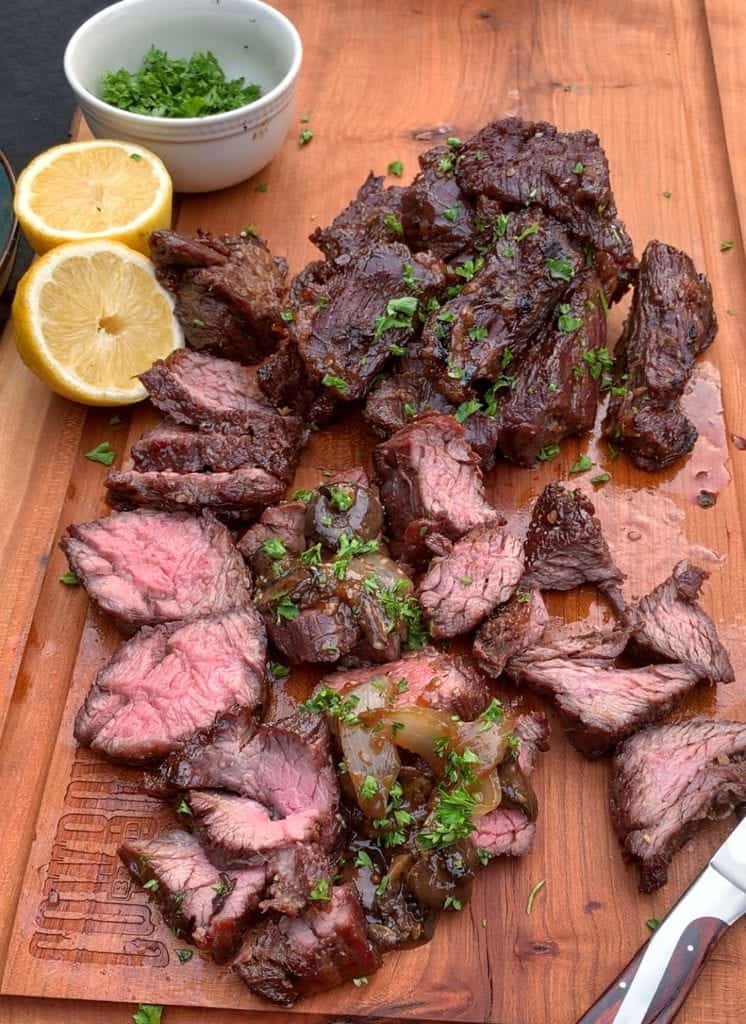 Teriyaki Bourbon Flap Steak Tips
Teriyaki Bourbon Flap Steak Tips are a knock out of the park for any adventurous griller. Try this on the wok and grill for tons of smoky and delicious flavor.
Equipment
Cast Iron Wok

Cowboy Charcoal
Ingredients
1

Sirloin Flap Steak

cut into 1 inch pieces

2

Cups

of your favorite Teriyaki Sauce

¼

Cup

of Your Favorite Bourbon

¼

Cup

of Mushrooms

sliced

1

Yellow Onion

sliced

1

Lemon

juiced

Parsley

garnish

Salt & Pepper

to taste

Avocado Oil
Instructions
In a bowl or plastic seal bag, add sliced sirloin steak, teriyaki sauce, bourbon, mushrooms, onions, and squeezed lemon juice. Let marinate for 2-12 hours. Before pulling out to grill, make sure to strain meat & veggies to remove as much marinade juice as possible.

Use some Cowboy Southern Style Hardwood Lump Charcoal to light fire and let burn for 10-15 minutes. Once Charcoal is white hot, push into one pile for direct grilling.

Place cast iron wok with avocado oil over fire 2-3 minutes before cooking to preheat.

Add strained & marinated steak & veggies to wok and cook over high heat for 8 minutes or until the veggies have browned. Pull wok off grill and add steak back to grill grate to finish. Cook the steak until 115F for medium-rare. Let steak rest for 5-8 minutes.

Slice steak & top with salt, pepper, parsley, and grilled veggies. (Optional: Add some rice to a bowl and eat with steak. Enjoy!
This article does contain affiliate links to products that we personally use and support. Purchasing an affiliate product does make us a small commission at no cost to you. This helps us continue creating for our website. All words and opinions are our own, and we appreciate your support!