Venison Rack with Wild Herb Butter for some familiar flavors on a new protein. If you're a hunter, this recipe is for you! If you're not a hunter, good news because you can now get venison delivered to your door from reputable online meat companies. Therefore this recipe is also for you! So, with that, let's dive in. 
Venison Rack with Wild Herb Butter
We haven't done much venison on this channel, so let's talk about it for a second. Like most game meat, venison is a very lean meat. For this reason, we want to cook it slowly so that it's tender when we go to serve the dish. Low and slow is the perfect game for a smoker, so that's exactly what I did for this Venison Rack with Wild Herb Butter recipe. 
The second thing we should touch on is temperature. If you like your steaks well done, venison might not be a great option for you. This is because the meat will get tough the further you cook it due to its low fat content. I cooked mine until it reached an internal temperature of 120 degrees Fahrenheit. For me, this produced the most perfect medium rare. Just how I like it! With that said, if you want to cook it more or less that's fine. 


Venison Rack Hits the Grill
Alright, onto the Venison Rack with Wild Herb Butter recipe. I started by seasoning the venison. I first mixed all my seasoning ingredients into a bowl. Then, I covered the venison in the seasoning. From here, take it to your preheated smoker and set it in. Close the lid and let the venison cook for about 30 minutes, or until it reaches your desired temperature. 
Now, let's make a spritzer for this venison. I like to use spritzers when I have large cuts of meat cooking on the smoker to ensure it stays nice and juicy. For this spritzer I used a mixture of coffee and worcestershire sauce. The coffee helps balance some of the gamey flavoring you can get from venison. I didn't want to completely neutralize the game flavor, but the splash of coffee was a great balance to it. I spritzed this venison rack every 10 minutes until it was done cooking. 
Sear Station Before Wild Herb Butter
Pull the venison rack from the smoker once it hits temperature. Set it to the side and start prepping your grill to sear the venison. This is the last step we'll do before starting the Wild Herb Butter. Start by removing the grill grate, drip pan and charcoal basket from the drum smoker. Next, I replaced the drip pan back to the smoker and set the charcoal basket on top of it. Now is the time to add more charcoal or wood chunks if needed.
To get a good sear on the venison rack we'll want a really hot fire. Alright, now set your grill grate back on the smoker and get ready to sear. Place the venison rack back onto the grill grate and flip once it has developed a nice crust. After a crust has formed on both sides, remove it from the grill and let it rest for about 10 minutes.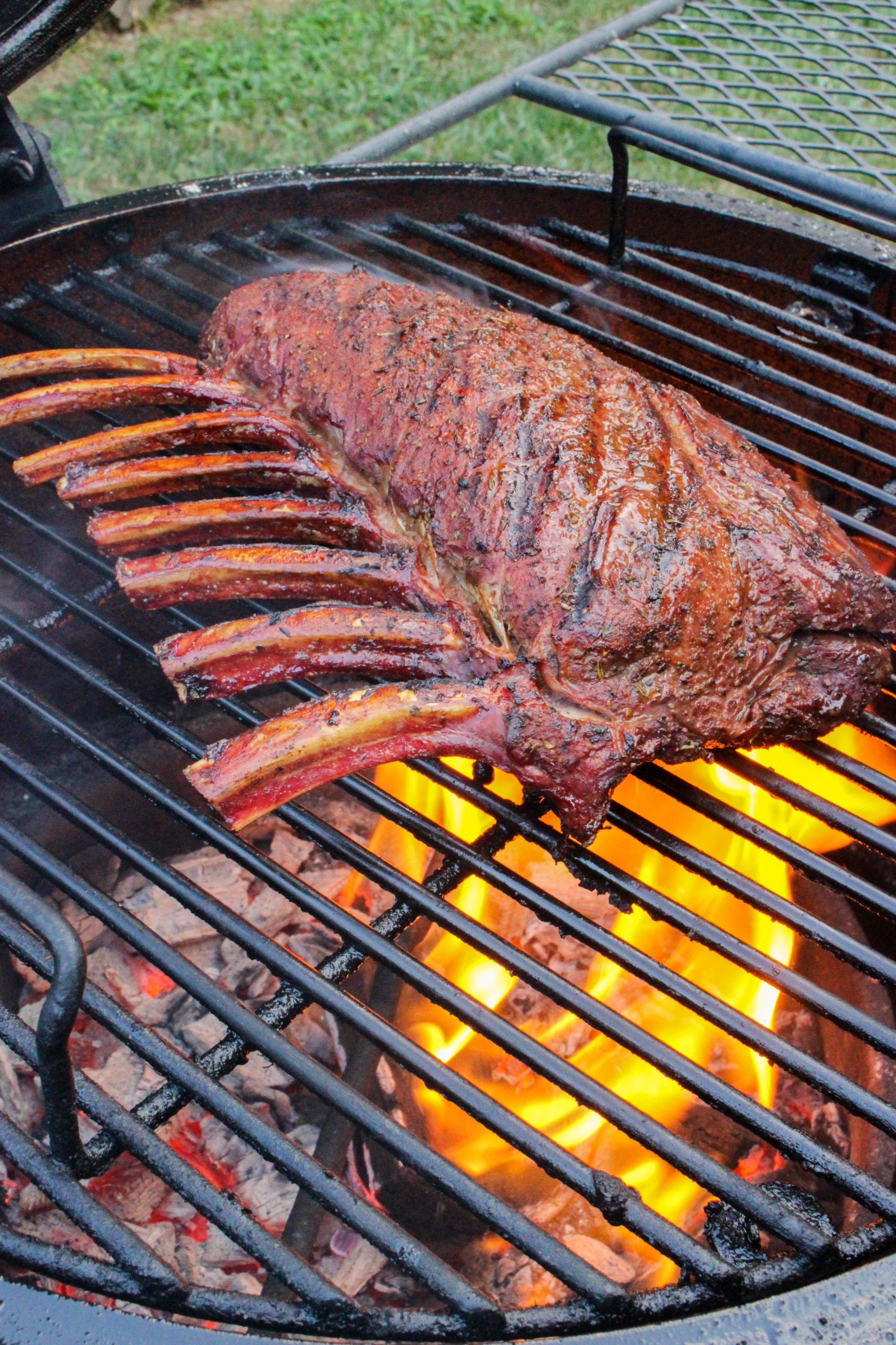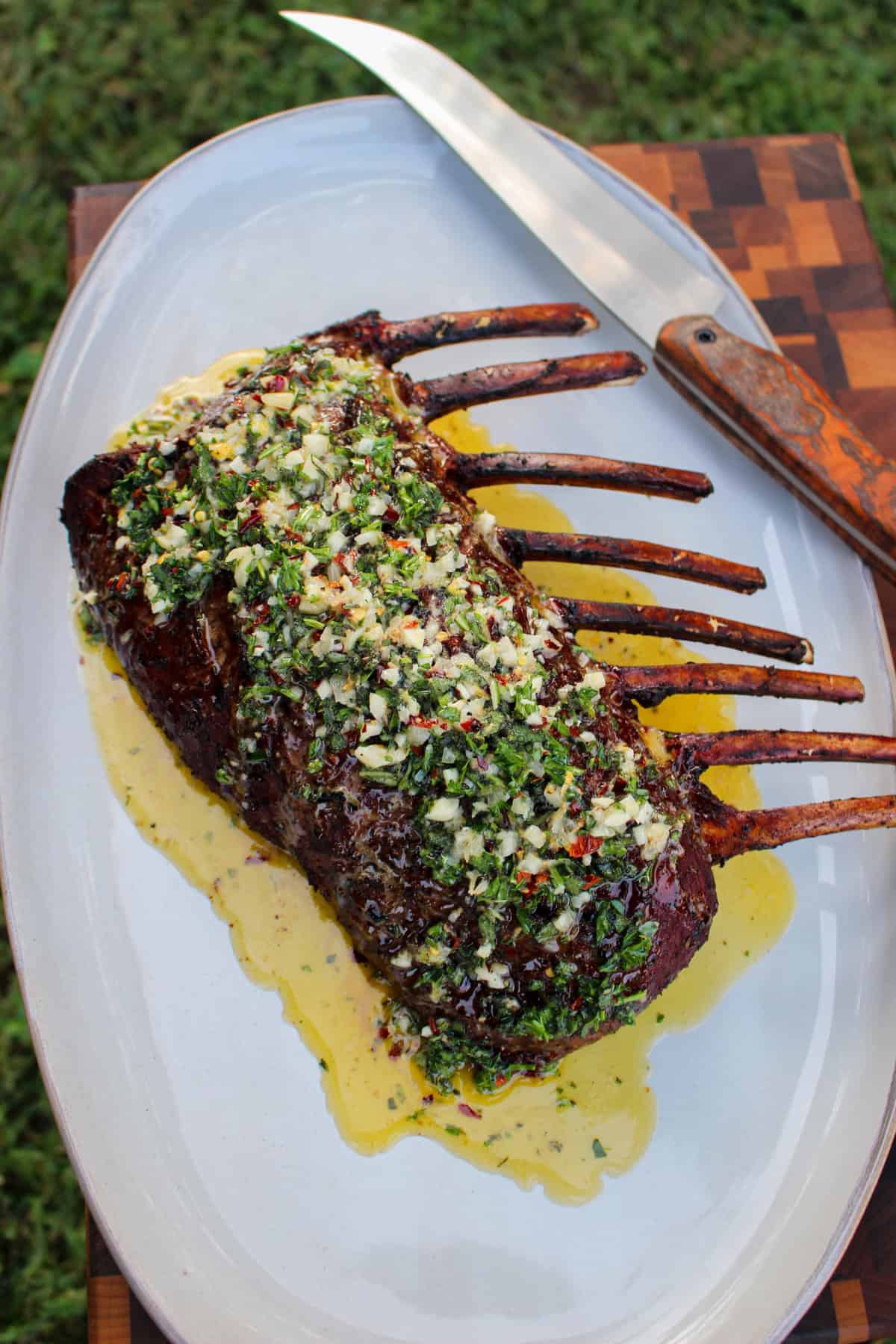 Now, Bring On That Wild Herb Butter
While the venison rack is resting, mix together the wild herb butter. Simply mix all the herb ingredients together in a bowl and then add melted butter. Continue mixing until it's all combined. Then, right before serving the venison rack, pour that golden deliciousness across the top of it! I then sliced between each bone of this Venison Rack with Wild Herb Butter and it was ready for serving. Best enjoyed with friends and family! Cheers!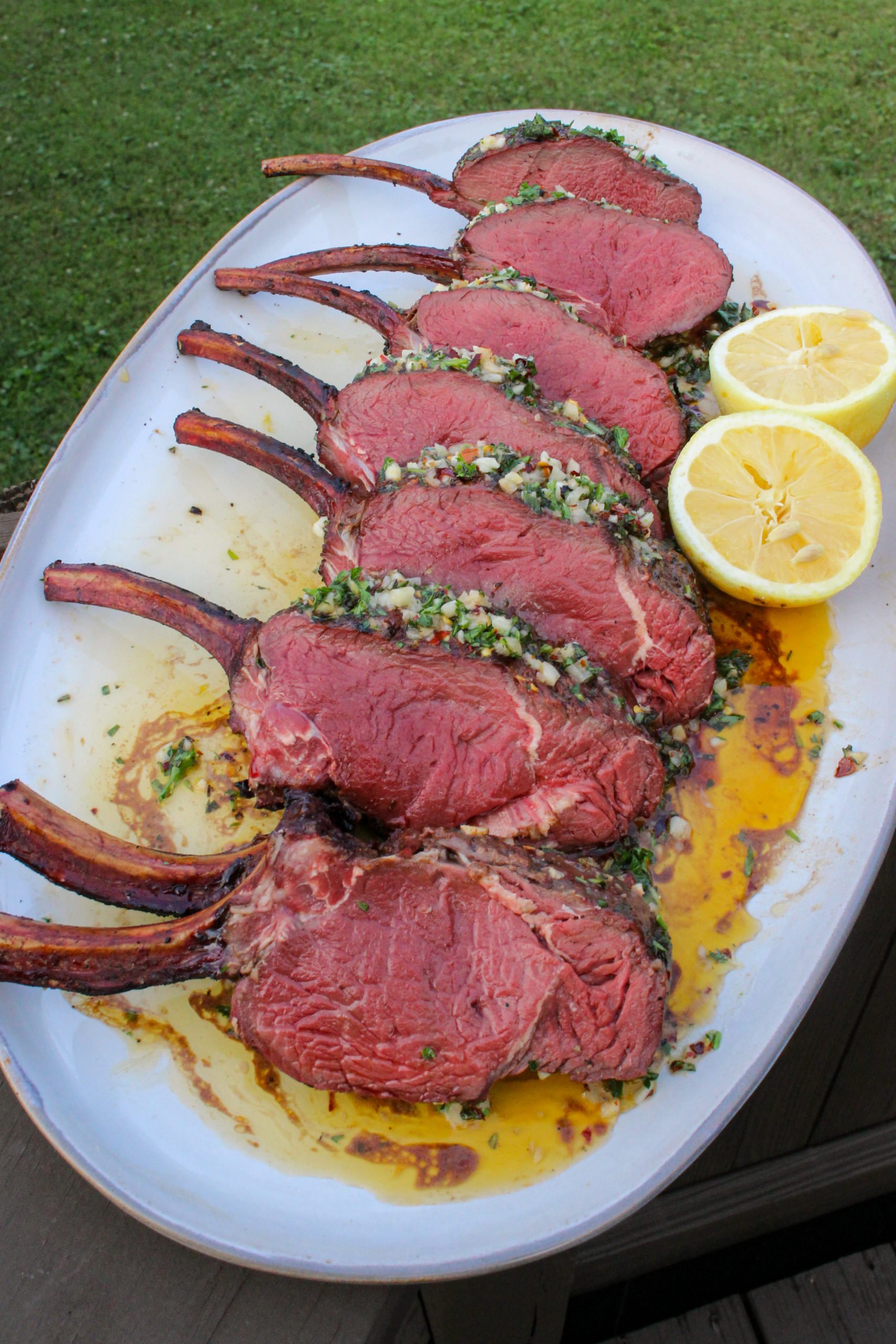 For more delicious recipes, check out my cookbook Food X Fire!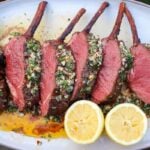 Print Recipe
Venison Rack with Herb Butter
Venison Rack with Wild Herb Butter for something unique. Low and slow is the perfect game for a smoker, so that's exactly what we did!
Ingredients
Venison:
1

Rack of Venison

frenched

2

tsp

of Smoked Paprika

2

tsp

of Brown Sugar

2

tsp

of Kosher Salt

1

tsp

of Black Pepper

1

tsp

of Garlic Powder

1

tsp

of Dried Oregano

1

tsp

of Dried Thyme

1/2

tsp

of Cayenne

Canola Oil
Spritz:
6

oz

of Coffee

1.5

tbsp

of Worcestershire
Wild Herb Butter:
2.5

tbsp

of Melted Butter

1.5

tbsp

of Minced Garlic

2

tsp

of Chopped Parsley

1

tsp

of Chopped Sage

1

tsp

of Chopped Tarragon

1

tsp

of Chopped Rosemary

1

tsp

of Flakey Salt

1/2

tsp

of Juniper Berries

chopped

1/2

tsp

of Red Chili Flakes

1

Lemon

juiced & zested
Instructions
Lather your venison rack with canola oil and mix the seasoning in a bowl. Season thoroughly on all sides, then set aside until ready to use.

Preheat your smoker to 225F indirect cooking.

Add the rack of venison to the smoker and cook until it reaches 120F internal (about 30 minutes). Mix the coffee & worcestershire, then spritz the rack of venison every 10 minutes until done.

Right before the venison is done, preheat a high heat fire (400F+) with a grill. Pull the venison off the smoker and sear off each side for 1-2 minutes. When done, pull the venison and let it rest for 10 minutes.

As the venison rests, mix together the wild herb butter in a bowl.

When the venison is done, pour the butter over the top, slice, serve and enjoy!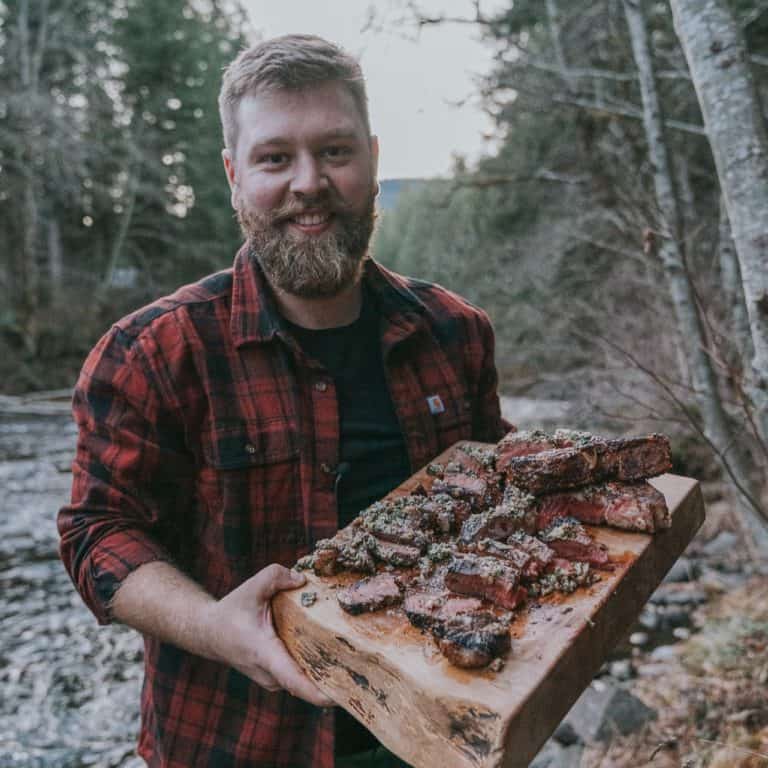 Derek is the driving force behind Over the Fire Cooking. He started cooking with live fire in 2016 and decided to start a social media page so his friends and family could follow the journey. Fast forward to today and Over the Fire Cooking has spread across multiple platforms with millions now following Derek's fire cooking journey. He's a southern fellow who enjoys everything from classic BBQ to Central and South American inspired dishes. Whatever he's cooking up, it's guaranteed to be so freakin' delicious!