Wagyu Secreto Steak with Roasted Chimichurri Recipe
Summer is in full swing, and so is cooking over fire. There are tons of great recipes to enjoy on the grill whether you like skirt steak, flap or maybe something different. But for those that want to enjoy the cream of the crop when it comes to American beef, there is Mishima Reserve Wagyu Secreto Steak with Roasted Chimichurri.
Yes, this is not a normal steak that you find at your local butcher. American Wagyu crafted to perfection, grilled over an open flame and then topped with the best sauce money can buy. But first, who is Mishima Reserve anyway?
So what is Mishima Reserve?
Mishima Reserve is a high quality American producer of Japanese Heritage breed Wagyu beef of the Kuroge Washu Bloodlines. They are naturally raised with a focus on reducing their carbon footprint by maintaining high quality standards and practices. In the end, their beef, like this wagyu secreto steak, is born & raised responsibly in the USA by the best ranchers across the Northwest & Rocky Mountains.
America makes Wagyu Beef?
Yes we do and it is amazing… Mishima Reserve is just one of many great producers of American Wagyu. They, however, have had years of learning all the in's and out's to maintaining and evolving American Wagyu.
What is Secreto Steak?
Secreto steak is not a common steak that you find on a menu. This steak is more or less inside skirt steak that has been heavily marbled by the American Wagyu breed. Perfect beef for a quick sear over fire and doused in chimichurri.
Secreto Steak with Roasted Chimichurri
The Secreto Steak could not be better compliment than with chimichurri sauce. For this chimichurri sauce, I decided to add a Tuscan flare with sundried tomatoes & chopped capers. This adds a more acidic earthy tone to the sauce that helps balance the fatty steak ahead. In the end, this Mishima Reserve Secreto Steak is the secret to a legit backyard fire cook to impress friends.
Discount Code!
Oh and use OVERTHEFIRECOOKING when checking out at Mishima Reserve for 10% off your sale!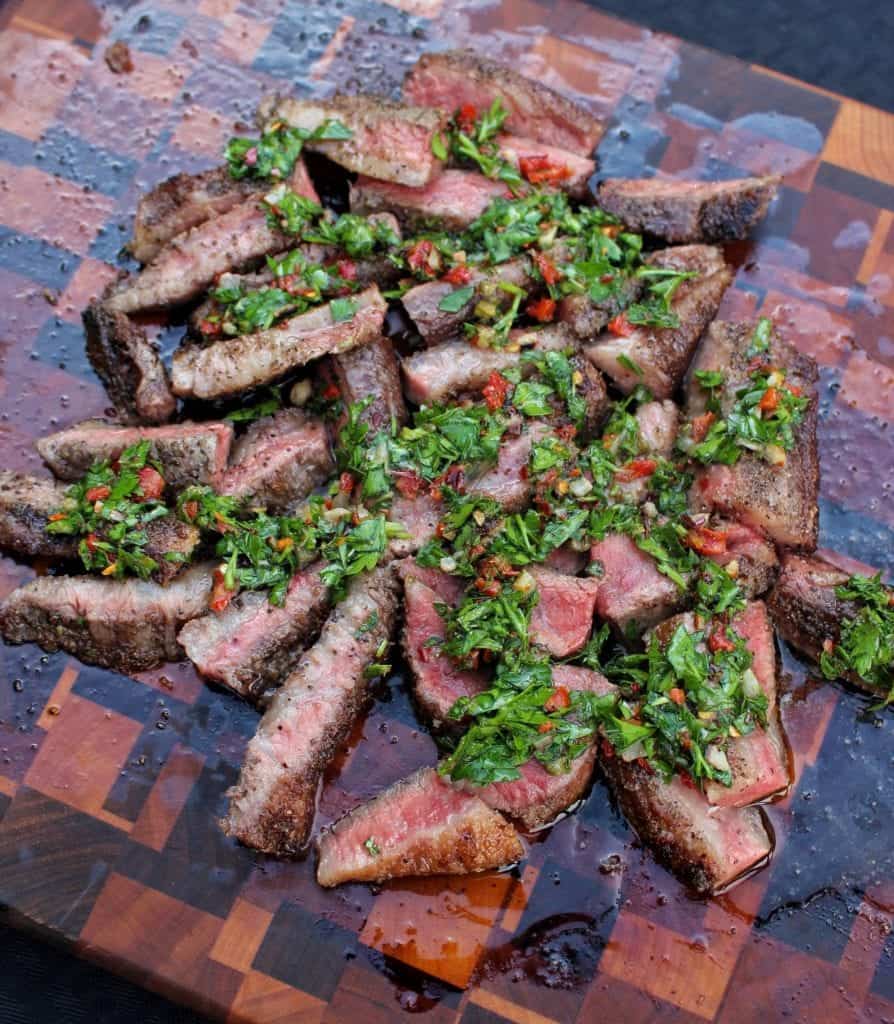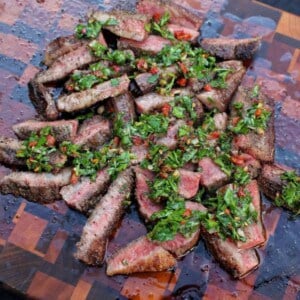 Wagyu Secreto Steak with Roasted Chimichurri
Crush the backyard cooking this Independence Day with Wagyu Secreto Steak with Roasted Chimichurri over the fire. Spicy and tangy with a hint of smoke.
Ingredients
Wagyu Secreto Ingredients:
2-3

Mishima Reserve Secreto Steaks

Salt & Pepper

to taste

1

tsp

of Butter
Roasted Chimichurri Ingredients:
1/2

cup

parsley chopped

2

tbsp

of Sun Dried Tomatoes

chopped

2

tbsp

of Oregano

chopped

3

cloves

of Garlic

3/4

cup

Olive Oil

1/4

cup

Red Wine Vinegar

1

tsp

of Red Pepper Flakes

1

tsp

of Capers

chopped

Salt & Pepper

to taste
Instructions
Build a fire in your grill or fire pit for direct cooking. Make at medium to medium-high heat.

Preheat little skillet with butter then add whole garlic into skillet to roast for 5 minutes. Flip after 3 minutes and cook for another 2 minutes or until they are roasted to your liking. Pull off grill and set aside.

Season Mishima Reserve Secreto with salt & black pepper. Add to grill and cook for about 2-3 minutes per side or until 115F internal. Pull off once done and let rest for 8 minutes.

While resting, chop your roasted garlic and add all ingredients for chimichurri into a bowl and mix.

Slice Mishima Secreto against grain, top with roasted chimichurri and enjoy!
Notes
Equipment: Grill, wood, fire starters, cutting board, small cast iron skillet & knife.
This article does contain affiliate links to products that we personally use and support. Purchasing an affiliate product does make us a small commission at no cost to you. This helps us continue creating for our website. All words and opinions are our own, and we appreciate your support!