There are times when a fresh caught trout or seafood cooked over the fire seems perfect. Luckily for you, this is one of those times! Below you will find my new Wood Fire Herb Trout recipe where you get the opportunity to cook a whole trout over open fire.
This fish is stuffed with some of my favorite spices like garlic, lemon & parsley. Top it all off with a drizzle of lemon juice and you'll be wishing there was more fish to grill! But before you jump into the recipe, make sure to read some FAQ's about cooking fish over fire.
Wood Fire Herb Trout Recipe Video
FAQ's About Grilling Fish
Where do you buy whole trout?
Well if you're not an avid fisherman, then finding whole trout can be difficult for the Wood Fire Herb Trout recipe. In most cities, there should be a fish market that can help you find this kind of trout.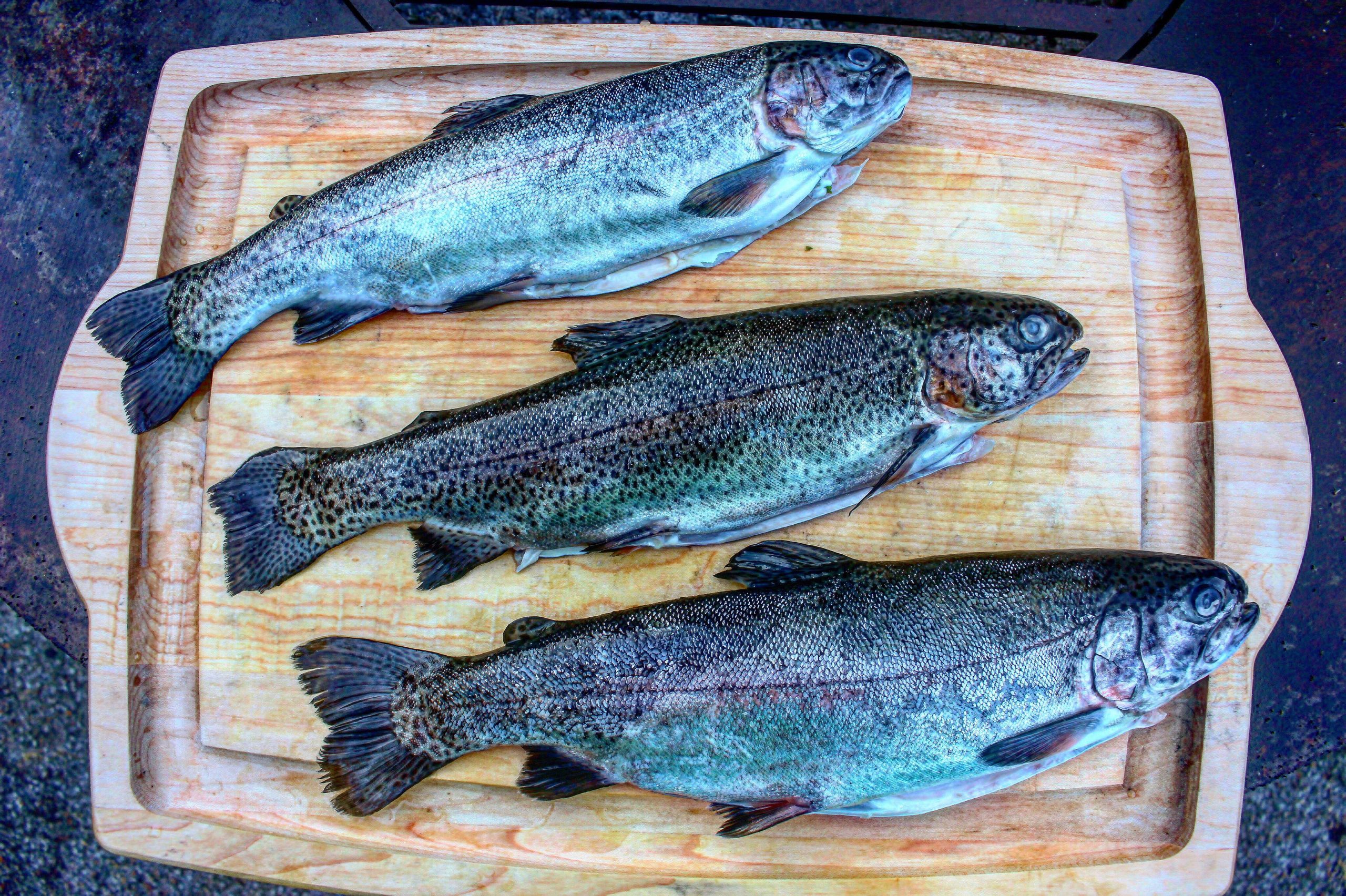 Make sure to look online for the closest fish market to you. A lot of major grocery stories might not have it, but Whole Foods and Fresh Market might.
How do you keep it from sticking?
Honestly, the answer is oil. Fish are a delicate meat to cook. Make sure to oil the grill grate to prevent the trout from sticking. Rub a decent amount of oil on the grill grate about 24 hours before you start cooking over fire. This will help to keep the grate clean and slick while not having any oil fires.
How hot should the grill be?
People tend to be surprised by this answer. The fire should be anywhere from 325-350F for cooking fish & trout. A hot grill is not a problem for a fish if the grill grate is properly oiled.
Wood Fire Herb Trout
Cooked trout over fire full of herb and lemon. Bright and full of flavor!
Ingredients
3

Fresh Rainbow Trout

gutted

2

Large Lemons

thinly sliced

1

tbsp

Minced Garlic per fish

Handful of Fresh Parsley

Olive Oil

Salt & Pepper
Instructions
Light the Cowboy Hardwood Lump Charcoal in a charcoal chimney or mound inside your grill and let burn for 10-15 minutes. (Optional) Add 3-4 pieces of apple wood to the top of the charcoal for added flavor!

Make sure to grease grill grate thoroughly in order to prevent fish from sticking!

De-thaw Rainbow Trout until at room temperature. Rub olive oil all over skin and inside of trout to prevent from sticking to grill. Stuff minced garlic, salt & pepper inside fish. Make sure to spread evenly throughout fish. Place lemon slices and parsley inside fish.

Once charcoal is hot (around 325-350F), place trout on grill to cook. Fish will cook 7-8 minutes per side or until skin lifts easily from grill grate. Make sure to only flip once in order to keep skin intact.


Pull fish off fire & enjoy!

This article does contain affiliate links to products that we personally use and support. Purchasing an affiliate product does make us a small commission at no cost to you. This helps us continue creating for our website. All words and opinions are our own, and we appreciate your support!