Everyone loves a great fire cooked breakfast in the morning! That is why it is the most important meal of the day. But did you know that you can cook all of your family favorites in the great outdoors. I'm talking pancakes, biscuits, bacon & eggs can all be cooked over the fire!
Check out my 12 easy fire cooked breakfast ideas to inspire you for the next time you go camping!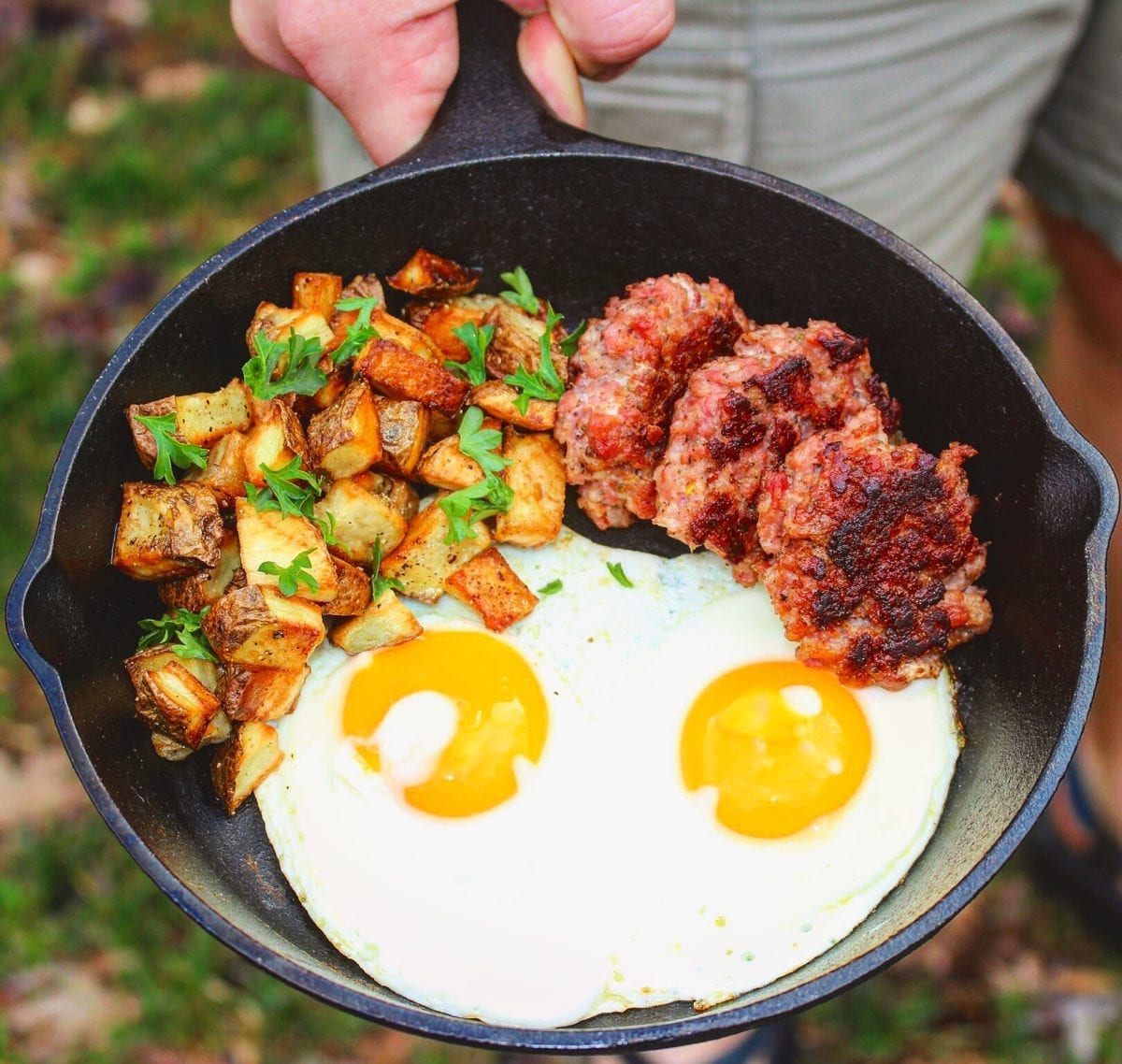 1. Biscuits & Gravy
One of my favorite camping breakfast is biscuits & gravy. Once you have the campfire roaring, pull out the dutch oven and cast iron skillet and cook the gravy and bake the biscuits! Add some spicy sausage into the gravy and you will thanking me later!
2. Fried Apples
Fried apples is one of the most simple fire cooked breakfasts that you can have. Slice the apples and place inside some tin foil. Add some cinnamon, ginger, sugar & a touch of salt and then wrap the foil completely. Place in the fire and let cook for 10 minutes. It is pure deliciousness.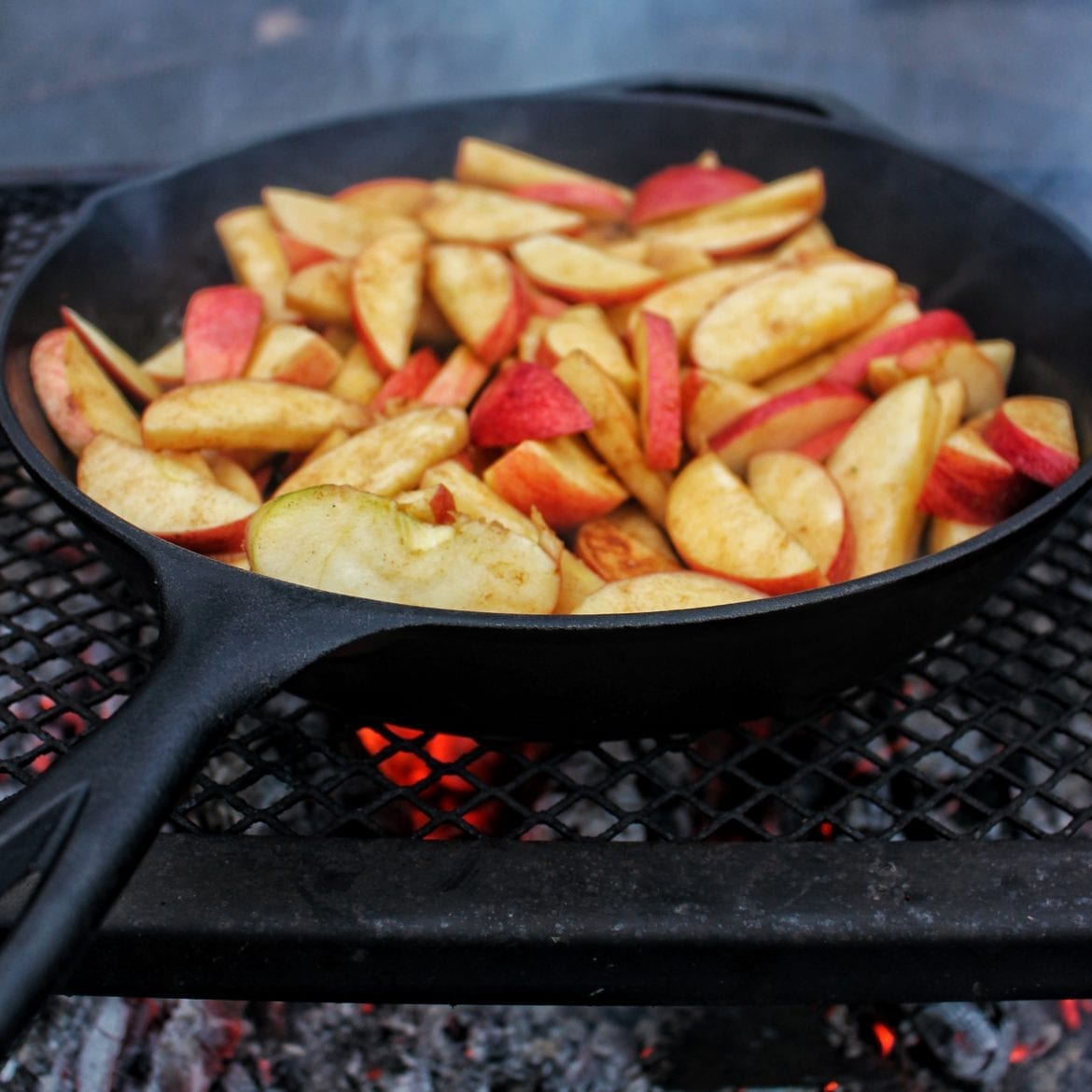 3. Steak & Eggs
I don't feel like I need to explain this camping breakfast! Personally, I love a good ribeye or skirt steak with my eggs fire a campfire breakfast. Just make sure to season it with some Caribeque Big & Bold. Try my recipe here!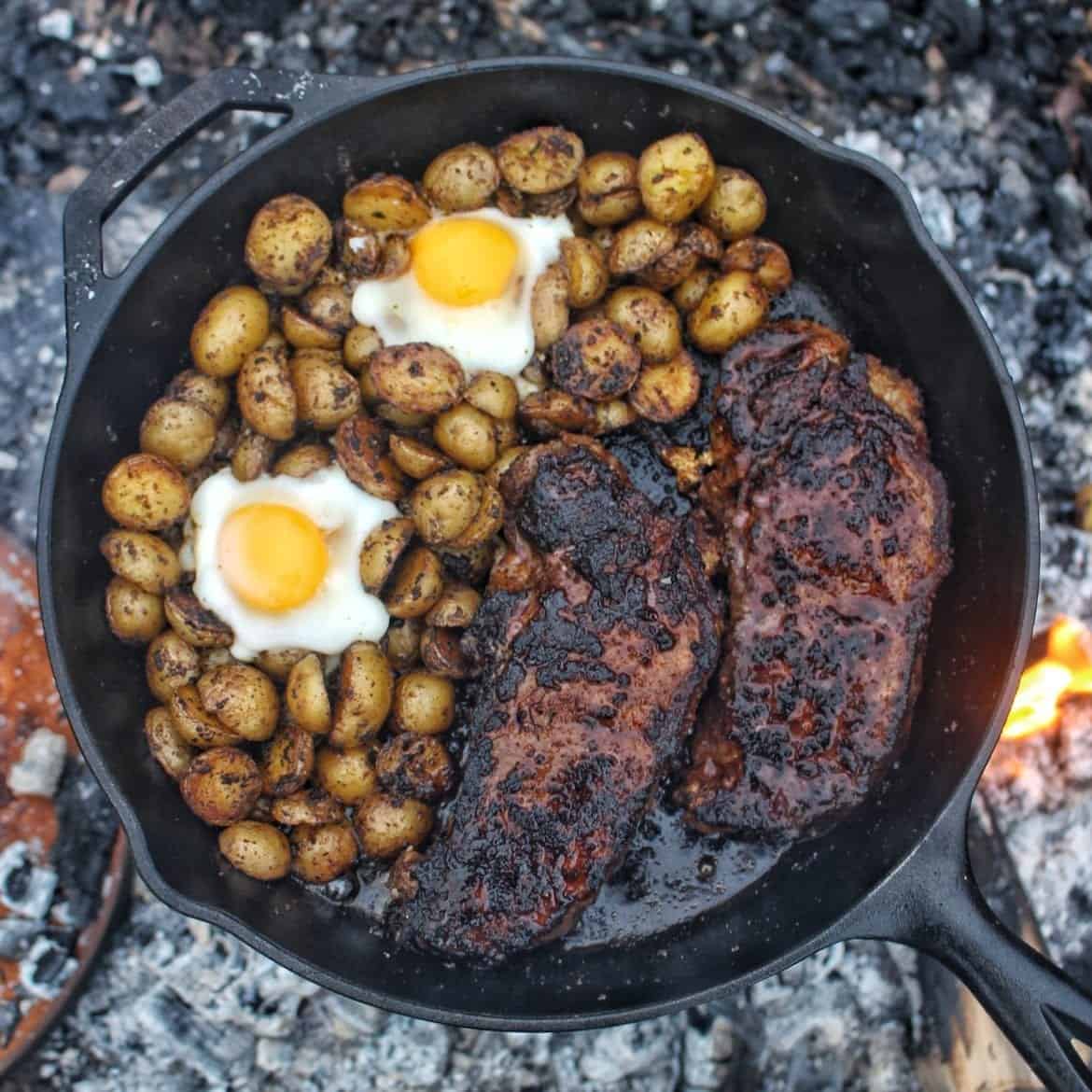 4. Corned Beef Hash
Corned beef hash is so easy to make over the fire. Grab a can of this at you local grocery store, add some eggs to the skillet and you will have a feast for the whole family. I like my hash to be a little crispy as it adds great flavor to the eggs!
5. Sausage Breakfast Sandwich
For all you sandwich lovers, this might be your new favorite fire cooked breakfast. Grill some sausage and eggs over the fire to your liking. Then place them onto an English muffin, and you will feel like you are getting a McDonald's sandwich in the woods. For me, I like to add some spice to mine with some hot sauce!
6. Pancakes
That is right, you can definitely make pancakes over the fire. All you need is your favorite pancake mix, a cast iron skillet, and lots of butter. I highly recommend buttering the skillet every time you are about to cook another pancake as it will help prevent it from sticking! Add some maple syrup and you will be in breakfast heaven. This camping breakfast taste good with peanut butter also.
7. Dutch Oven Cinnamon Rolls
Everybody craves a little sugar in the morning. All you will need to do to satisfy that craving is get a dutch oven and roast some cinnamon rolls in it! Make sure to butter up the bottom of the cast iron thoroughly so that they don't stick! This is a great fire cooked breakfast!
8. Eggs in a Bell Pepper
This little known recipe is a favorite of my family. What you need to do is de-seed the bell pepper and cut it in half vertically. Crack one egg into both of the halves and place over the fire for 5 minutes. These should cook really fast so stay aware! You can also cook them quicker in a dutch oven if you close the lid.
9. Oatmeal & Fruit
Everyone loves some good oatmeal & fruit. Make your oatmeal in a pot over the fire and throw in some blackberries, blueberries, and strawberries. Don't forget to add a little bit of brown sugar to sweeten it up! It's super yummy camping breakfast.
10. Breakfast Burrito
For those that want a quick and easy fire cooked breakfast, then the breakfast burrito is right for you. Start by scrambling some eggs and cooking some bacon. Place that inside a tortilla with some salsa & sour cream, and breakfast is served fiesta style.
11. Mountain Man Breakfast
This breakfast is the most hearty meal you will have in the morning! In a dutch oven, cook some hashbrowns, ground sausage, & scrambled eggs. Let that cook slowly over the fire for 30-45 minutes. Cover that with cheese and then let that cook for another 10 minutes. Try my version here.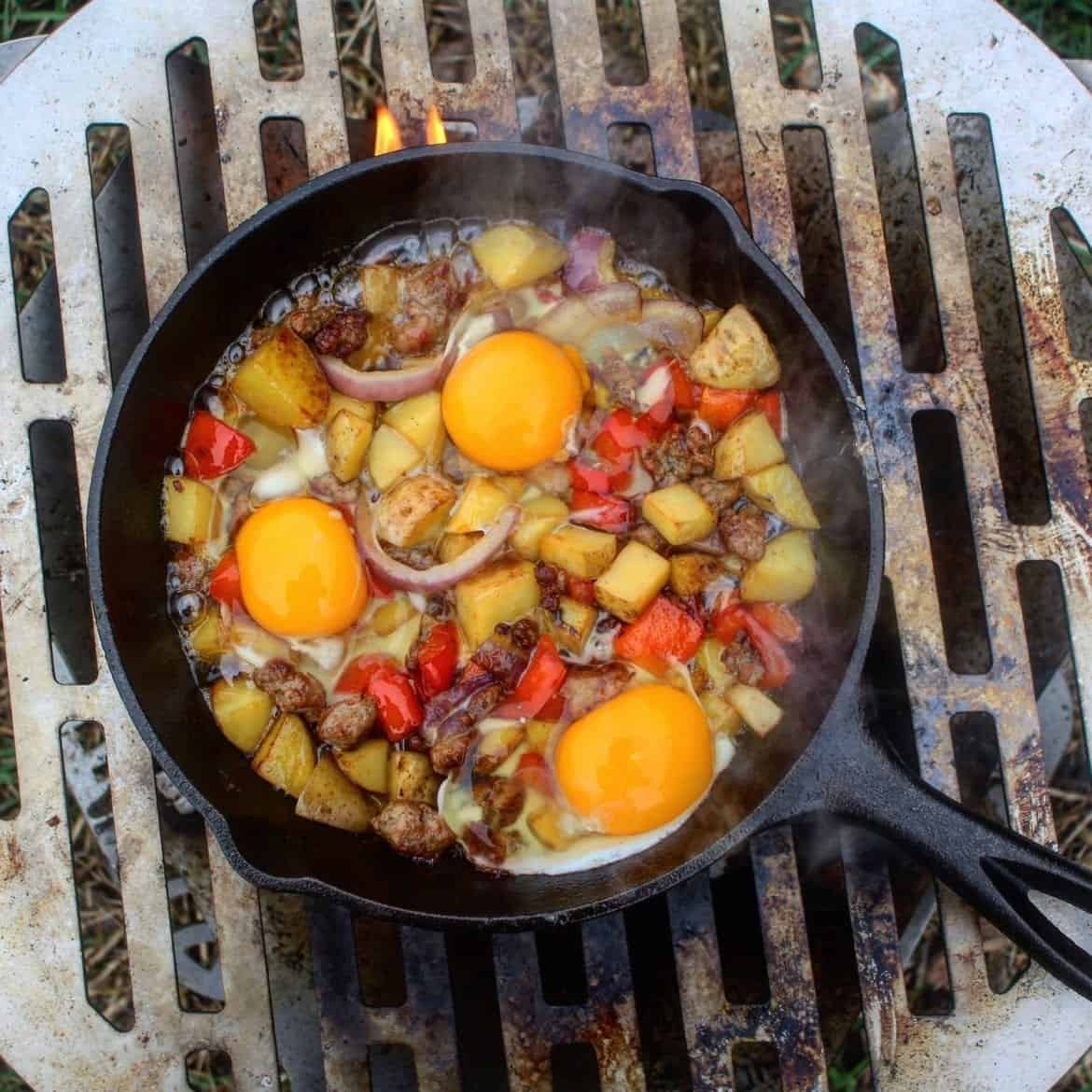 12. Bacon, Eggs & Coffee
Nothing beats bacon, eggs & coffee as a fire cooked breakfast. They are the perfect trio when cooking breakfast outside. Personally, I like mine scrambled with cheese and bacon on top. Make my coffee strong and we will be great friends! Plus, learn how to make better eggs over fire here.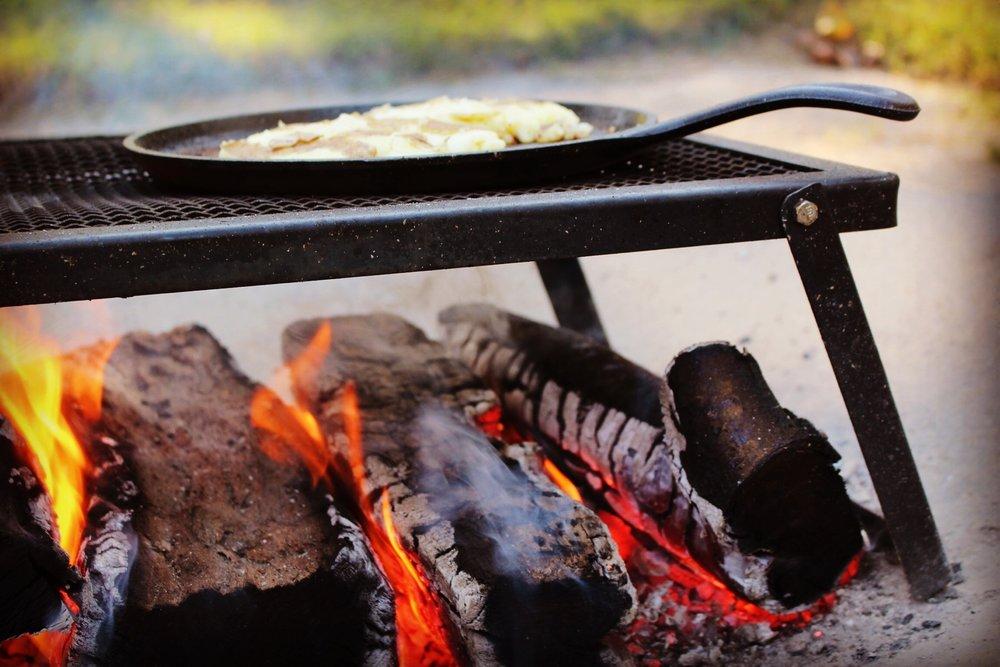 Let's go cook open fire breakfast!
As you can see, there are plenty of ideas to choose from when thinking about making breakfast over open fire. Here were just a few ideas to get you started! Enjoy making them and make sure to use #overthefirecooking to show off your results!