She's beauty and she's grace. She's queen of 50 states, elegance and taste. She's…a Bourbon Beef Wellington. A whole beef tenderloin, seared, covered in mustard, wrapped in duxelles and prosciutto, tucked into a cocoon of puff pastry, and baked. Yes, the exquisite roast that is the Beef Wellington.
This Old English classic was a dead and outdated recipe until an intrepid young chef named Gordon brought it back to the mainstream. Just think about it. Would this laborious roast appear on the menu of any new age modern restaurant? No way, this thing screams 1950. But unlike a Jello casserole, this recipe is awesome! Lets jump in.
A Word on Duxelles and Their Importance for our Bourbon Beef Wellington
Surprisingly enough, one of the most important parts of this Bourbon Beef Wellington dish is mushrooms; and cooking those mushrooms properly. I'm talking about duxelles here. Mushrooms diced very finely and cooked down with shallots and herbs to an almost paste like consistency. This mixture encapsulates the beef tenderloin, adding an earthy and herbaceous flavor. But there's an issue. Mushrooms inherently have a lot of moisture in them.
Moisture is bad in this recipe. Soggy Bottoms is a funny name for a toddler learning how to use the toilet properly, but it's not what we want to associate with our Bourbon Beef Wellington dinner. This is why cooking the mushroom mixture down properly is so important. Not doing this is the most common mistake when making a Wellington. During the prep process, wick away as much moisture as possible and cook the mushrooms until there is very little moisture left in the mix. Also, add bourbon.
For more mushroom recipes, check out New York Strips with Bourbon Mushrooms, Steaks with Gorgonzola Mushroom Cream Sauce and Bourbon Mushroom Steak Tips.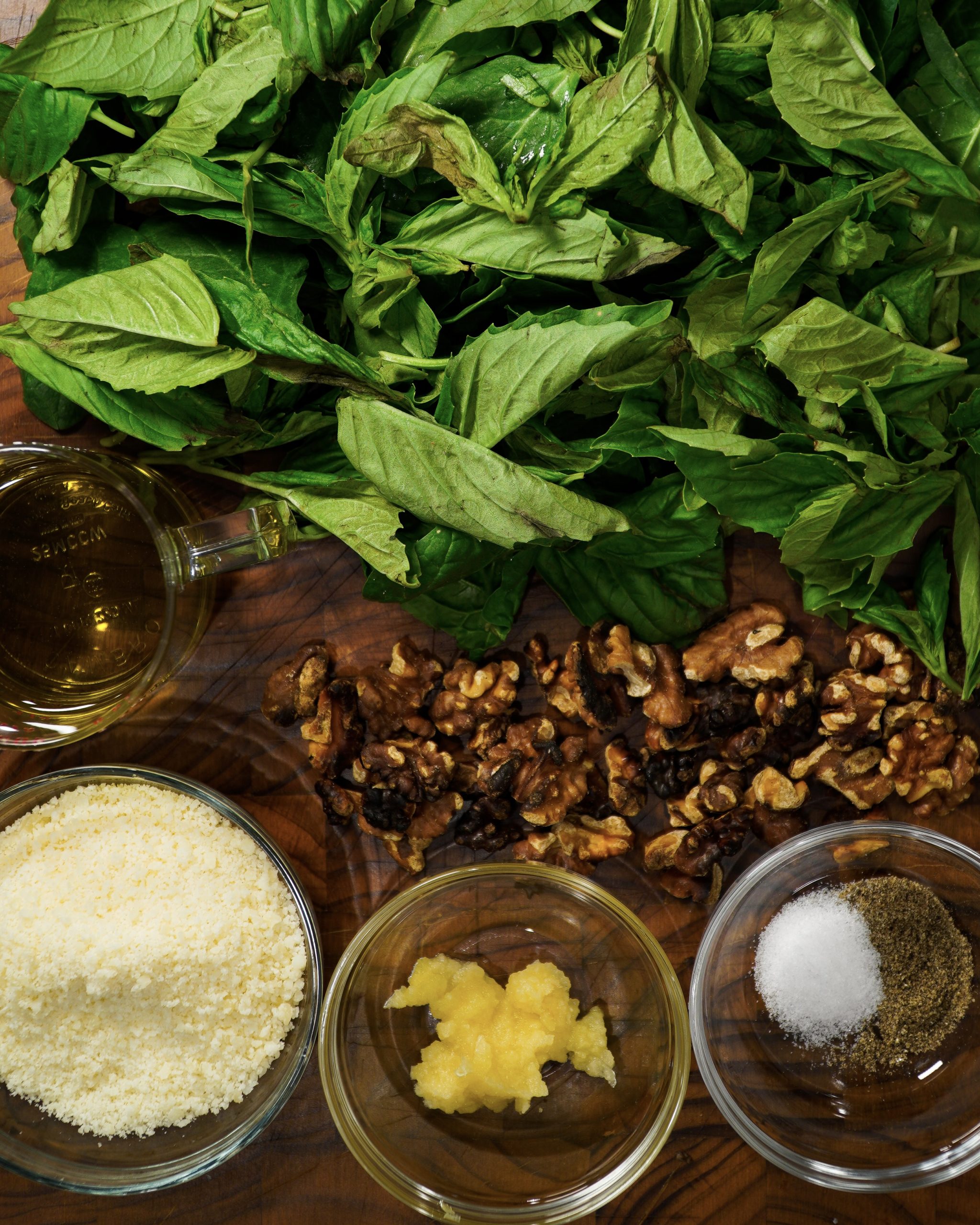 Bourbon Beef, It's What's for Dinner
Onto THE most important ingredient in this dish (not including bourbon): The Beef! Whole beef tenderloin. The delicate filet mignon. Tenderest of all cuts. Used as currency in many countries to this day. What you want for this recipe is a center cut tenderloin because we're only using the best for this Bourbon Beef Wellington recipe. Let your butcher know that you're making a Wellington, he'll hook you up. A full tenderloin has a "head" and a "tail", but neither of these are desirable for this dish. What we need is a uniform piece of beef that will cook evenly. If you can find Prime grade, awesome. If not, no big deal because choice grade will do just fine. We're adding tons of additional flavors to this dish that will highlight the beef.
More on beef tenderloin in my Stuffed Beef Tenderloin and Wagyu Beef Tenderloin with Red Wine Onions recipes!
Fancy it up – Bourbon Beef Wellington Style
Once the Bourbon Beef Wellington is rolled and tucked nicely into its puff pastry blanket; it's time to get fancy. Break out your best pie topping skills and get to work. In the photos featured here I used a special lattice cutting tool to get that pattern. This isn't necessary, but it's definitely the kind of extra that's good to be. The extra sheet of puff pastry can also be hand cut and woven into a custom pattern of your choice. Heck, get out the cookie cutters and put the Ninja Turtles on top. Own it.
For more delicious recipes, check out my cookbook Food X Fire!
Needing more spice in your life? My spice line can help with that. Check them out here.
Bourbon Beef Wellington
Bourbon Beef Wellington for a dinner you won't soon forget!
Ingredients
Beef Wellington
3-4

Lb

Beef Tenderloin

1

package of Puff Pastry

2 sheets

2

Eggs

6

oz

Prosciutto

2

Tbsp

Mustard

2

lbs

Baby Belle Mushrooms

2

Tbsp

unsalted butter

1

cup

minced shallots

3

Tbsp

fresh thyme

½

cup

Bourbon

Salt and Pepper
Roasted Walnut Pesto
½

cup

walnuts

2

cups

basil leaves

½

cup

grated parmesan

1

Tbsp

minced garlic

½

cup

extra virgin olive oil

Salt and Pepper to taste
Instructions
Roasted Walnut Pesto

Roast walnuts on a baking sheet at 400 degrees for 10 min, until they start to brown. Set aside to cool.

In a food processor, add basil and walnuts. Pulse to combine.

Add in parmesan and garlic. Pulse to combine.

With food processor running, slowly stream in the evoo.

Add salt and pepper to taste.

Transfer to a covered dish. Will hold in the fridge for 3-4 days.

Beef Wellington

Start by making the duxelles, the mushroom mixture. Pulse mushrooms in batches in a food processor until finely minced. Also mince shallots and thyme.

In a large cast iron skillet over medium heat melt 2 tbsp of butter. Add in mushrooms, shallots, and thyme. Cook, stirring occasionally, until most of the moisture is cooked off.

Deglaze mushroom mixture with ½ cup of bourbon. Cook until all of the bourbon is absorbed by the mixture and moisture is cooked off. Remove duxelles from heat and set aside.

Season beef tenderloin generously with OTF Bourbon Prime Rub. Over high heat on the grill, quickly sear each side of the tenderloin. Remove from heat to a cutting board. This is just a sear; we are not cooking the beef here.

While the tenderloin is resting on the cutting board, brush on the 2 tbsp of mustard. Cover all sides of the beef. Set beef aside to rest.

On a clean countertop, lay out a layer of plastic wrap large enough to wrap the whole tenderloin in.

On the plastic wrap, layer out the prosciutto in a rectangle large enough to wrap the tenderloin in.

Over the prosciutto, spread the cooled duxelles mixture keeping back 1 inch from all sides. I found this easiest to do with my bare hands.

Place the mustard covered tenderloin in the middle of these layers. We are going to use the plastic wrap to tightly wrap the layers of prosciutto and duxelles around the tenderloin. Once wrapped, repeatedly roll the sides so that the entire log becomes one tight unit. Place the wrapped tenderloin in the fridge to rest for at least 1-2 hours, or even overnight.

Pre heat grill to 400 degrees, indirect heat.

Roll out 1 sheet of puff pastry on a lightly floured counter top. Roll it large enough to wrap around the tenderloin.

Crack 2 eggs into a small bowl and beat with a fork. Set aside.

Remove the tenderloin from the fridge and unwrap from the plastic wrap.

Place tenderloin on the rolled-out puff pastry and brush edge of puff pastry with egg wash to seal. Make sure puff pastry completely covers the tenderloin and is completely sealed. Transfer the Wellington to an oiled baking sheet seam side down.

Completely cover the outside of the puff pastry with egg wash. Use additional sheet of puff pastry to cut out a design to add to the top of the Wellington, if desired. Garnish with flaky salt.

Bake at 400 degrees for 45 min or until the desired internal temp is reached. I highly recommend using a leave in thermometer to hit the perfect temp. I pulled mine at 125 degrees internal for Medium Rare.

Once done cooking, cover and let the Wellington rest for at least 15 min. Slice that beautiful roast open and serve to your impressed guests!
Nutrition
Calories:
1047
kcal
|
Carbohydrates:
25
g
|
Protein:
46
g
|
Fat:
82
g
|
Saturated Fat:
27
g
|
Polyunsaturated Fat:
10
g
|
Monounsaturated Fat:
38
g
|
Trans Fat:
1
g
|
Cholesterol:
187
mg
|
Sodium:
465
mg
|
Potassium:
1137
mg
|
Fiber:
4
g
|
Sugar:
5
g
|
Vitamin A:
656
IU
|
Vitamin C:
10
mg
|
Calcium:
139
mg
|
Iron:
7
mg