Bourbon Mushroom Steak Tips for bite-size pieces of savory deliciousness! These fun-sized steaks might be small in size, but they are mighty in flavor.
A bourbon and soy sauce marinade sets us up for immediate success. One quick grill and sautée later, and we've got steak bites topped with some amazing bourbon mushrooms. Let's just say I served this one at a family dinner, and the steak was halfway gone before I could bring out the sides.
True story. Find out how to make it happen below.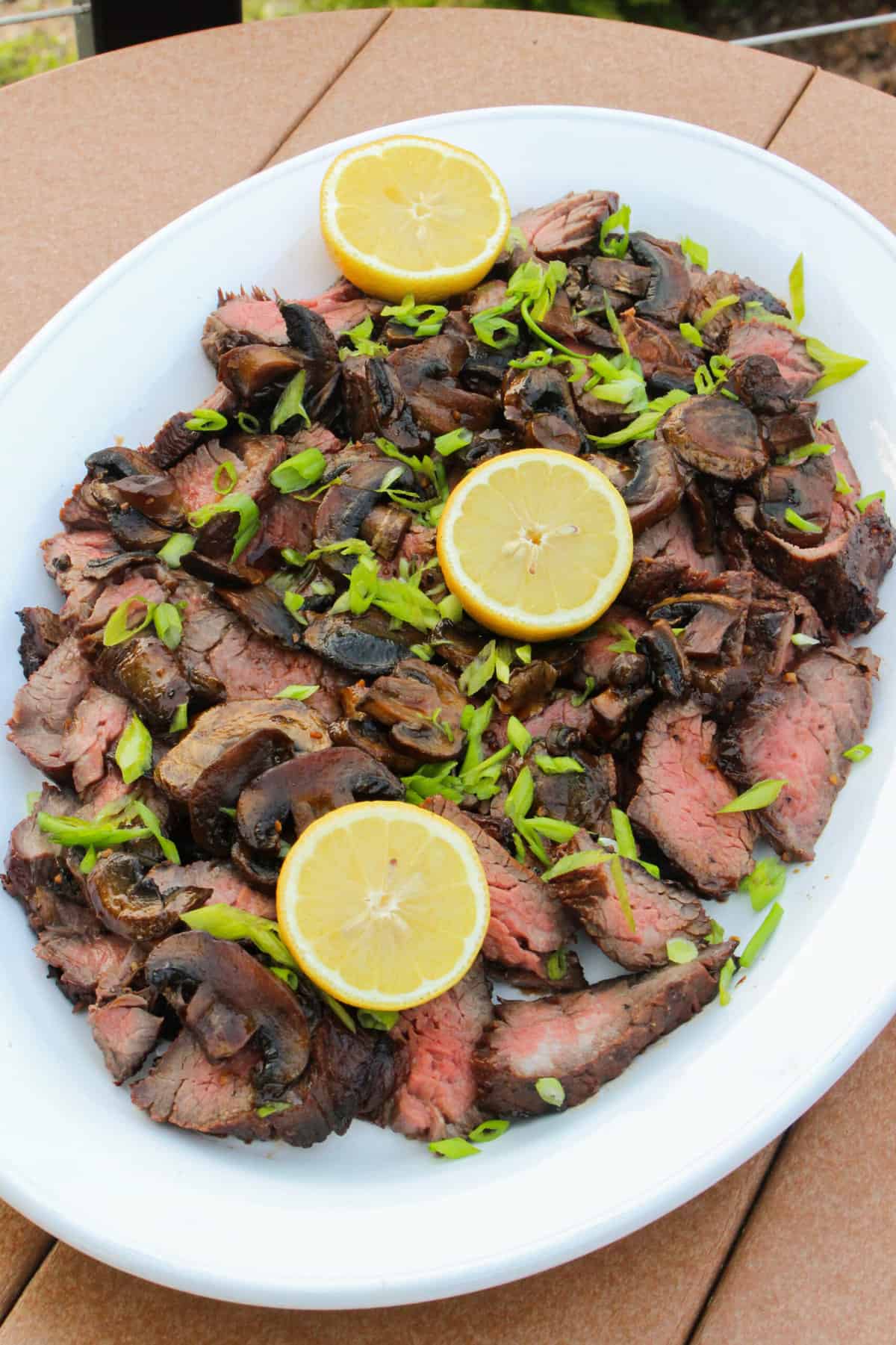 ​WHY YOU'LL LOVE THIS RECIPE
These easy steak tips are perfect for steak lovers everywhere! These tender sirloin tips are marinated in a heavenly concoction of bourbon and brown sugar. Each bite offers a perfect blend of flavors, heightened by the succulent juices locked in during the searing process.
The aroma of these steak tips sizzling over an open flame is enough to make your mouth water. But the best part has to be the sautéed mushrooms, elevating these steak tips to a whole new level of savory perfection.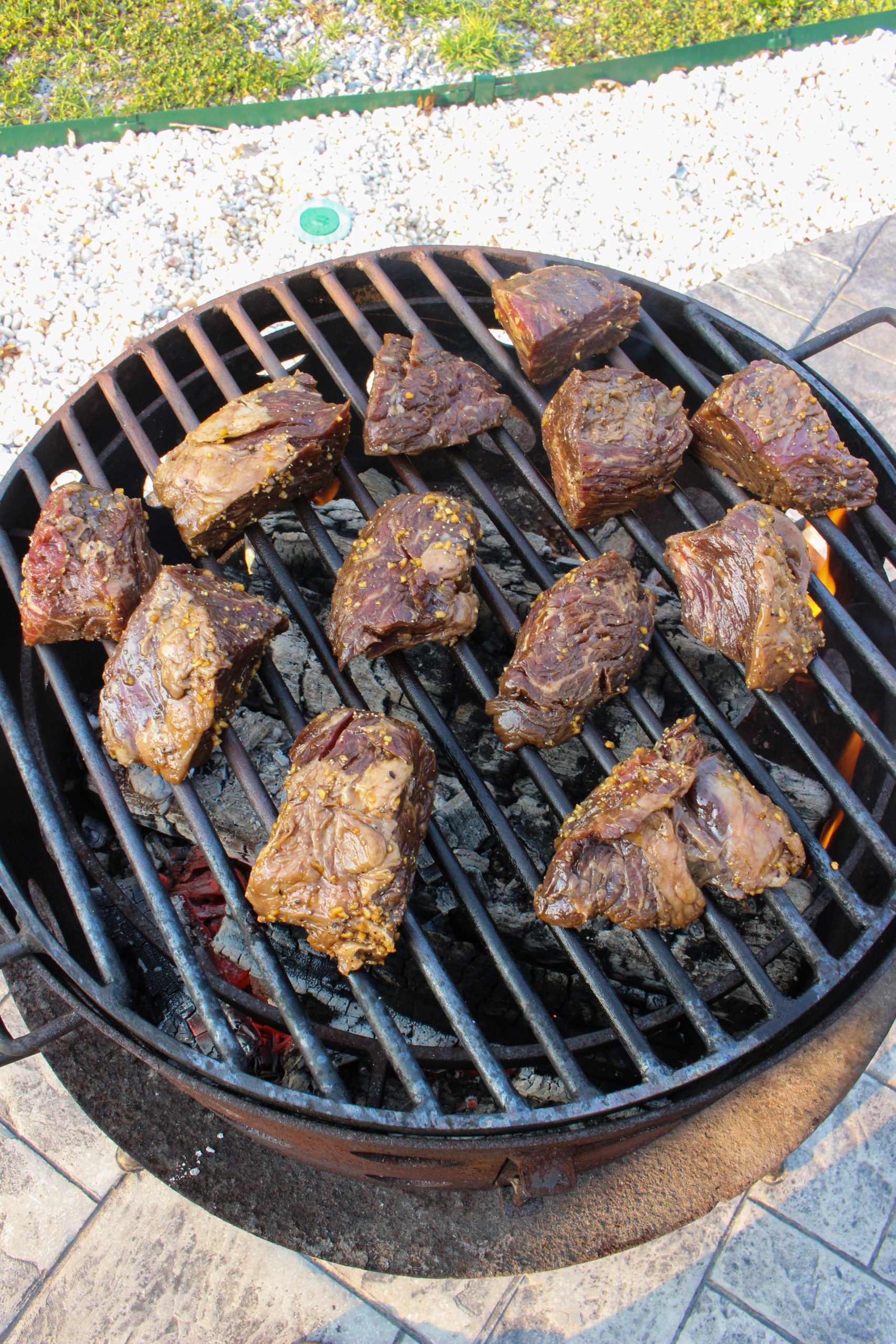 If you love bourbon, then you'll love Bourbon Marinated Ribeyes, New York Strips with Bourbon Mushrooms, Teriyaki Bourbon Steak Skewers and Teriyaki Bourbon Flap Steak Tips!
INGREDIENTS
STEAK:
Flap Steak – We're cutting these into bite-sized pieces, resulting in tender steak bites that easily absorb the flavorful marinade.
Mushrooms – Introduces a savory and earthy element, enhancing the overall umami profile.
Scallions for garnish
Lemons for garnish
MARINADE:
Bourbon – Infuses a deep, smoky sweetness that elevates the overall taste and adds a layer of complexity.
Soy Sauce, low sodium – Offers a savory umami kick to the marinade.
Spicy Honey – Balances sweetness with a subtle heat, creating a harmonious flavor profile.
Minced Garlic – Introduces a robust, aromatic depth that enhances the overall richness.
Brown Sugar – Provides a sweet undertone that caramelizes during cooking, forming a good crust.
Black Pepper – Adds a warm, peppery kick for a bit of heat.
Onion Powder – Enhances the savory notes without the texture of fresh onions.
Sesame Oil – Infuses a nutty aroma and depth, tying the flavors together.
Salt – to Taste
HOW TO MAKE BOURBON MUSHROOM STEAK TIPS
We kept things simple and easy for this recipe. Start with the marinade ingredients. Mix everything together in a large bowl. Then, pour that mixture into another large bowl containing the sirloin steak tips. Cover this bowl and then place it in the fridge to marinate. The steaks need to marinate for somewhere in between two to four hours.
The reason I called this recipe out for being simple and easy is because the marinade we just used above will also be used to sautée the mushrooms later. Essentially, you've already done all the mixing for this recipe! All that's left to do is let the steaks marinade and slice up the mushrooms.
Once grill time comes rolling around, grab the steaks from the refrigerator. Do not dump the marinade out of the bowl! We will want to save about a cup and a half to cook our mushrooms in.
With that said, take your steak and remove it from the marinade. I actually strained mine and put a bowl under the strainer to catch the marinade. Alright, grab your tongs, and let's get cooking.
Fire up that grill to about 400F. We're cooking the steak tips directly over the coals, and they'll cook pretty quickly, so be ready to go.
Evenly disperse the steak tips across the grill grate and let them cook for about 2 minutes. Once they start to get those lovely grill marks, flip them to another side for another 2 minutes.
Continue this process until the steak tips have reached an internal temperature of 120F.
BOURBON MUSHROOMS FOR BOURBON STEAK TIPS
Remove the steak tips from the grill as they finish cooking. Then, add a cast-iron skillet to the grill and let it heat up. Once it's warm, pour the marinade that we saved from earlier into the hot skillet and bring it to a boil. It's good to note that the sugar in this marinade will cause it to bubble up pretty quickly; watch out for potential overflows.
After the marinade has boiled for a minute or two, add in the mushrooms. Stir them while they cook to ensure they don't burn. Once the mushrooms have cooked to your liking, pull them from the grill as well.
Now, it's time to slice and dice.
BOURBON MUSHROOM STEAK TIPS FOR EVERYONE
I decided to slice up each of these steak tips for serving. I placed them all across a serving dish and then, using a spoon, dispersed the bourbon mushrooms throughout the dish. Then, I garnished it with some scallions and halved lemons.
Like I said above, this dish disappeared quickly, so enjoy it with friends and family… And make sure you get a couple slices before it's all gone! Cheers.
TIPS
Pat the steak dry with paper towels to remove any excess moisture.
Use an instant-read thermometer to ensure the internal temperature of the steak reaches at least 120F. We want these nice and tender. Plus, the carryover cooking will cook them even further, so don't worry; you won't be eating raw meat.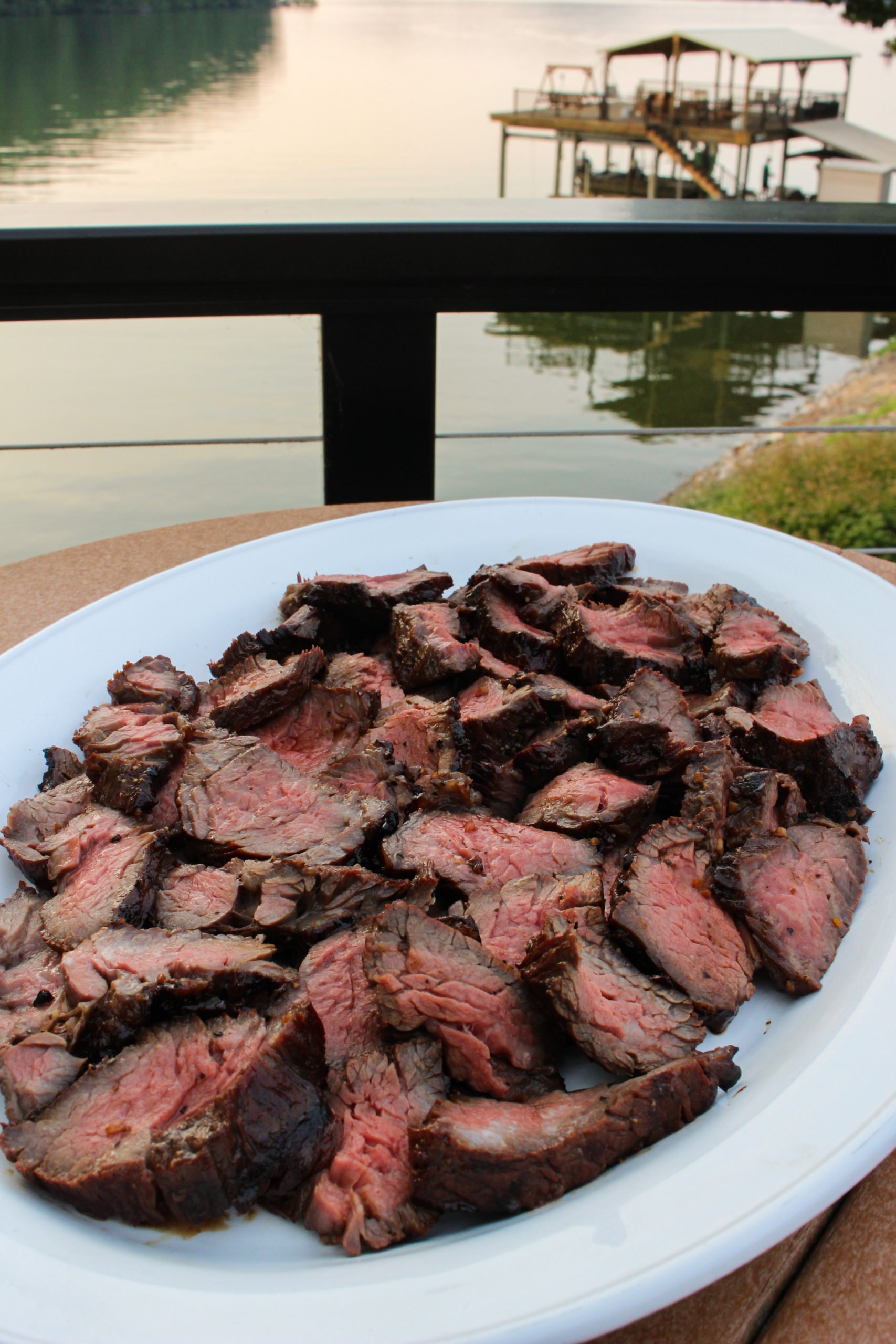 HOW TO STORE LEFTOVERS AND REHEAT
Store leftover beef tips in an airtight container in the fridge for 3-4 days. You can also freeze for up to 6 months.
Before reheating, make sure your steak tips come to room temperature.
To reheat,
Preheat your oven to 250F.
Place leftover steak tips in an oven-safe dish or baking sheet.
Bake for at least 20 minutes or until steak it warm.
For a more convenient option, feel free to pop your steak tips in the microwave in 30-second intervals or until warm.
WHAT TO SERVE WITH THESE DELICIOUS STEAK TIPS
Pair these juicy beef tips with a side of garlic mashed potatoes or a vibrant green salad for the perfect quick meal.
RECIPES FAQS
What are steak tips?
Steak tips are flavorful, bite-sized cuts of beef, usually sourced from tender parts like flap steak or sirloin. These juicy, succulent pieces are perfect for grilling or pan-searing, offering a quick and delicious way to enjoy a premium steak experience.
Can I make this recipe on the stove top?
Absolutely! If you don't want to fire up your grill to make this simple recipe, don't worry about it! Just grab a large cast iron skillet and whip up these delicious steak bites!
Can I customize the marinade to my liking?
Yes! Feel free to play around with different seasonings and flavors to get the exact flavor combination you like! Some great options are Worcestershire sauce, garlic powder, fresh garlic, or even red wine!
Can I use a different cut of meat for this recipe?
Yes! Feel free to use filet mignon, New York strip steak, or even pre-cut pieces of steak. The only thing I will mention is to make sure you buy good quality steak, as it's the base for this delicious recipe.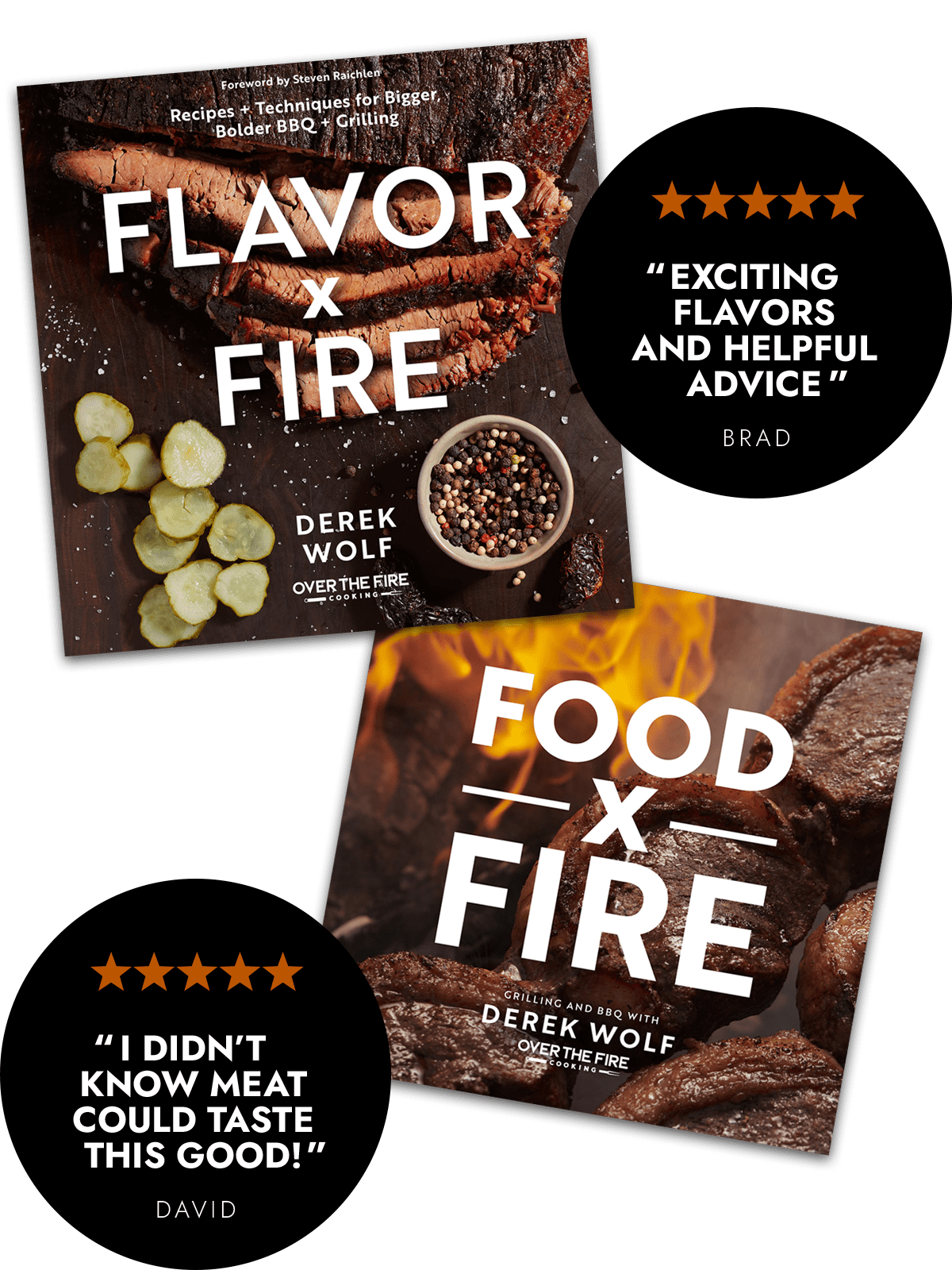 Get The Cookbooks!
Flavor X Fire & FOOD X Fire
All the major tastes—salty, sour, sweet, bitter, and umami—are explored in depth, along with an investigation of other components you should consider when it comes to flavor, such as aroma, heat, and texture.
Bourbon Mushroom Steak Tips
Bourbon Mushroom Steak Tips for bite size pieces of savory deliciousness! These steaks might be small in size, but they are mighty in flavor.
Ingredients
Steak:
3

lbs

of Flap Steak

cubed

1.5

cups

of Mushrooms

sliced

Sliced Scallions

for garnish

Sliced Lemons

for garnish
Marinade:
3

oz

of Bourbon

1

cup

of Soy Sauce, low sodium

1.5

tbsp

of Spicy Honey

1.5

tbsp

of Minced Garlic

1

tbsp

of Brown Sugar

1.5

tsp

of Black Pepper

1

tsp

of Onion Powder

1

tsp

of Sesame Oil

Salt to Taste
Instructions
Add your cubed steak to a bowl along with all the ingredients for the marinade. Mix together thoroughly and set in the fridge for at least 2 hours but ideally 4 hours.

Preheat a grill to 400F for direct grilling.

Pull the steak out of the marinade and save 1.5 cups of the marinade. Add the steaks to the grill to cook for about 2 minutes per side or until they are 120F internal. Once done cooking, pull the steaks off and let rest for 5 minutes.

Preheat a cast iron skillet over the fire for 2-3 minutes. Add the leftover marinade and let boil for 5 minutes. After it has boiled, add the mushrooms and sauté for 3-4 minutes. Strain the mushrooms from the sauce and set aside.

Slice your steak tips, top with mushrooms, scallions and sliced lemons. Enjoy!
Nutrition
Calories:
660
kcal
|
Carbohydrates:
19
g
|
Protein:
84
g
|
Fat:
20
g
|
Saturated Fat:
8
g
|
Polyunsaturated Fat:
1
g
|
Monounsaturated Fat:
8
g
|
Cholesterol:
209
mg
|
Sodium:
4093
mg
|
Potassium:
1438
mg
|
Fiber:
1
g
|
Sugar:
10
g
|
Vitamin A:
4
IU
|
Vitamin C:
1
mg
|
Calcium:
100
mg
|
Iron:
7
mg