These Loaded Steak Fries are the ultimate appetizer or meal! Tender and juicy bite-sized pieces of skirt steak are layered over crispy waffle fries then topped with queso, homemade charred salsa, guacamole, sour cream, cilantro, and red onions.
This crowd-pleasing recipe is ready in a quick 30 minutes!
Post sponsored by Cowboy Charcoal
Marinate the Steak
Let's be honest. Loaded steak fries are nothing without grilled steak. And grilled steak is nothing without an incredible marinade. This simple yet flavorful marinade carries the flavor of this appetizer to new heights.
To make the marinade, combine fresh cilantro, garlic, lime juice, orange juice, soy sauce, green onions, chipotle puree, achiote paste, and salt in a blender. Process the mixture until smooth.
Next, place the skirt steaks into a food-safe container, pour the marinade over top, and set it in the fridge for at least four hours, but ideally overnight. The longer the meat sits in the marinade, the more flavor it soaks up!
Time to Grill That Steak for Our Loaded Steak Fries!
Next, we grill the steak for these loaded steak fries! First, light a chimney of Cowboy Charcoal and allow the lump charcoal to heat until over 75% is white-hot (when they have become ashen). Now, you are ready to cook!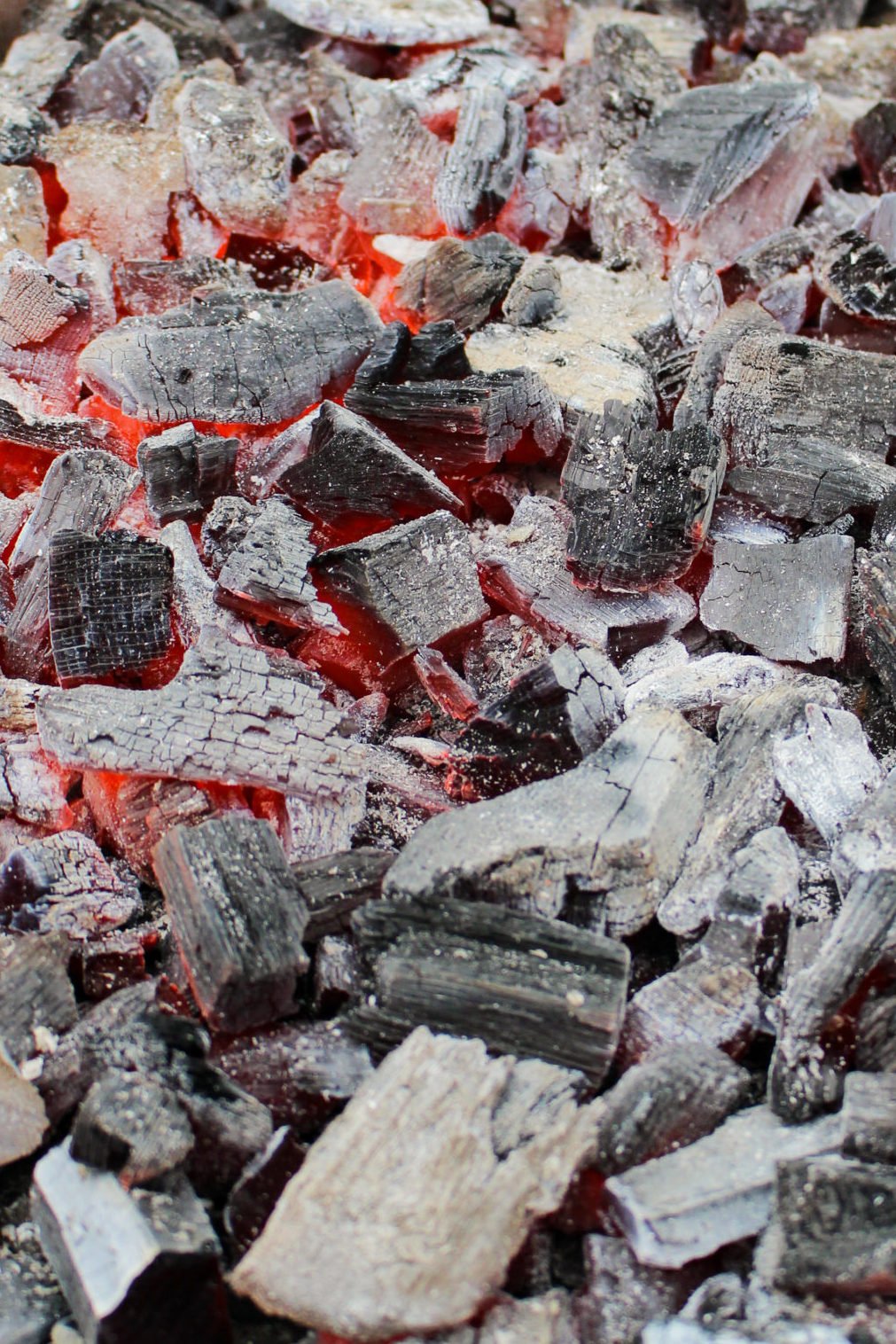 Blow off any loose ash from the coals, then place the steaks directly on top of the coals. Allow them to cook for 4-6 minutes per side, flipping and blowing off loose ash as needed so the meat doesn't get too charred.
The steak is done when it reaches an internal temperature of 120ºF. Pull it off of the grill, and set it aside to rest for around 10 minutes before slicing to give the moisture and flavor time to settle back in.
For more cooking on the coals, check out my Braided Skirt Steak, Coal Roasted Baja Lime Lobster and Coal Roasted Oysters.
You can also learn more about cooking on the coals in my article – Cooking on the Coals.
Charred Salsa for Loaded Steak Fries
This charred salsa is dangerous. Only because it's so good that you will never put up with jarred salsa ever again.
First, place the tomato, onion, bell pepper, and jalapeño onto the hot coals. Allow them to cook for 3-4 minutes or until they're charred. Don't skip the charring! It adds another incredible layer of smoky flavor not only to the salsa, but to the loaded steak fries as well.
Pull the veggies off of the grill, then prep each of them for the salsa. First, remove the stem and seeds from the bell pepper, tomato, and jalapeño. Next, remove the outside skin of the onion.
Place the charred and prepped veggies into a food processor and blend until they reach your desired texture. You can process longer and make a really smooth salsa or process less for a chunkier one!
For more fun, finger food recipes check out my Pulled Pork BBQ Nacho Table, Loaded Buffalo Chicken Kettle Chips and Cheesy Buffalo Chicken Sliders.
Load Up Your Loaded Steak Fries
So, now it's time to load up our fries. First, slice your steak into bite-sized pieces. Be sure to slice against the grain to shorten the muscle fibers for a more tender texture.
Next, lay cooked fries out onto a large plate. I like to use waffle fries for loaded steak fries because they create a nice platform for all of the toppings! Drizzle the fries with queso, add on the chopped steak, then finish the fries off with the charred salsa, guacamole, sour cream, chopped red onions, and chopped cilantro.
Next, devour! I recommend serving these loaded steak fries right away so the fries remain nice and crispy!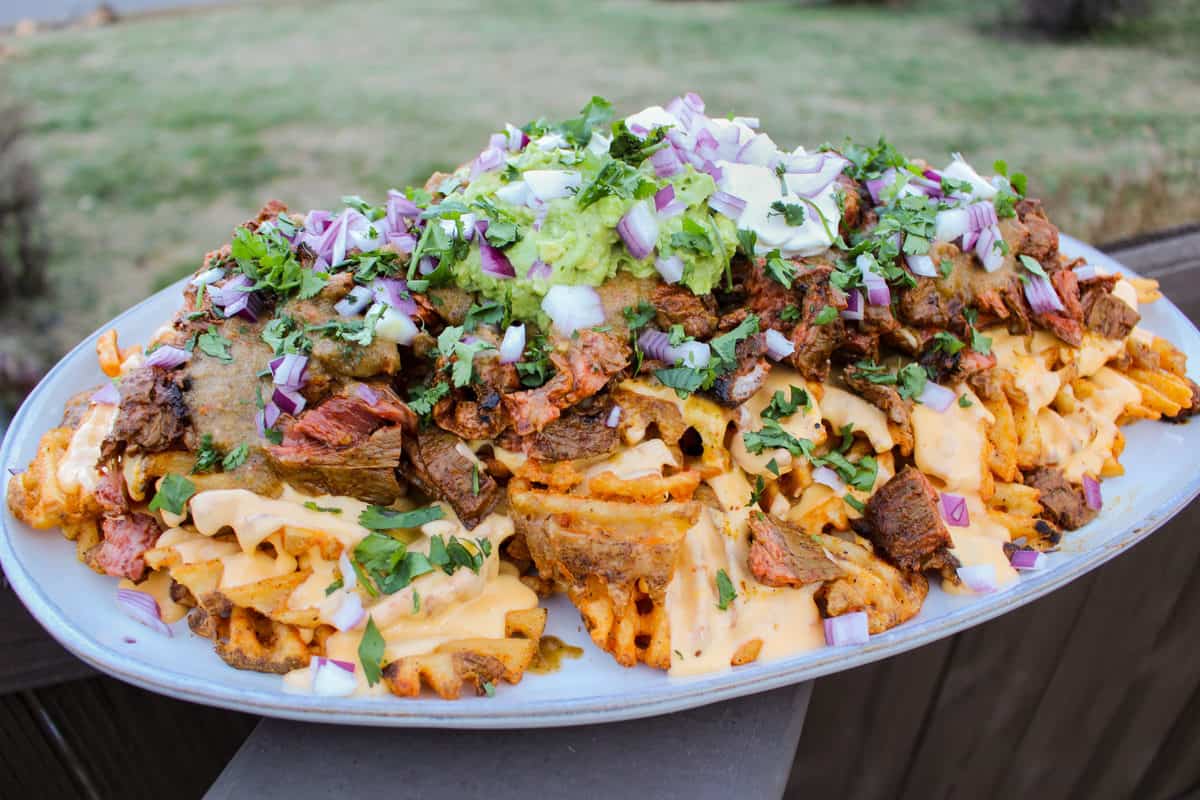 For more delicious recipes, check out my cookbook Food X Fire!
Needing more spice in your life? My spice line can help with that. Check them out here.
Full Length Recipe Video on YouTube!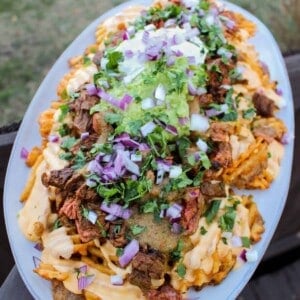 Loaded Steak Fries
Loaded Steak Fries make a fantastic party appetizer or a meal all on its own!
Ingredients
Marinade:
¼

cup

Cilantro

4

Garlic Cloves

3

medium Limes

juiced

2

Navel Oranges

juiced

2.5

tbsp

Soy Sauce

2

tbsp

Green Onions

1.5

tbsp

Chipotle Puree

1

tbsp

Achiote Paste

Salt

to taste
Charred Salsa:
1

Red Bell Pepper

1

Roma Tomato

½

Red Onion

1

Jalapeño

3-4

Garlic Cloves

¼

cup

White Vinegar

3

medium Limes

juiced

Kosher Salt

to taste
Fries:
2

lbs

Waffle Fries

of your choosing or homemade

2

cups

Queso

of your choosing or homemade
Garnishes:
Guacamole

Sour Cream

Chopped Cilantro

Chopped Red Onions
Instructions
Begin by adding all of the ingredients for the marinade to a blender/food processor. Blend till smooth, then add your skirt steaks to a food safe container. Cover in the marinade and place in the fridge for 4 hours but ideally overnight.

Next day, preheat a high heat lump Cowboy Charcoal. Let the coals build into a pile. Once they are over 75% white hot, you are ready to cook.

Blow off any loose ash from the coals and place your steaks down on top of the coals. Cook them for about 4-6 minutes per side, but do not be afraid to flip multiple times if the coals begin to char the meat. Make sure to blow off any loose ash every time you flip. If any coals do get stuck to the meat, gently brush them off. Once the steaks are 120F internal, pull the steaks off and let rest for 10 minutes.

As the steaks rest, add your tomato, bell pepper, onion and jalapeno to the coals to char for 3-4 minutes. Pull them off and begin prepping them. Remove the stem & seeds of the bell pepper, tomato and jalapeno. Remove the outside skin of the onion, then place the charred veggies plus all the ingredients for the salsa to a food processor and blend. Place in a bowl for serving.

Next, slice your steaks against the grain into bite size pieces and begin building your fries. Lay out your fries on a large plate and drizzle your queso over the top. Add the chopped steak, salsa, guacamole, sour cream, chopped red onions and chopped cilantro. Serve and enjoy!
Nutrition
Calories:
770
kcal
|
Carbohydrates:
72
g
|
Protein:
28
g
|
Fat:
44
g
|
Saturated Fat:
19
g
|
Polyunsaturated Fat:
2
g
|
Monounsaturated Fat:
15
g
|
Trans Fat:
1
g
|
Cholesterol:
95
mg
|
Sodium:
2541
mg
|
Potassium:
1285
mg
|
Fiber:
11
g
|
Sugar:
13
g
|
Vitamin A:
1653
IU
|
Vitamin C:
89
mg
|
Calcium:
358
mg
|
Iron:
4
mg