Grilling fresh shrimp is just one of the classic summer dishes. Just like a Burger or a Steak, shrimp recipes have a way of finding themselves out of the kitchen and on to the grill. So why not take a kitchen classic like garlic butter shrimp and put it over some hot Cowboy Charcoal?
Grilling shrimp on the barbie
Shrimp is such a natural thing to cook over the fire. It is easy to prep, quick to cook and packs a punch when it comes to flavor. Honestly, I ask myself all the time why I do not cook more shrimp.
If you're loving this recipe, add some beef to it and try our garlic butter steak and shrimp!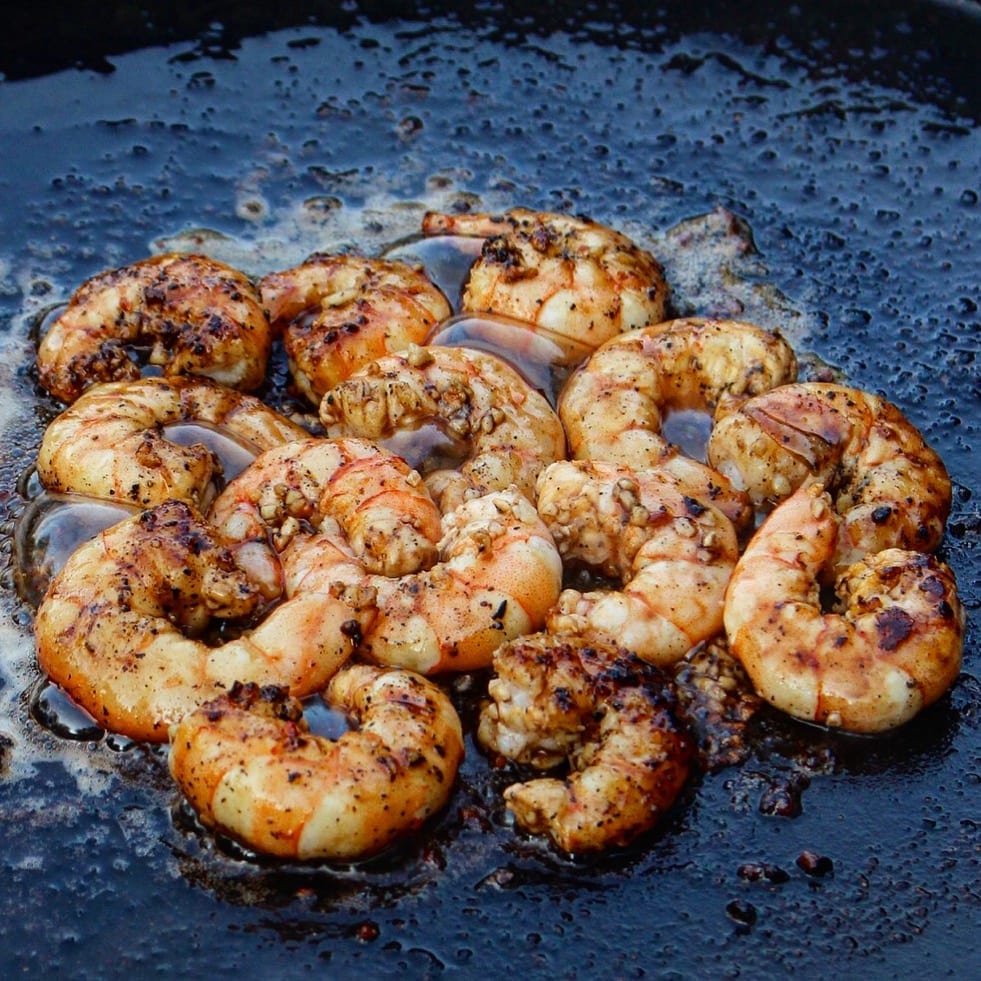 Especially the Charred Garlic Butter Shrimp! These little flavor bombs are super easy to make in a cast iron skillet in the woods, in your backyard or near the beach. They have a ton of butter for fat, garlic for savory, and lemon juice to zest. They are a perfect compliment to cook on the grill.
The key for Garlic Butter Shrimp is the curl
The biggest key to making good Garlic Butter Shrimp is heating up the pan before you cook them. Shrimp only take 3-5 minutes to cook, so having the pan nice and hot will really help you from overcooking them.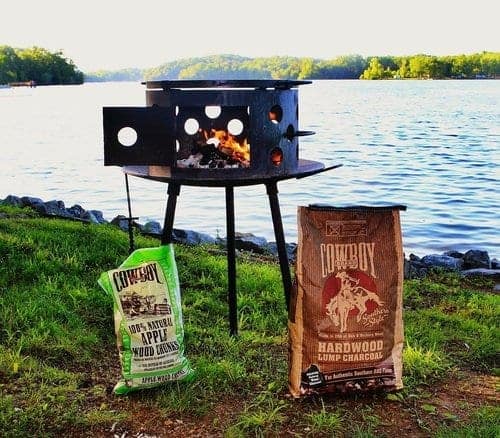 Stay aware to the shape of the shrimp. You should shoot for a "C" curl in the shrimp. This will tell you that they are done. You want to prevent the shrimp from being over-curled into an "O" shape or under-curled into a "J" shape.
This tells you they are either over cooked (tough) or under cooked (raw). Keep that "C" shape curl and you are golden! Just look at my photos above for "C" shaped shrimp!
Charred Garlic Butter Shrimp
Garlic and butter make the perfect pairing for this shrimp dish.
Ingredients
4

tbsp

of butter

1/2

pound

of medium shrimp

peeled (de-vein if you like)

1

tbsp

of kosher salt

1

tbsp

of black pepper

4

cloves

of minced garlic

2

tbsp

of Lemon juice
Instructions
In a bowl, mix the shrimp, salt, pepper, garlic and lemon juice thoroughly.

Light the Cowboy Hardwood Lump Charcoal in a charcoal chimney or mound inside your grill and let burn for 10-15 minutes.

Preheat your cast iron skillet by placing it over the fire about 5-10 minutes before cooking.

Place butter on to skillet and let fully melt.

Add the seasoned shrimp to the skillet and let cook over medium heat for 2-3 minutes per side.

Pull shrimp off grill and sprinkle freshly chopped parsley on top!
This article does contain affiliate links to products that we personally use and support. Purchasing an affiliate product does make us a small commission at no cost to you. This helps us continue creating for our website. All words and opinions are our own, and we appreciate your support!