This Garlic Butter Steak and Shrimp is the ultimate meat lover's meal. Juicy ribeye steaks and shrimp are pan-seared in homemade garlic herb butter.
Who knew that steak and shrimp could be this good together? This one-pan meal will satisfy a craving you didn't know you had!
Recipe Ingredients
Before getting started, gather everything you need so that this recipe goes smoothly!
For the steaks and shrimp:
Ribeye Steaks
Kosher Salt
Black Pepper
Garlic Powder
Clarified Butter
Canola Oil, if you don't have canola oil, you can use olive oil, but it has a noticeable taste and we recommend canola.
Colossal Shrimp, cleaned and deveined
White Wine
Hot Sauce
Garlic Herb Butter:
Butter
Garlic
Parsley
Lemon
Kosher Salt
Step by Step Instructions
How to make Garlic Herb Butter
First, we're whipping up a quick batch of garlic herb butter, because regular melted butter just isn't going to cut it. This is exactly what your steak and shrimp need.
First, start by adding the softened butter, freshly minced garlic, chopped parsley, lemon juice, and a sprinkle of salt to a mixing bowl. Next, scoop the mixed butter onto one side of a 1-1.5 foot piece of plastic wrap or wax paper. Gently roll the butter up into a "log" shape, then set it in the fridge to allow it to harden.
And that's it! This garlic herb butter is perfect for garlic butter steak and shrimp, but it's also pretty darn great added to literally any other savory recipe requiring butter. So, since you're making some anyway, make extra just to have on hand!
Want to try some other herb butter recipes? Check out my Venison Rack with Wild Herb Butter, Herb Butter American Lamb Steaks, grilled lobster with garlic butter, and Peppercorn Herb Steak and Fries recipes!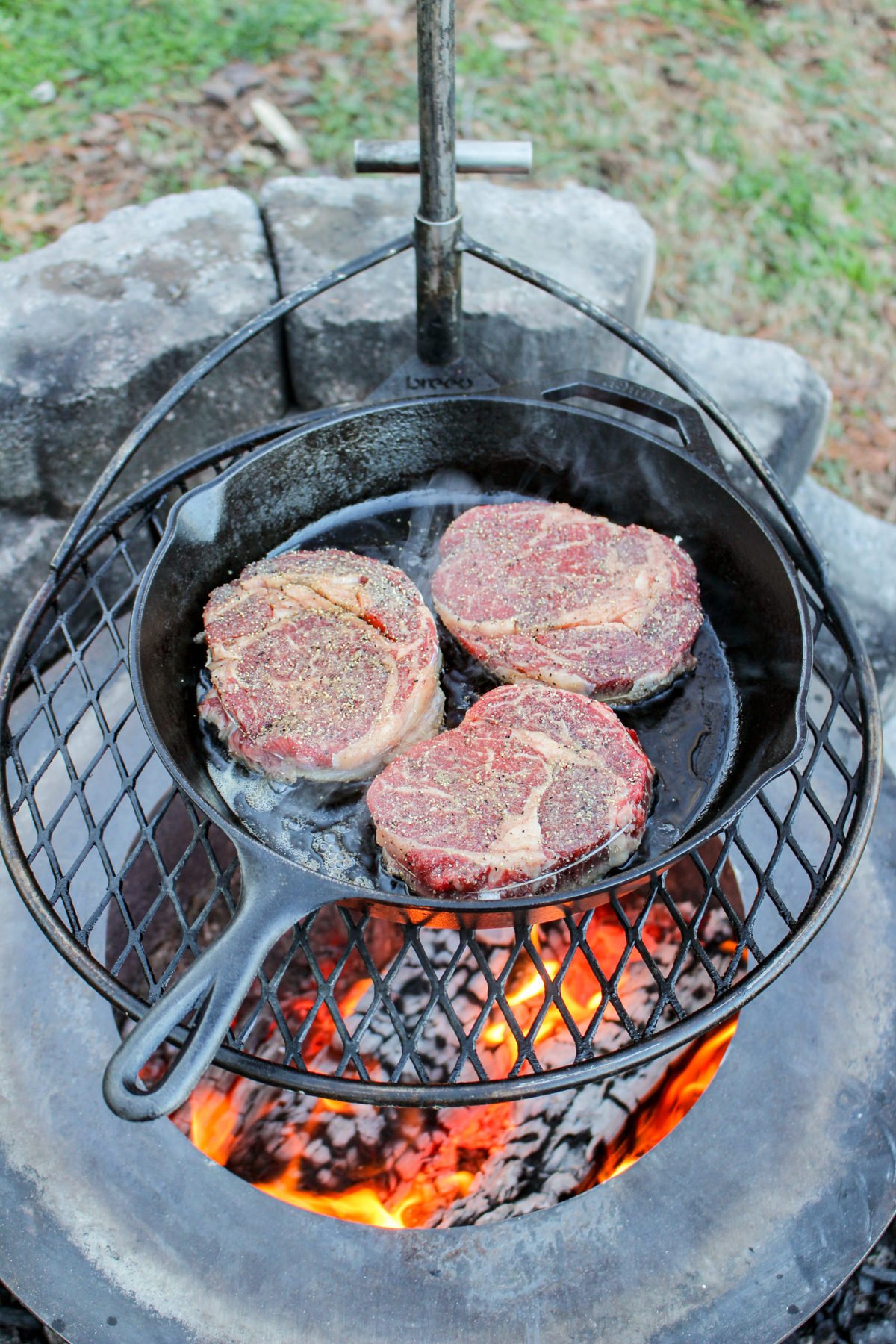 Grilling Your Steak
While your garlic herb butter is chilling in the fridge, lather the three ribeye steaks with canola oil, salt, pepper, and garlic powder. Set the steaks into the fridge for 40 minutes to allow the seasonings time to soak in, then pull them out and bring them to room temperature for 15 minutes before cooking.
Meanwhile, heat your grill to around 375ºF for direct cooking. Set a cast iron skillet on the grill, add in the clarified butter, and allow it to heat up for a couple of minutes. While the pan warms up, pull your prepped garlic herb butter from the fridge, and slice it into 1/2″ medallions.
Next, add the steaks to the hot pan and cook them for around 2-2.5 minutes per side or until the internal temperature has reached 120ºF. When you flip the steaks, top each with a medallion of the garlic herb butter and allow it to melt. Once the steaks are done cooking, take them off of the grill and let them sit for 10 minutes to give the juices time to settle back into the meat.
Cooking The Shrimp
Lastly, we cook up our shrimp! Remove any excess grease from the skillet, then add it back onto the grill and lower the temperature to 325ºF.
Deglaze the pan with the white wine, then add in a drizzle of hot sauce and the remaining garlic butter medallions. Let the butter melt, then add in the shrimp and cook for 1.5 minutes on each side. Remove it from the skillet and allow it to rest for a couple of minutes before serving.
Loving the steak and shrimp combo? If so, you'll also love this Wood Plank Surf and Turf Recipe, Surf and Turf Butter Burger and Grilled Surf and Turf recipes!

Expert Tips & Substitutions
When buying your steaks, check to see that they are all a similar size, weight and thickness. This will help them all cook at the same time to an even temperature.
Feel free to use other herbs in the garlic herb butter. Rosemary, chives, and thyme all work great!
If you don't have a large cast iron skillet, a big grill pan would work perfectly for this recipe too!
What To Serve With This Recipe
Now, we can eat! Slice the steaks up and serve them with a pile of shrimp and whatever side dishes your heart desires.
This meal will have you wondering why you haven't paired steak and shrimp together before. Trust me.
Recipe FAQs
What Cut of Meat is Best for this Recipe?
We use ribeye steaks for this recipe because they have great marbling and flavor. However, any cut of steak would work great with these shrimp and garlic herb butter!
How Can I Tell When My Steak Is Done?
Cook steak to your desired internal temp. The best way to tell if you're steak is done, is to use a meat thermometer to make sure each steak is done to whatever temp you prefer. We cook steaks to 120F before resting them but for medium rare cook your steak to 130.
Is It Safe To Cook Shrimp In The Same Pan?
Yes. because the you're cooking the steak first and then the shrimp, it's safe to cook the shrimp in the same pan.
Can I Use Frozen Shrimp?
If you have frozen shrimp, thaw them quickly in a bowl under cold water. Pat them dry, and then start cooking!
For more delicious recipes, check out my cookbook Food X Fire!
Needing more spice in your life? My spice line can help with that. Check them out here.
Full Length Recipe Video on YouTube!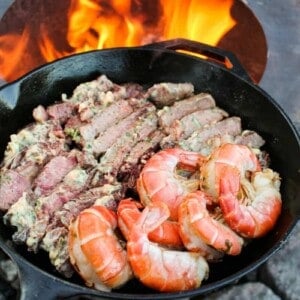 Garlic Butter Steak and Shrimp Recipe
Garlic Butter Steak and Shrimp for a surf and turf, best of both worlds, kind of meal!
Ingredients
Steak:
3

Ribeye Steaks

1.5

tsp

Kosher Salt

1.5

tsp

Black Pepper

1.5

tsp

Garlic Powder

2

tbsp

Clarified Butter

1

tbsp

Canola Oil
Shrimp:
6-8

Colossal Shrimp

deveined

⅓

cup

White Wine

1

tbsp

Hot Sauce
Garlic Herb Butter:
8

oz

Softened Butter

1.5

tbsp

Minced Garlic

1.5

tbsp

Chopped Parsley

1

medium Lemon

juiced

1

tsp

Kosher Salt
Instructions
Begin by adding all the ingredients for the garlic butter to a bowl and mixing together. Grab plastic wrap or some non-stick wax paper at 1-1.5ft in length. Place all the mixed butter on one side of the paper, then carefully roll it into a "log" shape. Place the butter in the fridge for 1 hour to set.

Next, lather your ribeye steaks with oil and season with the salt, pepper and garlic powder. Place the steaks in the fridge for 40 minutes to dry brine. Pull the steaks out of the fridge 15 minutes before cooking to come to room temperature.

Preheat your grill to medium high heat temperature (around 375F) for direct cooking. Add a cast iron skillet to the grill 2 minutes before cooking along with the clarified butter. Make sure to also pull your butter out of the fridge and slice into ½" medallions.

Add your steaks to the skillet and cook until 120F internal (around 2-2.5 minutes per side). After you have flipped the steaks, top each steak with 1 medallion of the Garlic Butter and let it melt. When the steaks are done cooking, pull them off and let them rest for 10 minutes.

Pull your skillet off the heat and discard any excess grease from cooking the steaks. Add the skillet back on to the grill at a slightly lower temperature (around 325F), and deglaze the skillet with white wine. Add some hot sauce next, along with the rest of the garlic butter. Once the butter has fully melted, add your shrimp into the skillet and let cook for 1.5 minutes per side. When done, pull off and let shrimp rest.

Slice into your steaks and serve with your shrimp. Enjoy!
Nutrition
Calories:
892
kcal
|
Carbohydrates:
6
g
|
Protein:
36
g
|
Fat:
81
g
|
Saturated Fat:
45
g
|
Polyunsaturated Fat:
4
g
|
Monounsaturated Fat:
28
g
|
Trans Fat:
2
g
|
Cholesterol:
247
mg
|
Sodium:
2038
mg
|
Potassium:
572
mg
|
Fiber:
1
g
|
Sugar:
1
g
|
Vitamin A:
1584
IU
|
Vitamin C:
20
mg
|
Calcium:
48
mg
|
Iron:
3
mg