Change up your breakfast game with this Cherry Chipotle Ham Steak & Eggs Recipe! I haven't done a breakfast recipe in a while, so when I saw this ham steak I immediately became inspired to get back to breakfast. Let's get our day started right!
The Most Important Meal of the Day
We all know the saying that breakfast is the most important meal of the day. Even if that sounds cliche, I think we can all get behind starting the day off with a good meal.
I cooked this one while my wife and I were at our family's lake house. It's always so much fun to be cooking by the water. The break of calmness by the lake with the sizzle of something cooking over a crackling fire is so peaceful. We made this dish like a breakfast skillet, all cooked and served together on the same piece of steel. It's a great way to blend flavors across a meal and makes for an easy clean up!
Ham Steak is the Star, but the Potatoes Go First
We started this cook with the potatoes. Cleaned and chopped, we put them on the skillet first because they alway take the longest to cook. (Pro tip: be generous with the amount of oil you use to cook these potatoes! It keeps them from sticking to the skillet and will give you the golden brown color we all love to see on our potatoes.) We also threw some chopped onions in with our potatoes for extra flavor. Once the potatoes are cooking, we can move on to the ham steak. That being said, don't completely forget about the potatoes because they'll need a stir every once in a while.
Need some more Breakfast Idea?
Maple Glaze Equals Golden Ham
Now, it's time to grab the ham steak and place it directly on the skillet. I seasoned the top portion of the ham while it was cooking with my Cherry Chipotle Ale Rub and let it sit for about 5 minutes. After that, I flipped the ham steak and seasoned the other side.
While the ham continues to cook, I made a maple glaze. It's literally only two ingredients: butter and maple syrup. Let these two melt together in a sauce skillet and paint it on my ham 5 minutes before it's done cooking.
How Bout Eggs
Once your potatoes and ham steak are almost done, add the eggs. Eggs cooked over the fire are done in seconds, so again, make sure the skillet is oiled and hot. We like our eggs sunny side up, but feel free to cook them however you like.
Serving up Smiles with this Cherry Chipotle Ham Steak & Eggs
Now, it's time to serve this breakfast up! Pull the Cherry Chipotle Ham Steak & Eggs skillet off the grill, pass out the plates, grab a fork and dig in!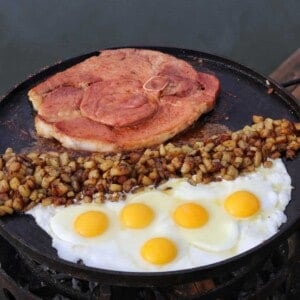 Cherry Chipotle Ham Steak and Eggs
Change up your breakfast game with this Cherry Chipotle Ham Steak & Eggs Recipe! Start your day off right with an epic meal over fire.
Ingredients
Ham Steak & Glaze Ingredients:
1

Ham Steak

2

tbsp

of Cherry Chipotle Ale Rub

3

tbsp

of Butter

2

tbsp

Maple Syrup
Eggs & Potato Ingredients:
5

Large Eggs

4

Golden Potatoes

diced

1

White Onion

diced

1

tsp

Kosher Salt

1

tsp

Black Pepper

1

tsp

Garlic Powder

4

tbsp

of Canola Oil

Chopped Parsley

for garnish
Instructions
Preheat your fire to a medium high temperature around 375F. Add your large skillet or plancha with 2 tbsp of oil over the fire 2-3 minutes before you start cooking.

Add the potatoes and onions to the skillet. Season with kosher salt, black pepper and garlic powder. Mix together and cook for about 10 minutes until they begin to soften.

Once the potatoes are getting close to done, push them to one side of the skillet and add you ham steak. Season the first side of the ham steak with the Cherry Chipotle Ale seasoning. Cook each side of the steak for about 4-5 minutes until they reach 145F internal. Make sure to season the other side once flipped and stir the potatoes occasionally.

Once the steak is close to being done, preheat a sauce skillet over the fire. Add in butter and maple syrup to melt. Once melted, pull off heat and baste the ham steak until thoroughly coated. Flip over and baste the opposite side until thoroughly coated.

If you have the room in your skillet, push your potatoes into the middle to act as a divide between the ham steak and the eggs. Add 2 tbsp of oil to the place where the eggs will and and let heat up for 2 minutes. Add your eggs to the skillet and cook to your liking. If you do not have room, add another skillet to the fire and cook your eggs separately.

Once the ham steak, potatoes and eggs are all done to your liking, garnish with parsley and pull off the fire. Slice into them and enjoy!