Today we are making Leftover Brisket Breakfast Skillets using hot Cowboy Charcoal. I love using leftovers from my smoked brisket! From tacos to breakfast skillets, brisket provides multiple meals from a single cook. And they are all delicious if I do say so myself! So if you are interested in making this leftover brisket skillet, then take a look at my 4 keys to making better breakfast skillets below before you start cooking!
Tips to Making Better Breakfast Skillets:
1. Start with Good Charcoal
When making a good breakfast skillet over fire, some might think that the skillet will prevent the flavor of the coals from getting into the food. They would be wrong! I have always talked about using high quality charcoal, but when cooking with a skillet you want to keep using that process with Cowboy Charcoal.
The essence of the fire will always seep into your food whether you are grilling directly or indirectly. When using a skillet, Cowboy's coals will gracefully cover the food with a nice indirect smoke. That will seep into the leftover brisket, potatoes and veggies more than anything else. Just make sure to use good coals like Cowboy even when cooking with a skillet.
2. Preheat Your Leftover Brisket Skillet
The next tip is to preheat your cast iron skillet before cooking. I have made this mistake multiple times when I first started cooking over fire, but it is an important lesson to remember. When you preheat your skillet, you will start the cooking process immediately!
This will help to sear the outside of your potatoes, veggies and leftover brisket quickly so that you get a nice crust/crunch on your skillet. If you do not preheat the skillet, then you run the risk of slowly cooking the food and making it mushy. We definitely do not want that. Just make sure to add your skillet over the fire 3-5 minutes before cooking and you are in the clear!
3. Stirring & Oil are Your Friends
When cooking in a cast iron skillet, you run the risk of your food beginning to stick to the cooking surface. A few ways to prevent that from happening are to stir your food often and use oil when necessary.
In the beginning of the cooking process, make sure to stir the potatoes and veggies every minute or so to help prevent sticking. Using good oil like olive oil will while stirring will also help to create a good crust on the leftover brisket skillet. When paired together, you end up having food that does not stick to the skillet and that has a good crust. The best of both worlds!
4. Add Tin Foil, if necessary
Last tip is to use tin foil when necessary. This is what I mean: for those that prefer their eggs not sunny side up then do this process. Cover the skillet with two layers of tin foil, grab some hot Cowboy Charcoal from the pit and place them on top of the tin foil. This will create an oven/broiling effect to cook the eggs from the top down. This really helps for those that want to cook the eggs through more.
Time to Eat the Leftover Brisket Breakfast Skillet
In the end, using leftover brisket is such a great way to create second life in flavors. I love making smoking brisket, but I always love the leftover dishes that come out of it like this Leftover Brisket Breakfast Skillet. Plus when you grill it over some hot Cowboy Charcoal, you get extra flavor a second time around. So cheers and use your leftovers well!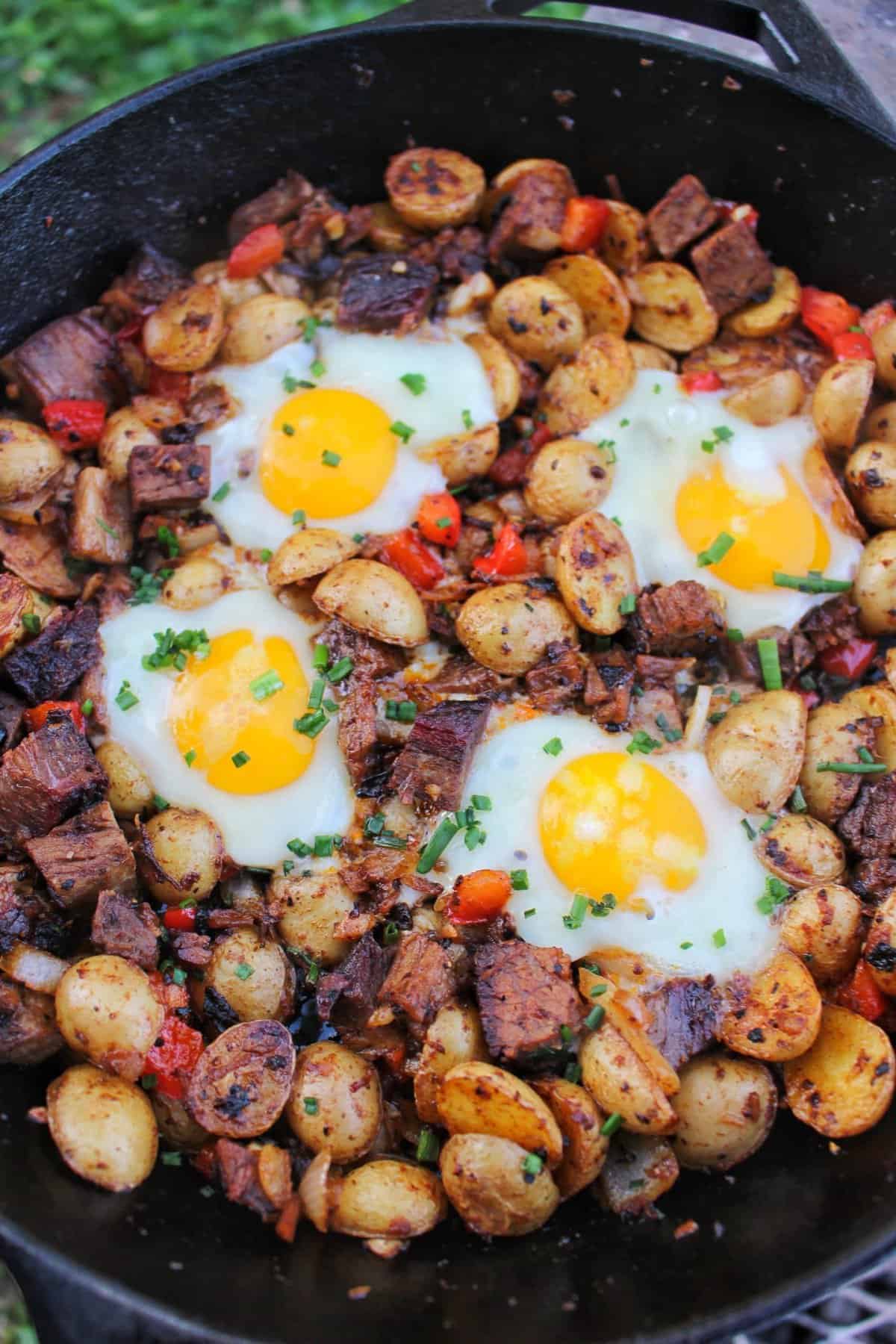 This article does contain affiliate links to products that we personally use and support. Purchasing an affiliate product does make us a small commission at no cost to you. This helps us continue creating for our website. All words and opinions are our own, and we appreciate your support!
Leftover Brisket Breakfast Skillet
Start your morning off with a hearty breakfast skillet using leftover brisket. The best way to reuse some delicious beef again for even more flavor!
Ingredients
Skillet:
1.5

cups

of Potatoes

cubed

1

tbsp

of your Favorite Seasoning

like my 3 new ones coming soon!

¼

cup

of White Onions

chopped

¼

cup

of Red Bell Pepper

chopped

3

Garlic Cloves

minced

½

cup

of Brisket

cubed

2

tbsp

of Chipotle Puree

4-5

Farm Fresh Eggs

1

tbsp

of Chives

chopped

2

tbsp

of Olive Oil
Instructions
Using Cowboy Charcoal, fill a full chimney of coals, light and let preheat for 15 minutes. Pour coals into the grill and place into one pile for direct cooking.

Add your cast iron with olive oil to preheat for 5 minutes. Once hot, add potatoes along with your favorite seasoning to cook until they become soft (about 8-10 minutes). Stir occasionally.

Once potatoes are softened, add onions, bell peppers and garlic to cook for 1 minute. Next, add brisket and chipotle puree. Cook for an additional 1 minutes until thoroughly mixed.

Once all is mixed, create 4-5 divots in your cast iron for the eggs. Add a little oil to each divot then crack your eggs into them. Cook your eggs for about 3-4 minutes for sunny side up or to your liking.

Top your eggs with chopped chives, pull off coals and enjoy!