Chipotle Garlic Chili Con Carne is everything we love about classic chili, but more meat and less of the other stuff. Don't worry, we still have a plethora of chiles blended in via my very own chile paste. This, along with two whole chuck roasts seasoned with Chipotle Garlic, made for an epic bowl of chili. Top it with some cotija cheese and chopped scallions and we'll call it a party!
Chili Con Carne
Chili con carne is a Spanish phrase that means chili with meat. Enough said, count me in! This chili typically contains chiles (or a chile paste), peppers, meat, beans and tomatoes. I love a good bowl of chili, and wanted to take a new spin on the way I made it. That is how we got here. Now, let me tell you how I made it!
It all started with a fire, a tripod and a dutch oven. Use the tripod to hang the dutch oven over your hot fire. Let it preheat while you gather your various chiles, peppers, garlic and water. Next, you'll take the chipotle peppers, ancho chiles, new mexican chiles, chile de arbol and garlic cloves and toss them into the dutch oven. Please note: this happens BEFORE adding the water. The idea is to roast/char these ingredients before adding the water. It helps pull out more of that smoky flavor we love so much about chili con carne.
See how I use these chiles in other ways via my Campfire Quesabirria Tacos, Grilled Hot Chili Chicken Thighs and Barbacoa Lamb Tacos Recipes.
The Chiles for our Chile Con Carne
The variety of Mexican and New Mexican peppers and chiles provide such a delicious depth of flavor to our chili con carne. Once I realized how easy it is to make chile paste I've started making my own a lot more. It allows you to tailor the chiles you use to suit the dish you're making. Plus you can add a variety of spices into it, making it spicier, sweeter or tangier. Really, whatever you want!
Mix the peppers, chiles and garlic around in the dutch oven for a bit, letting them char. Then, once they've reached your desired level of roasted-ness, pour in the water. Bring the water to a simmer and let the chiles and peppers soften. Next, remove everything from the water and place it in a blender. Blend until smooth and set to the side.
Chipotle Garlic Chuck Roast
Now, we'll move onto the meat portion of this Chipotle Garlic Chili Con Carne recipe. I used two whole chuck roast for this recipe. It may start out looking like a lot of beef, but it will cook down so don't be intimidated. I cut each roast into smaller, cubed pieces and then lathered them with oil and my Chipotle Garlic seasoning.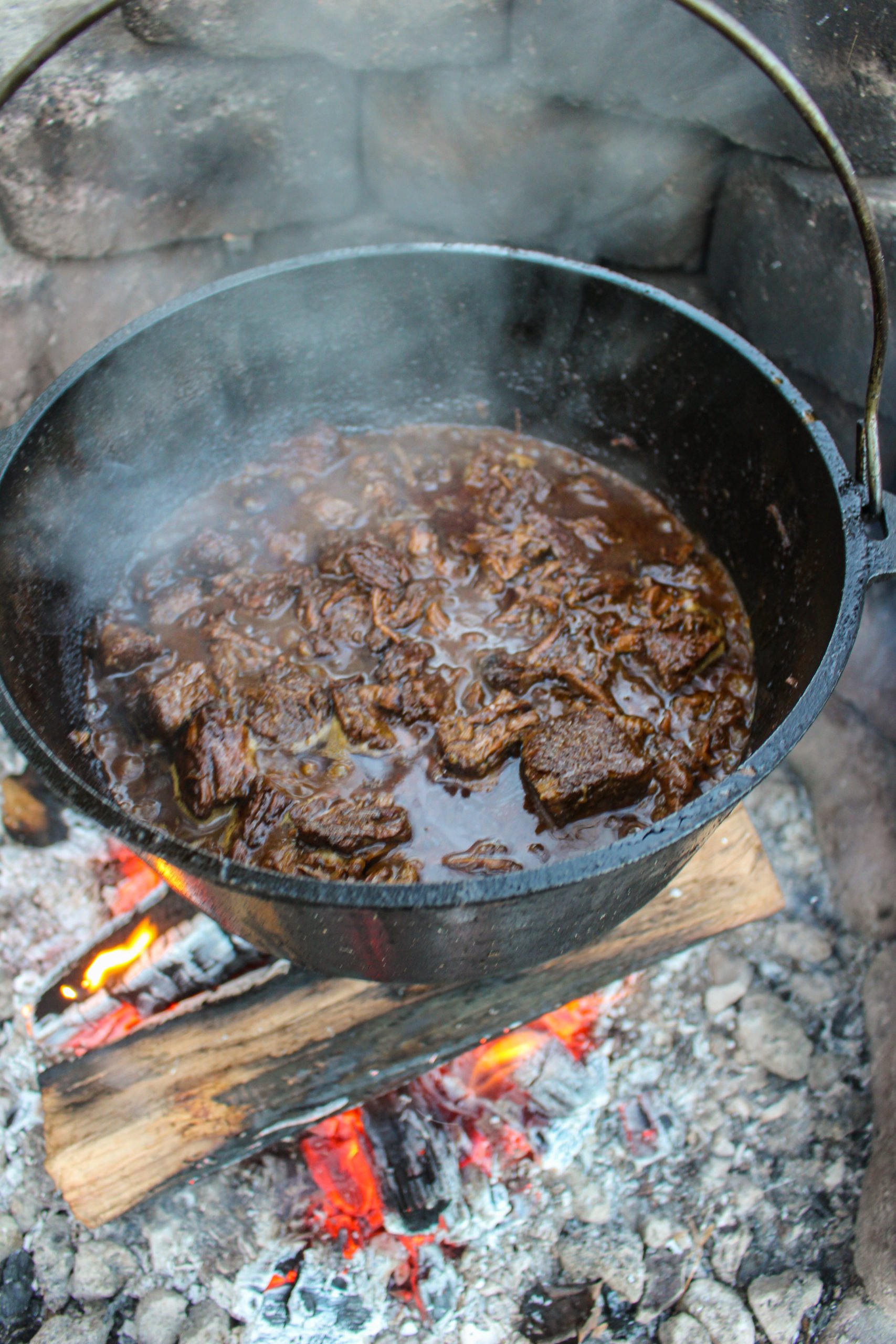 If you haven't checked out my Chipotle Garlic seasoning, you can do so on Spiceology's website here.
If you've been following along with my Over the Fire Cooking Journey, you likely know I have a variety of spices for sale. Chipotle Garlic was the first one I developed and let me just say it's still one of my favorites. This versatile spice can be used on everything and is so delicious.
After seasoning the cubes of chuck roast, begin to sear them in the dutch oven. You might have to do this in different batches due to the amount of chuck roast we have in comparison to the surface level for searing in the dutch oven. I added a thin layer of oil to the bottom of the dutch oven and was able to get all the Chipotle Garlic chuck roast seared in two batches.
Chipotle Garlic Chili Con Carne Comes to Life
After searing the Chipotle Garlic chuck roast for our chili con carne, set it in a bowl to the side. Next, we will add our chopped onions and minced garlic to the dutch oven. Mix these together and let the onions soften. Then, add in the dark beer, beef bone broth and the chile paste we mixed together earlier in this recipe. Give that a quick stir before adding all your seared chuck roast back into the dutch oven.
For more chili recipes, check out my Smoked Chipotle Steak Chili or Fall Festive Chili Recipes!
Now, we wait. Check on the chili con carne periodically throughout the cooking process, and give it a stir every now and then. We're waiting until the chuck roast becomes fork tender.
Once the meat is tender and shreddable, do just that… shred it! From here, I served it up. If you would like to add beans or tomatoes into your Chili Con Carne, now is when you would do so. However, I just went straight for the meat. A couple ladle scoops into a bowl and garnished with cotija cheese and chopped scallions. It was incredible. Smoky. Spicy. Savory. Delicious!
Best enjoyed with friends and family. Cheers!
For more delicious recipes, check out my cookbook Food X Fire!
Needing more spice in your life? My spice line can help with that. Check them out here.
Chipotle Garlic Chili Con Carne
Chipotle Garlic Chili Con Carne is the fall chili we all want and need!
Ingredients
Chili:
2

Whole Chuck Roasts

cubed

2

tbsp

of Chipotle Garlic Seasoning or your Favorite BBQ Seasoning

40

oz

of Beef Bone Broth

12

oz

of Dark Beer

1.5

cups

of Chopped Onion

2

tbsp

of Minced Garlic

1.5

tbsp

of Oil
Chile Paste:
5-6

Chipotle Peppers

4-5

Ancho Chiles

2

New Mexican Chiles

2

Chile de Arbol

7-8

Garlic Cloves

2

cups

of Water
Toppings:
Cotija Cheese

Scallions

chopped
Instructions
Preheat a dutch oven skillet over a medium high heat fire (around 350-375F).

Add all the ingredients for the chipotle paste to the skillet (except for the water) and let them toast on all sides for 2-3 minutes. Once nicely charred, add in your water and let simmer for 3-4 minutes until the chile peppers become soft and rehydrated. Pull all the ingredients out of the dutch oven and discard all the water except for ¼ cup. Next, take off the stems and de-seed the chile peppers (or leave some seeds if you like it spicier). Add all the ingredients to a food processor along with the ¼ cup of water. Blend until smooth then set aside.

Lather your beef chuck cubes in oil and season thoroughly with Chipotle Garlic seasoning. Add your dutch oven back to the fire along with 1 tbsp of oil. Add your beef to the skillet to brown on all sides for 30 seconds per side. Do this in 3-4 batches to prevent overcrowding. Once done, pull all the beef off and set aside. Next, add your onions and garlic to the skillet to brown. Stirring occasionally until the onions are slightly translucent. With the onions and garlic still cooking, add your beer to deglaze the skillet. Let simmer for 2-3 minutes, then add your beef bone broth, chile paste and all the beef chuck cubes. Add more bone broth if it does not cover the beef cubes in the dutch oven. Next, cover the dutch oven and let simmer for 2-3 hours until the beef is fork tender.

Once the beef is ready, pull off and serve into a bowl. Garnish with cotija cheese, chopped scallions and enjoy!