Nothing like these Campfire Quesabirria Tacos to brighten up a rainy day here in Nashville! For those unfamiliar, quesabirria refers to a braised meat with melted cheese typically served as a taco. I don't see how a taco could get any better than that! I broke out my tripod and dutch oven to braise some short ribs. Then I shredded the meat, added some cheese and turned them into tacos. They were incredibly delicious! You don't want to miss this. 
Campfire Quesabirria
I love cooking in the great outdoors, and sometimes that means dealing with weather. It started raining while I cooked this recipe, so I made sure to keep my fire hot. While it might seem like a nuisance, I slightly enjoyed the break from the heat. Meanwhile, my wife goes around calling it liquid sunshine… so there's that. Regardless, I was so excited to cook these Campfire Quesabirria Tacos. The weather didn't seem to matter. 
I kicked off this Campfire Quesabirria Tacos recipe by making my chile paste. This paste consisted of three different types of chiles: ancho, guajillo and chipotle chiles. I tossed all the dried chiles and some garlic into the preheated dutch oven. Let the chiles char for a bit and then add water to the dutch oven. Once the water reaches a roaring boil, push some of the wood to the side, cooling the fire a bit and bring the boil down to a simmer. Let the chiles and garlic simmer together for around 8 minutes. Then transfer the chiles and garlic to a blender. Toss the seasoning into the blender as well and blend it all together until it reaches a thin, paste-like consistency.  
Braised Beef + Cheese = Quesabirria Tacos
The next step for these Campfire Quesabirria Tacos is braising the short rib. In a large bowl, I seasoned each chuck of short rib in one of my Spiceology favorites: a Salt, Pepper and Garlic Rub. It's crazy just how much these three ingredients change a meal. After covering each short rib with rub, I set them into the preheated dutch oven and seared all sides of the meat. This will help us create somewhat of a seal on the meat while it's braising, which helps to lock in those lovely juices and flavor. After each short rib has been seared on all sides we can start the braising process. Toss in the remaining short rib ingredients, including our chile paste, and bring it to a simmer. Now, let it continue to simmer for about 4 hours, or until the beef is fork tender.  
When the beef becomes tender, transfer it to a large bowl. Then, grab two forks and shred the beef. After the beef is shredded to your liking, set it aside. Grab another bowl and strainer. We're going to strain the remaining braising sauce and use it for our Campfire Quesabirria Tacos! Run the sauce through a strainer until all that's remaining is consomme.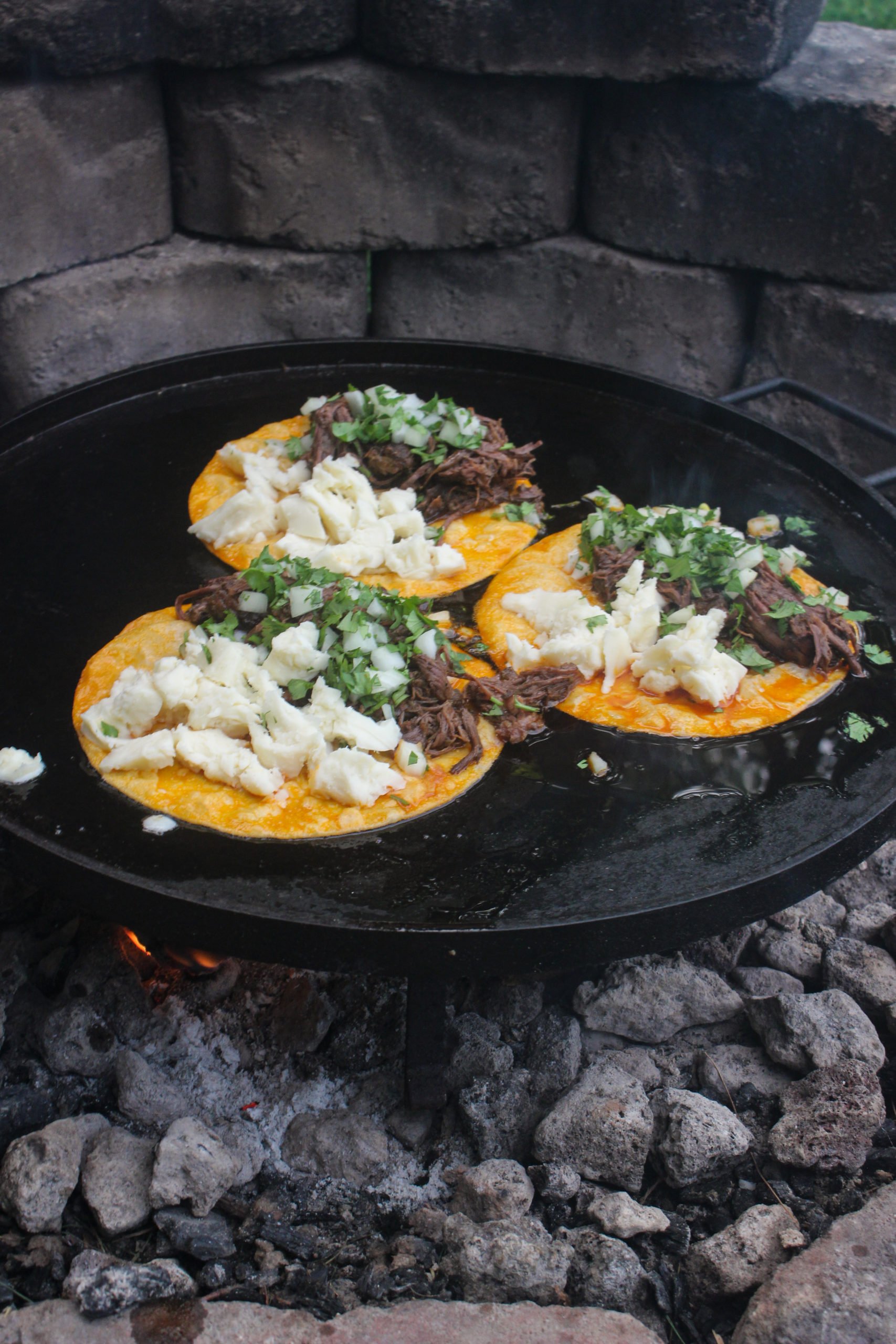 Tacos for Tuesday… And Any Other Day
All that's left to do is assemble our Campfire Quesabirria Tacos! Start by dipping your flour tortillas into the consomme and placing them over the campfire on a griddle. Then, place a handful of the braised beef on one half of the tortilla. Next, I added a handful of chopped onion and cilantro on top of the braised beef. Following the onion and cilantro is my favorite, the cheese. I shredded some oaxaca cheese and placed it across the empty half of the tortilla. From there, use a spatula to flip the cheese half of the tortilla on top of the beef half. Now it's starting to look like a taco fiesta! 
Flip the tacos as needed until the cheese melts and the tacos have browned to your liking. Then pull them from the grill and get ready to eat! I poured the remaining consomme into a sauce bowl for dipping and placed it on a serving platter along with some lime wedges. Time to dive in. Best enjoyed with friends and family. Cheers!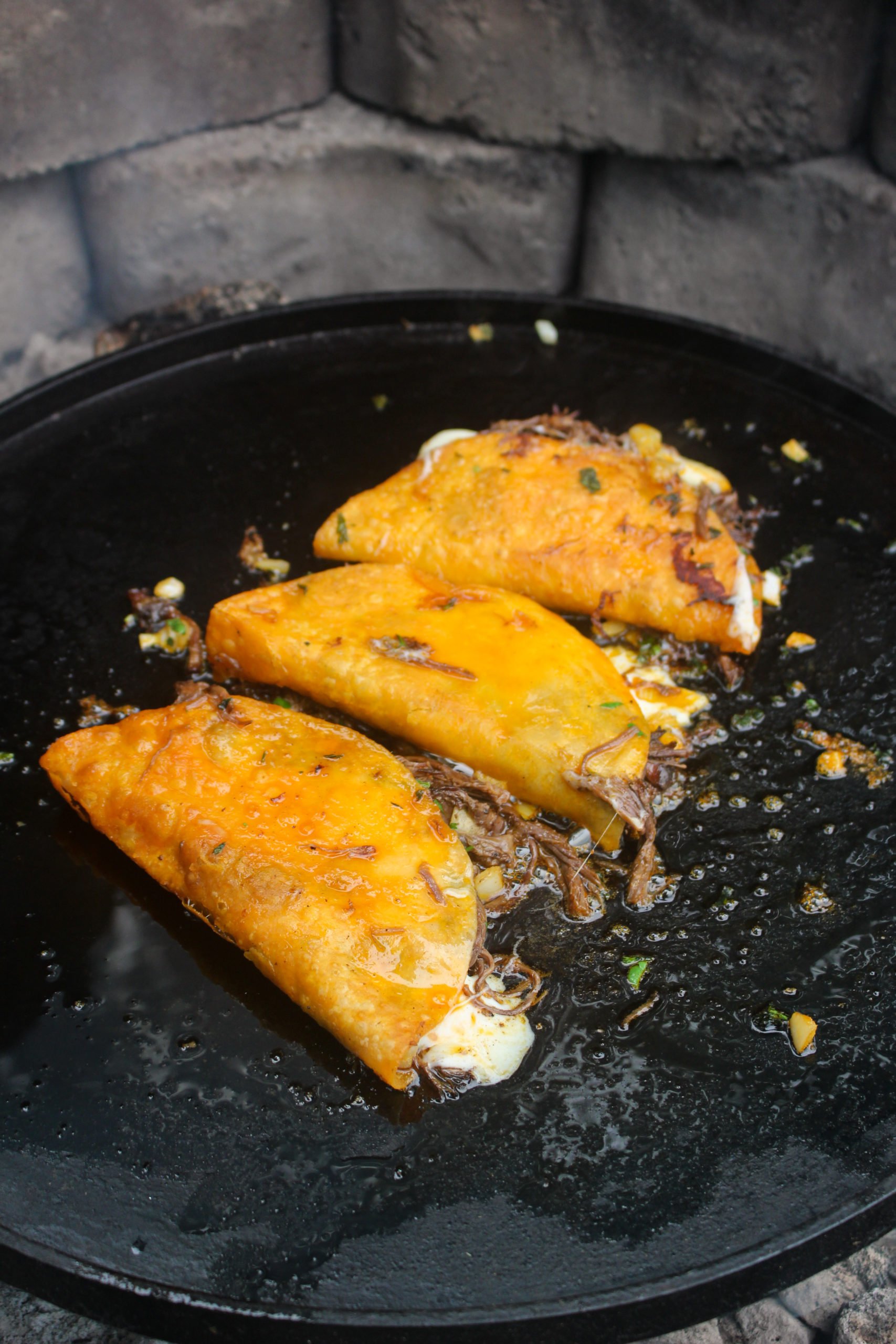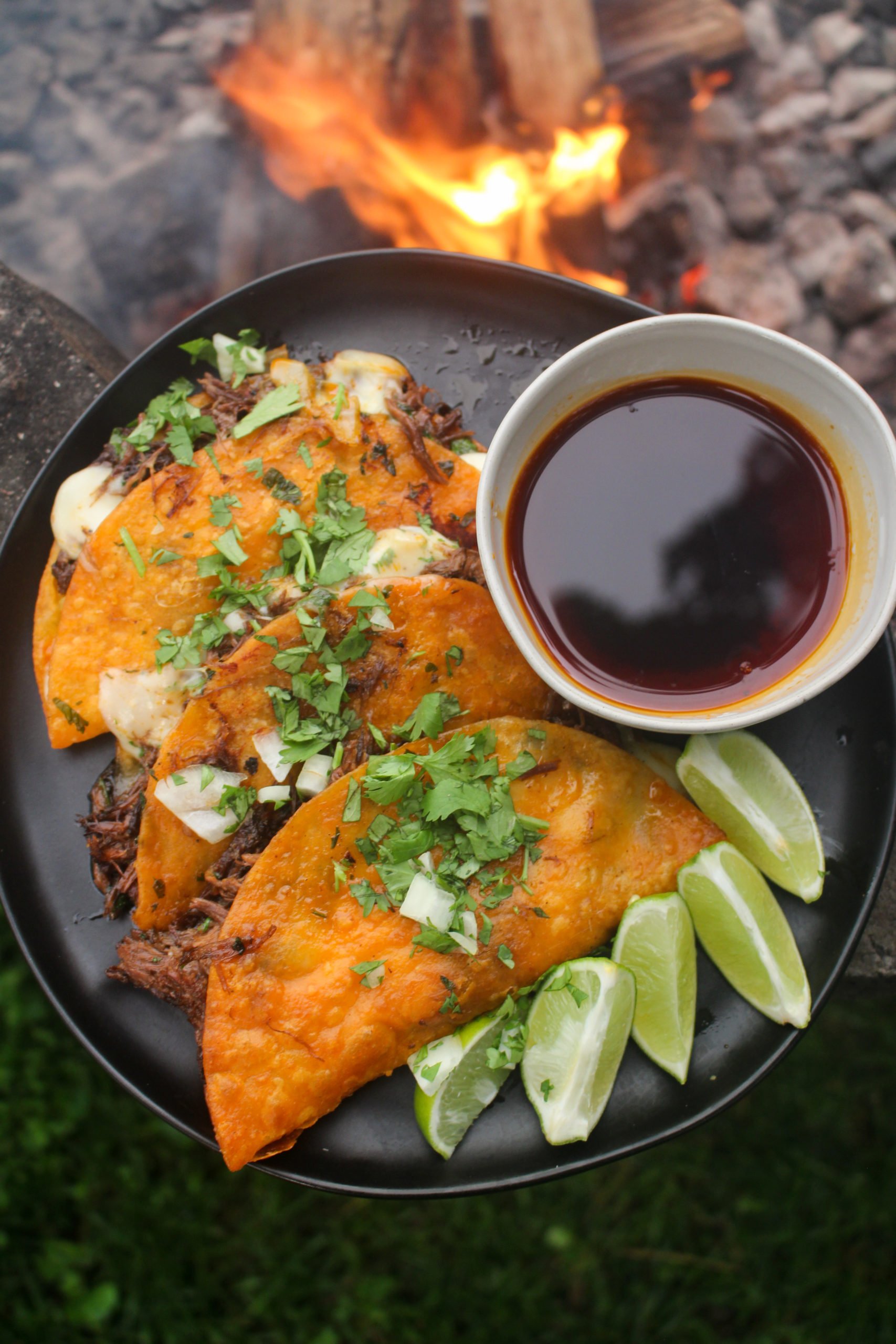 My cookbook, Food X Fire, is out! Order it now!
Campfire Quesabirria Tacos
Nothing like these Campfire Quesabirria Tacos to brighten up a rainy day here in Nashville! Braised beef and cheese turned taco. Delicious!
Ingredients
Meat:
5-6

Bone-In Short Ribs

cubed

1.5

tbsp

of Kosher Salt

1

tbsp

of Black Pepper

1

tbsp

of Garlic Powder
Chiles:
3-4

Ancho Chiles

stemmed & seeded

3-3

Guajillo Chiles

stemmed & seeded

2-3

Chipotle Chiles

stemmed & seeded

8-10

Garlic Cloves

2

cups

of Water
Seasoning:
1.5

tbsp

of Mexican Oregano

1

tbsp

of Sea Salt

2

tsp

of Black Pepper

2

tsp

of Cinnamon

or 2 cinnamon sticks

2

Bay Leaves
Braising:
3.5

cups

of Beef Broth

1/2

of a White Onion

sliced

1

cup

of White Vinegar

12

oz

of Dark Mexican Beer
Tacos:
8-10

Tortillas

1

cup

of Oaxaca Cheese

shredded

Chopped Cilantro

for garnish

Diced Onions

for garnish
Instructions
Preheat your fire to medium high temperature (around 375F). Add a dutch oven over the fire to preheat for 3-4 minutes.

Add your chiles and garlic to your dutch oven and let char for 30-45 seconds per side. Once charred, add your water to the skillet and let simmer over the fire for 7-8 minutes. Once simmered, pull out the chiles and garlic and dispose of the excess water. Add your chiles & garlic to a food processor along with all the ingredients for the seasoning. Add 2 tbsp of water to the blender and blend until completely smooth. Pour your paste into a bowl.

Add your short ribs to a bowl or place and liberally season with salt, pepper and garlic powder. Place your cleaned dutch oven over the fire and sear off each side of the beef until browned. Do this in batches if needed. Finally, add all your short ribs to the dutch oven along with the chile paste, beef broth, white vinegar, sliced onions and dark beer. Cover the dutch oven and let simmer over medium high heat until the beef is fork tender (about 3.5-4.5 hours). Make sure to skim the top of the sauce of fat as needed.

Once the beef is tender, pull it off, dispose of the bones and shred the beef. Strain your braising sauce until it is a clean consomme. Add the consumme to a new bowl.

For the tacos, take off your dutch oven, heat your fire to high heat (about 400F) and add a large cast iron skillet to preheat with a little oil. Dip both sides of your tortillas in the consomme and add them to a hot skillet. Add to one side of the tortilla some shredded beef, diced onions and chopped cilantro. Add to the other side some shredded cheese. Fold both sides into each other. Sear off each side for 30 seconds until crispy then pull off and rest. Repeat this for each taco!

For serving, dip your taco into the consomme and enjoy!