Barbacoa Lamb Tacos are the triple threat of deliciousness: tender, juicy and packed with flavor! I spent the afternoon braising lamb in a plethora of seasonings, broth and even a homemade guajillo and ancho chili paste! While I was at it, I decided to char a few tomatillos for some salsa and even pickled a red onion. All for the final product of a perfect barbacoa lamb taco. That first bite made it worth every step!
Getting Started on these Barbacoa Lamb Tacos
If you're looking for a one hour recipe, this isn't it. However, if you're looking for a delicious recipe to share with your friends and family, and you want to spend some quality time outdoors… This is for you! The cooking itself isn't difficult, so don't let that deter you. It's all about that braising process.
For this Barbacoa Lamb Tacos recipe, I actually started by making the chili paste. I placed a couple dried guajillo and ancho chiles into my cast iron pot. Let that char along with some whole garlic for a minute or so (stirring/flipping to create an even char) and then pour in some water and bring it to a roaring boil. Let it simmer until the chiles become tender. Then, remove the chiles and garlic from the water and place in a mixer along with the lemon juice and various spices listed below. Blend that mixture until completely smooth.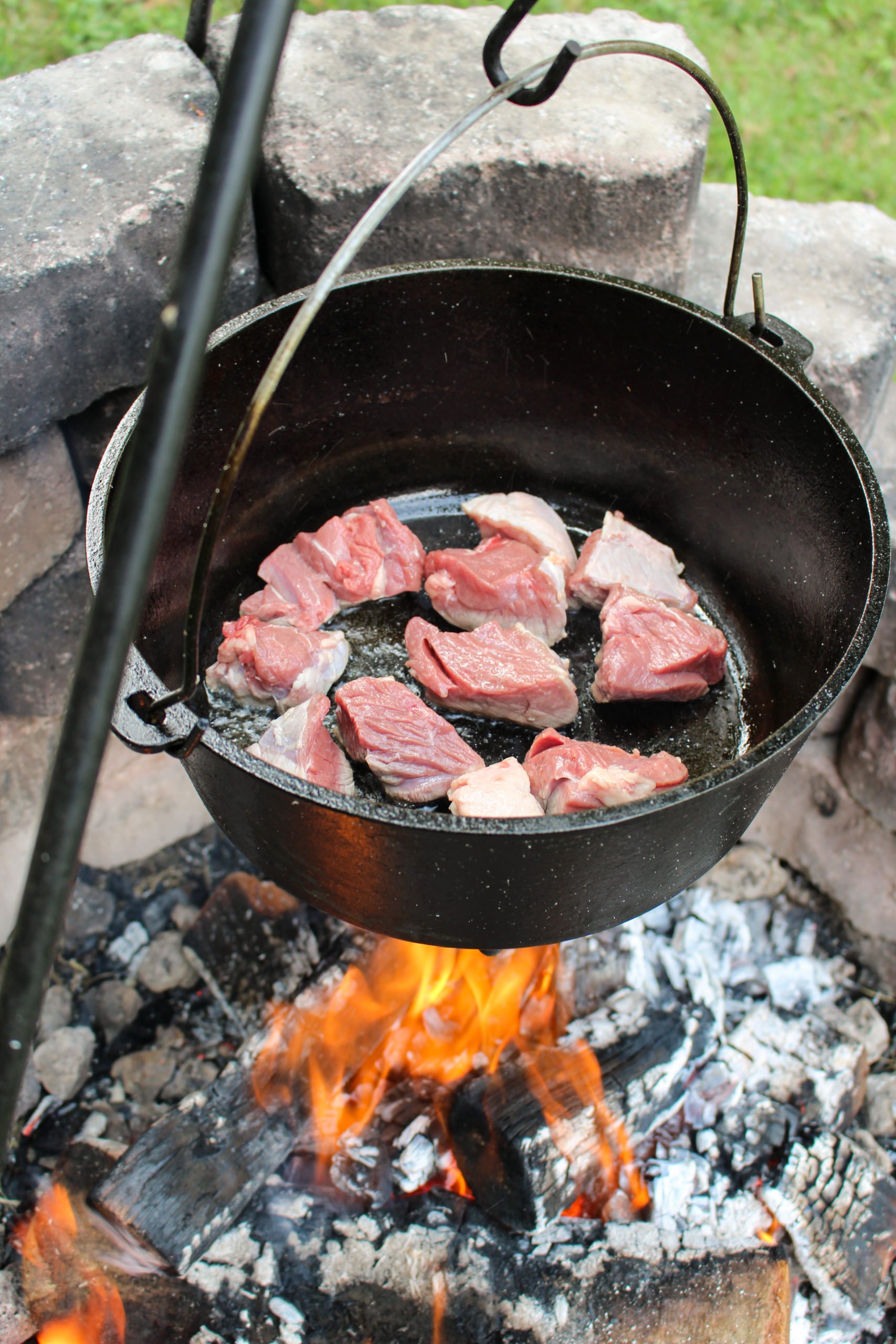 Lamb, Lamb, Lamb! Braising our Barbacoa Lamb
Now that the chili paste is ready to go, let's sear the lamb. Grabbed some delicious all american lamb from a local butcher for this recipe. If you want to find local American Lamb, check it out here.
I cleaned out my cast iron pot and placed it back on it's tripod over the flames. Drizzle some oil into the pan and then start searing each cube of lamb. Make sure to sear all sides of each piece of lamb, you might have to do this in batches.
Next, put all the lamb back into the pot and start adding the other ingredients. I scooped in all the chili paste and then followed it with some beef broth, white vinegar, Mexican oregano, cinnamon sticks, bay leaves and the juice of three limes. Give it a good stir to make sure all the ingredients are evenly distributed throughout the braise. Now, we wait, as patiently as possible for these Barbacoa Lamb Tacos. Waiting, however, doesn't necessarily mean resting. There are a few items to tend to while the lamb cooks, so let's get a jump on that.

Charred Tomatillo Salsa… The Secret to our Barbacoa Lamb Tacos
Who doesn't love homemade, fresh salsa?! There's nothing quite like it, so that's why we're making some for our Barbacoa Lamb Tacos. I started with four tomatillos and tossed them directly on the coals, right under the hanging cast iron pot. Keep an eye on them and flip as needed to get an even charing across each tomatillo. Remove each one from the coals as they become charred to your liking.
Next, take the charred tomatillos back to your blender. Toss them in along with all the other salsa ingredients. Blend until all the ingredients are chopped and well mixed. Do not blend until completely smooth, we still want some texture to our salsa. Once that's done, place it in the fridge to cook.
I'll also note that you can pickle your own red onions at this time if you'd like to. I did and they turned out great. I don't have a pickling recipe of my very own yet, so I'll save that for another day. That said, you can find some great recipes for pickling onions online. The one I used was only four ingredients and only had to sit for 40 minutes.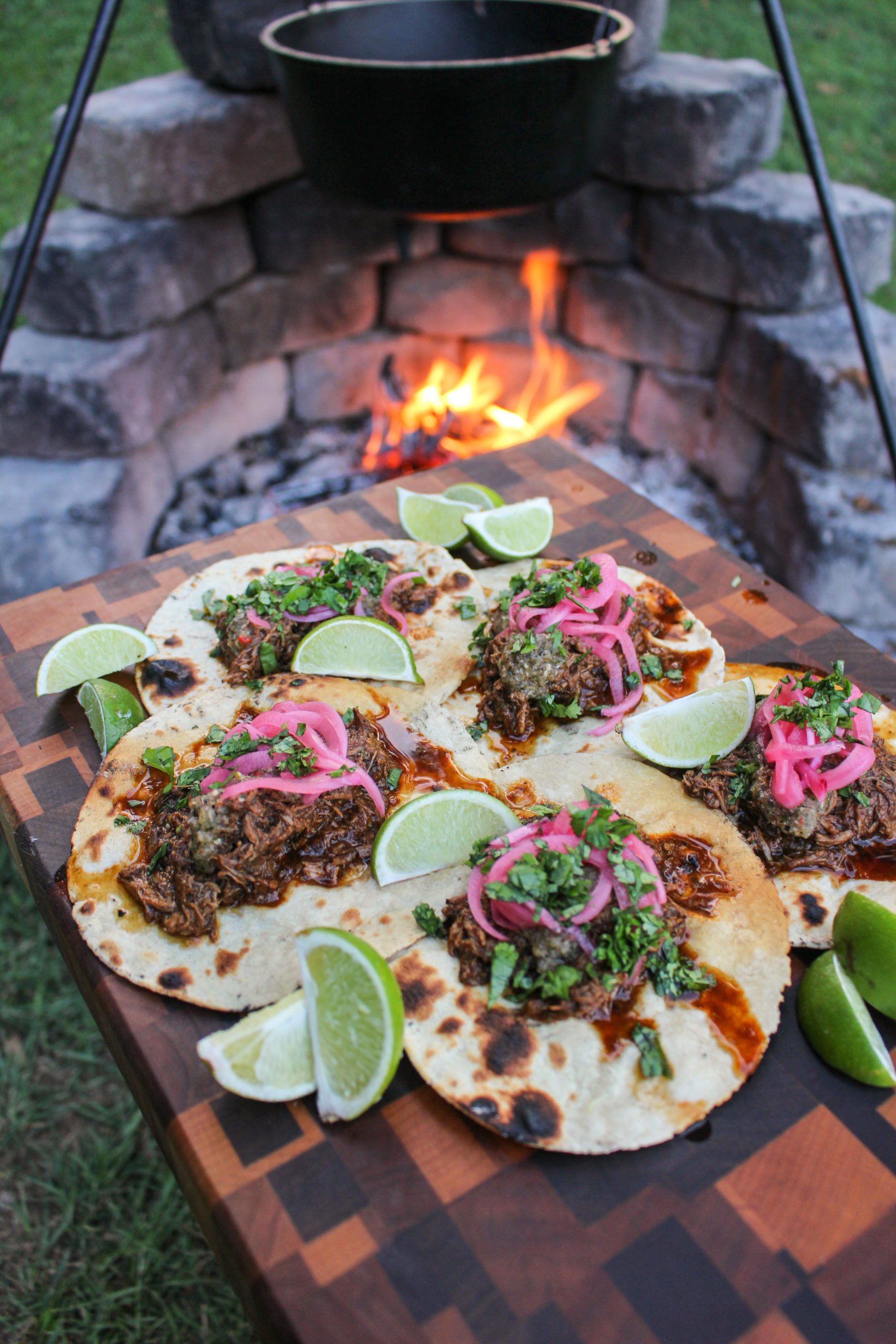 Back to Barbacoa
Head back outside to finish up the braising lamb for our barbacoa lamb tacos. I used a straining spoon to remove it from the braising sauce and set all the lamb in a large bowl. At this point, the lamb should be super tender… Like almost falling apart tender. Shred all the lamb and then put it back into the cast iron pot containing the braising sauce. We'll let this simmer for a bit while we toast our tortillas.
I toasted my tortillas the same way I did the tomatillos: directly on the coals. Toss each tortilla over some hot coals and flip as needed until they are toasted to your liking. Okay, now it's time to bring it all together.
Barbacoa Lamb Tacos For Dinner
On your serving dish, lay out your toasted tortillas. Next, add a heaping portion of that barbacoa lamb, a spoonful of tomatillo salsa, a couple of pickled red onions and a garnish of chopped cilantro. I tossed some lime wedges on the serving dish as well. Now, get a squeeze of lime juice on top of that barbacoa lamb taco and eat up. Best enjoyed with friends and family. Cheers!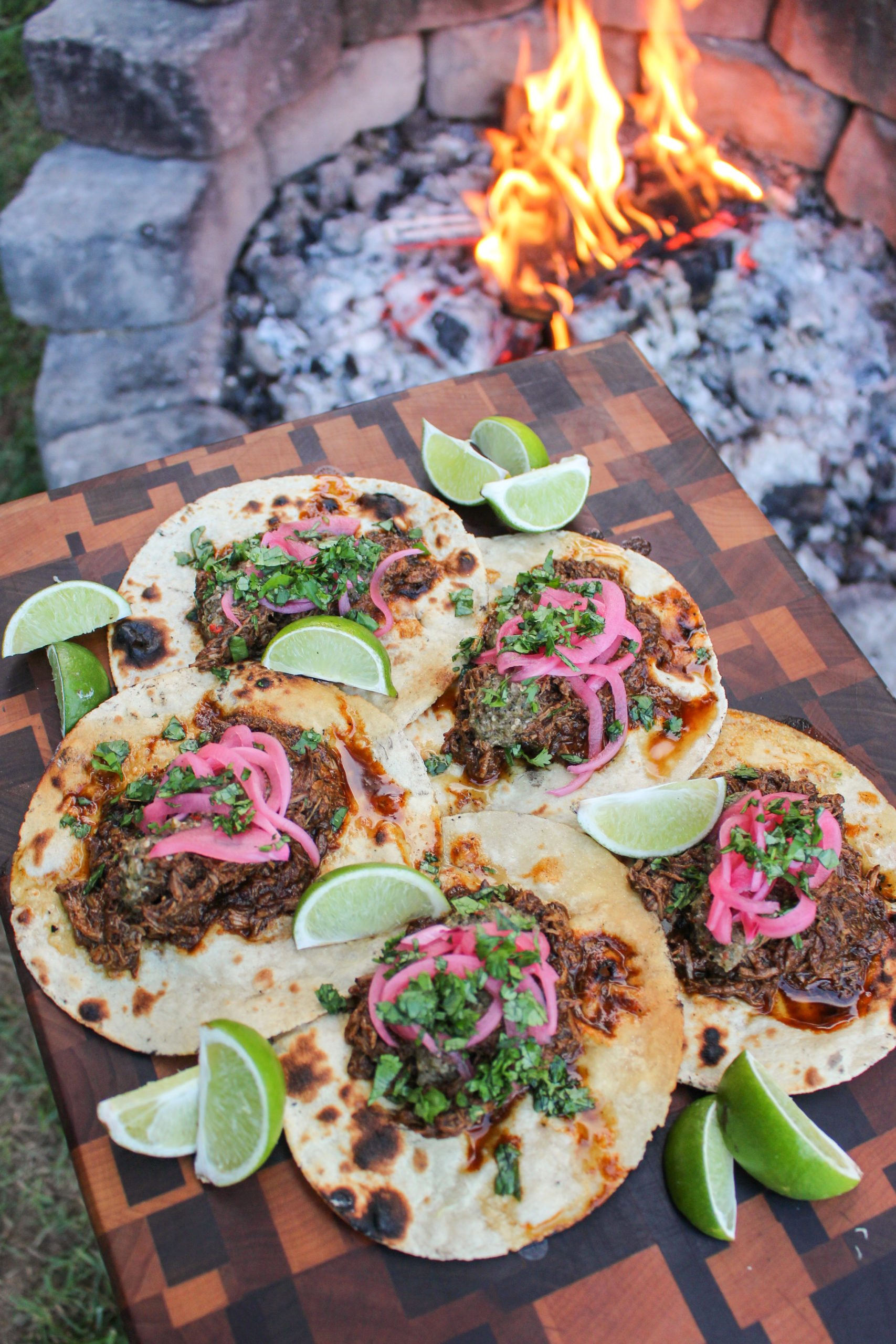 Barbacoa Lamb Tacos
Barbacoa Lamb Tacos are the triple threat of deliciousness: tender, juicy and packed with flavor! Here's how to make it your next dinner.
Ingredients
Lamb & Braise:
1

Whole Boneless Lamb Leg

cubed

3-4

cups

of Beef Broth

½

cup

of White Vinegar

2

tbsp

of Mexican Oregano

3-4

Cinnamon Sticks

2

Bay Leaves

2

Limes

juiced

Canola Oil
Chile Paste:
3

Guajillo Chiles

2

Ancho Chiles

6-8

Garlic Cloves

2

tsp

of Oregano

2

tsp

of Cumin

1.5

tsp

of Black Pepper

3

Limes

juiced

Salt

to taste
Habanero Tomatillo Salsa:
4

Tomatillos

husks removed

1

Habanero

add another after you taste

2.5

tbsp

of Cilantro

4

Garlic Cloves

2

tbsp

of Red Onion

3

Limes

juiced

Salt

to taste
Tacos:
Tortillas

Chopped Cilantro

Pickled Red Onions

Lime Wedges
Instructions
Preheat your fire to medium high temperature (around 375F). Add a dutch oven over the fire to preheat for 3-4 minutes.

Add your chiles and garlic to your dutch oven and let char for 30-45 seconds per side. Once charred, add 2-3 cups of warm water to the skillet and let simmer over the fire for 7-8 minutes. Once simmered, pull out the chiles and garlic and dispose of the excess water. Add your chiles & garlic to a food processor along with all the ingredients for the chile paste. Add 2 tbsp of water to the blender and blend until completely smooth.

Place your cleaned dutch oven over the fire, add a little oil and sear off each side of the cubed lamb until browned. Do this in batches if needed. Finally, add all your lamb to the dutch oven along with the chile paste, beef broth, white vinegar, mexican oregano, cinnamon sticks, bay leaves and lime juice. Cover the dutch oven and let simmer over medium high heat until the lamb is fork tender (about 3.5-4.5 hours). Make sure to skim the top of the sauce of fat as needed.

About 30 minutes before the lamb is done, clean off some coals and add your tomatillos to roast on the fire. Cook for 2 minutes then flip over and cook for another 2 minutes. Once well charred, pull the tomatillos off and add to a food processor along with all the other ingredients for the Habanero tomatillo salsa. Blend until smooth, then set aside.

Once the lamb is tender, pull it off and shred it up. Try to get out any excess stuff like cinnamon sticks and bay leaves in your dutch oven sauce, then let simmer for 3-4 minutes until slightly reduced. Add the shredded lamb back to the sauce and let it gently warm next to the fire.

For your tacos, quickly toast your tortillas over the hot coals until they are lightly charred. Begin by adding a large scoop of shredded lamb from the dutch oven followed by the salsa, pickled onions, chopped cilantro and lime wedges. Serve and enjoy!