That's right, today we're talking about these Cilantro Lime Butter Scallops! Making a frequent appearance on high end restaurant menus, scallops are like a white cylinder canvas just waiting to be turned into something delicious. They're from the saltwater clam family, and even have electric blue eyes before they reach your plate! Don't believe me? Just ask google…
If horses gallop, do seahorses scallop?
You've never truly experienced scallops until you cook them. The first thing we need to do is get the Cilantro Lime Butter Scallops dry. Pat them with a paper towel, then place them uncovered in the fridge for 2-4 hours to dry out. That is the key to getting a great sear. Speaking of prep, all I did for this recipe was sprinkle them with some salt, pepper and garlic. Don't add oil to these Cilantro Lime Butter Scallops as you will have plenty on the skillet.
Pre-order my new cookbook: Food by Fire!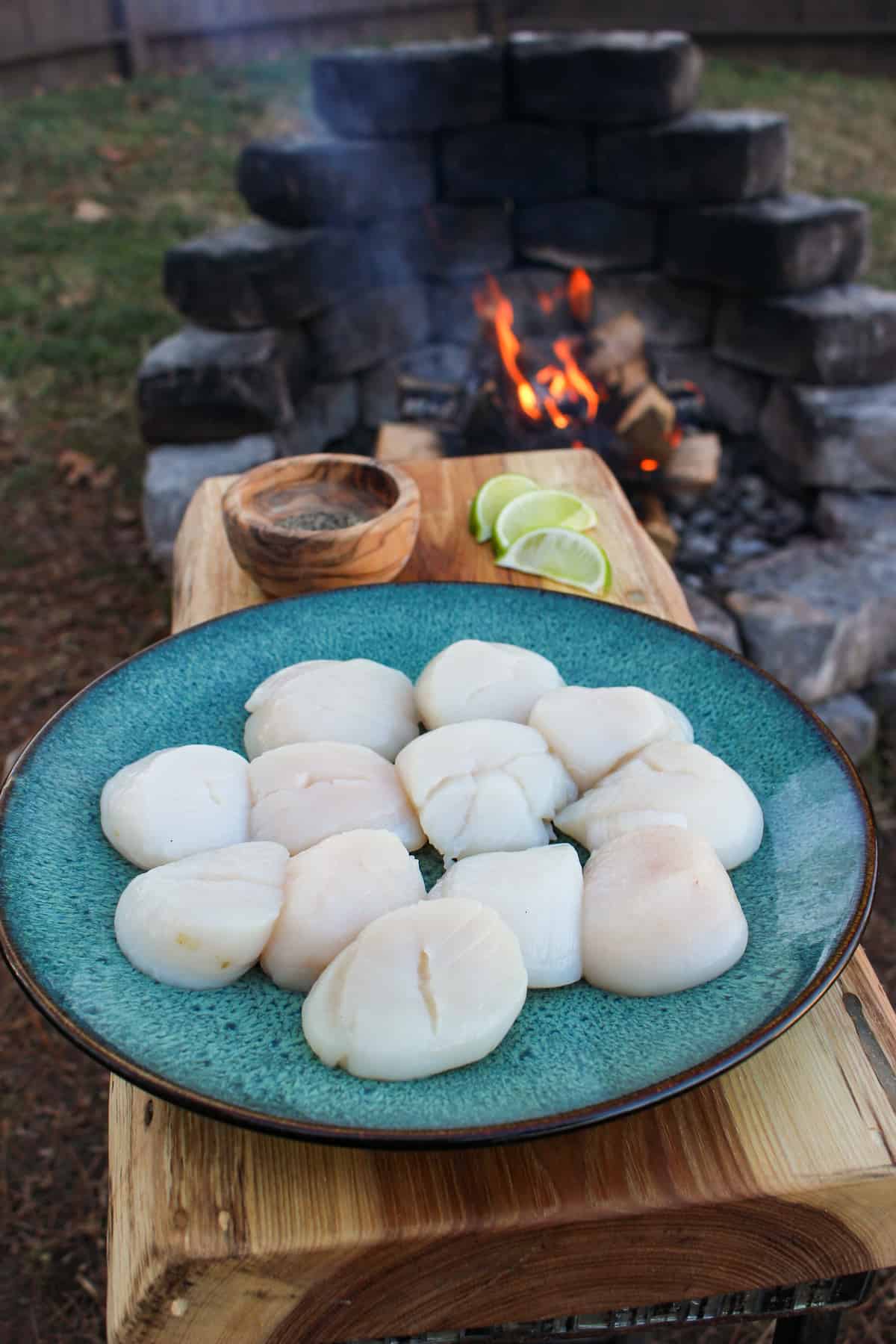 Sear'em Up
A big pro to scallops is how quickly they cook, which is great to pair with steak. All we're really concerned with is getting a quick sear on both sides for these Cilantro Lime Butter Scallops. With this in mind, we'll build a fire and be ready to cook once our logs start breaking down into beautiful orange coals. From there we can grab our skillet and set it over the fire, making sure the skillet itself gets nice and hot.
Another important step in these Cilantro Lime Butter Scallops is coating the skillet with oil! Good luck trying to flip the scallops without it. It becomes a painful scraping and pulling process without a generous layer of oil, so make sure the skillet you use has plenty of it. Once the skillet and oil are nice and hot, place down those scallops and listen to the sizzle angels sing before you.
Time to eat these Cilantro Lime Butter Scallops!
We cooked these scallops for about 1.5 minutes per side; however like I mentioned before, we're just getting a quick sear before pulling them off. While these guys were cooking, I threw together our Cilantro Lime Butter sauce. This is where we can start to have some fun with our flavors. We started by heating the minced garlic and quickly adding the chili flakes, lime juice and white wine vinegar. As that begins to boil, we finished it up with salt, pepper and a decadent rectangular chunk of butter. As that boils, we add some cilantro right at the end!
That's about it for this recipe. Gather all your cooked scallops on your plate or serving dish and reintroduce them to swimming, but this time in your butter sauce. Best enjoyed with friends and family!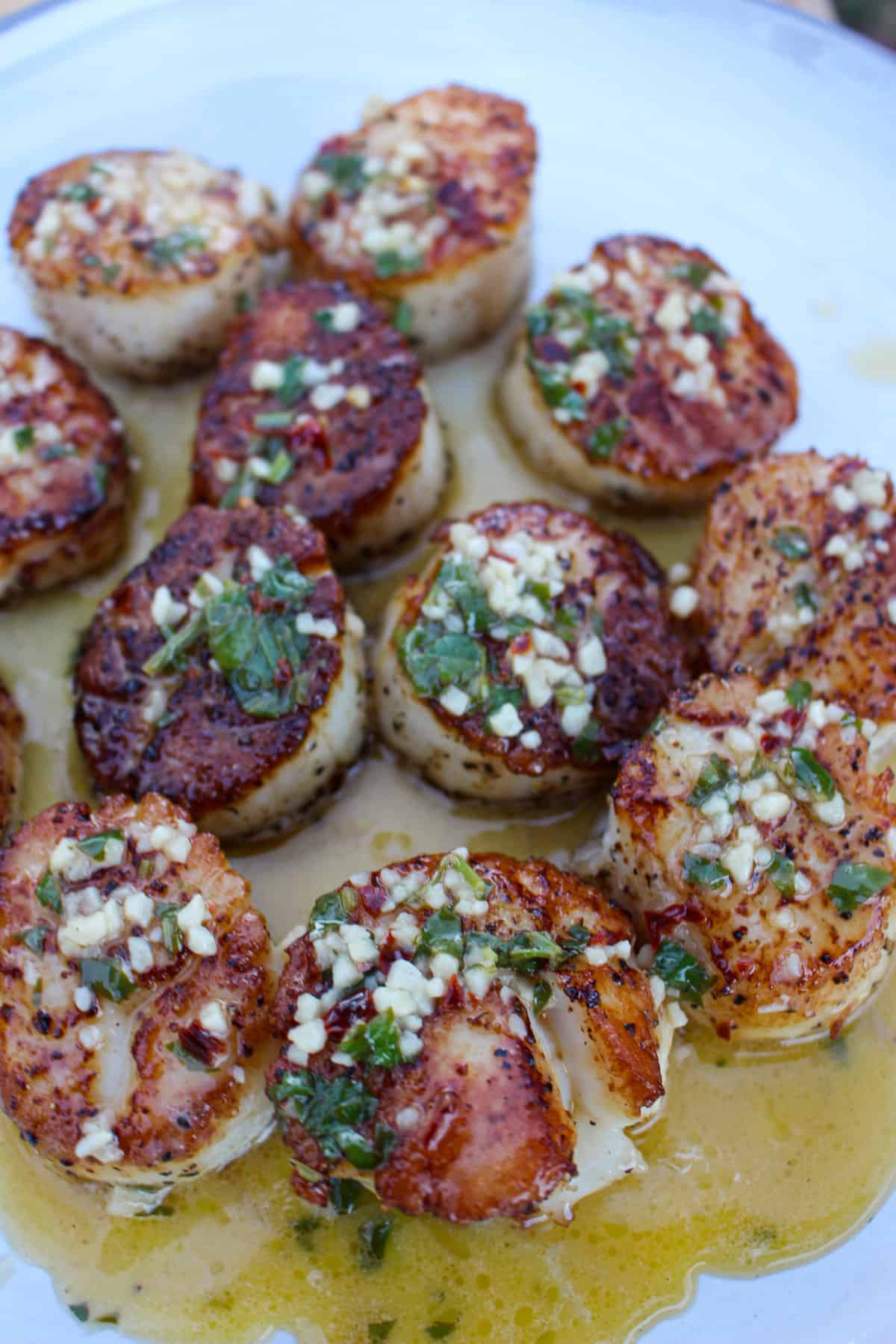 Cilantro Lime Butter Scallops
These Cilantro Lime Butter Scallops are perfectly seared then topped off with a zesty citrus butter over top. A great seafood dinner!
Ingredients
Scallops:
12

Scallops

patted dry

2

tsp

of Sea Salt

2

tsp

of Garlic Powder

2

tsp

of Black Pepper

2

tbsp

of Canola Oil
Butter Sauce:
2

tbsp

of Cilantro

chopped

3

tbsp

of Butter

unsalted

1

tbsp

of Minced Garlic

1

tsp

of Chili Flakes

1

Whole Lime

juiced

2

tsp

of White Vinegar

½

tsp

of Salt

½

tsp

of Black Pepper

½

tsp

of Garlic Powder

2

tsp

of Canola Oil
Instructions
In order to get a great sear on the scallops, pat them dry the night before and place them in the fridge for 2-3 hours uncovered. Once they are dry, mix the salt, pepper and garlic. Season the scallops on all sides and place back into the fridge until the fire is ready.

Preheat your fire to high heat (around 425F). Add your cast iron skillet over the coals 1-2 minutes before cooking with 2 tbsp of canola oil. Add another basting skillet to a cooler side of the skillet as well to preheat.

Add the scallops to the skillet. You should hear an audible sizzling sound as they hit the skillet. Let them cook for 1-1.5 minutes per side letting them sear and caramelize to your desired likeness. Once they are done, pull them off and let them rest for 2-3 minutes.

In the basting skillet, add some oil with the minced garlic. Let cook for 30 seconds to brown, then add the red chili flakes and lime juice. Mix everything in the skillet, then add the rest of the ingredients. Add the butter last to the skillet and let it melt slowly. Let the butter mixture cook for 1-2 minutes until fully melted, then pull it off immediately.

Spoon the butter over the top of the cooked scallops. Serve and enjoy!