I am excited to announce that I have a limited edition Over The Fire Cooking Single Barrel Rye Whiskey available for sale! This bottle is special with tons of insane flavor for those that like unique whiskey experiences. Next, you'll have to pair a glass of it with my new Umami Whiskey Marinated Hanger Steaks with Fries!
Yes… I have a Whiskey!
I am so lucky to be able to pair up with the guys from Nashville Barrel Company & J Squared Barrels to have this exclusive Rye Whiskey that I picked. This specific bottle of whiskey has a pleasant sweet nose with a palate of apples and a nice kick of spice right at the end. I felt like it was a great representation of Over The Fire Cooking, and an awesome whiskey to try this Umami Whiskey Marinated Hanger Steaks with Fries.
What is Umami?
For those that do not know, umami is one of the five flavor profiles that is sometimes forgotten. It is the savory note that we mostly get with meat, broths, soy sauce and now these Hanger Steaks.
But, how did we achieve this flavor?
I was able to snag some Porcini and King mushroom powder that gives off intense umami flavor. Mix that with some soy sauce, fish sauce, dijon mustard and garlic for an amazing marinade on these Umami Whiskey Marinated Hanger Steaks. Even with all of that, I wanted a spicy sweet kick as well.
That is where the new Single Barrel Rye Whiskey came into effect.
Get all my seasonings and rubs!
How we cook these Umami Whiskey Marinated Hanger Steaks with Fries
The hanger steak firstly marinated overnight. Hanger is a cut of meat that works well with marinades especially since we needed to get these intense umami flavors. Preheated our fire to a medium high heat and then started frying out fries.
The fries only take a short while to cook, so we decided to grill the steaks at the same time. Once the fries and the steaks were done, we let the steak rest. Next, we tossed the fries in a garlic parmesan mixture. Served the Umami Whiskey Marinated Hangers Steaks with Fries and called it a day. Make sure to grab my limited edition Single Barrel Rye Whiskey now!
Try Teriyaki Bourbon Steak Skewers!
Print Recipe
Umami Whiskey Marinated Hanger Steaks
Unleash the fifth taste bud with these Umami Whiskey Marinated Hanger Steaks with Garlic Parmesan Fries!
Ingredients
Steak Ingredients:
2

Hanger Steaks

silver skin removed
Marinade:
4

oz

of my Single Barrel Rye Whiskey

2

tbsp

of Soy Sauce

1.5

tbsp

of Fish Sauce

1.5

tbsp

of Spicy Dijon Mustard

2

tsp

of Porcini Mushroom Powder

2

tsp

of King Mushroom Powder

1.5

tsp

of Minced Garlic

1.5

tsp

of Dried Onion

1

tsp

of Dried Thyme

1

tsp

of Cayenne

2

tsp

of Black Pepper

2

tsp

of Sea Salt
Fries:
2

cups

of Russet Potatoes

cut into fries

2

tsp

of Kosher Salt

1

tsp

of Black Pepper

1

tsp

of Garlic Powder

1

tsp

of Cayenne

1

tbsp

of Grated Parmesan

1

tbsp

of Parsley

finely chopped

2

quarts

of Frying Oil
Instructions
Mix together all the ingredients for the marinade. Add the hanger steaks into a food safe bag or bowl and pour the marinade over them. Mix together thoroughly until they are evenly coated. Let marinate overnight or for at least 3 hours.

Preheat your grill to a medium-high temperature for direct cooking (around 375F). Add a dutch oven or large cast iron skillet with the frying oil to preheat until the oil reaches 325F.

Add your fries to the oil and cook for about 6-10 minutes depending on the level of crispiness you desire. As the fries cook, add your steaks on to the grill and cook for about 3-4 minutes per side or until they reach 117F for medium rare. Once the fries are done, pull them off and pat them dry. Once the steak is done, pull it off and let it rest for 5-7 minutes.

After the fries have been pat drying, add them to a bowl along with the salt, black pepper, garlic powder, cayenne, grated parmesan and parsley. Toss them until they are evenly coated.

Once the steak is rested, slice it against the grain and serve with the fries. Enjoy!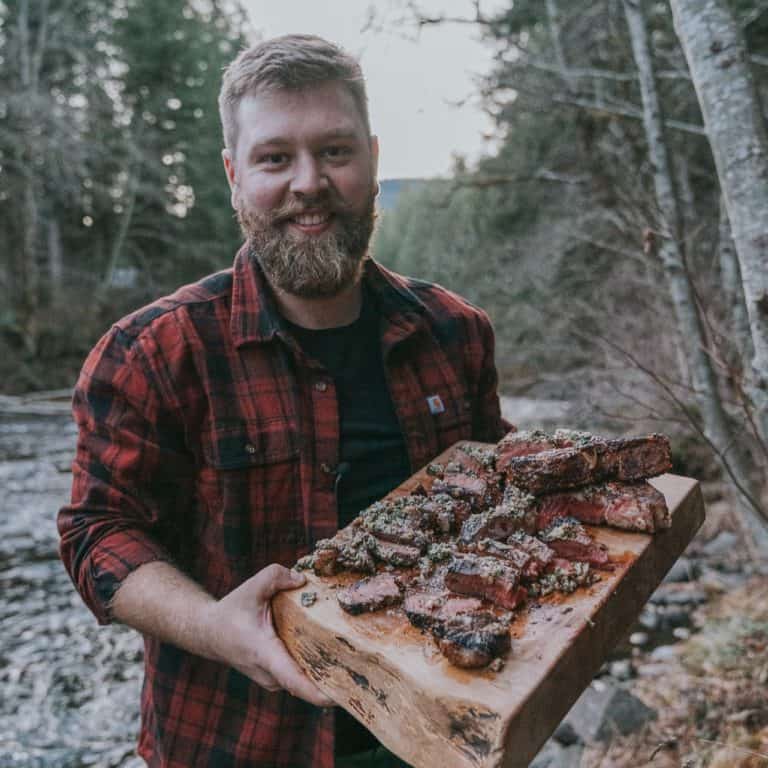 Derek is the driving force behind Over the Fire Cooking. He started cooking with live fire in 2016 and decided to start a social media page so his friends and family could follow the journey. Fast forward to today and Over the Fire Cooking has spread across multiple platforms with millions now following Derek's fire cooking journey. He's a southern fellow who enjoys everything from classic BBQ to Central and South American inspired dishes. Whatever he's cooking up, it's guaranteed to be so freakin' delicious!