Cooking some seafood straight on the coals today with this Coal Roasted Baja Lime Lobsters recipe. I haven't cooked straight on the coals in a bit, so I thought it was time to ditch the grill grate for a cook and work straight with coals. No it does not make your food ashy and yes it will taste delicious! I even made a jalapeño lime butter dipping sauce to go along with these lobsters, because we all know that no seafood meal is complete without it.
Baja Lime Lobsters
Baja is not necessarily a flavor, but more refers to a region: Baja, Mexico. While spending some time in San Diego I kept noticing different Baja style foods and became inspired to make a recipe of my own. It incorporates lots of fresh food as well as seafood. Traditionally, Baja Lobster would be seasoned and then giving it a quick, flash fry to cook it. I wanted to do something different with my lobster.
I'm always trying to put my own, unique spin on all the recipes I create, including this Coal Roasted Baja Lime Lobster. This is why I say this is a baja inspired recipe. I started with two lobsters, split them in half and seasoned them with my favorite seafood seasoning. Then, instead of turning to a frying pan, I cooked them straight on the coals. This is still a high heat and quick way of cooking the lobsters, but we all know the fire is more my style. Anytime I cook with coals, I turn to Cowboy Charcoal. Untreated lump charcoal works best for this style of cooking (as opposed to briquettes for example).
For more dinner deliciousness, check out my cookbook Food X Fire!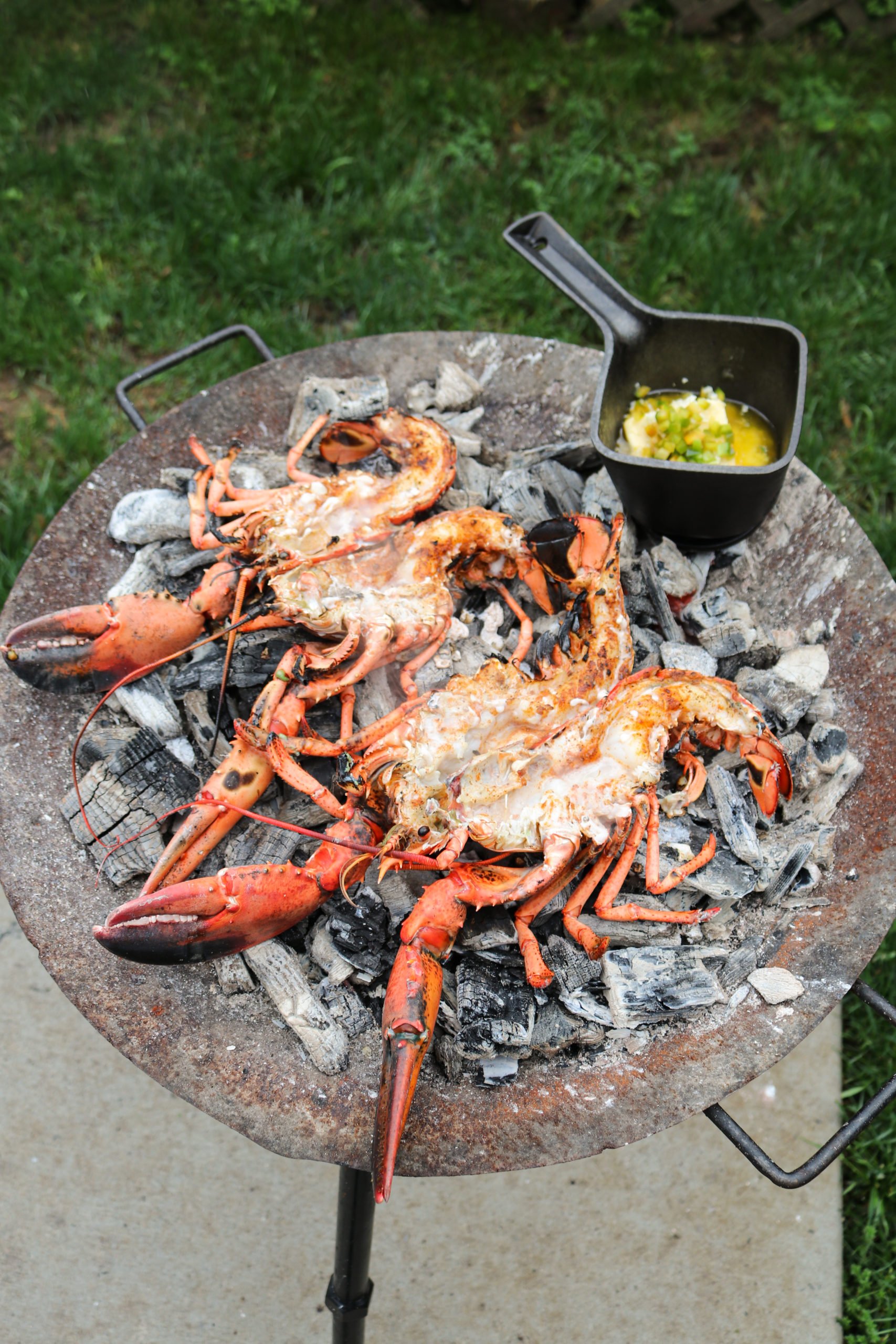 Make Your Bed
Your bed of coals that is. I poured two charcoal chimneys worth of lump charcoal onto my grill in order to cook on them. Make sure they create somewhat of a level surface and are white hot. Then I set each half of the Coal Roasted Baja Lime Lobster down directly on the coals. I went meat side down first and then flipped them about halfway through. I drizzled lime juice across each side of the lobsters after flipping them to achieve that extra citrusy tang.
Don't forget about that jalapeño lime butter sauce! I placed my cast iron sauce bowl on the grill right after placing the lobsters down. The lobsters will cook fast, and luckily so will this butter sauce. I tossed the butter into the bowl along with chopped jalapeños, garlic and lime juice. The longer this butter sauce has on the grill the better. It will allow the butter to completely melt and infuse with our other ingredients so that it gets carried over to the lobster.
Coal Roasted Baja Lime Lobsters Are Served
Pull the lobsters off the grill and pour the butter sauce into a small sauce bowl. I placed everything together on one large serving dish. Also included refried beans and white rice on the serving dish as an additional ode to Baja style cooking. I garnished each lobster with a drizzle of Mexican crema and a pinch of cilantro. I also threw some lime wedges onto the platter for those looking for a more citrusy flavoring. Then it's time to dig in! Best enjoyed with friends and family. Cheers!
For more dinner deliciousness, check out my cookbook Food X Fire!
Coal Roasted Baja Lime Lobster
Cooking some seafood straight on the coals today with this Coal Roasted Baja Lime Lobsters recipe. Inspired by the dish from the Southwest.
Ingredients
Lobster:
2

Whole Lobster

cut in half

1.5

tbsp

of your Favorite Seafood Seasoning

2

tsp

of Canola Oil
Jalapeno Lime Butter:
½

cup

of Butter

6

Garlic Cloves

minced

1

Jalapeno

diced

1

Lime

juiced
Garnish & Sides:
Chopped Cilantro

for garnish

Mexican Crema

for garnish

Cotija Cheese

for beans

Refried Beans

White Rice
Instructions
If not already done, dispatch your lobster and remove everything except for the meat. Lather your lobster in canola oil then thoroughly season with your favorite seafood seasoning (I love the seafood seasoning from spiceology!). Set the lobster aside until ready to cook.

Preheat two charcoal chimneys with real lump charcoal until they are glowing red and white hot. Dump your charcoal into one pile for direct coal cooking.

Carefully blow off the loose ash from the top of the coals and set your lobsters done, meat side towards the coals. Cook each side for 2-2.5 minutes or until they are 135F internal (ideally slightly white and no longer translucent). As the lobsters cook, heat up a basting skillet with the jalapeno lime butter ingredients. Let cook until fully melted. Once the lobster and butter are cooked, pull off and rest for 1-2 minutes.

Garnish your lobster with cilantro and Mexican Crema. Serve with a side of refried beans, rice and limes. Cheers and enjoy!