Nothing brightens up a gloomy day quite like cooking over some fire! Today I got the oven out and baked these parmesan crusted lobster tails. I'm a big fan of lobster and love getting creative with the different flavors to mix with it. I haven't done a cheesy lobster in a while, so I thought it was time to revisit cheese with lobster. They were so delicious and super easy to make!
Prep-work is Important Work
First things first, light up that oven. Similar to preheating an oven indoors, we want our wood oven to be nice and hot before we start cooking in it. Before I did anything for this recipe, I got my axe out and started splitting wood. Once I had a decent pile of smaller wood chunks, I placed the bunch in my oven and got those flames roaring. This gives them plenty of time to start to coal up before we get to cooking. Hot coals equals consistent heat equals delicious food!
Once I had the oven taken care of, I shifted my attention to the lobster tails. I started by slicing each one down the center lengthwise. Then, I poured a pencil thick layer of rock salt into a medium size cast iron skillet. The main purpose of the rock salt is to help stabilize our parmesan crusted lobster tails and keep situated upright as they cook. Another added benefit to the rock salt is that it helps prevent burning the bottom of the lobster tails. It also just looks cool, so really win-win all around.
Have your pre-ordered my cookbook Food by Fire???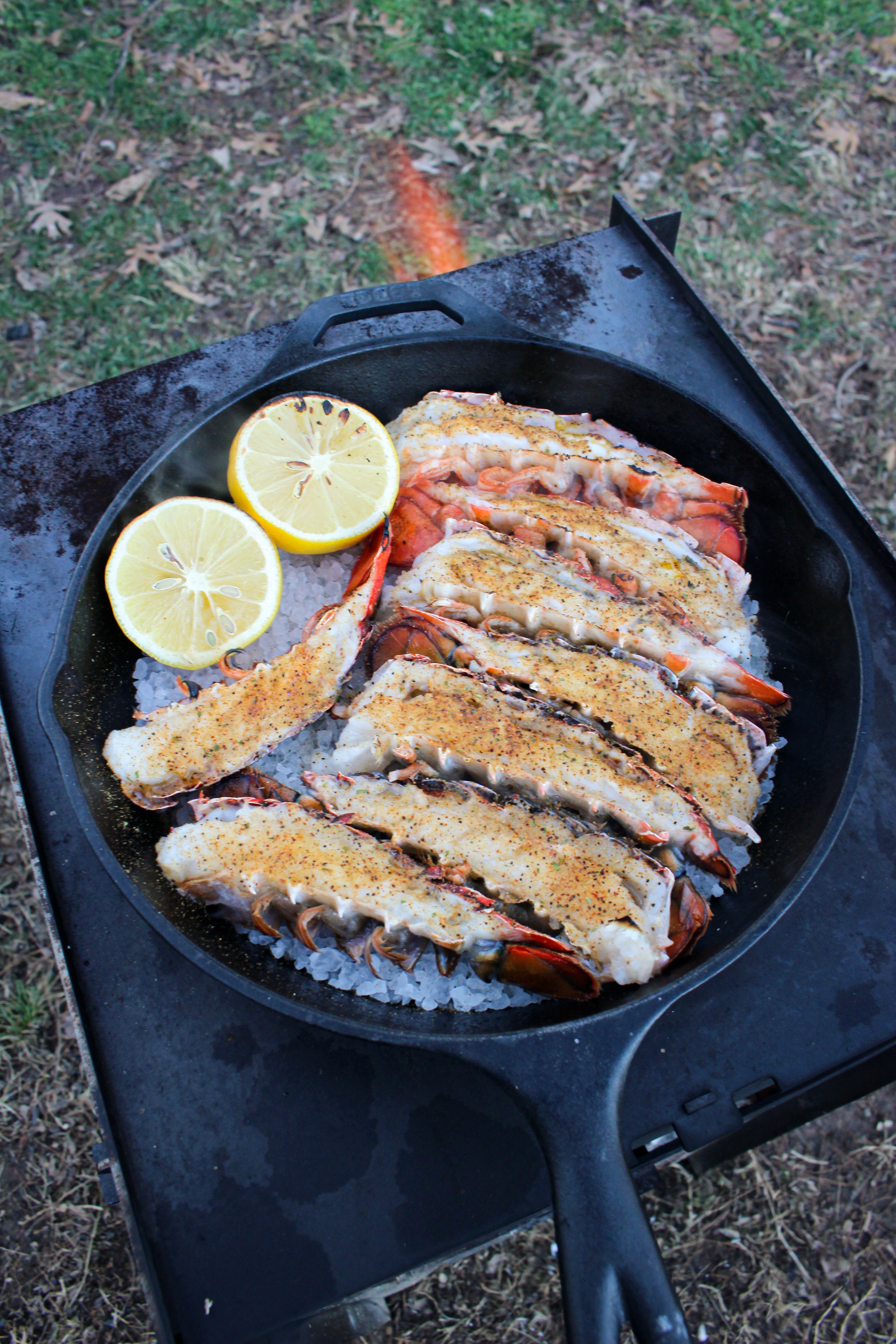 Parmesan Crusted Lobster Tails
I broke out the OG seasoning for this recipe. That's right, Chipotle Garlic taking another recipe to the next level. Once I had each lobster tail set in the cast iron skillet, I gave each tail a dusting of chipotle garlic. The more chipotle garlic you use, the more of a kick this dish will have. After you season the lobster tails, you can place them in the wood fired oven.
Next up, the parmesan crust. There's nothing tricky about this prep, simply add all the ingredients together and stir until well mixed. The panko crumbs should soak up the butter, white wine, and lemon juice. It will end up having more of a paste consistency than a liquid, so keep that in mind. You can also add more panko crumbs if you need to thicken the mixture a bit.
Swimming in a Parmesan Crust
Once the lobsters are almost finished cooking, pull them from the oven and lather them in the parmesan crust mixture. Try to spread the mixture across the lobster tails as evenly as possible. Pop the skillet into the fire for another couple of minutes until the crust is golden brown and the lobster meat is white & no longer translucent.
When the tails are done, pull them out and let them cool so they don't burn your tongue. Add some more lemon juice if you like, then dive right into them. These Parmesan Crusted Lobster tails are such a fun and simple recipe to make easily in the backyard or before the big game. Make sure to give them a try!
Have your pre-ordered my cookbook Food by Fire???
Print Recipe
Parmesan Crusted Lobster Tails
Nothing brightens up a gloomy day quite like cooking over some fire! So today, I got the oven out and baked these parmesan crusted lobster tails.
Ingredients
Lobster:
4

Lobster Tails

split in half

1

tbsp

of Chipotle Garlic Seasoning or similar

2

tsp

of Canola Oil

1.5

cups

of Rock Salt
Parmesan Crust:
2

tbsp

of Melted Butter

2

tbsp

of Grated Parmesan

1.5

tbsp

of Panko Crumbs

1

tbsp

of Parsley

chopped

2

tsp

of White Wine

4

Garlic Cloves

minced

½

of a Lemon

juiced
Instructions
Preheat a fire for indirect high heat (around 400F).

In a skillet, spread a layer of rock salt and place the split lobster tails flesh side up. Add some lemon wedges to the skillet for juicing after. Lather the lobster meat in canola oil then season with my Chipotle Garlic or your favorite seafood seasoning.

In a bowl, mix all the ingredients for the Parmesan Crust.

Once the fire is nice and hot, add the skillet to the cool side of the grill/oven and bake for 2-3 minutes or until the shells begin to start changing color. Once they change color, pull out and lather the lobster meat in the parmesan crust spreading it all over. Add the skillet back to the grill and cook for about 2-3 minutes or until the lobster meat is 135F internal. Once done, pull off and rest for 2 minutes.

When done, dose in lemon juice and enjoy!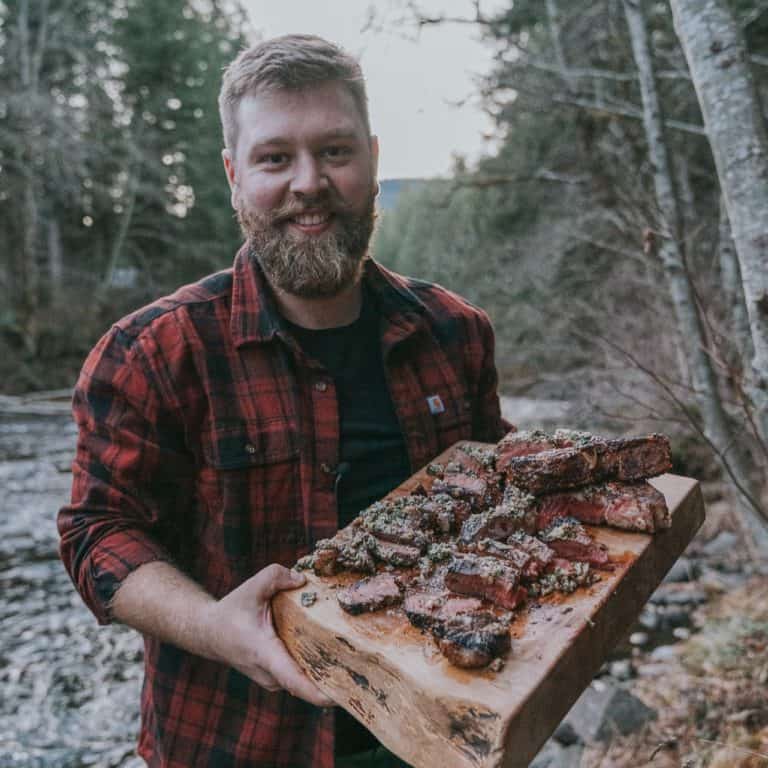 Derek is the driving force behind Over the Fire Cooking. He started cooking with live fire in 2016 and decided to start a social media page so his friends and family could follow the journey. Fast forward to today and Over the Fire Cooking has spread across multiple platforms with millions now following Derek's fire cooking journey. He's a southern fellow who enjoys everything from classic BBQ to Central and South American inspired dishes. Whatever he's cooking up, it's guaranteed to be so freakin' delicious!