This Donut Breakfast Sandwich is the triple threat of all breakfast meals: sweet, salty and savory! I haven't done a breakfast recipe in a minute, so when a new donut shop opened up down the street I decided it was time to get back on that breakfast game! What's the cherry on top of this delicious creation? Two words: candied bacon. Nuff said, let's dive into this recipe.
The Great Breakfast Debate
Bacon or sausage? When you're making (or ordering) your favorite breakfast sandwich, which do you prefer? Personally, I rotate. It really just depends on what I haven't had in a while and what sounds best at the time. However, when it came to the construction of this Donut Breakfast Sandwich, I kept going back and forth. So then, I asked myself a better question. Why not both? I couldn't think of why I wouldn't double up on this epic breakfast sandwich. Alas, our Donut Breakfast Sandwich became even more delicious.
You know what else makes a delicious breakfast sandwich? Candied bacon. This candied bacon could honestly be eaten all by itself. The good news is that it's super easy to make, and is actually the first thing I did for this recipe.
Start by cutting some bacon slices into small, cube-like pieces. Then, place them in a preheated skillet over the fire. As they begin cooking, add in some of my Maple Bourbon seasoning and give them a stir. Next, to get that beautiful, sweet caramelization to our bacon bites we'll add some maple syrup and a splash of bourbon. Once they've finished cooking, remove them from the skillet. Set them aside for later.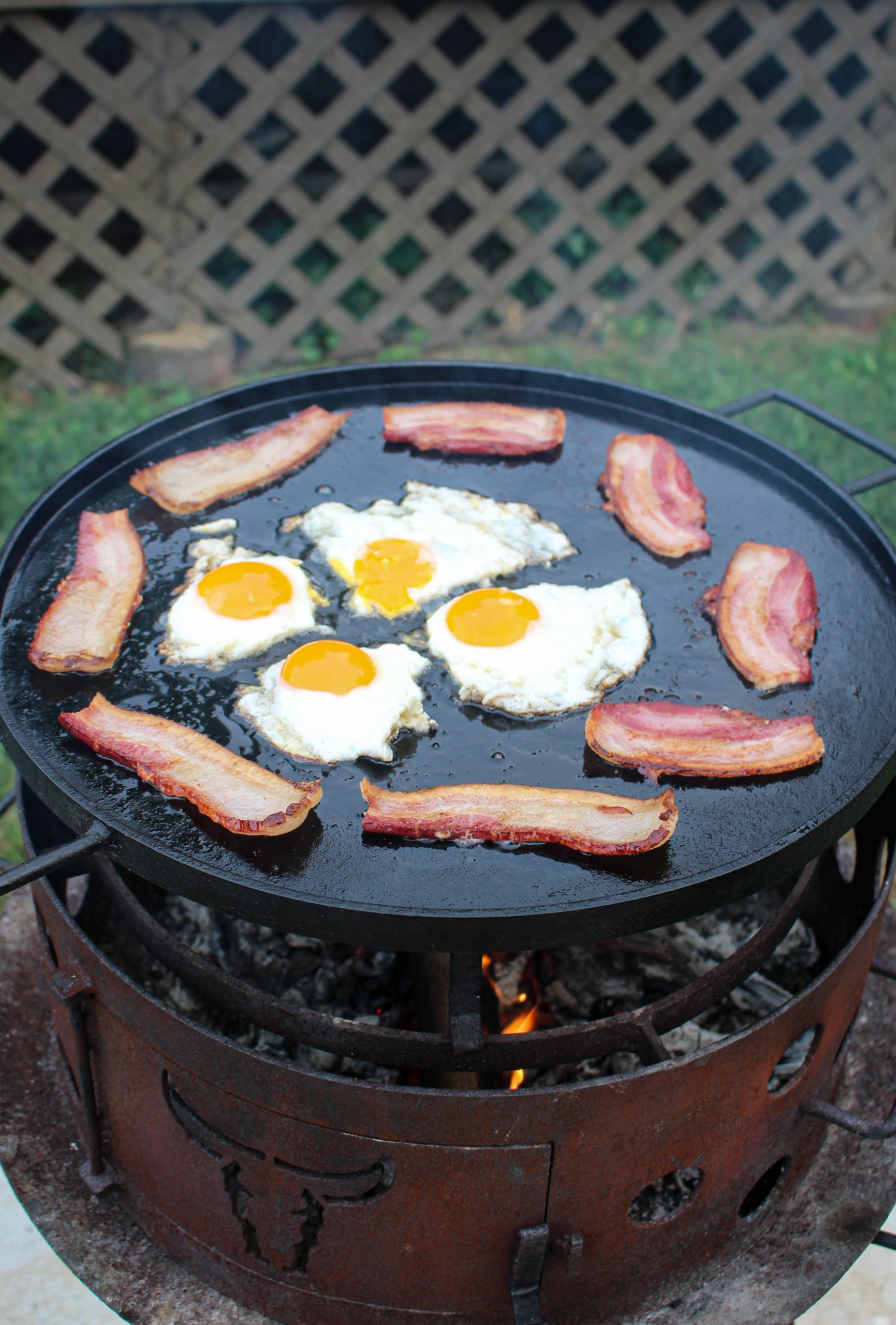 The Donut Breakfast Sandwich Club
Up next, the sausage patties. I started with some ground sausage and rolled them into small sausage balls. From here, place them on the grill and break out the burger smasher. Smash each one into sausage patties and top with cheese. Pro tip: place some wax paper between your burger smasher and the sausage. It will ensure the sausage doesn't stick to the smasher. As the cheese melted and the sausage finished cooking, I stacked one sausage patty on top of another. Creating three sets of double stacked, cheesy patties. Now, remove them from the plancha and set them to the side along with the candied bacon.
The last items we have to cook for our Donut Breakfast Sandwich are the bacon strips and fry up some eggs. I cooked both these items at the same time. I started with the bacon by placing six strips of it around the outside of the plancha. Then, carefully add four eggs to the center of the plancha. As the bacon cooks, it's fat will gravitate to the center of the grill. The bacon fat will add a delicious flavor to our eggs and also ensure they don't stick to the plancha while cooking. Flip the bacon as needed and remove it all from the plancha once it's finished cooking.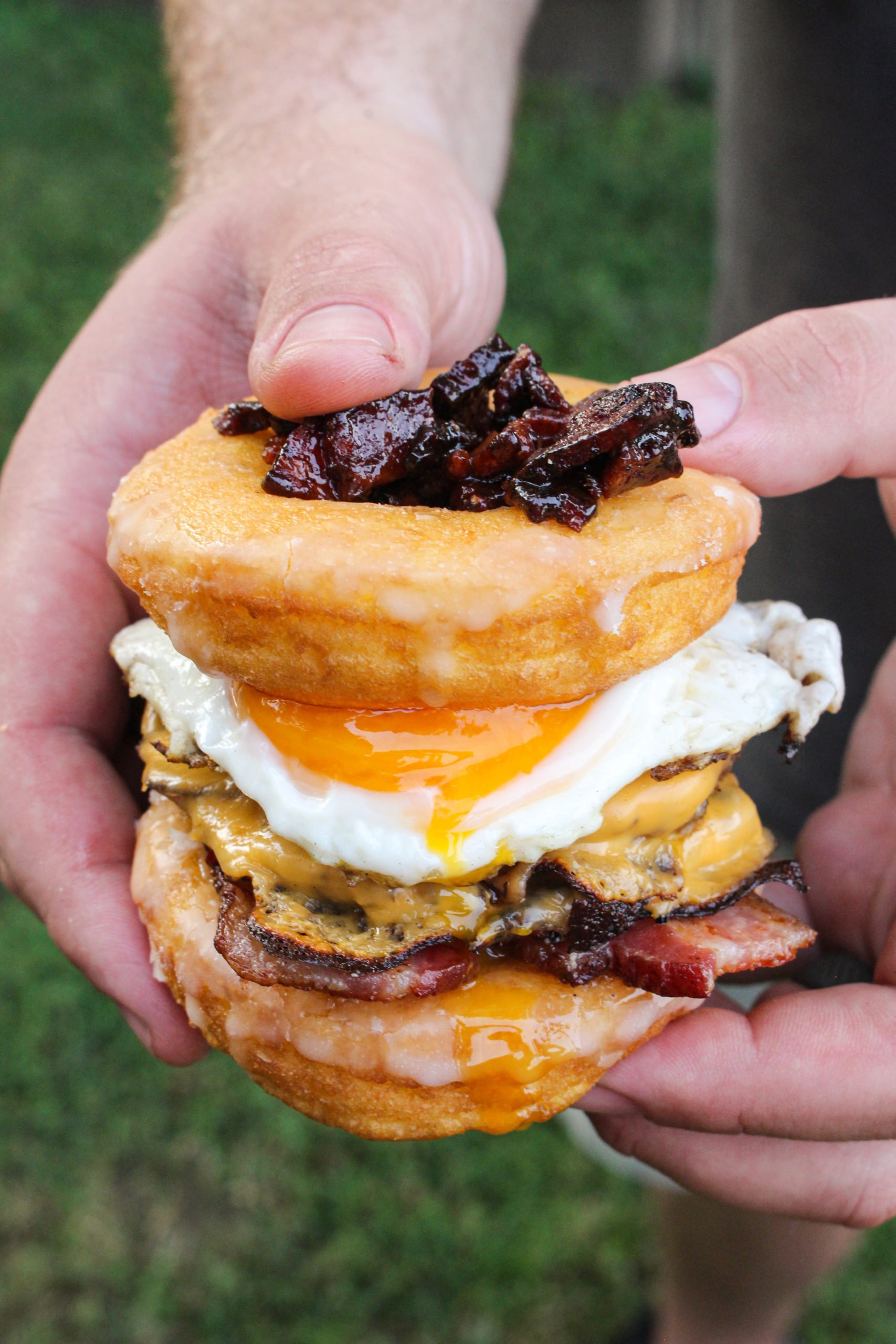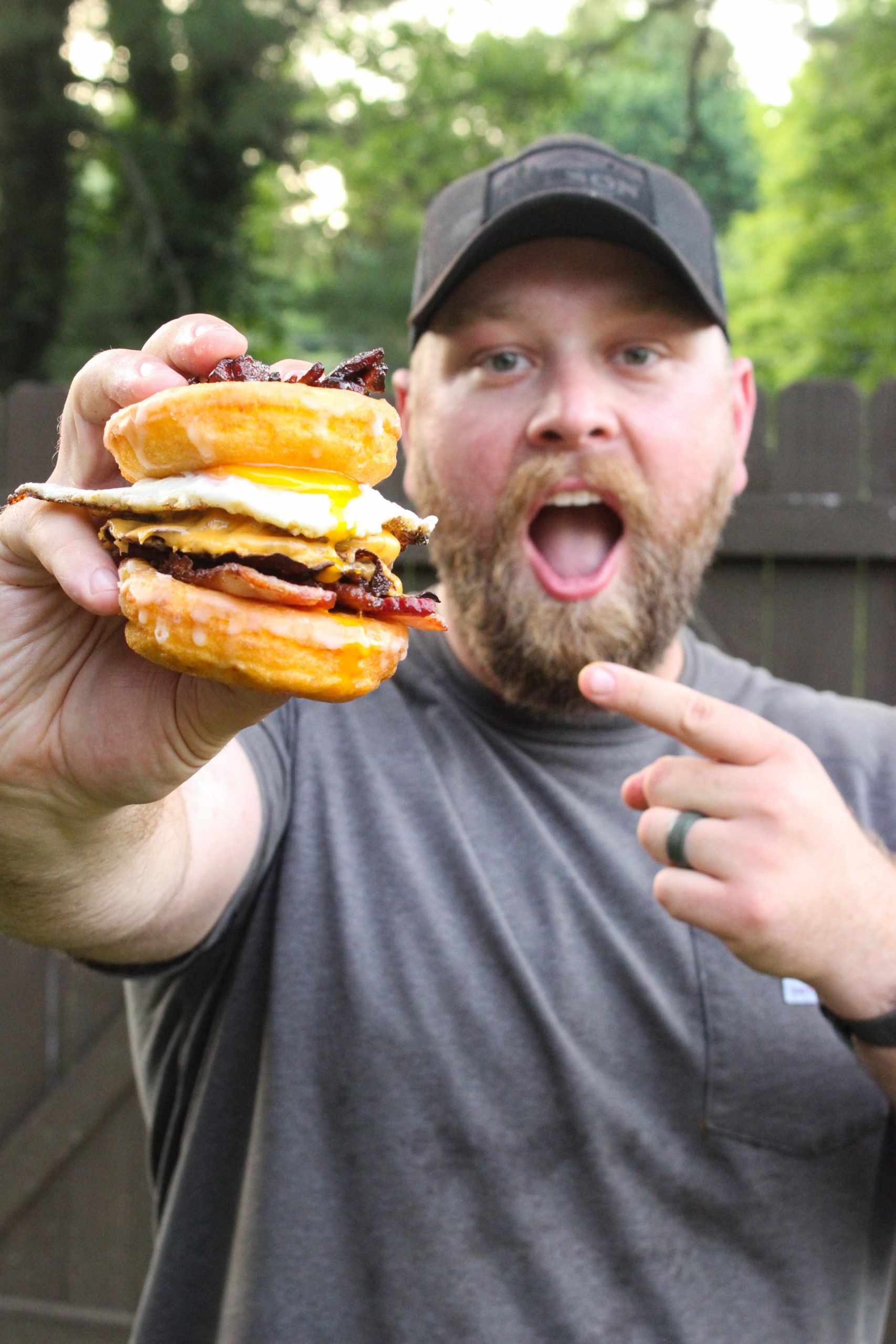 Do-Nut Touch My Donut Sandwich
All that's left to do is assemble and enjoy. I started by placing down my three base layer donuts. Then add the bacon followed by the double stacked, cheesy sausage smash patties. Lastly, add the fried egg, top with another donut and garnish with that candied bacon. It's going to take two hands to devour this epic Donut Breakfast Sandwich, but I don't think you'll mind. Best enjoyed with friends and family. Cheers!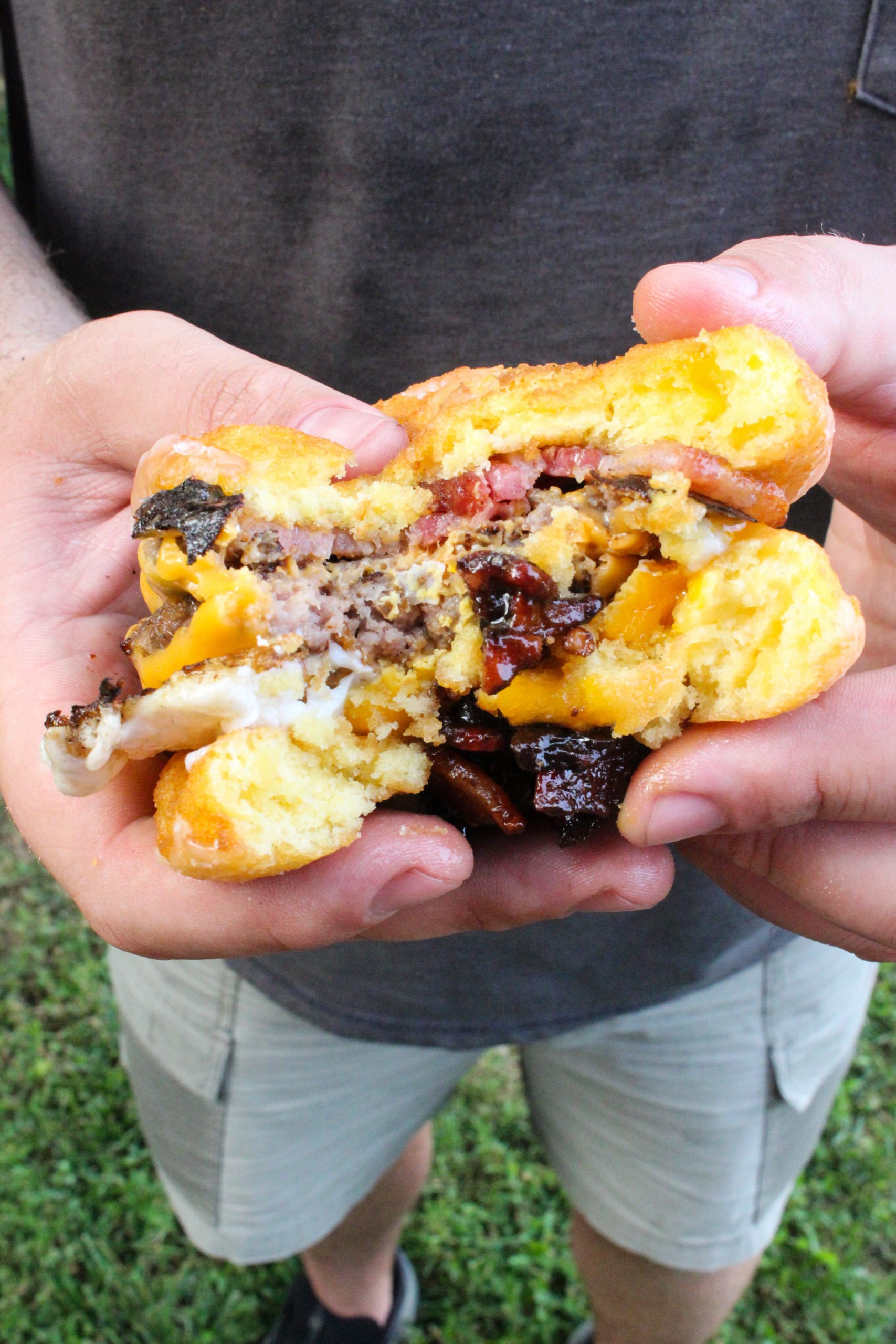 Print Recipe
Donut Breakfast Sandwich
This Donut Breakfast Sandwich is the triple threat of all breakfast meals: sweet, salty and savory!
Ingredients
Sandwich:
6

Glazed Donuts

1

lb

of Ground Breakfast Sausage

6

sliced of American Cheese

6

slices

of Bacon

cut in half

4-5

Fresh Egg
Candied Bacon:
1/2

cup

of Bacon

chopped

1

tbsp

of Maple Syrup

2

tsp

of Bourbon

2

tsp

of Maple Bourbon Seasoning
Instructions
Before cooking, roll your ground breakfast sausage into 1/4 lb balls. Once done, place in the fridge until ready to use.

Preheat a medium high fire (around 375F). Add a cast iron skillet to preheat 1 minute before cooking.

Add your cubed bacon to the cast iron and let simmer for 2-3 minutes. As the bacon begins to brown, add the maple bourbon seasoning. Let cook for another 1-2 minutes, then add the maple syrup and bourbon. Let simmer until it is a deep ruby brown. Once done, pull off and let rest on a wax sheet of paper for at least 15 minutes.

Bring your fire up to high heat with another cast iron skillet/plancha plus 1 tbsp of canola oil.

Add your sausage to the cast iron and let simmer for 1.5 minutes. Using a burger smasher with wax paper in between, smash your sausage patties and continue cooking for 1-2 more minutes. Flip your patties over and top with your sliced cheese. Cook for 1-2 more minutes until the cheese is melted, then pull off the grill and set aside.

Add your sliced bacon to the skillet and cook for about 2 minutes per side or to your preferred doneness. As the bacon cooks, add your eggs to the skillet and cook to your preferred doneness as well. Once all is done, pull off and keep warm.

Build your sandwich with one donut on bottom, double stack of sausage smash patties, sliced bacon, your egg and another donut. Top with the candied bacon and enjoy!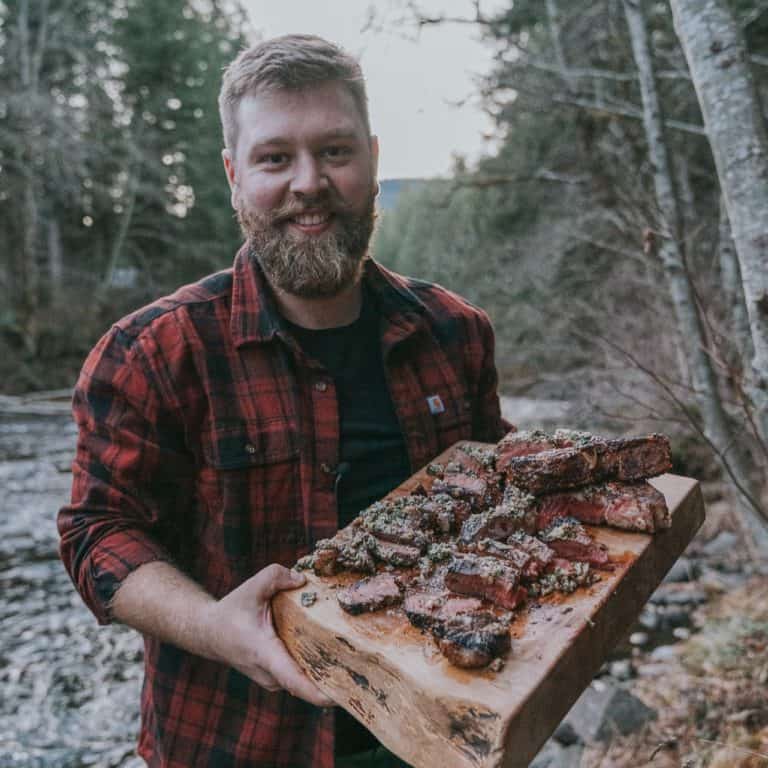 Derek is the driving force behind Over the Fire Cooking. He started cooking with live fire in 2016 and decided to start a social media page so his friends and family could follow the journey. Fast forward to today and Over the Fire Cooking has spread across multiple platforms with millions now following Derek's fire cooking journey. He's a southern fellow who enjoys everything from classic BBQ to Central and South American inspired dishes. Whatever he's cooking up, it's guaranteed to be so freakin' delicious!