This twist on the classic Breakfast Sandwich is the triple threat of all egg sandwiches: sweet, salty, and savory! If you're looking for easy breakfast sandwich recipes that are next-level tasty, keep scrolling to learn how to make them, Over the Fire Cooking-style, on the grill.
Glazed donuts instead of English muffins with crispy bacon strips, sausage patties, a melty cheese slice, fried eggs, and candied bacon? Yes, please!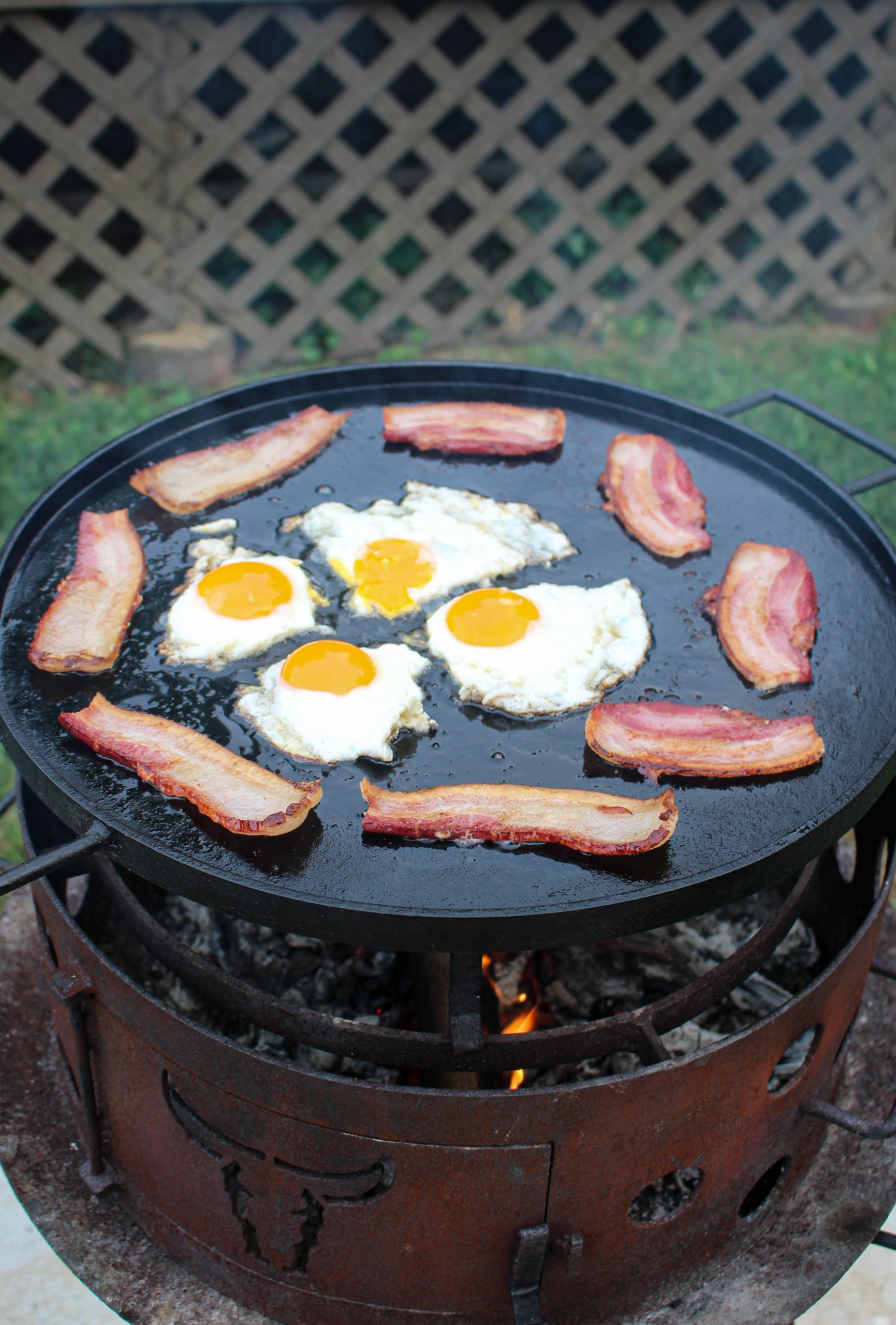 Classic egg sandwiches taken to this level of gastronomic grilling decadence are always perfect for a Sunday morning or any time of day you want to indulge in an easy recipe from the grill that hits the spot!
Why You'll Love My Breakfast Sandwich
If you're looking for a healthy breakfast sandwich recipe, then this is probably not for you. If you're a lifelong fan of the Egg McMuffin and looking for exciting new ideas for breakfast recipes that leave you full, satisfied, and begging for one more sweet and savory bite, then you've come to the right place!
It's a quick meal and one of the best egg and cheese sandwich recipes you'll never forget. Did I mention the bacon is candied with my Maple Bourbon seasoning? It's a great addition to the delicious breakfast sandwich that you won't want to miss.
For other great breakfast sandwiches, check out Smoked Sausage Cheesey Breakfast Skillet Recipe, the Ron Swanson Breakfast Skillet, and The Billionaire's Breakfast.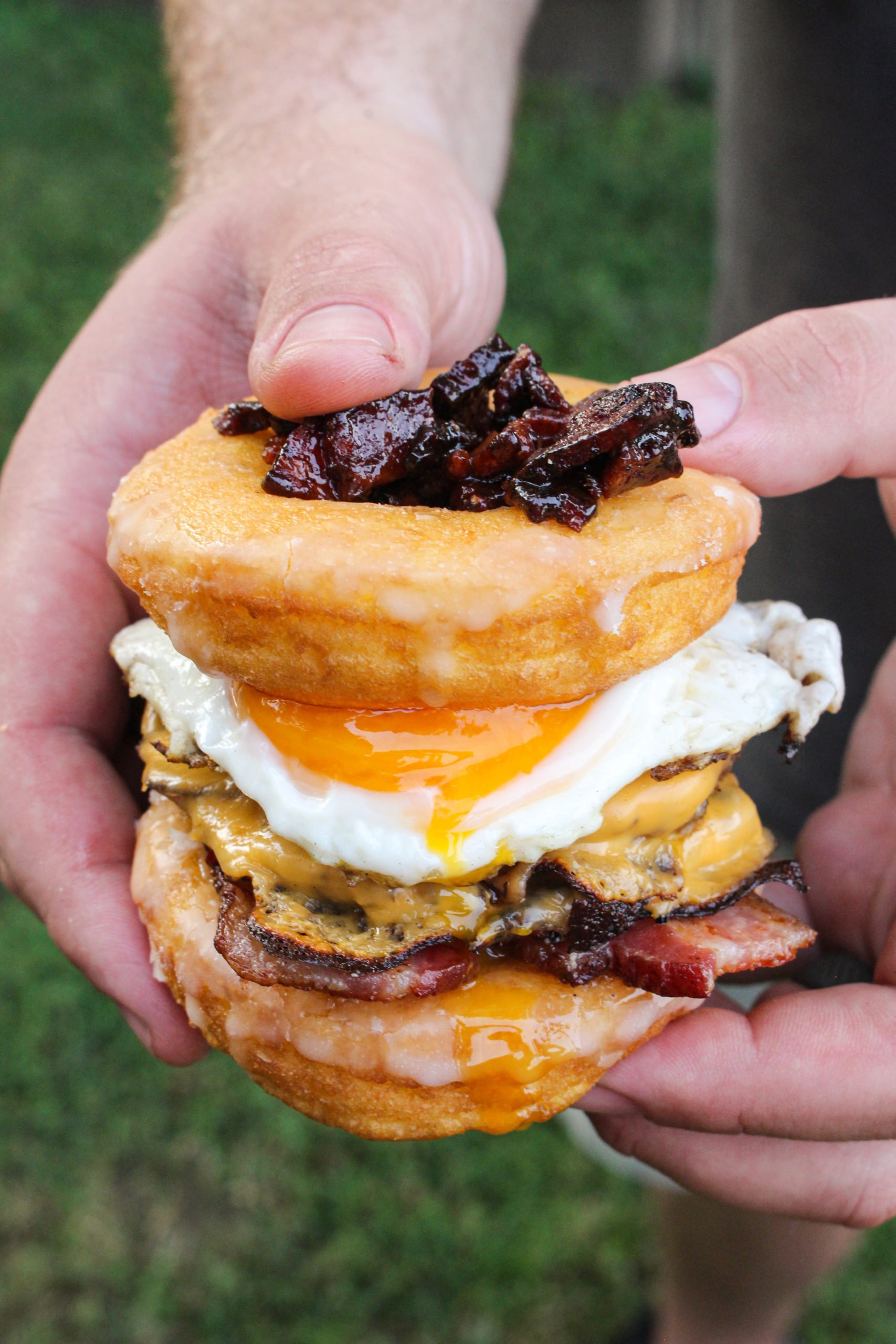 Ingredients
Glazed Donuts – Krispy Kreme are some seriously tasty glazed donuts, but probably not big or strong enough for our sandwich fillings. Make sure to source some that are big, fluffy, and firm enough to hold the eggs, meat, and cheese.
Ground Breakfast Sausage – From your local butcher or supermarket, look for the most flavorful ground sausage you can find to make the double-stacked sausage patties.
American Cheese – A simple slice of American cheese melts beautifully over the sausage patties, but you can also opt for a slice of cheddar cheese (sharp cheddar is one of my faves).
Bacon – Even with fluctuating market prices, for the best flavor from the rendered fat, it's always worth it to source high quality bacon from your local butcher or order some of the best bacon online.
Farm Fresh Eggs – A little tip for making the perfect fried egg patty for the sandwich: check out my 5 Tips to Better Campfire Eggs.
Maple Syrup – Maple syrup tastes so good I sometimes can't believe nature created such a perfect sweetener.
Bourbon – A splash of your favorite Bourbon is all that's needed here to add just the right punch of slightly sweet, smoky, acidic flavor to the bacon bits.
Maple Bourbon Seasoning – This is one of my best-selling sweet and smoky seasonings available on Spiceology. After one shake, you'll know why!
All these ingredients come together to create one egg and cheese breakfast sandwich, otherwise known as a killer breakfast sammie, that will seriously satisfy every one of your taste buds and put a grin on your face.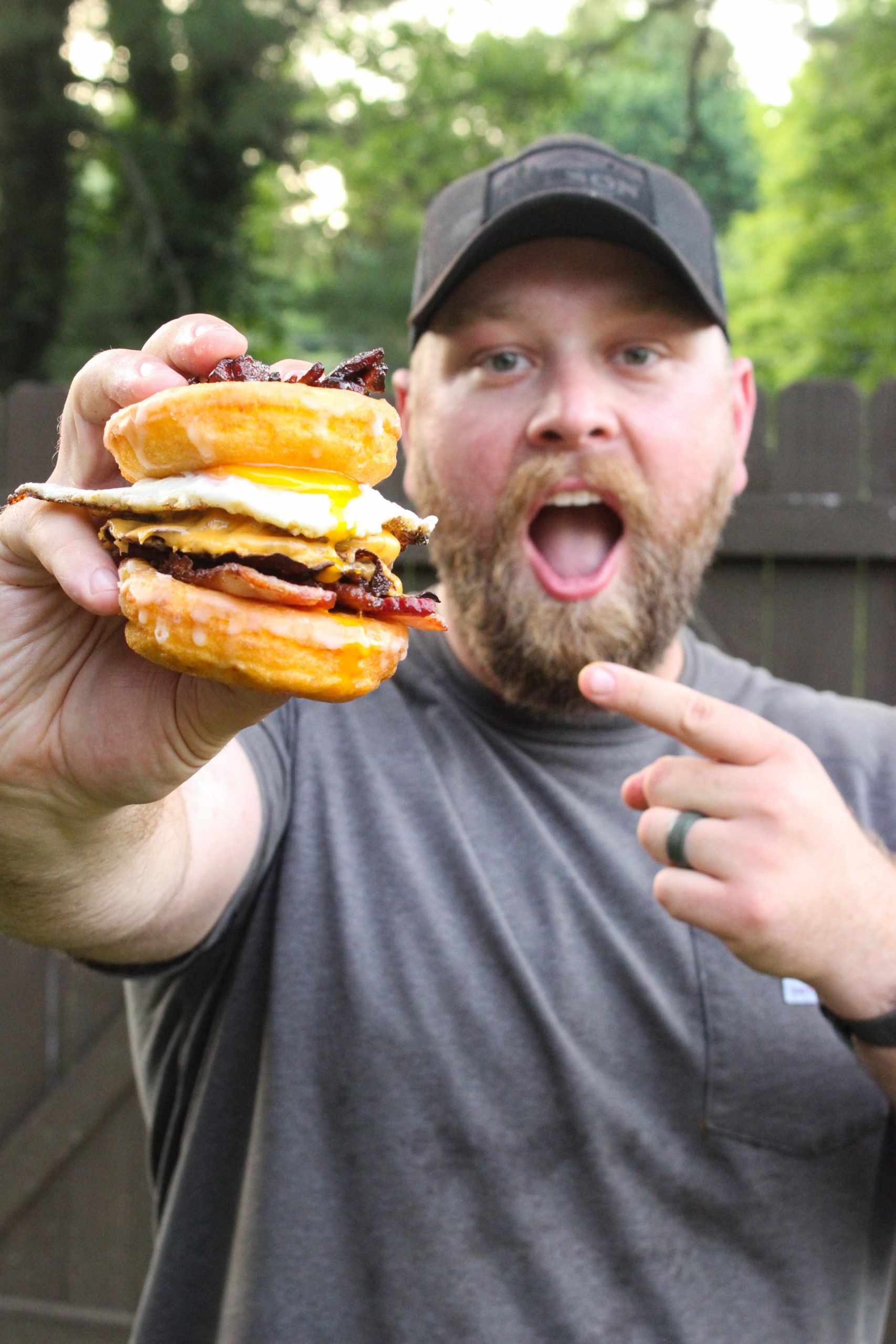 How to Make a Breakfast Sandwich
Start by cutting some bacon slices into small, cube-like pieces. Then, place them on medium-high heat in a skillet over the fire. As they begin cooking, add in some of my Maple Bourbon seasoning and give them a stir.
Next, to get that beautiful, sweet caramelization to our bacon bites we'll add some maple syrup and a splash of bourbon. Once they've finished cooking, remove them from the skillet. Then set them aside, and hold back the urge to eat them all before assembling the sandwiches.
Up next are the sausage patties. Start with some ground sausage, rolled up into balls. Place them on the grill and then smash them into patties with the back of your spatula. Top each one with a slice of cheese. After the cheese is melted and the sausage cooked, stack the patties to create three sets of double-stacked, cheesy patties. Now, remove them from the plancha and set them to the side along with the candied bacon.
Pro Tip:
Place some wax paper between your burger smasher and the sausage. It will ensure the sausage doesn't stick to the smasher.
The last order of business for our breakfast sandwich is the bacon and eggs, which you can cook over the fire at the same time. Place six bacon strips around the outside of the plancha. Then, carefully add four eggs to the plancha's center.
As the bacon cooks, its fat will gravitate to the center of the grill. This adds delicious flavor to the eggs while also keeping them from sticking. Flip the bacon as needed with your tongs and once everything is cooked remove everything from the plancha.
For more bacon, check out my Bacon Jalapeño Popper Stuffed Burgers, Maple Bacon Bourbon Salmon Bites and Bacon Melt.
Now, let's assemble. Onto the bottom halves of the donuts, layer the bacon, double-stacked, cheesy sausage smash patties, and fried eggs. Before topping with the other half of the donut, garnish with that candied bacon. It's going to take two hands to devour this epic Breakfast Sandwich, but I don't think you'll mind!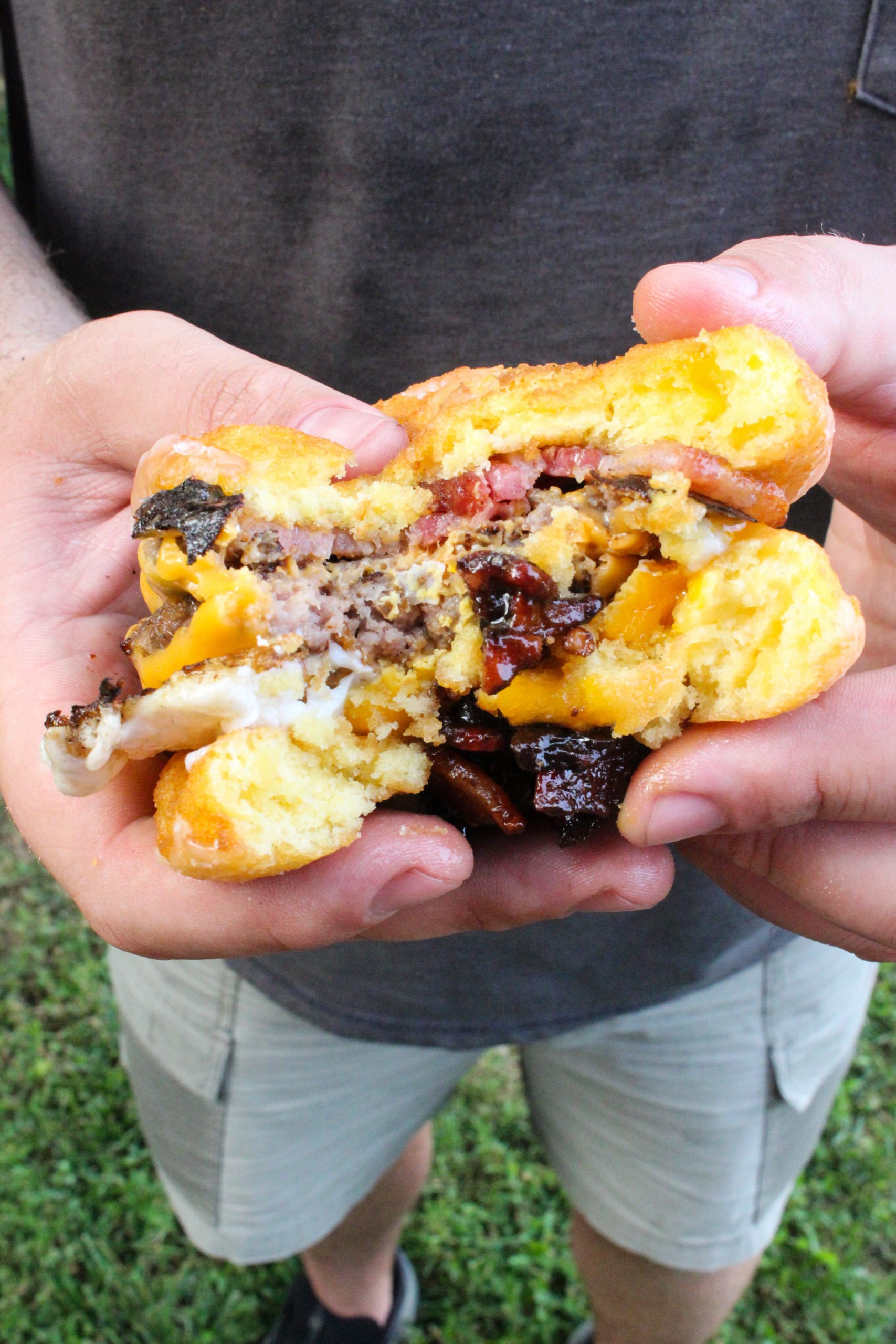 How to Store Leftovers & Reheat
If it's even possible to have leftover sandwiches, let them cool off before covering in plastic wrap or aluminum foil. When you're ready to reheat, remove from the wrap and reheat over a medium-low heat on the grill.
What to Serve With a Breakfast Sandwich
When it comes to sides to pair with a breakfast sandwich, crispy hash browns, breakfast potatoes, or home fries, would be excellent choices.
Donut Breakfast Sandwich Recipe FAQs
​Can I make the Breakfast Sandwiches ahead of time?
Glazed donuts taste best fresh on the day they were made. Therefore, I don't recommend making the sandwiches ahead of time. You can however prep the sausage and bacon and just reheat them on the grill in a cast iron skillet.
What are some other options besides donuts?
If you're not ready for the fat and sweetness of the glazed donut, these breakfast sandwiches will taste almost as delicious if made with fresh bagels or, yes, the classic English muffins.
Planchas vs. Griddles: What's the Difference?
Planchas are thick, flat metal cooking surfaces heated by an open flame, ideal for high-temperature grilling and searing. Griddles are flat cooking surfaces heated by electric elements or gas burners. They're perfect for lower to medium-temperature cooking like pancakes and eggs.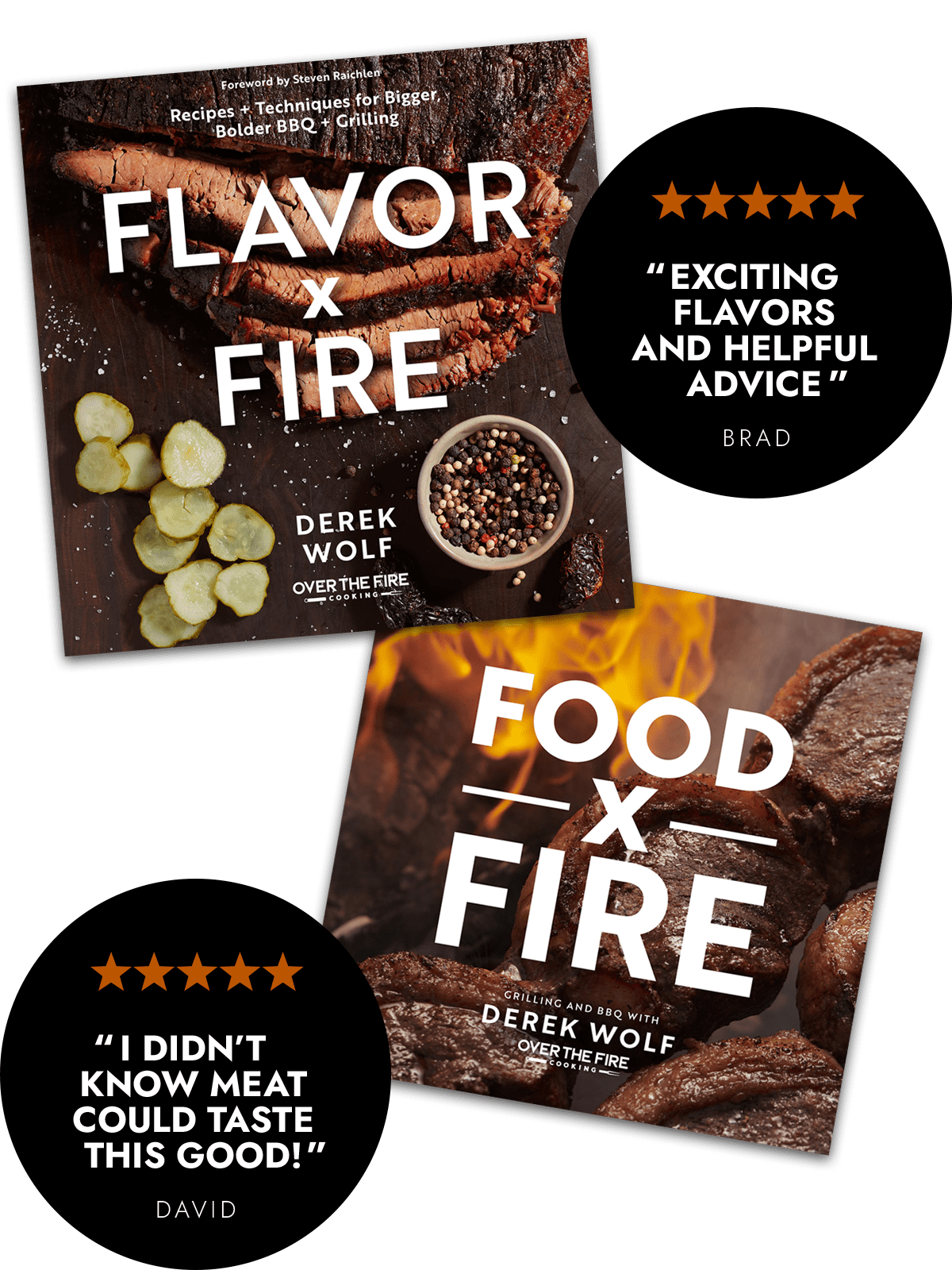 Get The Cookbooks!
Flavor X Fire & FOOD X Fire
All the major tastes—salty, sour, sweet, bitter, and umami—are explored in-depth, along with an investigation of other competent you should consider when it comes to flavors, such as aroma, heat, and texture.
Needing more spice in your life? My spice line can help with that. Check them out here.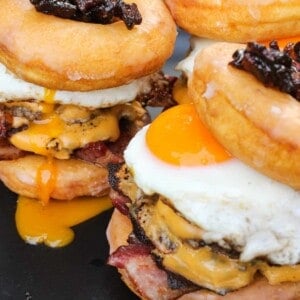 Donut Breakfast Sandwich
This Donut Breakfast Sandwich is the triple threat of all breakfast meals: sweet, salty and savory!
Ingredients
Sandwich:
6

Glazed Donuts

1

lb

of Ground Breakfast Sausage

6

sliced of American Cheese

6

slices

of Bacon

cut in half

4-5

Fresh Egg
Candied Bacon:
1/2

cup

of Bacon

chopped

1

tbsp

of Maple Syrup

2

tsp

of Bourbon

2

tsp

of Maple Bourbon Seasoning
Instructions
Before cooking, roll your ground breakfast sausage into 1/4 lb balls. Once done, place in the fridge until ready to use.

Preheat a medium high fire (around 375F). Add a cast iron skillet to preheat 1 minute before cooking.

Add your cubed bacon to the cast iron and let simmer for 2-3 minutes.

As the bacon begins to brown, add the maple bourbon seasoning. Let cook for another 1-2 minutes, then add the maple syrup and bourbon.

Let simmer until it is a deep ruby brown. Once done, pull off and let rest on a wax sheet of paper for at least 15 minutes.

Bring your fire up to high heat with another cast iron skillet/plancha plus 1 tbsp of canola oil.

Add your sausage to the cast iron and let simmer for 1.5 minutes.

Using a burger smasher with wax paper in between, smash your sausage patties and continue cooking for 1-2 more minutes.

Flip your patties over and top with your sliced cheese. Cook for 1-2 more minutes until the cheese is melted, then pull off the grill and set aside.

Add your sliced bacon to the skillet and cook for about 2 minutes per side or to your preferred doneness.

As the bacon cooks, add your eggs to the skillet and cook to your preferred doneness as well.

Once all is done, pull off and keep warm.

Build your sandwich with one donut on bottom, double stack of sausage smash patties, sliced bacon, your egg and another donut.

Top with the candied bacon and enjoy!
Nutrition
Serving:
3
Sandwiches
|
Calories:
1079
kcal
|
Carbohydrates:
8
g
|
Protein:
49
g
|
Fat:
92
g
|
Saturated Fat:
34
g
|
Polyunsaturated Fat:
12
g
|
Monounsaturated Fat:
38
g
|
Trans Fat:
1
g
|
Cholesterol:
425
mg
|
Sodium:
2307
mg
|
Potassium:
694
mg
|
Fiber:
0.05
g
|
Sugar:
5
g
|
Vitamin A:
862
IU
|
Vitamin C:
1
mg
|
Calcium:
499
mg
|
Iron:
3
mg