Bacon. Burgers. Spicy mayo. We have it all this week folks. A bacon infused patty melt cooked in a jalapeño mayo and then toasted to perfection. We're not just grilling this Bacon Melt beauty; we're smoking it first. Then giving it the perfect sear, and double dipping in more spicy mayo. We're just wild like that! This is truly what dreams are made of.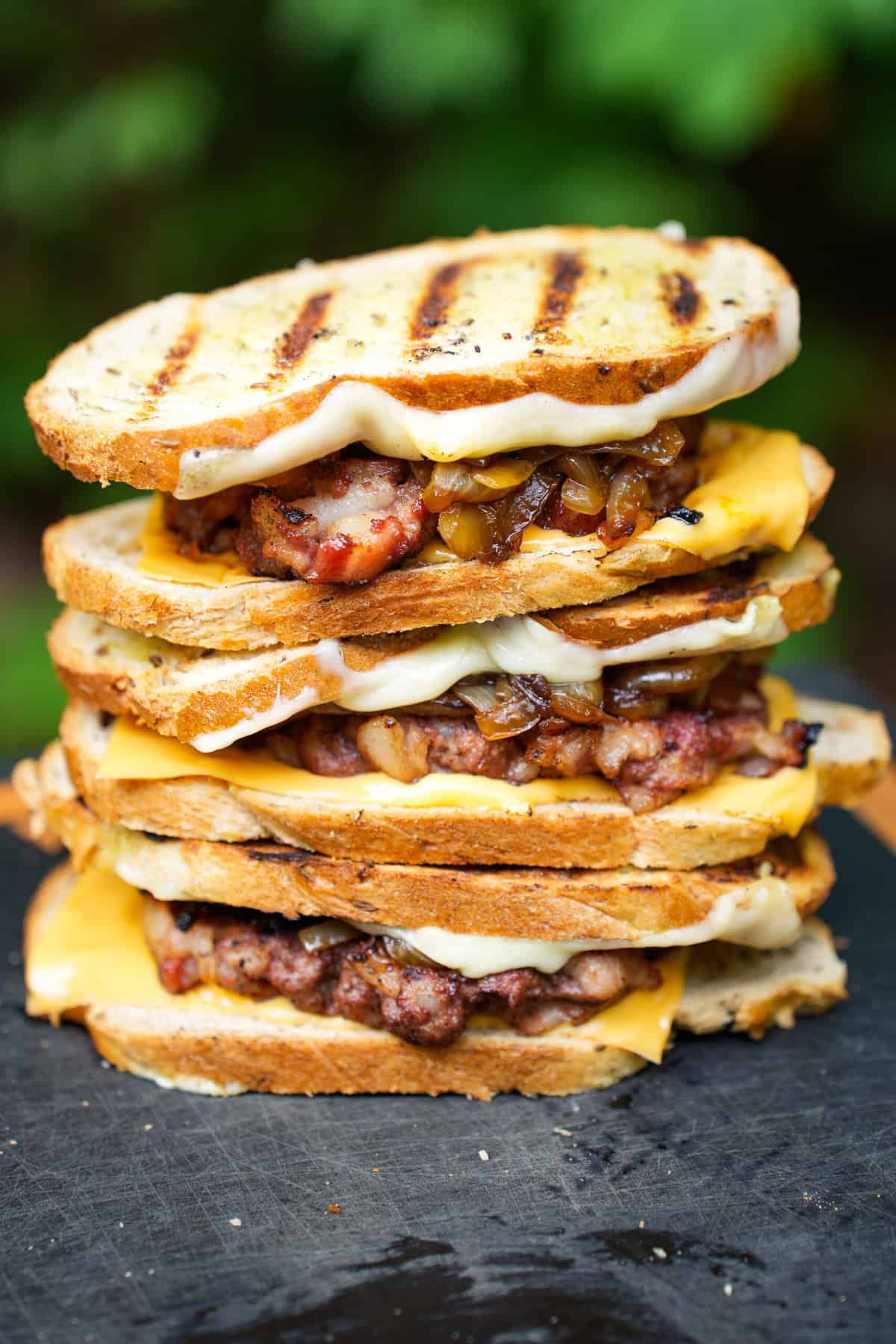 More Bacon More Better: The Bacon Melt
What makes everything better? More Bacon. Today we're adding bacon into one of the greatest sandwiches of all time: The Patty Melt. We're not just slapping a few slices on and calling it a day; the bacon is getting mixed right into this bacon melt burger.
Now, a traditional patty melt is a burger on toasted rye with cheese on each side and also topped with caramelized onions. Absolute dream boat, right? With such a perfect sando, we can't do too much or we'll risk losing what makes it so special. Furthermore, that's why the subtle addition of the worlds most flavorful meat, bacon, is absolutely perfect.
For more melts, check out my Chicken Bacon Ranch Patty Melt, Oklahoma Onion Patty Melt, French Onion Patty Melt and Cheesy Patty Melt.
Obviously, we're gonna start with some awesome burger meat. 80/20 ground chuck is my go-to. A custom butcher blend is also a primo choice, but remember we're adding bacon to it. How are we adding this bacon? Simple, dice it and then mix it in. Measure out your portions and slice the bacon into as tiny bits as you can. If you have a grinder, it can be used for this, but not completely necessary (unless you're making like 100 burgers).
A word of cation on this tasty addition: be careful of flair ups when cooking. The addition of bacon adds a lot of fat to the burger, so flare up become more likely.
For more bacon, check out:
Mayonnaise, The Great Bacon Melt Edition
Homemade mayonnaise. It sounds like a daunting task, I know. But it's a lot simpler than you think. Plus, if you're making the best bacon melt, then you should also have the best homemade mayo to go with it!
It's only few basic ingredients that we blend together. That's it, that's the whole thing. I'll even wager money that you already have all of the ingredients. An egg and a cup of neutral oil, like canola or vegetable oil.
The process is emulsification. Making a semistable mixture by combining two ingredients that don't easily mix. How do we do this? But by shear force, of course! A blender is our best friend here, more specifically in my case: an immersion blender.
The immersion blender allows you to manually move the mixing blades up and down in the mixture, so you have more control. With a traditional blender, just make sure your mixture reaches the blades. We don't want any separated mayo for our bacon melts.
Just a note on terminology. I use the words mayonnaise and mayo interchangeably, but the both do have legal definitions. Mayonnaise is legally required to have egg yolk in it. While mayo can use an egg substitute. That being said, most "mayo" does use egg yolk. Just check the ingredient list when purchasing.
Needing more spice in your life? My spice line can help with that. Check them out here.
Bacon Melt
Bacon Melts for a beefy, bacon-y sandwich experience.
Ingredients
1

Lb

Ground Chuck

½

Lb

Bacon

OTFC Chipolte Garlic Rub

2

Sweet Onions

6

Slices

American Cheese

6

Slices

Swiss Cheese

6

Slices

Rye Bread
Spicy Mayo
1

Egg

1

Lemon

1

Tsp

Dijon Mustard

2

Cloves

of Garlic

1

Cup

Canola Oil

1

Jalapeno

1

Tsp

of Salt and Pepper
Instructions
Spicy Mayo
The mayo can be prepared the day before, or at least a few hours before, to allow it to setup in the fridge.

Combine egg, lemon juice, Dijon, minced garlic, and oil. Using a blender or immersion blender, blend until smooth. Add in diced Jalapeno and s&p, blend again. Cover and store in the fridge for up to 4 days.
Bacon Melt
Prepare smoker with a direct heat zone and indirect heat zone

Thinly slice onions, place in a grill safe pan and cook over direct heat zone of grill until onions are caramelized.

Mince up bacon and combine with the ground chuck. Form into 3, ½ lb patties. Season with OTFC Chipotle Garlic Rub.

Smoke burger on indirect zone of the grill, until 130 degrees internal. Sear on direct zone to finish with a final temp of 145 degrees (this burger has a mix of pork in it).

Spread jalapeno mayo on rye bread and toast on grill. Layer 2 slices of cheese on each piece of rye bread. Stack on burger and caramelized onions. Serve with plenty of spicy mayo and enjoy!