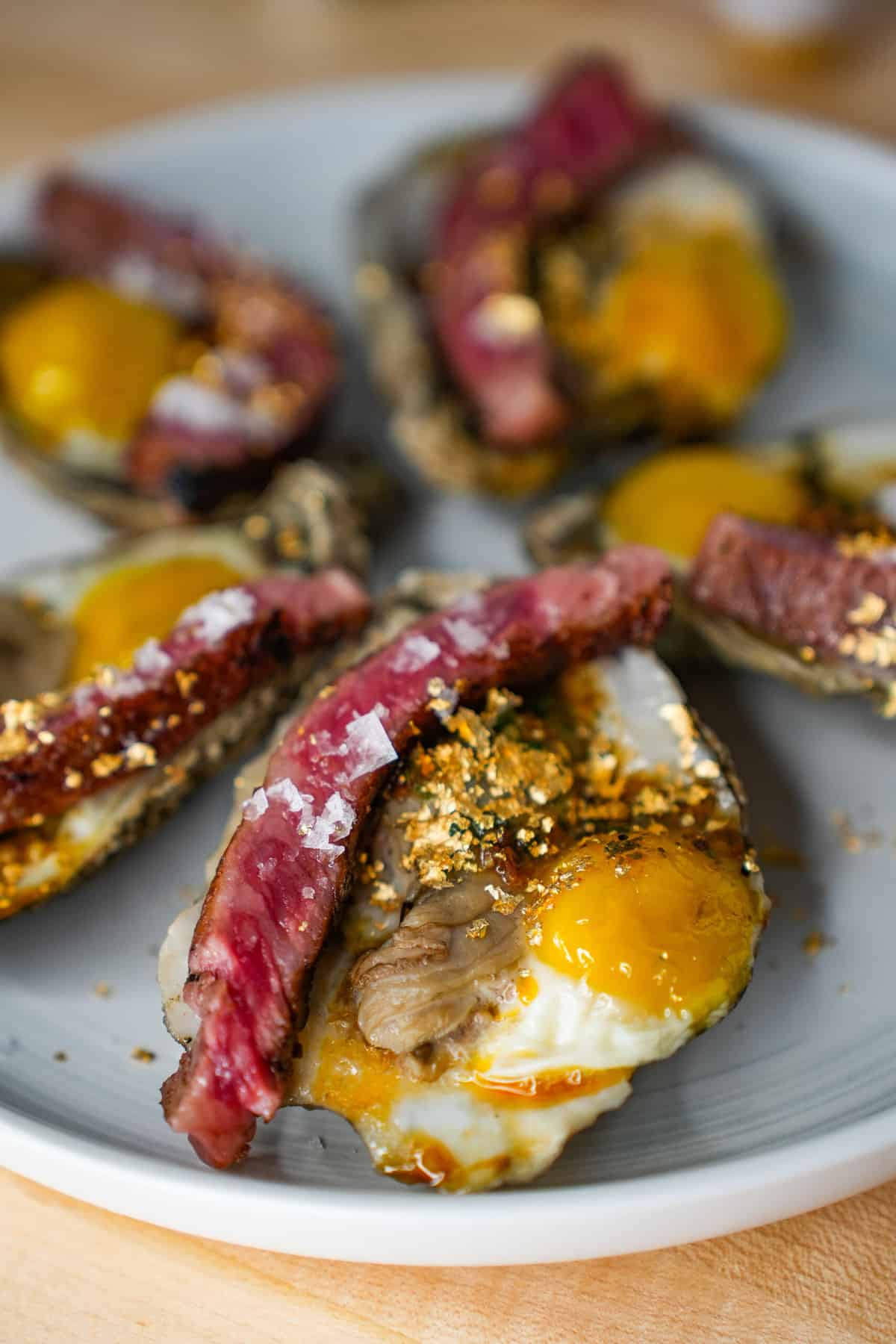 The billionaire mindset starts with the Billionaire's Breakfast. Like my good buddy Elon says, "We're not eating rocks on Mars today boissss." This is old family recipe that dates back to when my Uncle Gatsby use to throw evening soirees. The guests needed a bright, simple breakfast to continue on with the days arduous toils of: yachting, gambling, shopping, and, most importantly, buying things that aren't for sale. Lets break it down.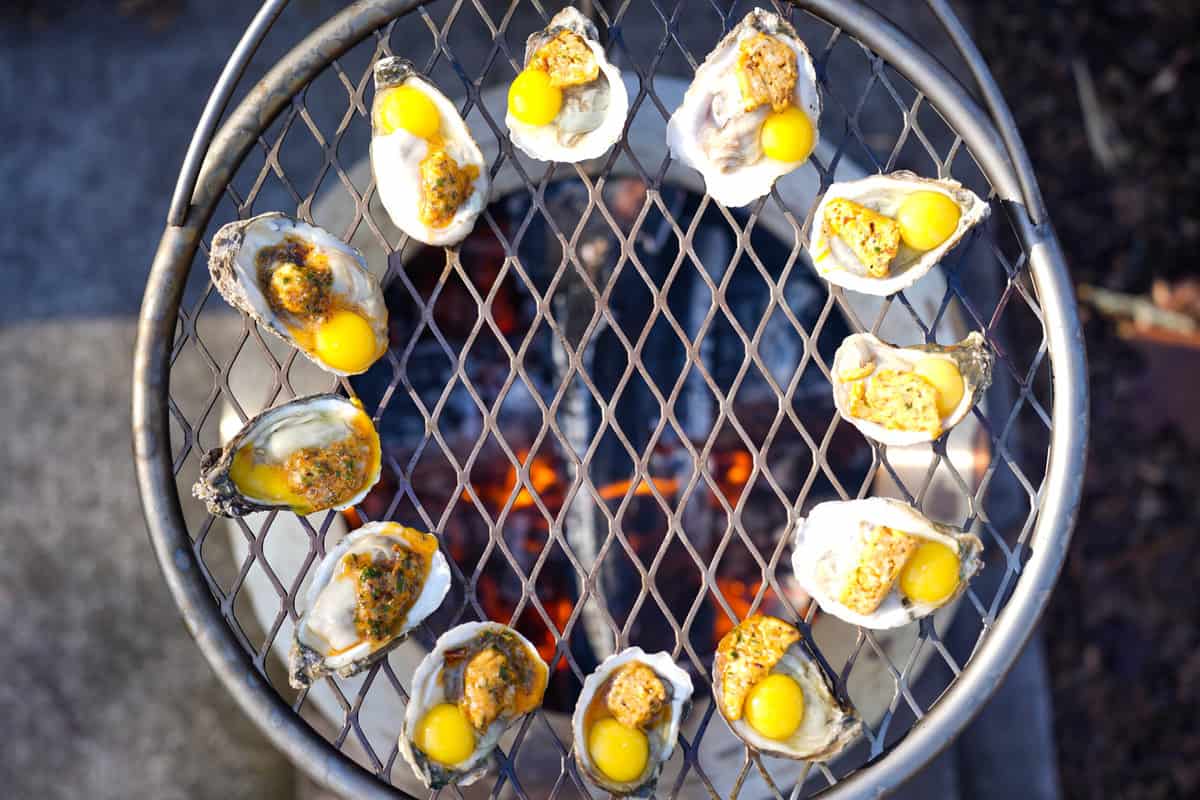 A Billionaire's Breakfast Starts with Wagyu
In all seriousness, A5 Wagyu is an incredible experience. Usually costing more than $100 per pound. It is an experience, not a meal. It is incredibly rich in taste and also requires very different methods of cooking and handling.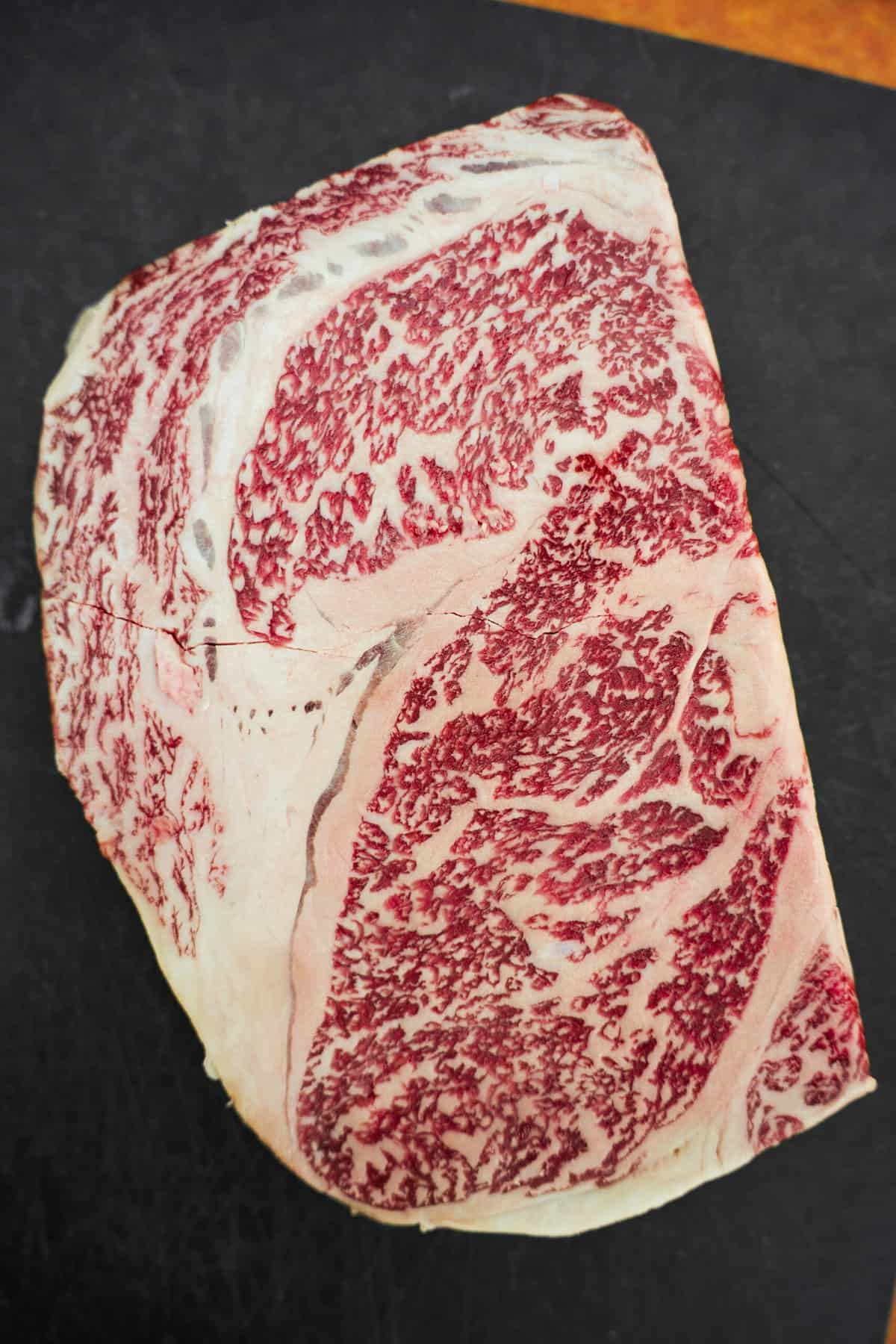 A5 Wagyu is the highest rated beef in the world, ranking on the marbling of the fat. Fat is flavor, fat is tasty, therefore fat is good. Hailing from Japan, the beef there is ranked on a 15-point scale. A, B, C and 1-5. C1 being the lowest and A5 being the highest. Now you know why we're using A5 for our Billionaire's Breakfast.
The amount of intramuscular fat, the fat found within the muscle, is very unique to the breed of Wagyu cattle. This fat is extremely delicate, it can even melt in your hand. Use caution when handling your A5 Wagyu, handle it as little as possible.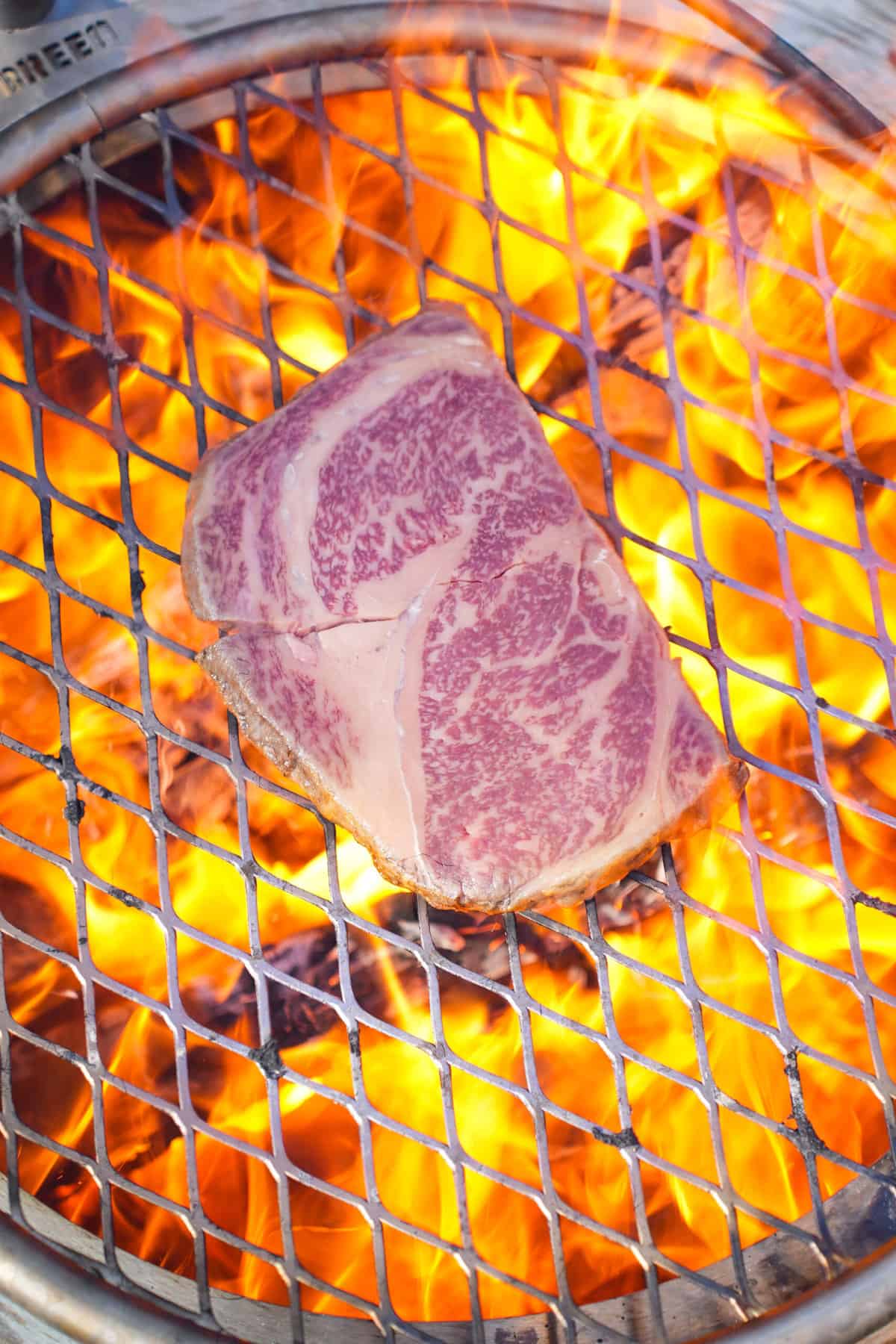 When purchasing A5 Wagyu it usually comes in thin slices of around 10oz. This is due to cost, which is no concern for us billionaires and our breakfasts… But th also helps aid in the cooking process. The method I use, which is very reliable, is to sear each side for 1-2 minutes over very high heat, rest, and then slice.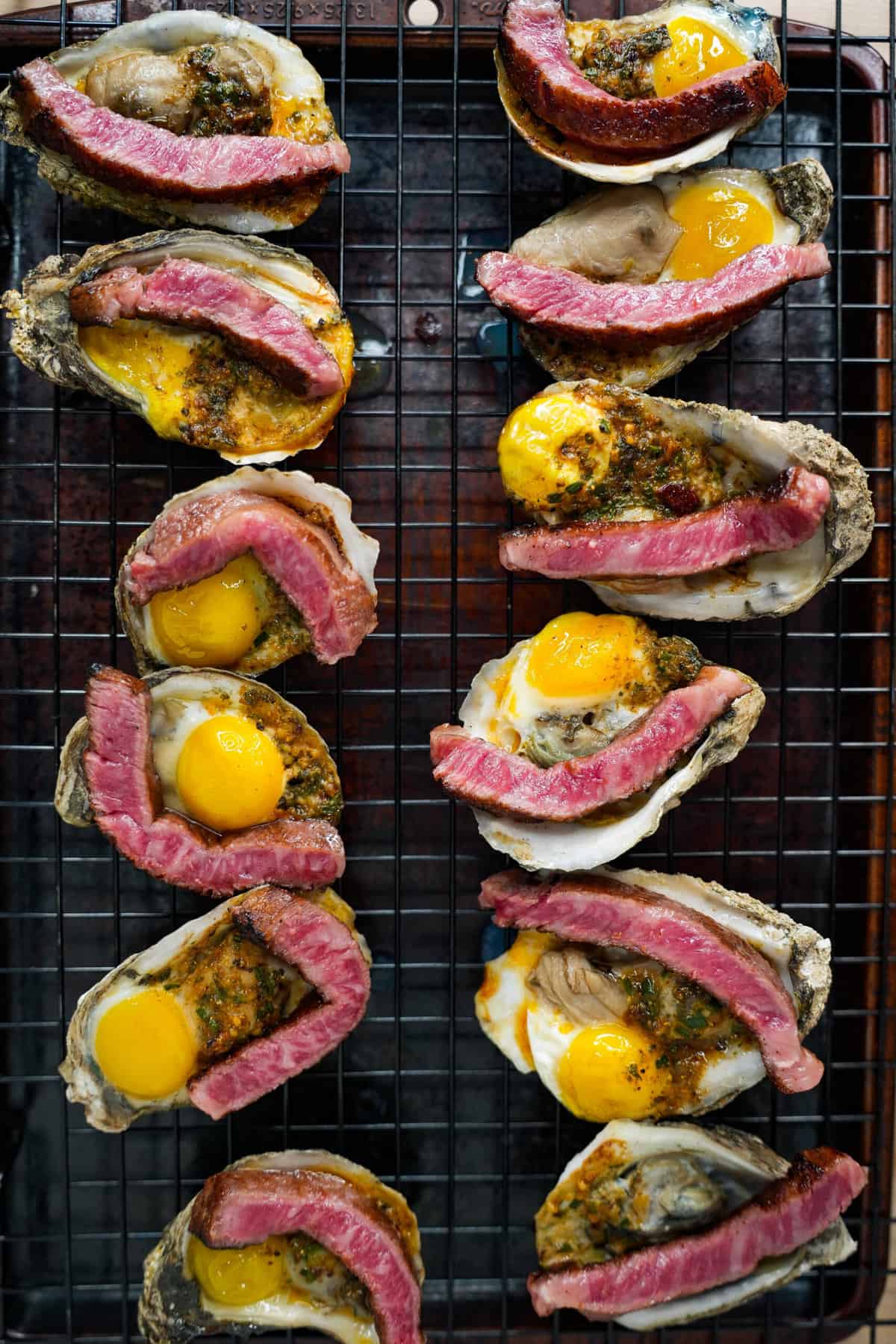 It is easy to overcook A5 Wagyu because of it's heavy fat content. Also, no seasoning before cooking. Any seasoning used before the cook will burn in the high heat. A5 is usually served with a few dishes of seasonings and dipping sauces. Such as, salt, pepper, wasabi, and soy sauce.
For different wagyu variations, check out my Wagyu Beef Tenderloin with Red Wine Onions Recipe, Smoked Wagyu Beef Back Ribs and Wagyu Secreto Steak with Roasted Chimichurri.
Oysters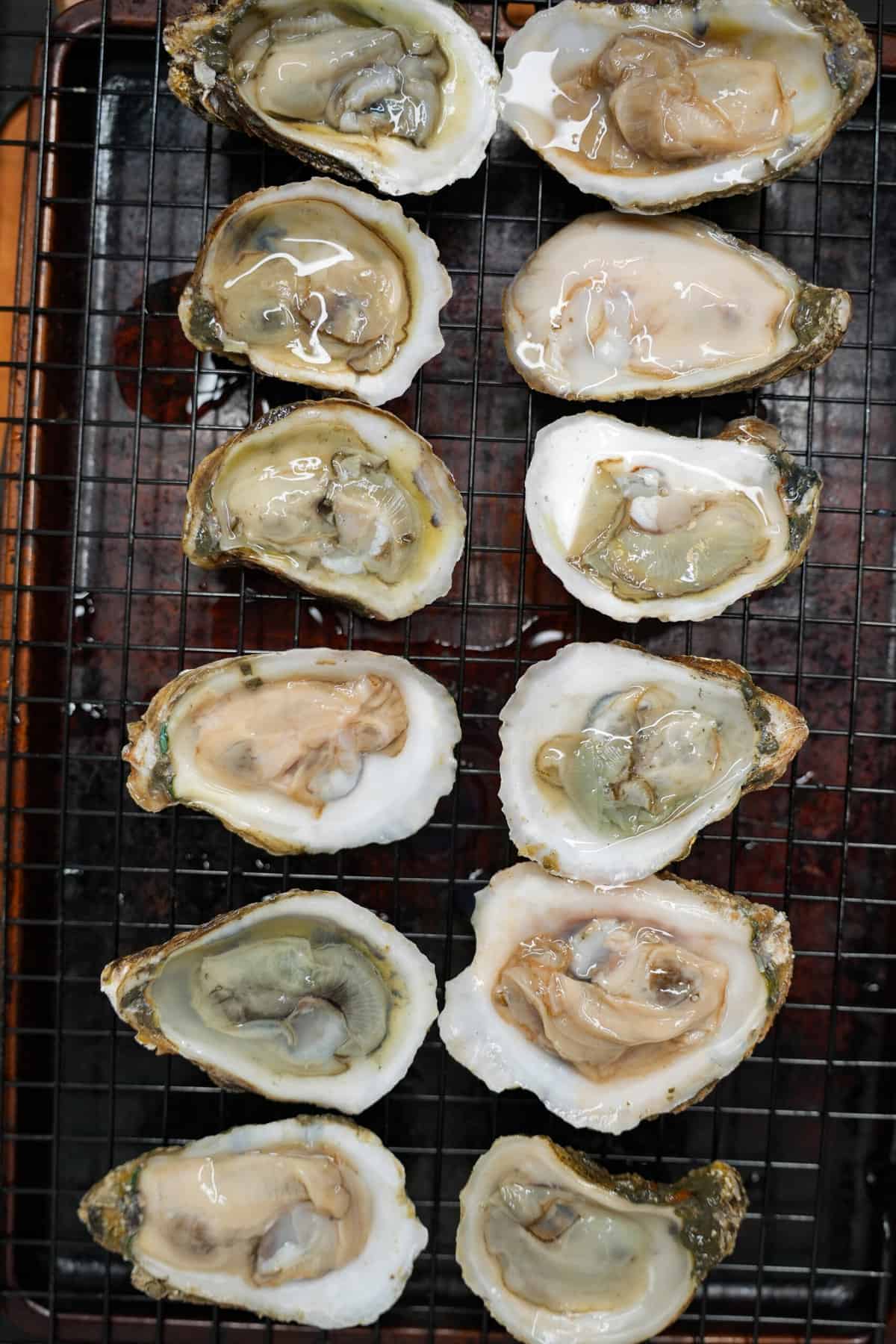 Only eat oysters in months with the letter R in them. This rule of thumb will one day save you from severe stomach pains. Cold months, cold oysters, fresh oysters. If your oyster is already open prior to shucking, toss it. It's dead and isn't safe to eat. If it smells bad, like the week-old fish market, toss it. This is a better safe than sorry situation.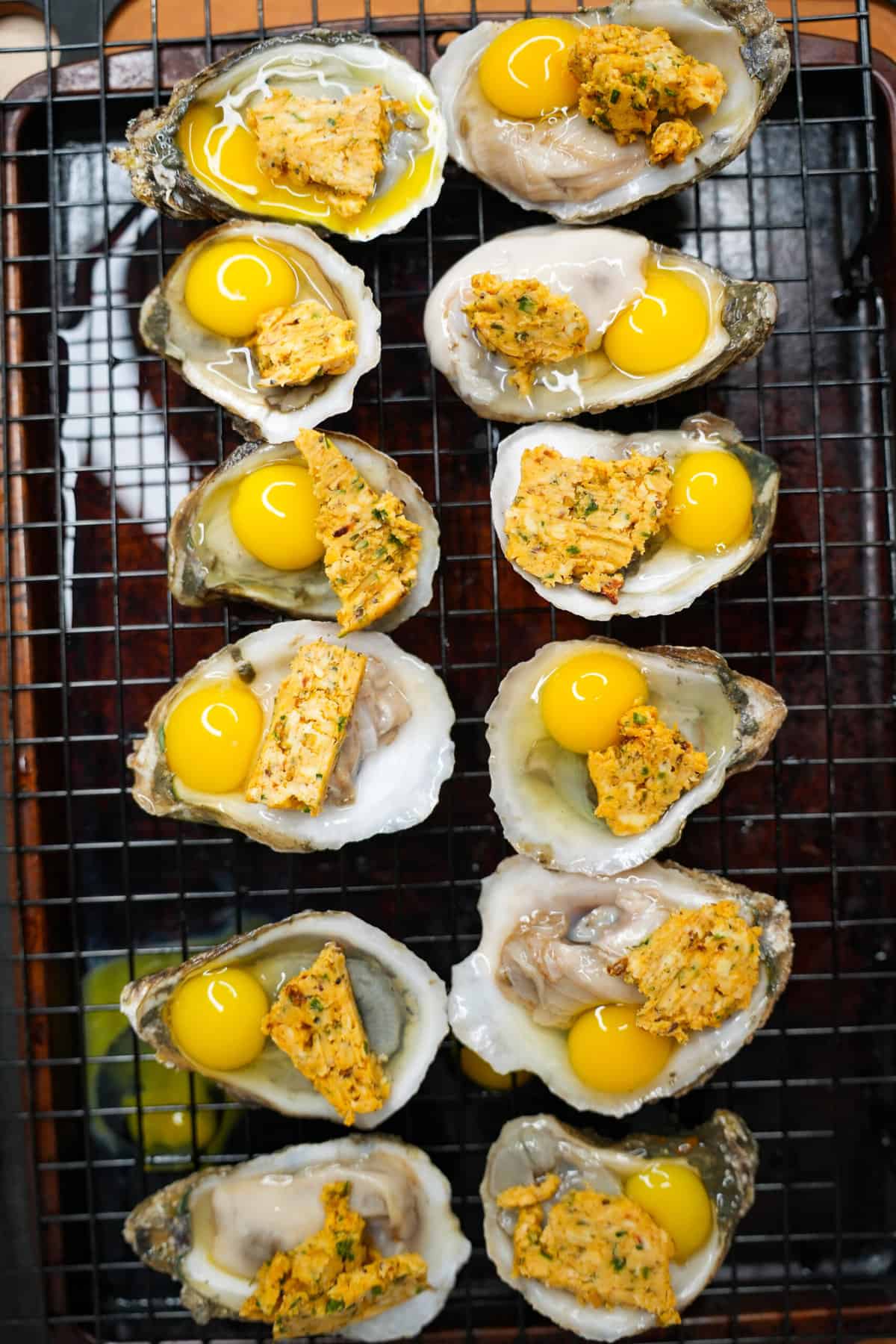 Now that we have that out of the way, oysters are awesome and are perfect for this Billionaire's Breakfast. Served raw on the half shell, they really shine. If you're new to oysters and you don't want to fully commit, cooked oysters are a great place to start. But I'd encourage you to find a quality oyster bar and try a few different oysters. It's a really fun experience!
For more with oysters, try my Fire Baked Oysters, Guinness Oysters Kilpatrick and Grilled Steaks and Oysters.
Billionaire's Breakfast is Pure Gold
If you're not covering your food in gold, are you really having enjoying life? Personally, I cover my Lucky Charms in gold every morning. It's a real carpe diem move. Sheets of edible 24k gold or flakes are acceptable, we're very open minded here.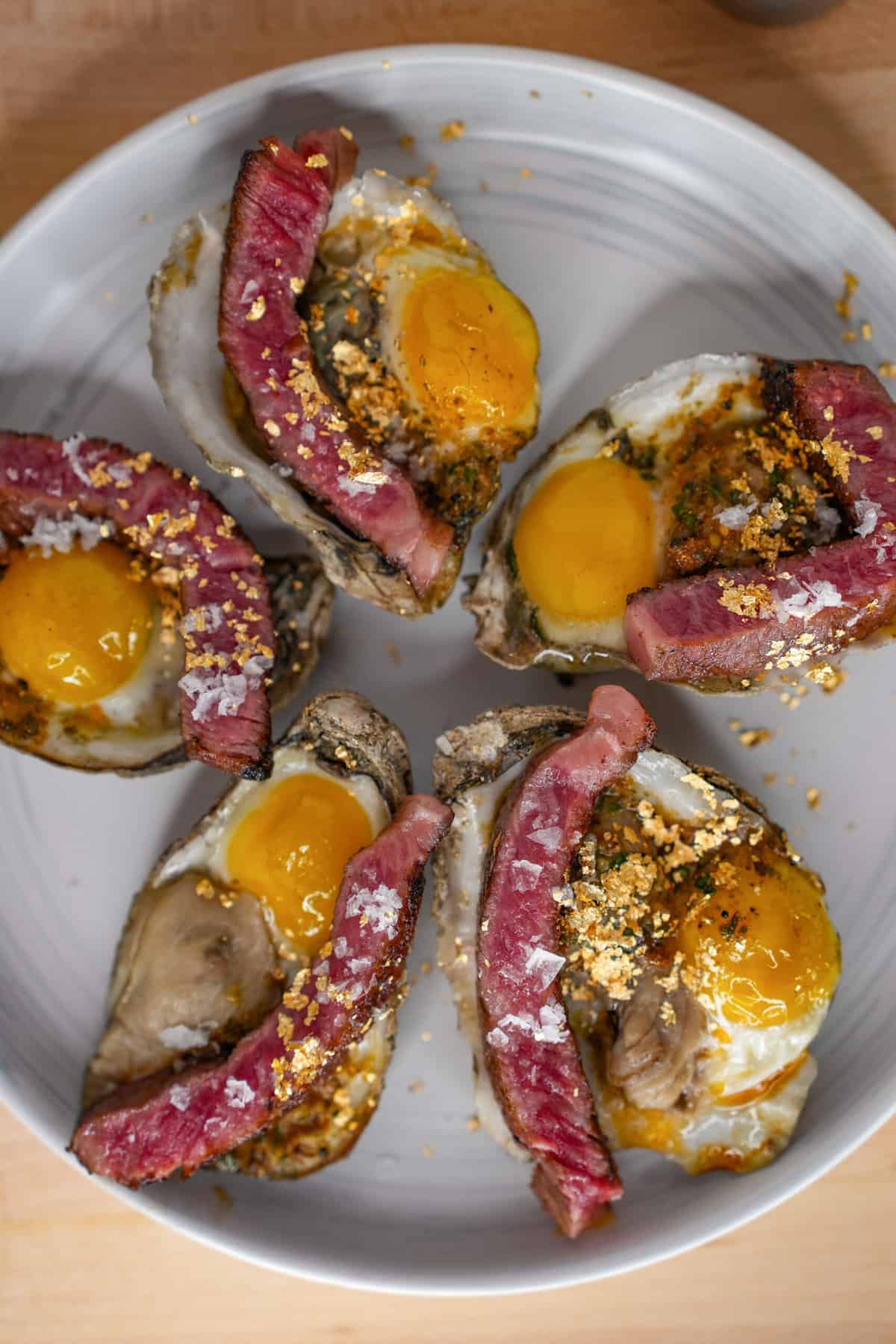 For real tho, edible gold is a weird flex. Folks tend to think its super expensive, it's not. Or that it changes the taste of food, it doesn't. It's a tasteless and cheap garnish that makes food sparkly. But don't go telling people that, us billionaires gotta keep up the illusion.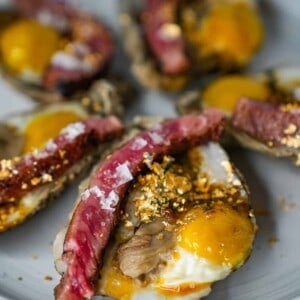 The Billionaire's Breakfast
The Billionaire's Breakfast because we all derserve to feel like a billion bucks.
Ingredients
10

oz

A5 Wagyu Ribeye

12

Oysters

12

Quail Eggs

Gold Flakes
Sriracha Chive Compound Butter
Instructions
Sriracha Chive Compound Butter
Bring butter to room temp and cube for easy mixing.

Mix in seasoning, sriracha, and minced chives. Once thoroughly incorporated, mix in gold flakes.

Wrap butter in parchment paper and keep in fridge. Butter can be made in advance. Will stay good for up to 2 weeks.
Oyster Bake
Light fire pit or set grill to high heat.

Shuck oysters. Toss out any oysters that are already open, they dead.

Crack one quail egg into each oyster. Top each oyster with a pat of the Sriracha Chive Compound Butter.

Place oyster onto the grill and cook until egg is set. 3-5 min. Set aside. Remember, the oysters and quail egg can be eaten completely raw. We're just warming them up.

Raise heat on grill or fire pit to highest setting. Place unseasoned A5 Wagyu over the fire and cook for 1-2 min per side. A5 usually comes in half inch thin slices and cooks very quickly. Remove from heat and rest.

Slice A5 Wagyu into strips and top each oyster with a slice. Garnish with flake salt and gold flakes. These are best enjoyed while on the balcony of your Malibu mansion overlooking the ocean on a day before setting sail on your mega yacht.
Nutrition
Calories:
404
kcal
|
Carbohydrates:
1
g
|
Protein:
13
g
|
Fat:
40
g
|
Saturated Fat:
23
g
|
Polyunsaturated Fat:
2
g
|
Monounsaturated Fat:
12
g
|
Trans Fat:
1
g
|
Cholesterol:
263
mg
|
Sodium:
171
mg
|
Potassium:
182
mg
|
Fiber:
0.2
g
|
Sugar:
0.2
g
|
Vitamin A:
1136
IU
|
Vitamin C:
4
mg
|
Calcium:
40
mg
|
Iron:
2
mg