This Garlic Shrimp Scampi seems fancy but is actually an incredibly quick and simple meal. It's made with perfectly pan-seared shrimp that's simmered in a decadent sauce made with butter, garlic, white wine, lemon juice, and a couple of seasonings.
This incredible shrimp takes just 10 minutes to make and is delicious on its own, with a side of crust bread, or mixed into pasta or rice.
First, We Prep!
First, prep all of your ingredients. This recipe moves quickly…I'm talking 10 minutes from start to finish. It's better to have everything at the ready because the last thing we want is burnt shrimp before you have the chance to add the rest of the ingredients.
Start by mincing the garlic, squeezing the lemon juice, selecting your white wine (I recommend a dry one), grab your butter, olive oil, salt, and pepper out, and get ready to get cooking!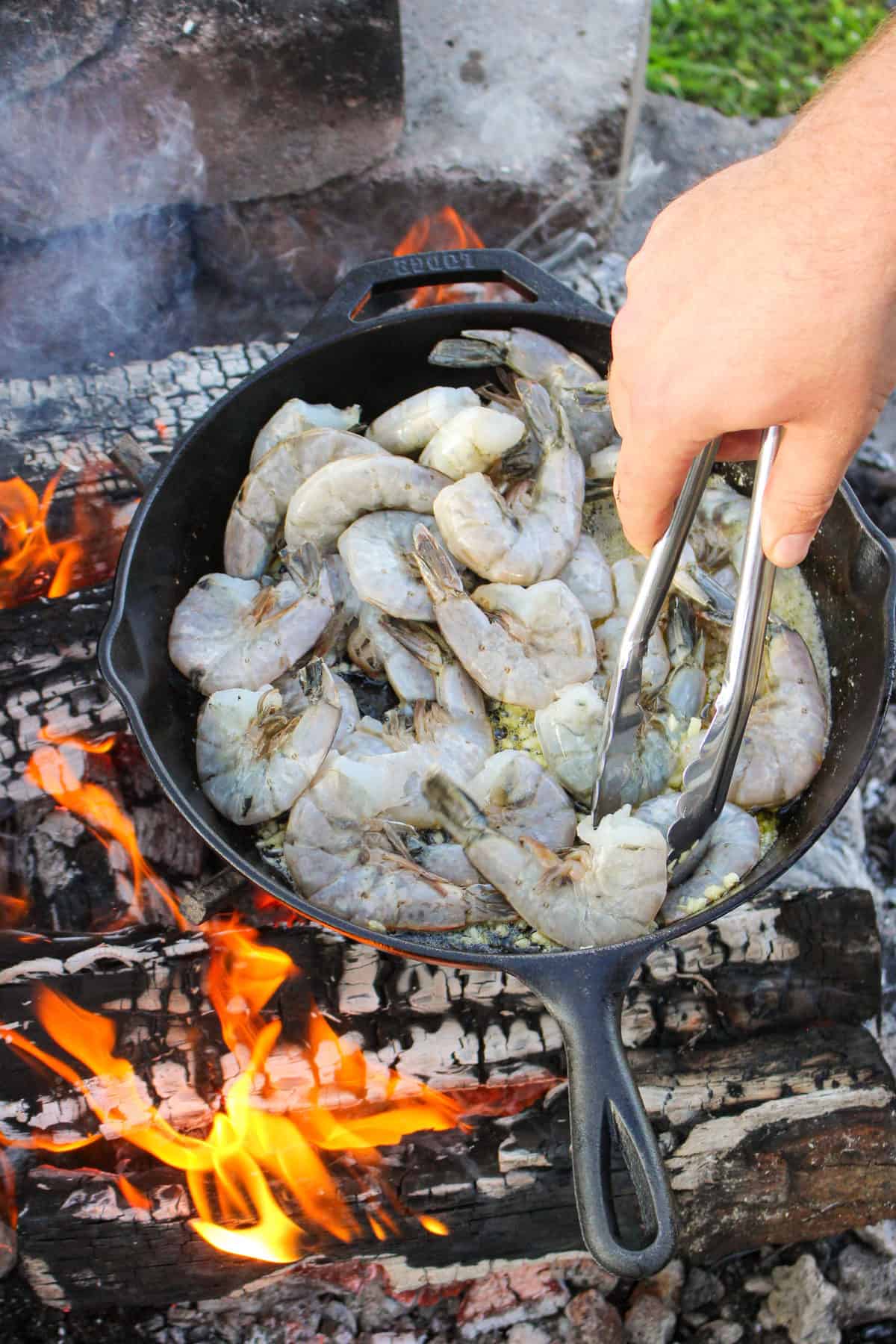 Sear the Shrimp for Garlic Shrimp Scampi
Now, it's time to get this recipe going! First, preheat a medium-high heat fire to around 350ºF for direct cooking. Next, add a skillet to the fire and let it preheat for about one minute. Use a cast-iron skillet if you have it. Cast-iron conducts heat better which results in perfect, juicy shrimp with the perfect crispy exterior. That, my friends, is exactly what we want for Garlic Shrimp Scampi.
Drizzle olive oil into the skillet and add the four tablespoons of unsalted butter. Allow the butter to melt, then add in the minced garlic. Let the garlic cook for 90 seconds or until it's browned and fragrant.
For more with shrimp, check out my Garlic Butter Steak and Shrimp, Nashville Hot Grilled Shrimp, Spicy Tequila Lime Shrimp Skewers and Spicy Mexican Street Shrimp.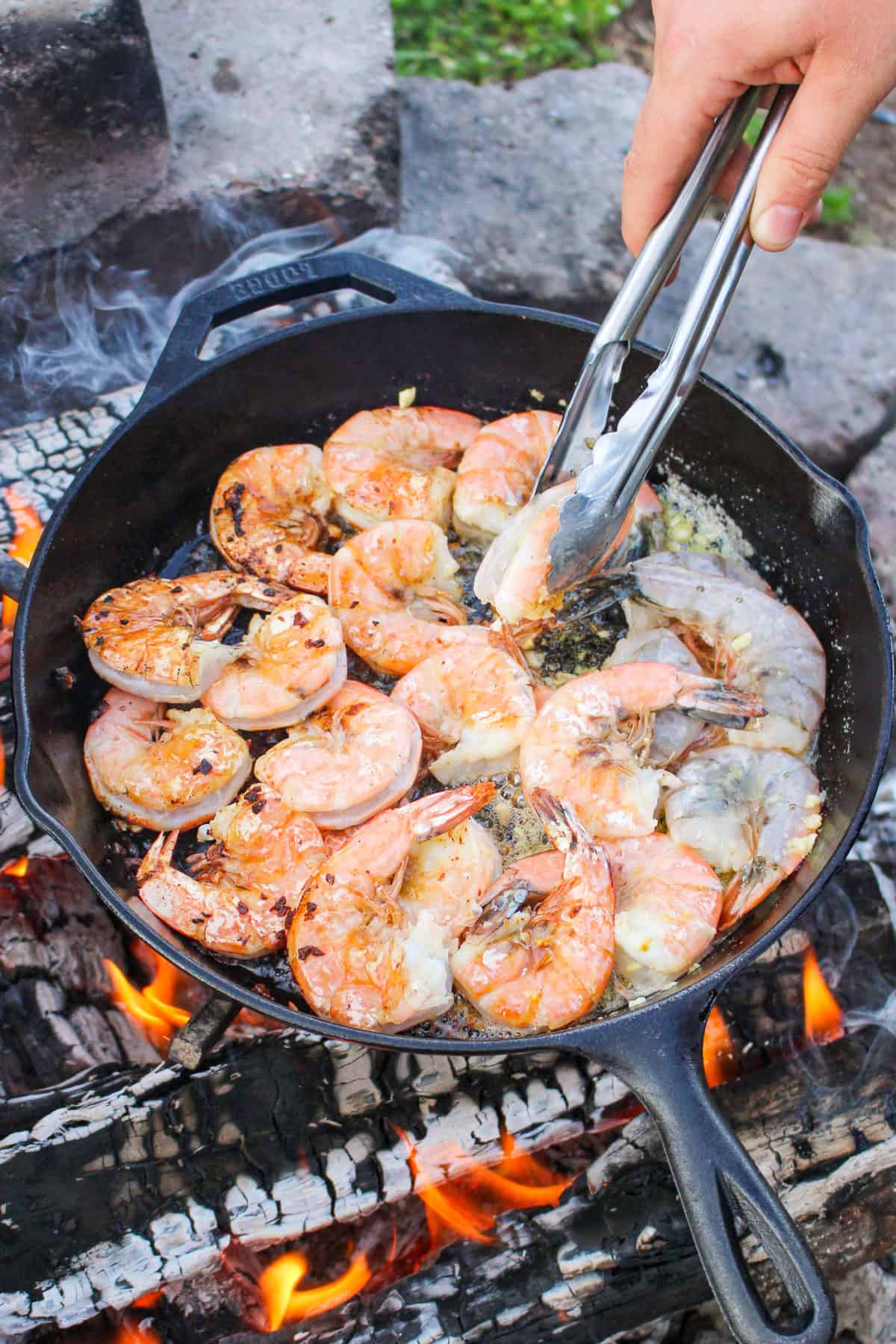 Next, add all of the shrimp into the pan, but avoid over-crowding. If you have too much for the size of pan you're using, then cook the shrimp in batches for perfect Garlic Shrimp Scampi. Overcrowding equals uneven cooking and mushy shrimp…and we definitely don't want that.
Season the shrimp with salt and pepper, then cook it for 90 seconds on the first side. Next, flip the shrimp over and deglaze the skillet with the white wine and lemon juice. Stir a little bit in order to help the sauce incorporate. Then continue cooking the Garlic Shrimp Scampi for another minute or two.
No whining… check out these recipes instead: White Wine Herb Lamb Skewers and Wagyu Beef Tenderloin with Red Wine Onions Recipe.
Serve Your Garlic Shrimp Scampi
Up next is serving time! Pull the skillet off of the grill and let it sit for a few minutes so the shrimp can cool off slightly. Next, add a sprinkle of red pepper flakes to the Garlic Shrimp Scampi skillet because a little spice never hurt anyone. Finish it off with a layer of freshly chopped parsley.
Now, you can totally stop there and dig right into your Garlic Shrimp Scampi. But there are also plenty of ways you can serve it to bulk your meal up a bit. I love to serve it with a chunk of crusty bread to soak up the garlic butter sauce, piled over a bed of rice, mixed into buttered noodles, or with a side of roasted veggies.
This Garlic Shrimp Scampi is insanely versatile…and delicious no matter how you choose to serve it!
For more delicious recipes, check out my second cookbook Flavor X Fire or my first cookbook Food X Fire!
Needing more spice in your life? My spice line can help with that. Check them out here.
Full Length Recipe Video on Facebook!
Print Recipe
Garlic Shrimp Scampi
Garlic Shrimp Scampi is a one skillet wonder recipe, and so delicious!
Ingredients
1.5

lbs

Large Shrimp

4

tbsp

Unsalted Butter

3

tbsp

Minced Garlic

2

tbsp

Olive Oil

¼

cup

White Wine

preferably dry white wine

2

medium Lemons

juiced

Kosher Salt

to taste

Black Pepper

to taste
Serving:
Red Chili Flakes

Chopped Parsley

Crusted Bread
Instructions
Preheat a medium high heat fire (around 350F) for direct cooking. Add a cast iron skillet to the fire about 1 minute before cooking.

First, add your olive oil and butter to melt in the skillet. Next, add the minced garlic and let it brown for 90 seconds. Once browned, add all of your shrimp to the skillet (make sure to not fully overcrowd the pan), season with salt & pepper then cook for about 90 seconds on the first side. Flip the shrimp over and then deglaze the skillet with the white wine and the lemon juice. Stir and little and continue to cook the shrimp for another 1-2 minutes until fully done. When the shrimp are done, pull the whole skillet off the fire to cool.

Garnish the skillet with red chili flakes, chopped parsley and crusted bread. Serve and enjoy!
Nutrition
Calories:
640
kcal
|
Carbohydrates:
18
g
|
Protein:
49
g
|
Fat:
41
g
|
Saturated Fat:
17
g
|
Polyunsaturated Fat:
3
g
|
Monounsaturated Fat:
16
g
|
Trans Fat:
1
g
|
Cholesterol:
489
mg
|
Sodium:
1935
mg
|
Potassium:
610
mg
|
Fiber:
3
g
|
Sugar:
3
g
|
Vitamin A:
1337
IU
|
Vitamin C:
61
mg
|
Calcium:
243
mg
|
Iron:
2
mg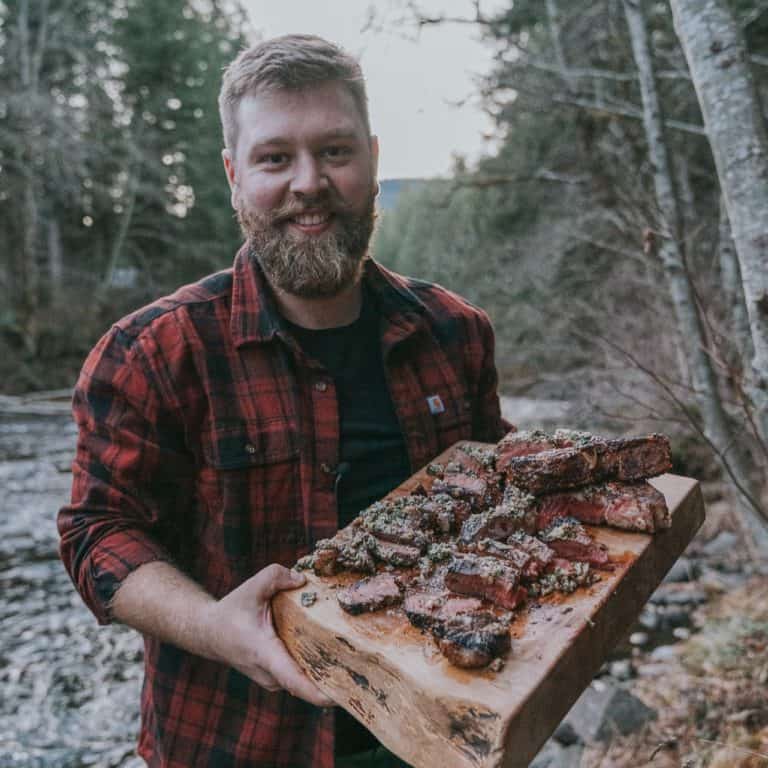 Derek is the driving force behind Over the Fire Cooking. He started cooking with live fire in 2016 and decided to start a social media page so his friends and family could follow the journey. Fast forward to today and Over the Fire Cooking has spread across multiple platforms with millions now following Derek's fire cooking journey. He's a southern fellow who enjoys everything from classic BBQ to Central and South American inspired dishes. Whatever he's cooking up, it's guaranteed to be so freakin' delicious!