These Bacon Wrapped Shrimp Skewers take the perfect combination that is shrimp and bacon and take it to the next level!
This recipe is made with tender, perfectly spiced shrimp that's wrapped in crispy bacon then doused in a sweet and spicy maple bourbon glaze. These skewers are quick to cook and absolutely delicious!
Prep the Shrimp for Bacon Wrapped Shrimp Skewers
So, we start our shrimp skewers with three pounds of large shrimp. Make sure they're peeled and deveined before proceeding with the recipe. You can buy already prepped shrimp or do this yourself.
First, we season of course! Add all of the shrimp to a large bowl, drizzle with oil, and sprinkle with the BBQ seasoning of your choice. I highly recommend my Maple Bourbon Seasoning because it ties in the sweet and spicy flavors in the maple bourbon glaze perfectly! Next, stir gently to coat the shrimp entirely because we want flavor on every piece.
Bacon-Wrap Those Shrimp Skewers
So, now we wrap the shrimp in bacon! I use half a slice of thick-cut bacon for each piece of shrimp, but you can certainly go even smaller if needed. Wrap each shrimp tightly with bacon, then add each bacon wrapped piece of shrimp to your skewers to hold the bacon in place. I recommend using two-prong skewers or two separate skewers because it will help keep the bacon more secure as the shrimp cooks.
Next, set the prepped bacon wrapped shrimp skewers aside so you can prep your maple bourbon glaze.
For more bacon wrapped goodness, check out my Chicken Bacon Ranch Sausage Skewers, Bacon Wrapped Honey Cajun Pork Tenderloin and Bacon Wrapped Jalapeño Cheese Fatty.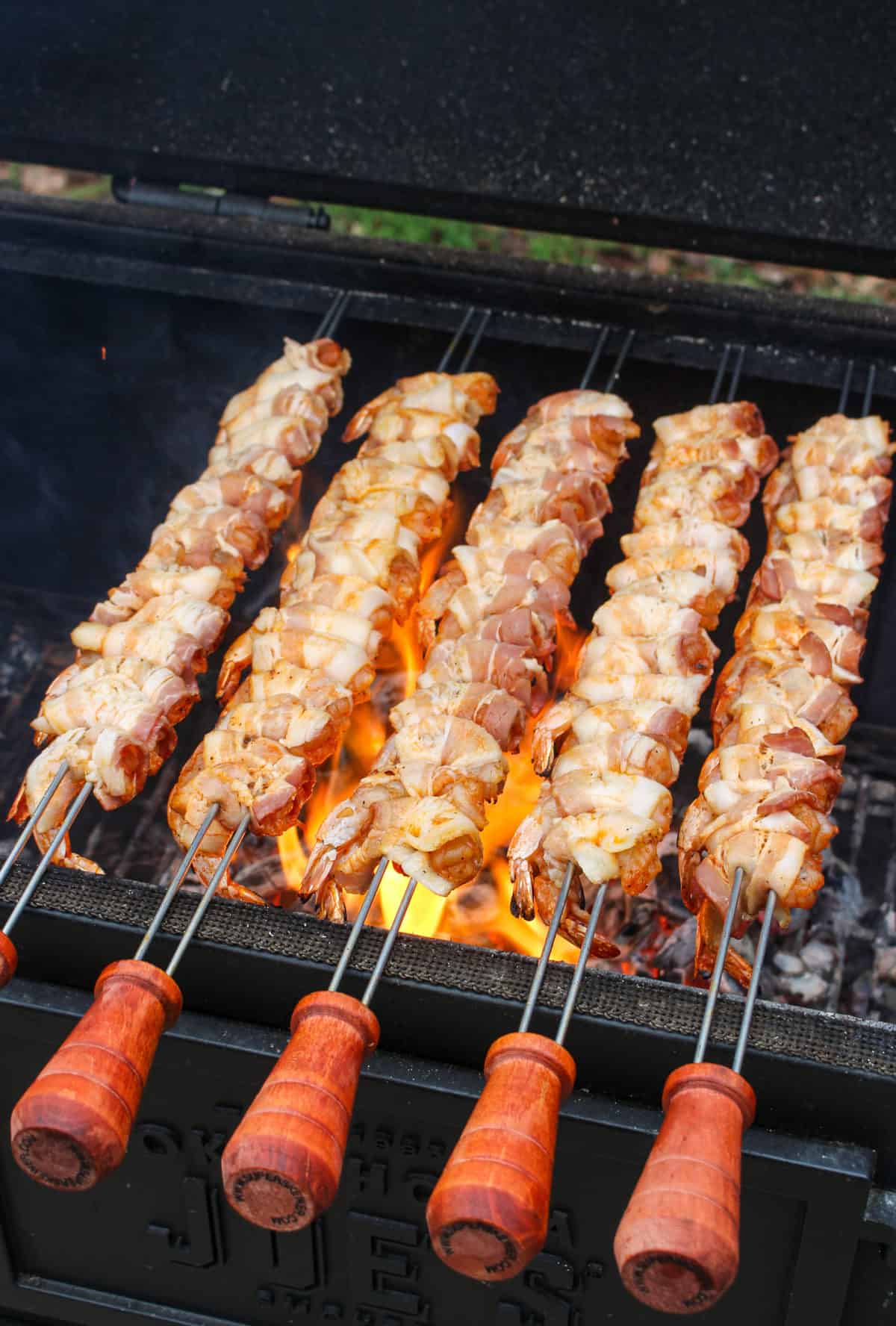 Maple Bourbon Glaze For Our Bacon Wrapped Shrimp Skewers
Next up, our maple bourbon glaze.
First, preheat your grill for two-zone indirect cooking at medium-high heat at around 350ºF. Add a basting cast-iron skillet to the grill to preheat directly over the flames. Pour in the Buffalo Trace Bourbon and allow that to simmer for 2-3 minutes. Next, add in the unsalted butter, maple syrup, and hot sauce. Use as much or as little hot sauce as you like, depending on your spice preferences.
Let the maple bourbon glaze simmer for one more minute, then pull the skillet off of the grill so the glaze can cool.
This maple bourbon glaze is exactly what bacon wrapped shrimp skewers need!
For more with Maple Bourbon, check out my Maple Bourbon Smoked Salmon, BBQ Maple Bourbon Ribs and Spicy Maple Bourbon Candied Bacon.

Time to Cook!
Next, we grill our bacon wrapped shrimp skewers. Add the skewers to the cooler side of the grill and cook first for 3-4 minutes. Next, flip the skewers and baste the shrimp with the maple bourbon glaze to add more moisture and flavor. Cook for an additional 3-4 minutes or until the shrimp is opaque and the bacon is cooked and crispy.
Be careful to not over-cook the shrimp. Overdone shrimp is tough and chewy, and no one likes tough and chewy shrimp! Don't worry, though. Basting the shrimp with the maple bourbon glaze helps immensely to prevent it from drying out!

Serve Your Bacon Wrapped Shrimp Skewers
And the moment we've all been waiting for…The part where you get to eat the bacon wrapped shrimp skewers! First, pull the skewers off the grill and allow them to rest for a minute or two to give the flavor and moisture time to settle into the shrimp.
Next, garnish with chopped chives and serve!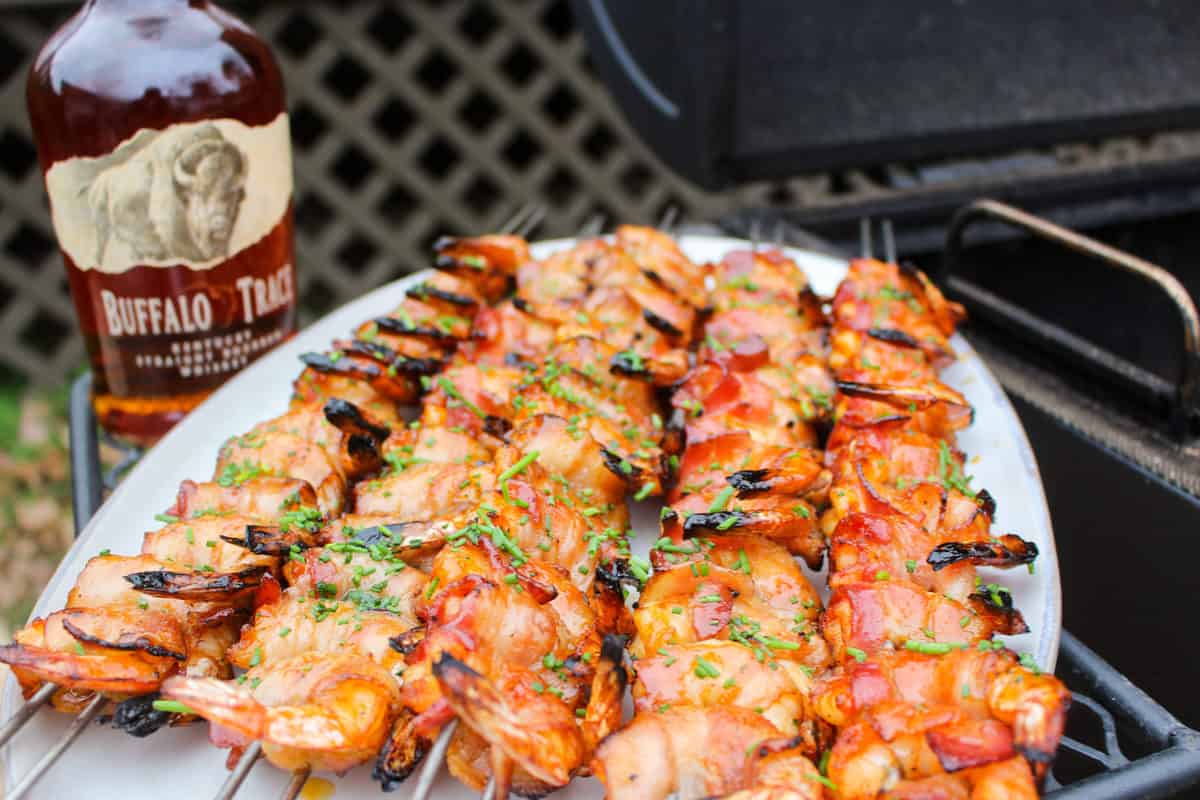 For more delicious recipes, check out my second cookbook Flavor X Fire or my first cookbook Food X Fire!
Needing more spice in your life? My spice line can help with that. Check them out here.
Full Length Recipe Video on Facebook!
Print Recipe
Bacon Wrapped Shrimp Skewers
Bacon Wrapped Shrimp Skewers are deliciousness, wrapped in bacon... Bacon wrapped deliciousness!
Ingredients
Shrimp:
3

lbs

Large Shrimp

peeled & deveined

2

lbs

Sliced Bacon

cut in half

½

cup

Maple Bourbon Seasoning

or your favorite bbq seasoning

2

tbsp

Canola Oil

Chopped Chives

for garnish
Maple Bourbon Glaze:
½

cup

Unsalted Butter

¼

cup

Maple Syrup

1.5

oz

Buffalo Trace Bourbon

1

tbsp

Hot Sauce
Instructions
Begin by adding all the shrimp to a large food safe bowl and lathering with oil. Season generously with Maple Bourbon or your favorite BBQ seasoning. Next, wrap each shrimp with half slices of bacon (go even smaller on the bacon if needed) and add to your skewers. I recommend using two prong skewers or two skewers as it will keep them more secure. Add all the shrimp to the skewers then set aside until ready to cook.

Preheat your grill for two zone indirect cooking at medium high heat temperature (around 350F).

Add a basting cast iron skillet over the flames to preheat. Add your Buffalo Trace Bourbon to simmer for 2-3 minutes, then add the rest of the Maple Bourbon Glaze ingredients to melt. Let simmer for 1 more minute, then pull off and let cool.

Once the butter is done, pull off and add your shrimp to the cool side of the grill to cook for 3-4 minutes per side. Once you flip the first time, begin carefully basting with the Maple Bourbon Glaze. When the shrimp are done, pull off and rest for 1-2 minutes.

Garnish the shrimp with chopped chives, serve and enjoy!
Nutrition
Calories:
1532
kcal
|
Carbohydrates:
20
g
|
Protein:
75
g
|
Fat:
123
g
|
Saturated Fat:
46
g
|
Polyunsaturated Fat:
18
g
|
Monounsaturated Fat:
50
g
|
Trans Fat:
1
g
|
Cholesterol:
639
mg
|
Sodium:
3518
mg
|
Potassium:
890
mg
|
Fiber:
1
g
|
Sugar:
12
g
|
Vitamin A:
1411
IU
|
Vitamin C:
2
mg
|
Calcium:
224
mg
|
Iron:
2
mg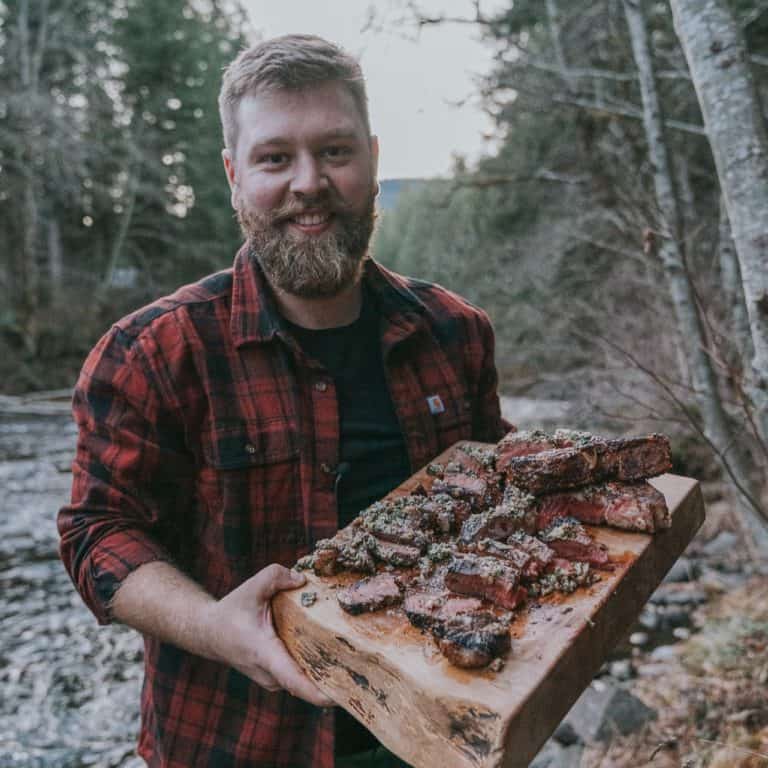 Derek is the driving force behind Over the Fire Cooking. He started cooking with live fire in 2016 and decided to start a social media page so his friends and family could follow the journey. Fast forward to today and Over the Fire Cooking has spread across multiple platforms with millions now following Derek's fire cooking journey. He's a southern fellow who enjoys everything from classic BBQ to Central and South American inspired dishes. Whatever he's cooking up, it's guaranteed to be so freakin' delicious!