Is there anything better than well-marbled, juicy and tender, ultra flavorful slabs of grilled Gaucho Beef Ribs?
No. No there is not.
These ribs are layered with spices, grilled low and slow until tender and juicy, and take just 30 minutes to prep. Serve with homemade red onion and herb sauce for a flavor packed meal!
Season Your Gaucho Beef Ribs
For this gaucho beef ribs recipe, we're working with two thick slabs of beef: aka beef plate ribs! You'll start by slathering them in canola oil and coating them with Gaucho Steakhouse Rub which is made up of a perfect blend of seasonings and dried vegetables like red bell pepper, zucchini, and onion. This gives the exterior of the meat a salty spiciness and an irresistible crunch. Don't be shy because we want all that flavor!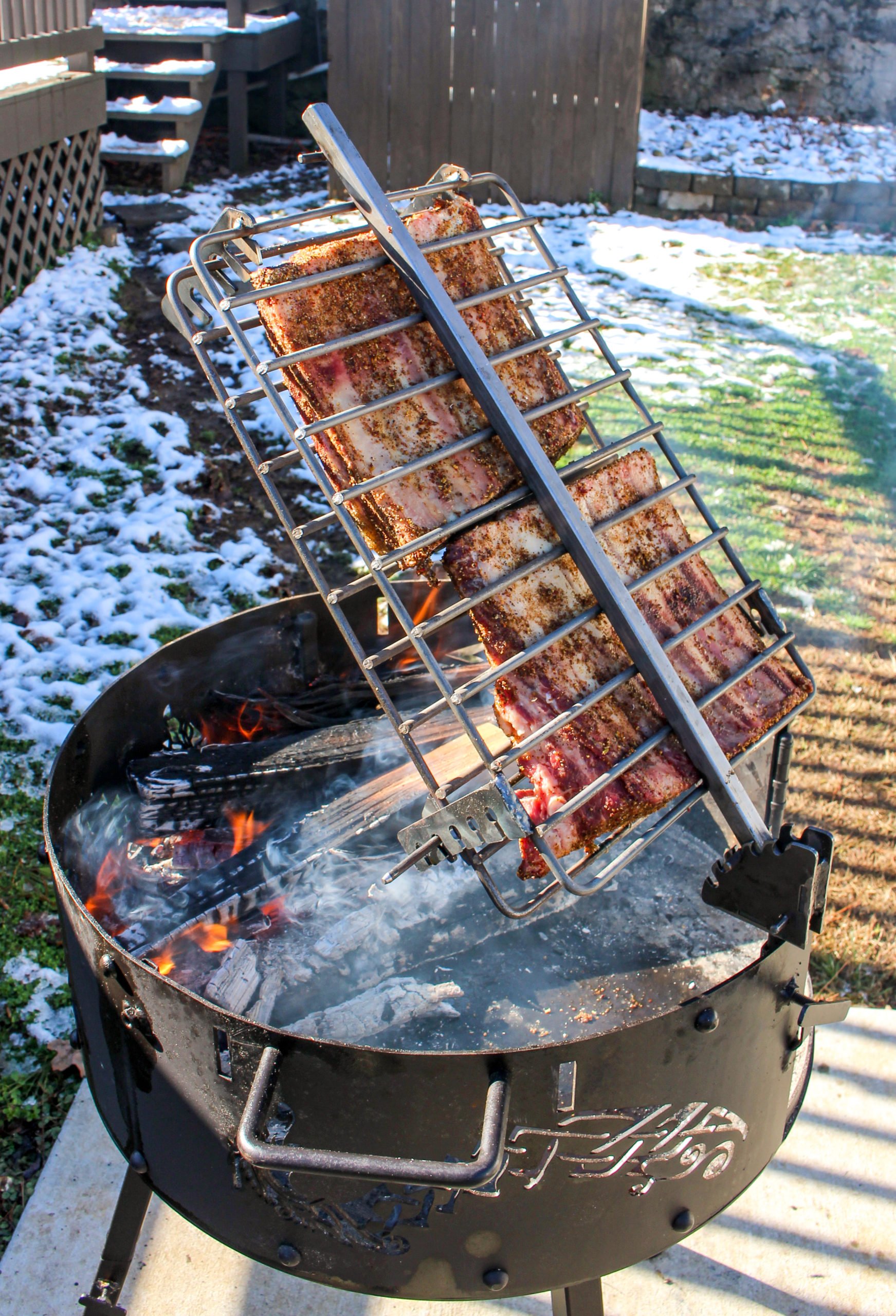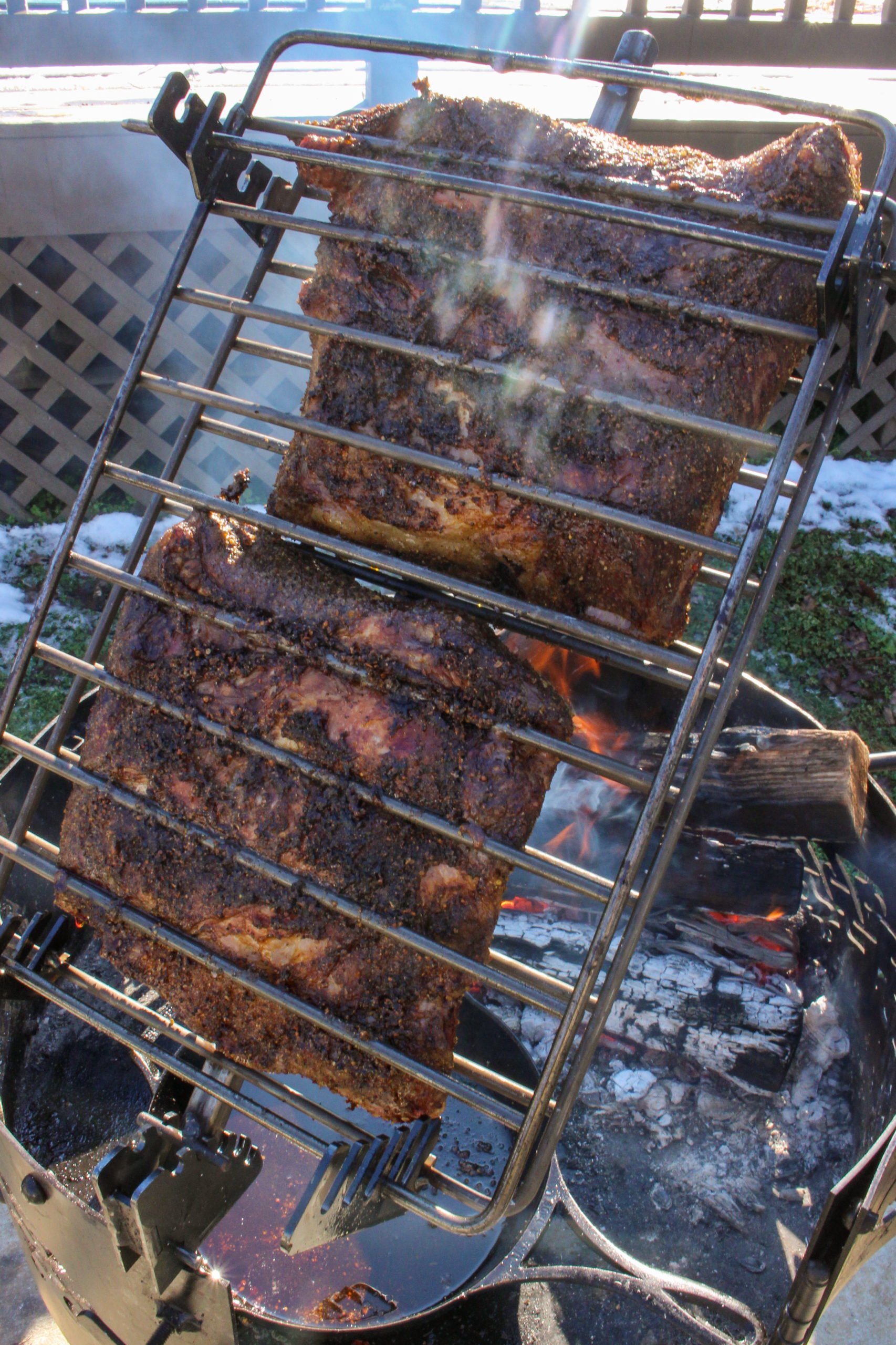 For more beef ribs, check out my Chipotle Black Pepper Smoked Beef Ribs, Tomahawk Beef Short Ribs and Smoked Wagyu Beef Back Ribs.
You can take the flavor up a notch by adding a simple blend of kosher salt, black pepper, and garlic powder. These additional spices aren't necessary for a delicious result but can you ever really go wrong by adding more seasonings? I don't think so!
Grill 'Em Up – Gaucho Beef Rib Style
Next, GRILL! First, place the ribs in a grilling basket and secure them for slow cooking next to the fire. Alternatively, if you don't have a grill cage, you can place them on the grill 6-8 inches from the hot coals for the same result.
Next, heat your grill to around 275-300ºF for a medium-low heat fire, and then add the gaucho beef ribs to the grill with the bone side facing away from the fire. Keep them 6-8 inches away from the fire. We're cooking low and slow for ultimate tenderness. If they're too close to the heat, the outsides will burn before the insides are done cooking! Grill your ribs for an initial 30 minutes until they develop a good crust, and then flip them so the bone side is facing the fire.
Now, we wait. But, let me tell you, it's oh so worth it! Let the ribs cook on the grill for 3.5-4 more hours. Be sure you baste the ribs with beer or beef broth every 30 minutes so that they stay ultra moist.
No dry meat allowed here!


Red Onion & Herb Sauce for Our Gaucho Beef Ribs
While your beef ribs are cooking, you can whip up a batch of red onion & herb sauce. It's a tangy, spicy, slightly sweet sauce, and it complements the savory gaucho beef ribs perfectly.
In a bowl, combine the chopped herbs, red wine vinegar, pickled red onions, pickled jalapeños, garlic, olive oil, and salt. Then, mix it all up and it's ready to go!
Serve Your Gaucho Beef Ribs
When the gaucho beef ribs are done, the meat should be tender enough to be easily pulled away from the bone. I like to also check the internal temperature to make sure it's somewhere between 180ºF and 200ºF.
Pull them off the grill and allow them to rest for 20 minutes. We let the meat rest after it cooks because we want to let flavor and juices redistribute before slicing into it.
Now, we serve! Top the ribs with the prepared red onion and herb sauce and devour!
For more delicious recipes, check out my cookbook Food X Fire!
Needing more spice in your life? My spice line can help with that. Check them out here.
Full Length Recipe Video on YouTube!
Print Recipe
Gaucho Beef Ribs
Gaucho Beef Ribs for you South American inspired dinner!
Ingredients
Seasoning (Optional)
2

tbsp

Kosher Salt

½

tbsp

Black Pepper

½

tbsp

Garlic Powder
Red Onion & Herb Sauce:
⅛

cup

Chopped Parsley

⅛

cup

Chopped Cilantro

2

tbsp

Red Wine Vinegar

1.5

tbsp

Pickled Red Onions

1

tbsp

Pickled Jalapeños

1

tbsp

Minced Garlic

Olive Oil

to taste

Salt

to taste
Instructions
Begin by lathering the beef ribs with oil and seasoning with my Gaucho Steakhouse (or SPG) thoroughly. Next we will place them in the grilling basket and secure them for slow cooking next to the fire. If you do not have a grill cage, then you can easily replicate this by grilling them over the flames about 6-8 inches away from the hot coals. Slow roasting them will be the same on the grill or in a leaning cage.

Preheat your grill for a medium low heat fire (around 275-300F) with the heat being about 6-8 inches away from the meat.

Add the beef ribs to the grill, bone side away the fire, to roast for 30 minutes. Make sure both rib steaks get a chance close to the fire to develop a crust. Once the ribs have developed a good crust for both steaks, flip them over to the bone side facing the fire and continue cooking for 3.5-4 hours until the meat is tender and has pulled away from the ribs (somewhere between 180-200F internal). Every 30 minutes, baste the ribs with beer or beef broth to keep them moist. Once the ribs are done cooking, pull them off and let them rest for 20 minutes.

Add all the ingredients for the Red Onions & Herb Sauce to a bowl and mix together. If you do not have pickled red onions, feel free to thinly slice raw red onions and use instead.

Once the ribs are done resting, pull out of the grilling basket and slice between the bones. Top with the Red Onion and Herb Sauce and enjoy! Cheers!
Nutrition
Calories:
150
kcal
|
Carbohydrates:
3
g
|
Protein:
14
g
|
Fat:
8
g
|
Saturated Fat:
2
g
|
Polyunsaturated Fat:
1
g
|
Monounsaturated Fat:
5
g
|
Trans Fat:
1
g
|
Cholesterol:
45
mg
|
Sodium:
1821
mg
|
Potassium:
245
mg
|
Fiber:
1
g
|
Sugar:
1
g
|
Vitamin A:
124
IU
|
Vitamin C:
2
mg
|
Calcium:
19
mg
|
Iron:
2
mg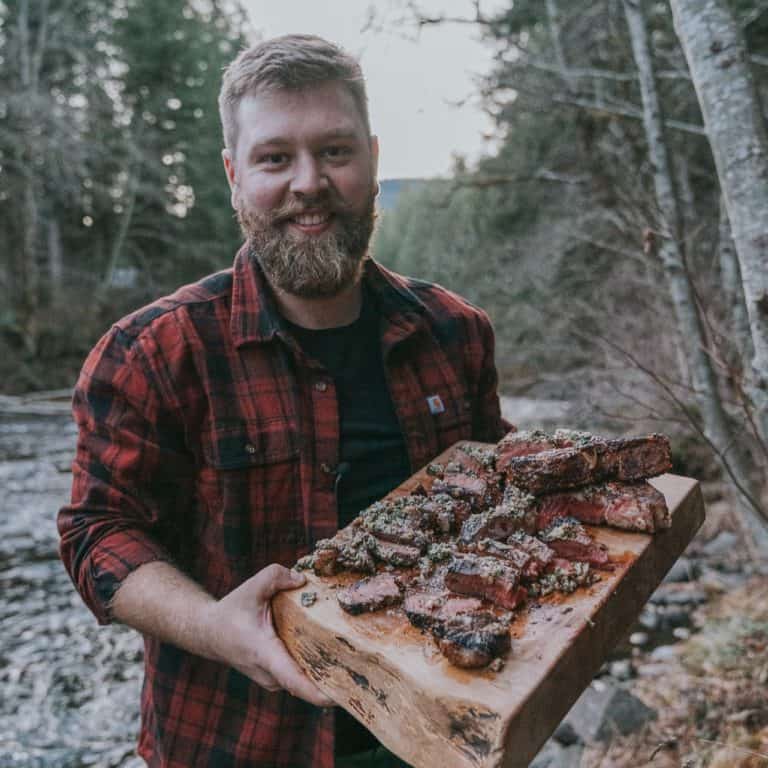 Derek is the driving force behind Over the Fire Cooking. He started cooking with live fire in 2016 and decided to start a social media page so his friends and family could follow the journey. Fast forward to today and Over the Fire Cooking has spread across multiple platforms with millions now following Derek's fire cooking journey. He's a southern fellow who enjoys everything from classic BBQ to Central and South American inspired dishes. Whatever he's cooking up, it's guaranteed to be so freakin' delicious!