I think I can confidently say that short ribs are good in any recipe, whether that's smoked beef short rib with Guinness chili, rotisserie smoked short ribs, or grilled Korean BBQ short ribs! We're back at it again, but this time it's a Tomahawk Beef Short Ribs recipe. They hit the grill along with some some halved bones, for seasoned bone marrow. Put it all together for a delicious, melt in our mouth kind of dinner.
This recipe uses long bone beef short ribs. I coat them in a simple blend of savory seasonings, smoked until fall-off-the-bone tender and topped with a homemade bone marrow herb sauce. They're the ultimate balance of tender, crispy, savory, spicy, earthy, and smoky.
This recipe is a quick and easy one that requires ingredients you probably already have around. Keep reading to find out how you can make Tomahawk Beef Short Ribs!
Looking for more beef short rib recipes? Check out my smoked beef short rib with Guinness chili, my rotisserie smoked short ribs, or my grilled Korean BBQ short ribs!

The Tomahawk Beef Short Ribs
I started with 4-6 long bone beef short ribs. Short ribs are perfect for smoking. They're between the tougher, beefy texture and flavor of chuck roast and the rich, marbled texture of rib steaks. They're a slightly more expensive cut of beef but, trust me, they're worth it!
I sliced about ¾ of the meat off the bone, then rolled it back onto itself and tied it to fasten it into the desired shape. Next, season those short ribs with a simple mixture of dijon mustard, coarse sea salt, black pepper, dried minced garlic and a little oil.
After the meat is sufficiently seasoned, we'll toss them on the smoker. I smoked them at 275ºF until they reach an internal temperature of 205ºF (about 4-5 hours). Smoking short ribs is important because the slow cooking process is what really allows the meat to become melt-in-your-mouth tender. About half way through the cook, I started smoking my bone marrow sauce.

The Bone Marrow Herb Sauce for our Tomahawks Beef Short Ribs
I love this recipe because when I say you're using a whole English short rib, I mean a whole English short rib—bones and all.
To make this bone marrow herb sauce, I soaked 3-4 center cut bones in water and salt overnight to release any impurities and to bleach the bones.
After the bones have soaked, I seasoned them with more salt and then smoked them until bubbling. After that, I scooped them into a bowl containing a mixture of lemon juice, fresh thyme, fresh rosemary, minced garlic, and minced shallots. To thicken it up, I added some panko crumbs and grated parmesan. Placing that mixture back into the scooped out bones, I heated up my grill to 450F.
I placed the bones into a skillet and added it to the grill to create a high heat broiling effect. Once the bones were bubbling and juicy, I pulled them off and let them cool

Serving Tomahawk Beef Short Ribs
These Tomahawk beef short ribs are super flavorful. They're also versatile enough to be paired with any of your favorite sides. You can round out your meal with a pile of mashed potatoes, roasted veggies, pasta salad, you name it!
Let's get cooking!
For more delicious recipes, check out my cookbook Food X Fire!
Needing more spice in your life? My spice line can help with that. Check them out here.
Print Recipe
Tomahawk Beef Short Ribs
Tomahawk Beef Short Ribs for an epic dinner.
Ingredients
Beef:
4-6

Long Bone Beef Short Ribs
Seasoning Paste:
2

tbsp

of Dijon Mustard

1.5

tbsp

of Coarse Sea Salt

1.5

tbsp

of Black Pepper

1

tbsp

of Dried Minced Garlic

2

tsp

of Canola Oil
Bone Marrow Herb Sauce:
4

Center Cut Bones

1.5

tbsp

of Panko Crumbs

1.5

tbsp

of Grated Parmesan Cheese

½

of a medium Lemon

juiced

3

Garlic Cloves

minced

1

tsp

of Coarse Sea Salt

1

tsp

of Fresh Parsley

chopped

1

tsp

of Fresh Thyme

chopped

1

tsp

of Fresh Rosemary

chopped

1

tsp

of Red Chili Flakes
Instructions
At least 24-48 hours before cooking, add 1 gallon of water and ¼ cup of salt to a bowl. Mix that together until the salt dissolves. Add your bone marrow to the mixture, cover and place in the fridge. Let sit in the fridge for at least 12 hours, but ideally 24-48 hours. Make sure to change out the water and remix the salt every 12 hours. Once done, pull out your bones and lay out on a tray. Season with salt and place in the fridge until ready to use.

The next day, pull out your long bone short ribs. If still attached as a whole section, slice between the bones to create single bones. Starting at the top, slice the meat from the bone so that ¾ of the meat is off the bone. Do not fully slice off the bone! Take that loose meat and roll it back into itself to create a "tomahawk" shape. Using some trussing string, tie the meat roll to the bone until secure. Next, slice off any excess meat left on the bone until fully cleaned. Once done, repeat this for the rest of your short ribs until all are done. In a bowl, mix together the seasoning paste and lather the ribs all over. Add more oil if the paste is too thick.

Preheat the smoker to 275F for indirect smoking. Add some wood chips or wood chunks for added smoke flavor.

Add your tomahawk short ribs to the smoker to cook for 4-5 hours until they are 205F internal. About 30 minutes before they are done cooking, add your bone marrow to the smoker to cook. Once the bone marrow and short ribs are done, pull them off. Let the short ribs rest for 20 minutes in a room temperature cooler.

Take your bone marrow and scrap all the marrow into a bowl. Add the rest of the ingredients for the herb bone marrow sauce and mix together. Take the mixture and scoop it back into the scraped out bones. Place the bones into a skillet and set aside. Heat up your grill to 450F for direct grilling. Add the skillet to the grill and let bake for 3-4 minutes with the lid on. Once the bone marrow has caramelized and is bubbling, pull it off and let cool.

Take out your short ribs and take off the trussing string. Shred your short ribs and serve with the bone marrow on the side. Add to the top of some toasted bread or enjoy as is! Cheers.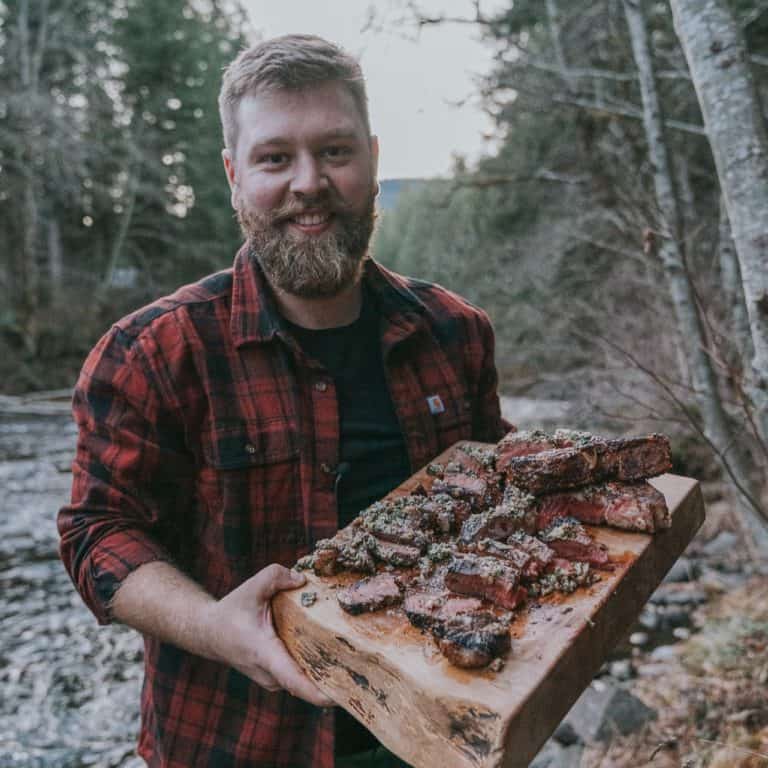 Derek is the driving force behind Over the Fire Cooking. He started cooking with live fire in 2016 and decided to start a social media page so his friends and family could follow the journey. Fast forward to today and Over the Fire Cooking has spread across multiple platforms with millions now following Derek's fire cooking journey. He's a southern fellow who enjoys everything from classic BBQ to Central and South American inspired dishes. Whatever he's cooking up, it's guaranteed to be so freakin' delicious!