Grilled French dip sandwiches are a staple piece for sandwich lovers and the inspirations for today's recipe. We are making a grilled variation of this classic with ribeyes and pairing it with some garlic parmesan fries!
The key is making the au jus in the skillet where the steaks were cooked. This means some steak bits and extra juices will melt into your dip, so you get all that extra flavor. This Grilled french dip recipe is straightforward,savory and one you won't want to miss!
Why You'll Love This Grilled French Dip Sandwich
Amazing French dip sandwiches are undeniably one of the best meat-based sandwiches, and the grilled version will not disappoint.
Grilled ribeyes sizzled over medium high heatand basted with herbs and beef tallow until perfect. Then they're thinly sliced and topped with melted cheese and homemade au jus to get your taste buds tingling.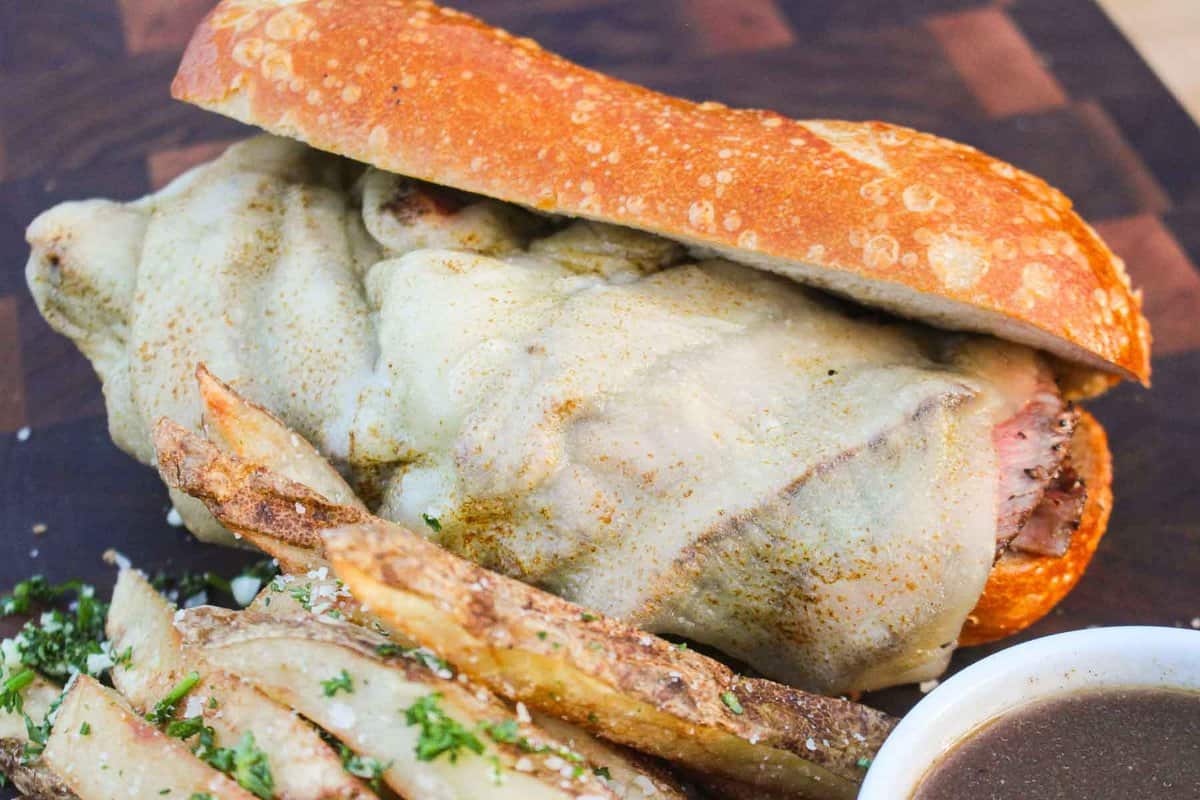 I like to serve them with some garlic parmesan fries because we need elevated fries for the elevated sandwich!
I consider them one of the best easy dinners for busy weeknights or they're even great for summer parties. They'll impress your friends and family with ease.
Grilled French Dip Ingredients
For these beef dip sandwiches, you'll cook ribeyes seasoned with kosher salt, black pepper, garlic powder, garlic cloves, rosemary sprigs, and beef tallow. You'll then serve it up on hoagie rolls or sub rolls (your personal preference) with Swiss cheese slices.
Don't forget this sandwich comes with some warm Au Jus for dipping, it's arguably just as important as the sandwich itself. My recipe combines beef stock, sherry wine, Worcestershire, thyme, garlic powder, onion powder, cayenne powder, and salt.
I love to serve them with a side of garlic parmesan fries made out of russet potatoes, grated parmesan cheese, minced garlic, chopped parsley, beef tallow, and salt.
The whole recipe only requires 30 minutes of prep and serves 4! Without further ado, let's make this Grilled French Dip sandwich recipe.
For other steak sandwich ideas, check out my Steak and Cheese Sliders, BBQ Steak Sandwich and Chimichurri Steak Sandwich.
How to Make This Grilled French Dip
Garlic Parmesan Fries
First, slice your potatoes into fries and place them in a bowl of ice water. The ice bath will help pull some of the starch out of the raw potatoes, furthermore resulting in a crispy on the outside but soft on the inside french fry.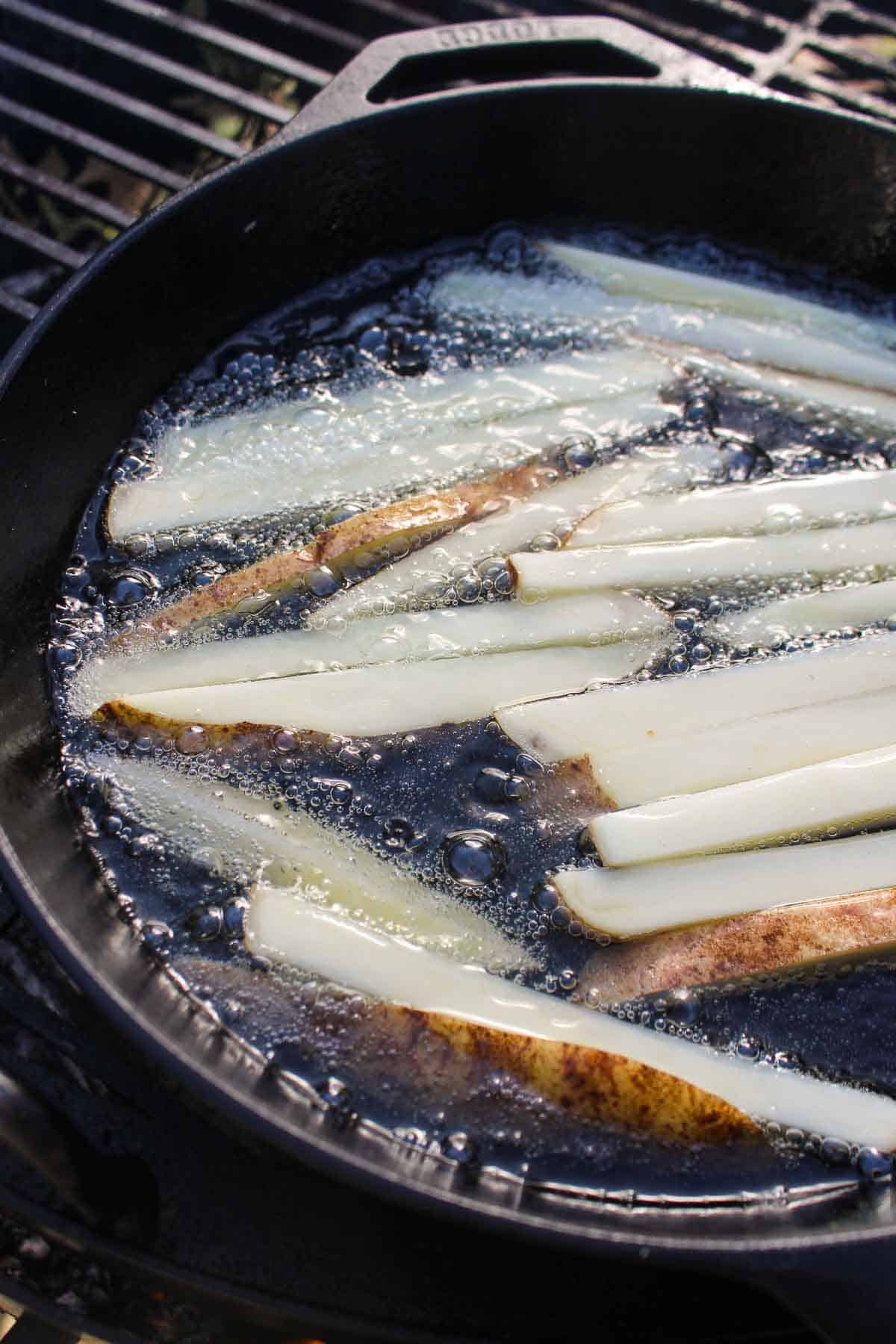 Next, season your steaks with salt, pepper and garlic thoroughly, and then set them in the fridge to rest.
Preheat your grill to medium-high heat (around 400F) for direct cooking.
We'll cook the french fries first. Start by heating up a large skillet with beef tallow, checking with a probe thermometer until the fat reaches medium heat, about 350 F. Rest the fries on a paper towel to dry them off, then add them to the skillet.
Quick rant: Don't skip out on drying the fries. Water and frying oil don't mix, and will cause the oil to pop. Popping oil is not something we want when cooking over an open flame… So, my friends… Dry off the fries.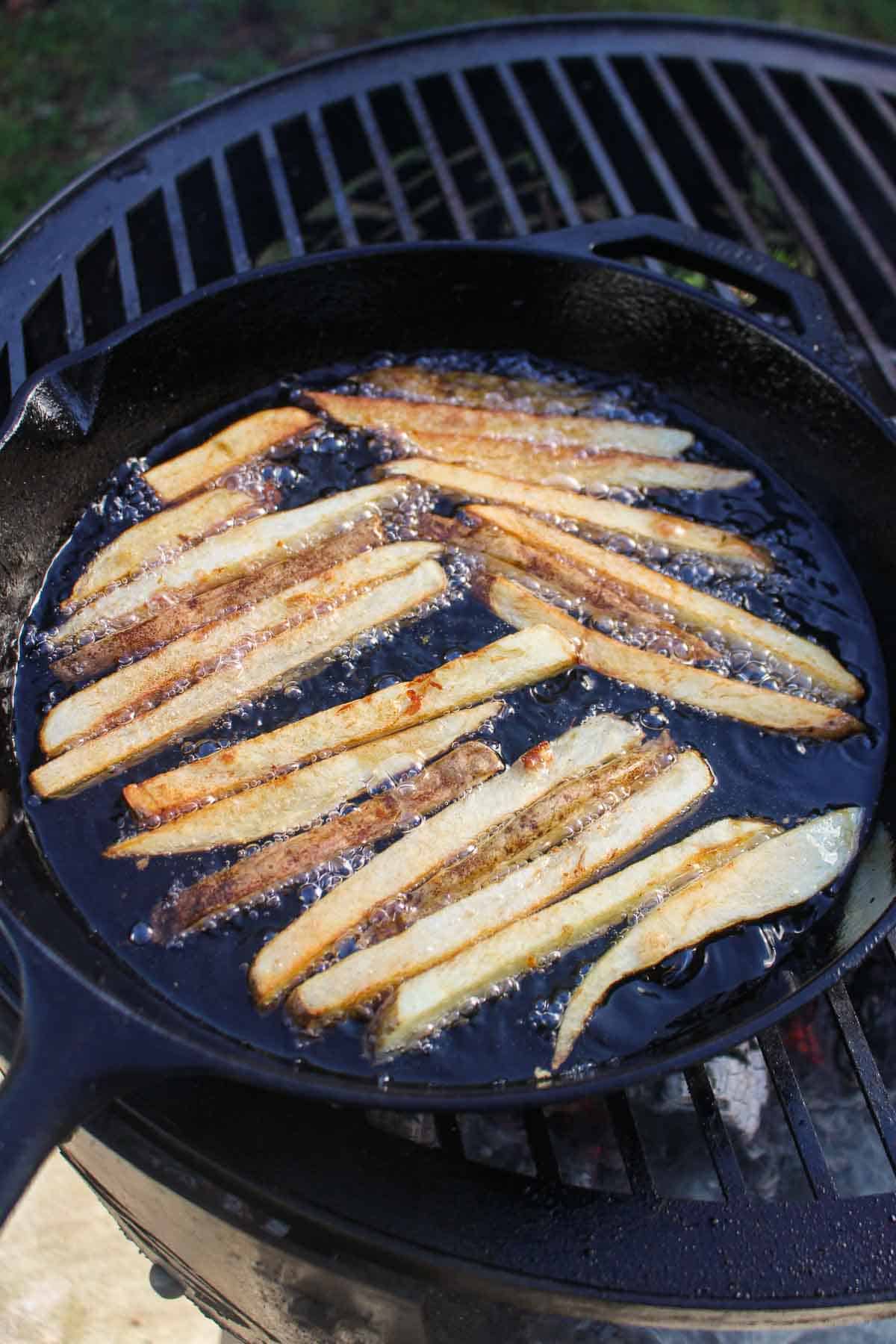 Okay, back to the cooking process. Cook for about 10 minutes per side on the fries or until they are golden brown and soft in the middle. Do the fries in 2-3 batches so that they do not overcrowd the skillet.
Once the fries are done, place them on a plate with a paper towel to catch the excess oil. Add all the fries to a medium bowl along with the parmesan, garlic, salt and chopped parsley. Toss until they're coated and then keep them warm until serving.
Steak and Au Jus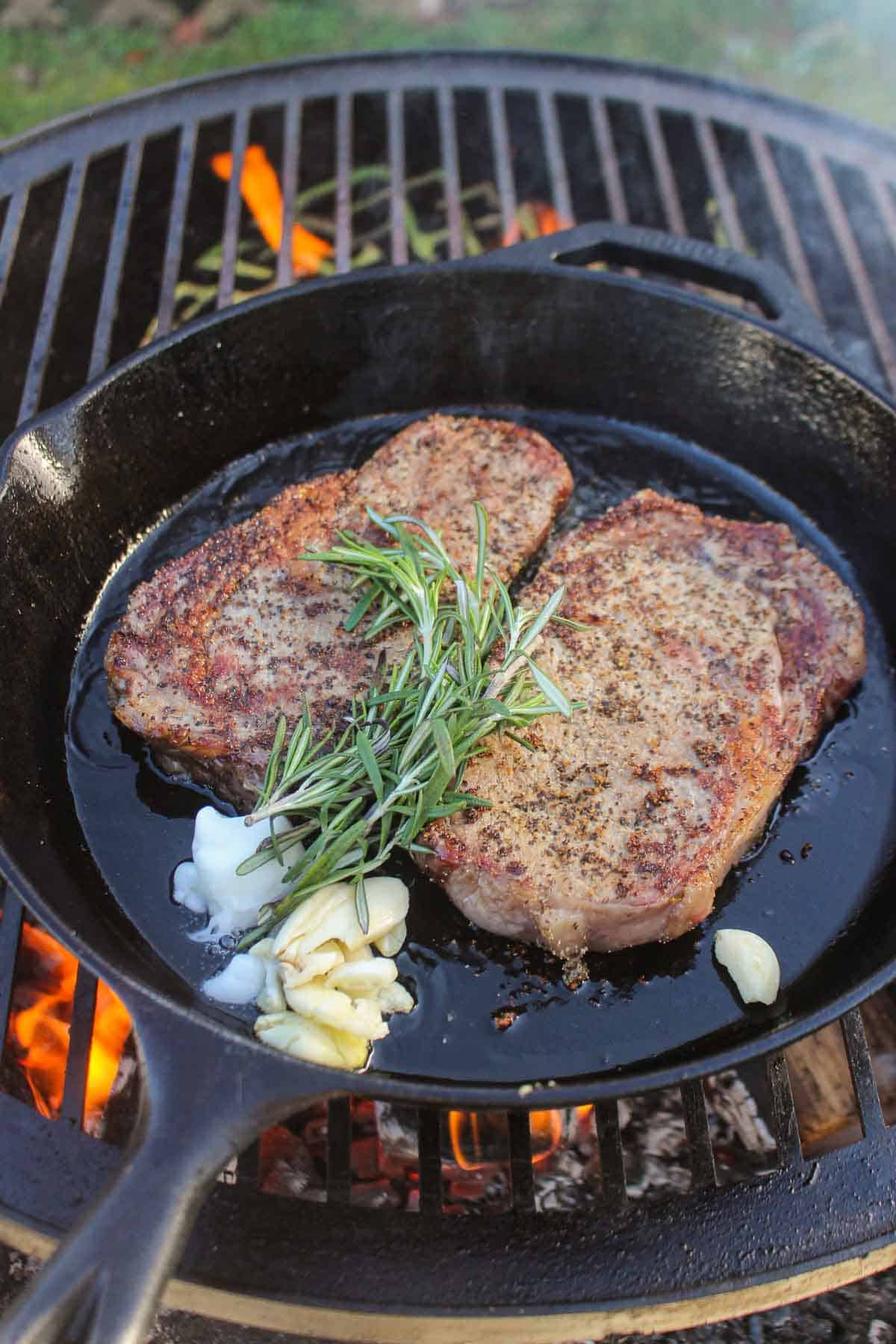 Time to cook this Grilled French Dip. Drain the excess fat from your skillet then place it back over the flames. Add your steaks to sear for 1 minute per side to develop a crust. Then toss in the rosemary sprigs, crush garlic and beef tallow to simmer for 30 seconds.
Push your steaks to one side of the skillet and place the herbs and garlic on top of the steaks. Tilt the skillet so that the oil pools on the bottom end. Then, begin basting the steaks with the fat continually for 2 minutes. Then flip the steaks and repeat.
Continue this process until your steaks' internal temperature has reached 120F. Once the steaks are done, pull them off with the herbs still on top of them and drizzle the remaining fat all over top. Let rest until ready to slice.
For more beef recipes, check out my Steak in Beef Tallow, Pan Seared Steak with Crispy Potatoes and Steak and Cheesy Pasta.
Time for the Au Jus! Add the skillet back to the fire and deglaze with the sherry wine. Then add the rest of your Au Jus ingredients (beef broth, Worcestershire sauce, etc.) to the skillet to simmer for 8-10 minutes. Once done, pour your hot au jus through a fine strainer and keep warm.
Grilled French Dip Assembly and Serving
To assemble this delicious sandwich, slice your bread in half and spoon some au jus to the inside of the bread. Slice your steak on a cutting board and place those thin slices of steak onto one side of the sliced bread.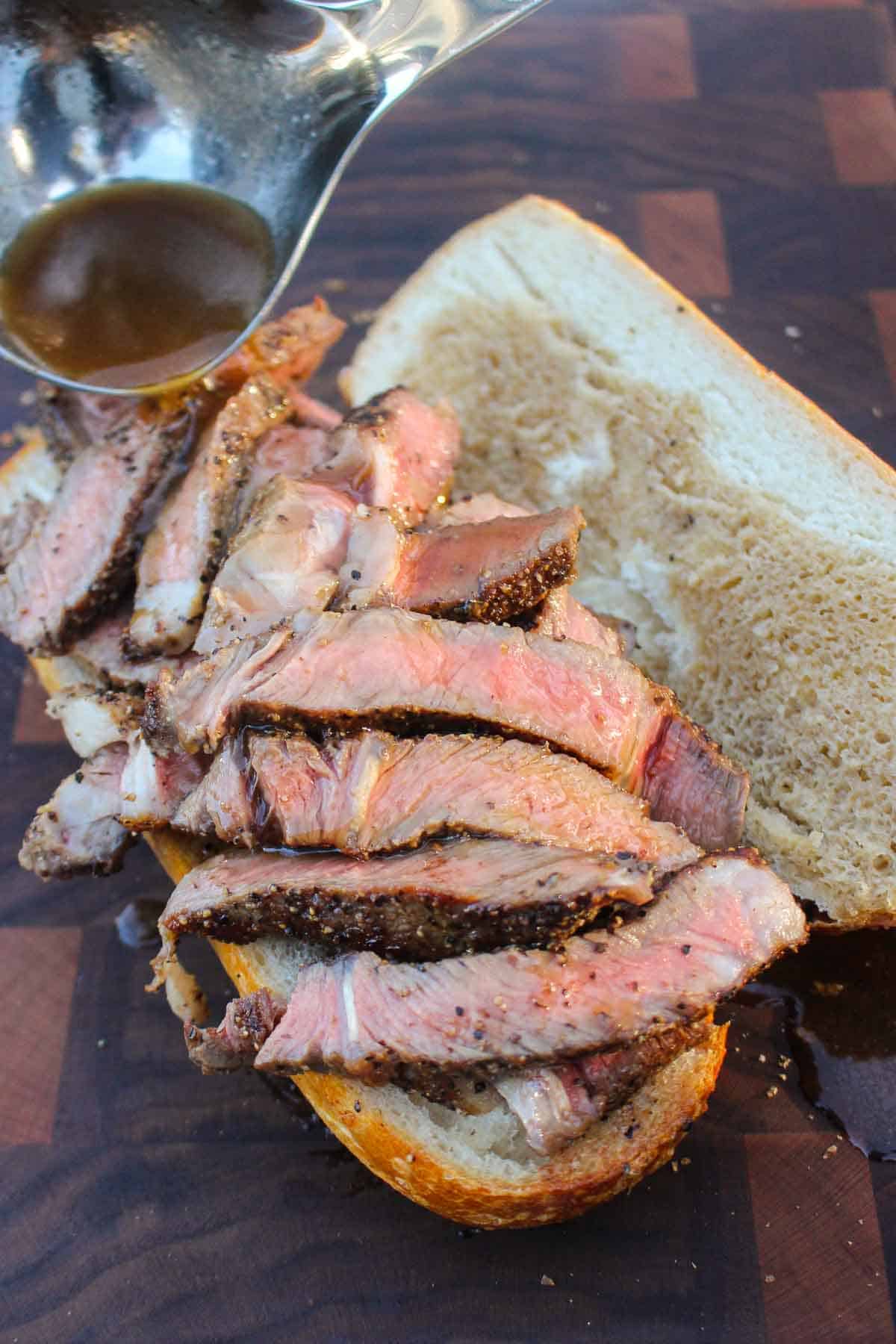 Top the thin slices of beef with more au jus sauce and melty cheese. Serve your hot sandwich with the fries and a side of au jus in a separate bowl. It will be a little taste of sandwich shop deliciousness.
Enjoy!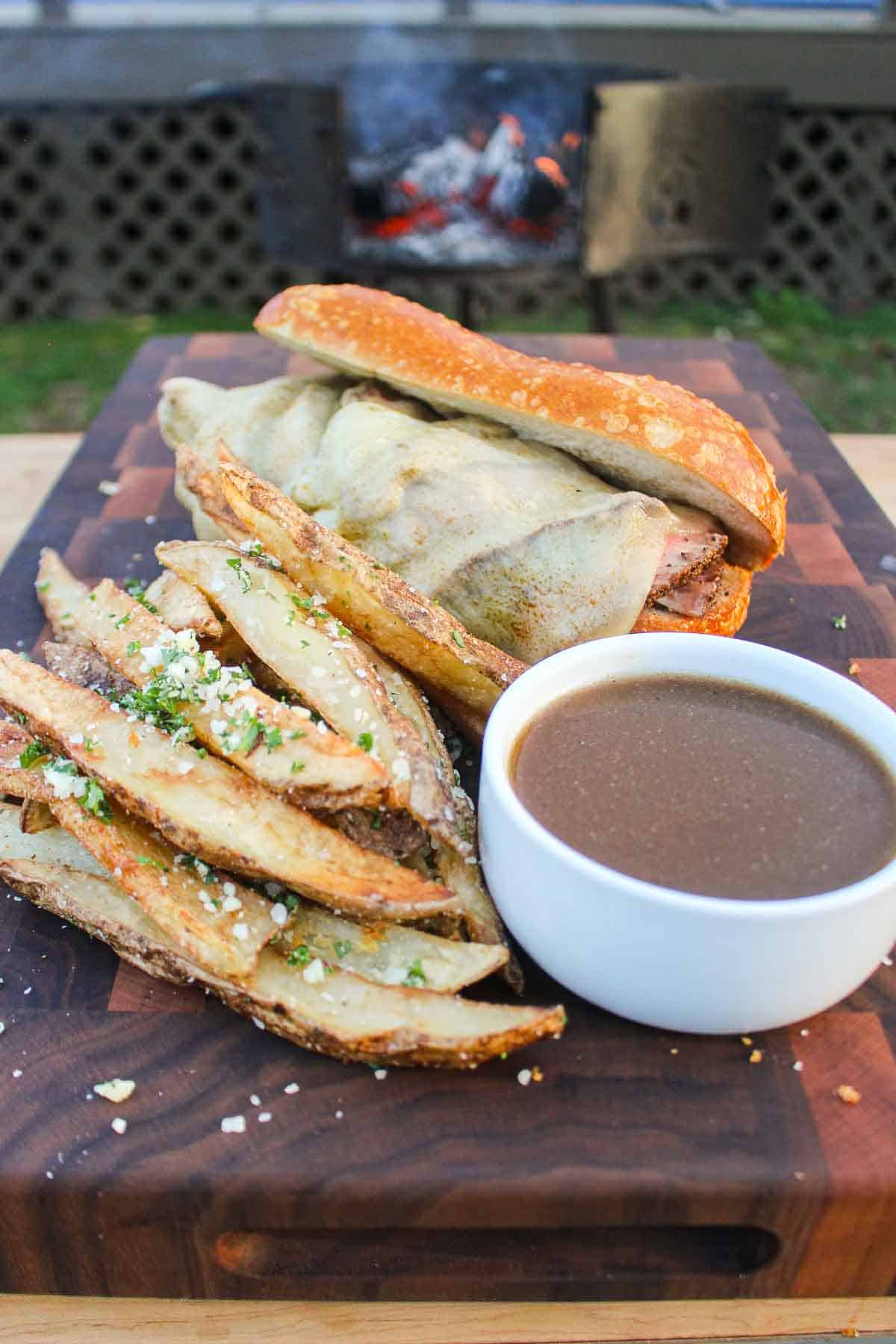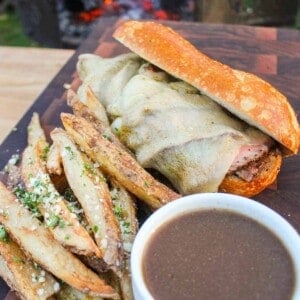 Grilled French Dip
Grilled French Dip is a delicious steak sandwich served with an au jus that's to die for!
Ingredients
Steak:
2-3

Whole Ribeyes

1

tbsp

Kosher Salt

1

tbsp

Black Pepper

1

tbsp

Garlic Powder

3-4

Garlic Cloves

smashed

2-3

Rosemary Sprigs

Beef Tallow
Au Jus:
2

cups

Beef Stock

¼

cup

Sherry Wine

1.5

tbsp

Worcestershire

1

tsp

Dried Thyme

1

tsp

Garlic Powder

1

tsp

Onion Powder

¼

tsp

Cayenne Powder

Salt

to taste
Sandwich:
2-3

Hoagie or Sub Rolls

7-8

Swiss Cheese Slices
Garlic Parmesan Fries
2-3

Russet Potatoes

cut into fries

⅛

cup

Grated Parmesan

1.5

tbsp

Minced Garlic

1.5

tbsp

Chopped Parsley

Beef Tallow

for frying

Salt

to taste
Nutrition
Calories:
583
kcal
|
Carbohydrates:
44
g
|
Protein:
40
g
|
Fat:
28
g
|
Saturated Fat:
13
g
|
Polyunsaturated Fat:
1
g
|
Monounsaturated Fat:
10
g
|
Cholesterol:
99
mg
|
Sodium:
2390
mg
|
Potassium:
1145
mg
|
Fiber:
3
g
|
Sugar:
4
g
|
Vitamin A:
495
IU
|
Vitamin C:
11
mg
|
Calcium:
364
mg
|
Iron:
10
mg