Grilled Steak with Peanut Butter Sauce begs me to ask the question: would you try a peanut butter sauce on your steak? I obviously would, and it was so freakin' delicious. I used a soy sauce based marinade on a tri-tip to kick things off. Then, I made the peanut butter sauce. That's right, we didn't use just any ole peanut butter, but instead added a few additional ingredients to spice things up. Let's talk about the details below.
But First, Marinade
I know we all only want to hear about the Peanut Butter Sauce, but first things first… the marinade. It's easy to make, simply mix all the ingredients together in a medium sized bowl. Next, we'll prepare the steak. I decided to grill up some tri-tip for the grilled steak portion of this recipe. I scored the fat cap on the tri-tip, placed it in a large plastic bag and then poured the marinade in that same bag. Then, press as much air out of the bag as possible before completely sealing it shut. I mixed the marinade throughout the bag to make sure the tri-tip was evenly coated. Set the marinating steak in the fridge and leave it there for at least four hours.
I haven't grilled tri-tip in a while, but it's a great cut for spicy seasonings and marinating. This is mostly because it's a larger cut of meat. You can get a nice spicy crust on the outside of the steak, but when the steak is sliced it's still thick enough to handle the bold flavors. Due to the inherent sweetness of peanut butter, I was looking for a way to balance that sweetness with salty and savory flavors. That's where the marinade comes in, and why I chose a cut of meat that could handle such bold flavors.
Want more tri-tip recipes? Check out this Grilled Santa Maria Tri-Tip recipe! Or this Garlic Parmesan Rotisserie Tri-Tip recipe!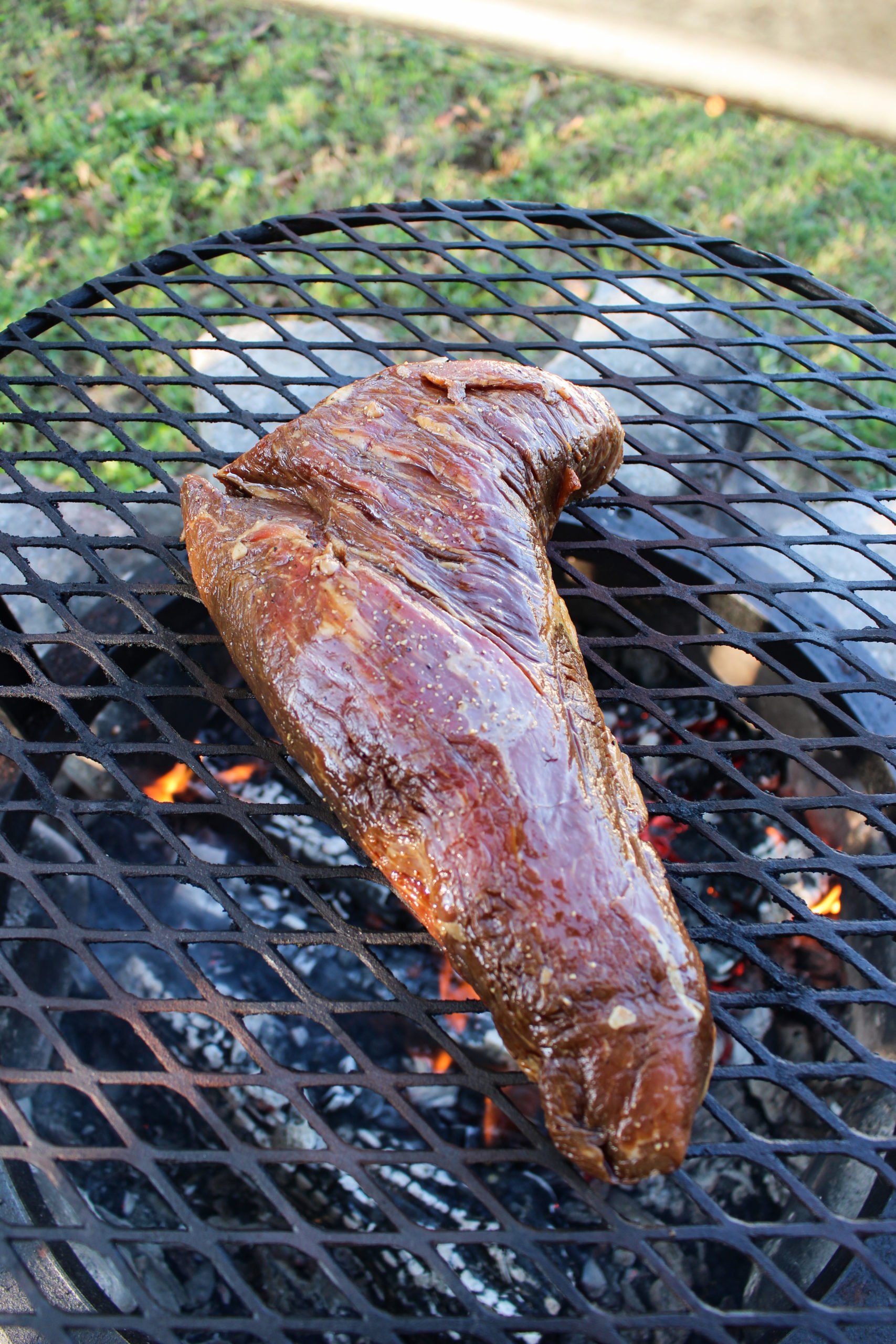 Peanut Butter Sauce Time
I alluded to this earlier, but I call this a Peanut Butter Sauce because it is more than just straight peanut butter. To tie in with my soy sauce based marinade, I added in some savory ingredients. This also provides a depth of flavor and helps thin the peanut butter a bit, making it more of a sauce and less like a butter.
While the tri-tip is marinating, we'll throw the sauce together. Here comes another easy to prepare sauce. You're welcome. Simply take all the ingredients and mix them together in a bowl. Then cover and set it to the side. I will note that I actually didn't refrigerate this Peanut Butter Sauce. I wanted it to remain at room temperature so that it would be easy to use as a drizzle (what I ended up doing) or a dip (another good option).
Grilling, Chilling, and Serving Up Peanut Butter Sauce on a Grilled Steak
Start the fire before the tri-tip finishes marinating. I started mine about with about 30 minutes left in the marinating process. This gave the wood time to coal up and preheat my grill grate before I started cooking. When the fire was ready, I placed the tri-tip on the grill and cooked it until it reached an internal temperature of 130F. Flip the steak as needed throughout this process. I also added some green onions on the grill to roast a bit. We'll use this for plating later.
Next, we'll pull the grilled steak from the fire and let it rest. Now, we can get to slicing! Remember, slicing tri-tip is a bit tricky because of the change in grain direction. You will start by making a slice at about the tip of the triangle (where the muscle fibers change direction). Then, turn each piece of steak and make your slices against the grain. From here, I plated the sliced steak and used a spoon to drizzle the Peanut Butter Sauce across the individual slices of grilled steak. Time to serve it up! Best enjoyed with friends and family. Cheers!
For more delicious recipes, check out my cookbook Food X Fire!
Needing more spice in your life? My spice line can help with that. Check them out here.
Grilled Steak with Peanut Butter Sauce
Grilled Steak with Peanut Butter Sauce for a sweet and savory dinner dish!
Ingredients
Steak:
1

Tri-Tip Steak

fat cap on
Marinade:
½

cup

of Soy Sauce

2

medium Limes

juiced

1

tbsp

of Black Garlic Sauce

1

tsp

of Kosher Salt

1

tsp

of Black Pepper
Peanut Butter Sauce:
⅓

cup

of Creamy Peanut Butter

2

tbsp

of Soy Sauce

1

tbsp

of Garlic Chili Paste

1

tbsp

of Rice Wine Vinegar

1.5

tsp

of Ginger Paste

1.5

tsp

of Fish Sauce

Water

to desired thickness
Garnishes:
3-4

sprigs of Green Onions

charred

Lime Wedges
Instructions
In a bowl, add all the ingredients for the marinade and mix together thoroughly. Add the marinade to a larger food safe bowl or into a food safe bag. Take your tri-tip and score the fat cap in a cross hatch pattern about ⅛" apart. Add the tri-tip to the marinade and place in the fridge for at least 4 hours, but ideally 8 hours.

Preheat a medium heat fire (about 350F) for direct grilling. Bonus: use a Santa Maria style grill in order to raise and lower the grill grate to help maintain an even cooking temperature.

Pull your tri-tip out of the fridge to come to room temperature for about 20 minutes. Pull the steak out of the bag and discard the excess marinade. Add the steak to the grill with the fat cap side down. Render the fat cap for about 7-8 minutes before flipping over. Cook the tri-tip for about 25-30 minutes flipping every 7-8 minutes until it reaches 130F for medium-rare. When you are about 7-8 minutes before being done, add your green onions to the grill to char for about 3-4 minutes per side. Once the steak and green onions are done, pull it off and let it cook for at least 10 minutes.

As the steak rests, mix together all the ingredients for the Peanut Butter Sauce. Add water as needed for your desired consistency. I added about 2.5 tbsp of water for my sauce.

Once the steak is done resting, slice the tri-tip against the grain. Serve sliced with the charred scallions, limes and a drizzle of the Peanut Butter Sauce. Enjoy!