If you're craving a mouthwateringly delicious steak recipe, the Santa Maria Tri-Tip never disappoints. The drizzle of artichoke sauce over the top is my favorite, if not the best way, to enjoy this delicious steak. The creamy sauce gives the classic triangle steak extra flavor and sophistication that your guest are going to love.
Why You'll Love Santa Maria Tri Tip
This Santa Maria tri tip roast also comes with a backstory tied to 1800s Central California. In fact, this recipe embraces many influences from the central coast of California. It was in the 1920s when Italian immigrants settled in the region and started cultivating artichokes.
Santa Maria-style barbecue began with California rancheros grilling their meats over an open flame, typically over red oak wood. Salt, pepper, and garlic powder (sound familiar?) enhanced the smoky red oak flavor of the meat without overpowering it.
Beyond the no-nonsense cooking technique, Santa Maria style barbecue stood for a social tradition. It meant bringing friends and family together to enjoy the unique flavors from the smoky wood.
I have to say, the Santa Maria style BBQ philosophy shares a lot in common with my own. Cheers to the Golden State!

How the Santa Maria-Style Tri-Tip Came to Be
According to the lore, the tri-tip cut of beef didn't appear in Santa Maria's traditions until the 1950s. That's when Bob Schutz, owner of the local market, saw the potential of this overlooked cut with an overnight marinade.
Schutz spread the word to customers that the tri tip steak could be so much more than ground beef or stew meat. Then, more fellow butcher shop owners caught on to the trend throughout the valley. This is how the more affordable and in-demand cut also became known as the "California Cut."
The rest, as they say, is history for this triangle roast. So, as you stand around your open flame making the Santa Maria style tri-tip, you too can join in the experience.
For more Tri Tip recipes, check out Chimichurri Marinated Tri-Tip with Grilled Fries, Grilled Tri-Tip with Charred Corn Salsa, and Smoked Tri Tip.
Santa Maria Tri Tip Recipe Ingredients
STEAK
The Cut of Beef – Depending on how big your crowd is, pick up at least two Tri-Tip Steaks from your local butcher counter.
Garnish – Nothing beats the look, flavor, and nutrition of chopped parsley over a tender cut of beef.
MARINADE INGREDIENTS
Aromatics – Aromatics like onion and garlic infuse fragrance and flavor into the meat.
Flavor & Acidity – Spicy mustard, red wine vinegar, and lemon add a deep, tangy flavor to the marinade.
Seasonings & Spices – Freshly chopped sage and rosemary are complemented by ground cumin, red chili flakes, black pepper, and sea salt. Alternatively, you can use your favorite seasoning blend.
Fat – Canola oil in the mix allows the flavors to penetrate and adhere to the surface of the tri-tip.
SPRITZ
Beer – For this key ingredient to keep the meat moist while cooking, grab some of your favorite ale.
Hot Sauce – Grab one of my new FYR hot sauces to add some flavorful heat to the spritz.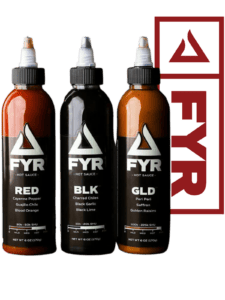 Get stoked for life
This sauce is FYR!
Born from a deep passion for food and flavor. Whether you're grilling in the backyard or live fire cooking around the world, we have what you need to transform every meal into an adventure.
ARTICHOKE CREAM SAUCE
Main Ingredient – In this case, grocery store grilled artichoke hearts are just as good (and easier) if not better than homemade.
Herbs & Aromatics – For the freshest sauce, fresh parsley and fresh garlic are recommended instead of dried.
Acidity & Brightness – White wine vinegar, lemon juice, and buttermilk help thin out the sauce while adding the right amount of tangy and zesty flavor.
Emulsion Fat – Olive oil emulsified in the blender with vinegar and lemon juice creates a more cohesive, stable mixture.
Creamy Blend – Sour cream and mayonnaise are a beautiful duo of creamy tastes and textures.
It's a sizeable list of ingredients, but they all come together quickly and easily once you get the ball rolling on this tri-tip roast recipe.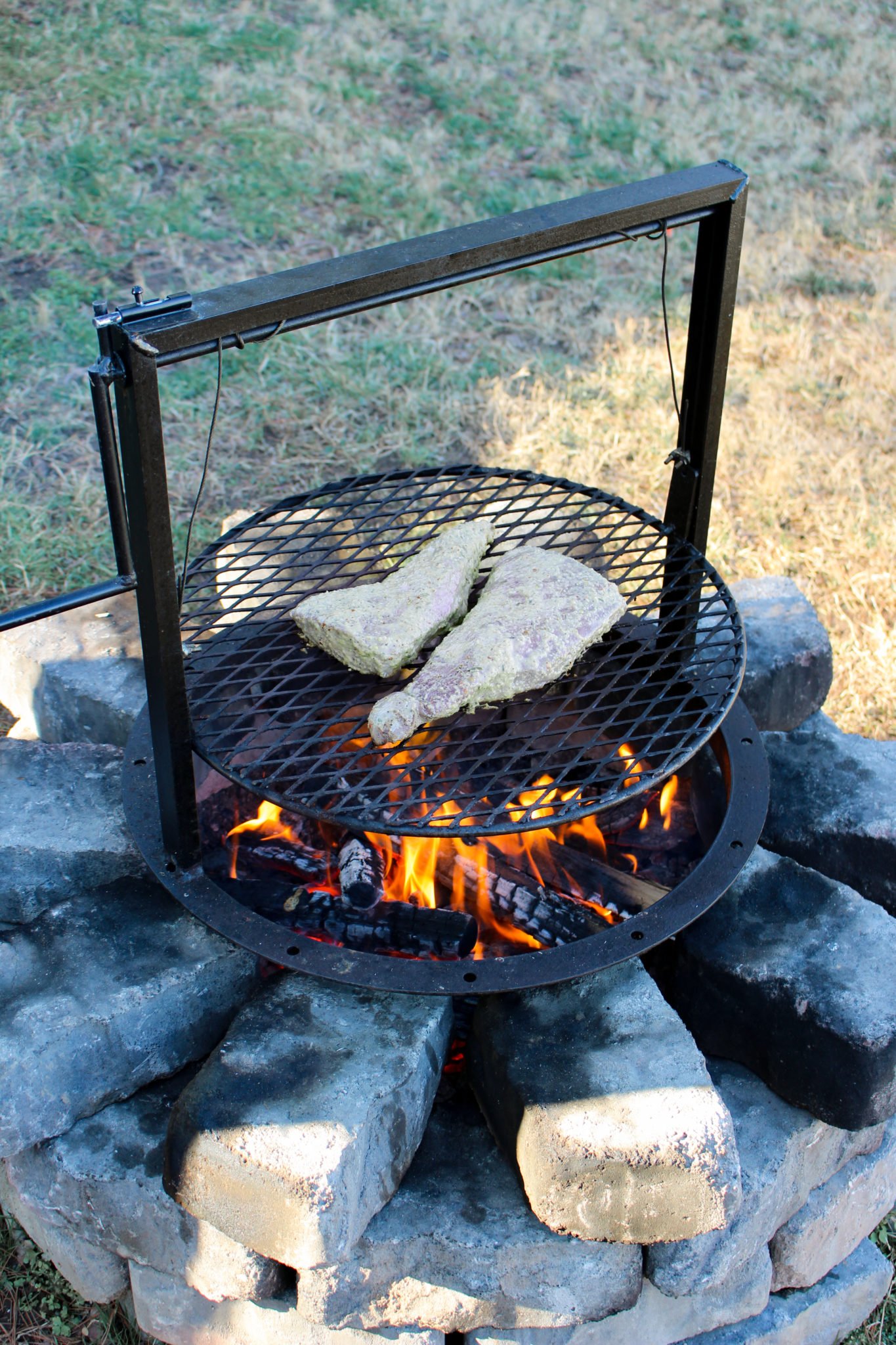 How to Make santa maria tri tip
Once the meat is tenderized in the tangy and savory marinade, it comes together in about an hour over the fire. Let me show you all the easy steps to making the best West Coast inspired steak recipe.

Easy Marinade
For the best results, make sure to start marinating the tri-tips the night before. This allows the flavors to infuse and break down the muscle fibers in the meat.

Creamy Artichoke Sauce
Don't miss out on this dreamy artichoke cream sauce with these Grilled Santa Maria Tri-Tips! While the steaks are resting at room temperature, let's get to it.
First, blend the artichokes with the garlic, parsley, white wine vinegar, olive oil, and lemon juice in a blender until smooth. Poor the mixture into a small bowl. Next, add the sour cream, mayo, and buttermilk, stirring by hand.

Santa Maria tri-tip Grilling
Prep your open fire. For extra flavor and true Santa Maria style, add some red oak chips over the wood. Once you've achieved high heat, cook the steaks on a grill grate directly over the flames. Sear both sides for about 2-3 minutes to develop a nice crust.
Cool the grill to keep cooking the steaks over a medium-high heat. This should take about an hour. While the meat cooks, spritz the steaks with the beer and hot sauce, until an internal temperature of 125 degrees F is reached. To check for your preferred level of doneness, use an instant-read thermometer or an old-fashioned meat thermometer.
how to slice a tri-tip steak
When slicing this cut of meat on your cutting board, it is beyond essential to cut your slices against the grain. On a tri-tip steak, the sinewy muscle fiber grain changes directions, so pay close attention while cutting each slice. I usually make a long cut starting at the meat's tip where the grain changes direction and then rotate each half accordingly to slice against the grain.
LET The FeastING BEGIN
After letting the meat rest, it's finally time to indulge! Make sure to use a sharp knife and follow my slicing technique above, ensuring each piece is a tender bite.
Drizzle the tantalizing Artichoke Cream Sauce over the grilled tri-tips, and get ready to feel weak in the knees.
more grilled steak recipes
What to serve with santa maria Tri-Tip?
Traditional accompaniments to Santa Maria steak include salsa, grilled vegetables, pinquito beans, and garlic bread. Choose fresh sides like a green salad to complement the smoky and savory flavors of the main tri-tip dish.
Leftovers & Reheating
The best way to handle leftovers is to make the most delicious tri-tip sandwiches the next day. You can drizzle more artichoke sauce onto steak that was wrapped in plastic wrap or aluminum foil and left in an airtight container.
To reheat any leftovers in the oven, place them in an aluminum foil tent with a little liquid on the bottom, such as beer, in a 350-degree F oven for about 15 minutes until heated through.
Why wasn't tri-tip popular before the 1950s?
In the past, butchers hesitated to allocate display space for a cut they could only offer in limited quantities (usually 1-2 per side). As a result, they opted to grind the tri-tip for hamburgers or cut it into small cubes, selling it as stew meat to customers. Little did they know the culinary gem they were passing up until Santa Maria's Bob Schutz took them to school!
Can I use a dry rub instead of a marinade for Santa Maria Tri-Tip?
For the most tender meat, I would not skip out on the marinade, but a dry spice rub on the outside of the meat can add a flavorful crust to the meat during grilling.
How long should I let the Santa Maria Tri-Tip
rest after cooking?
Allowing the meat to rest is crucial for juiciness. Typically, letting it rest for about 10-15 minutes before slicing (against the grain!) is recommended.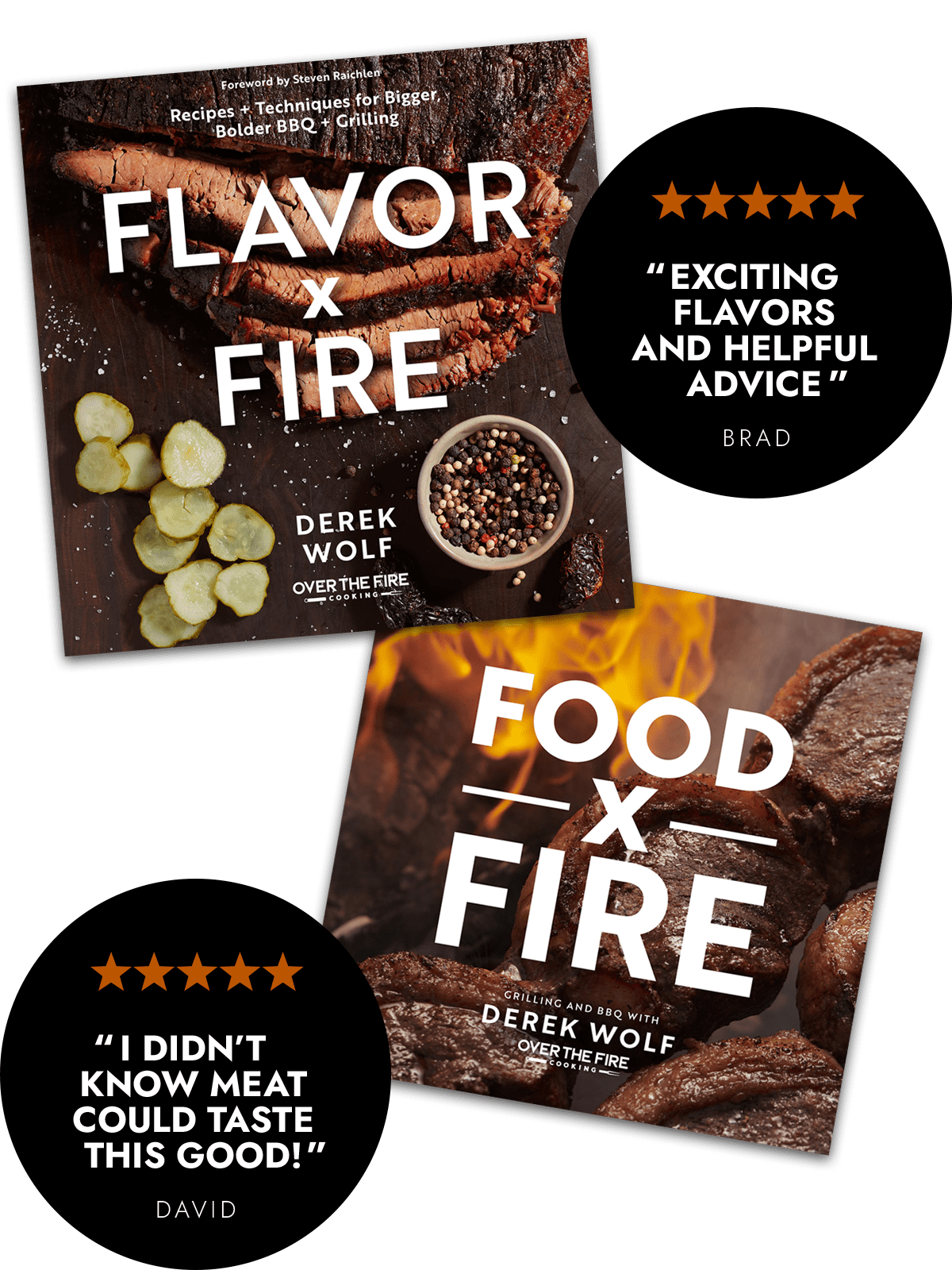 Get The Cookbooks!
Flavor X Fire & FOOD X Fire
All the major tastes—salty, sour, sweet, bitter, and umami—are explored in depth, along with an investigation of other components you should consider when it comes to flavor, such as aroma, heat, and texture.
Needing more spice in your life? My spice line can help with that. Check them out here.
Santa Maria Tri-Tip
I love this Santa Maria Tri-Tip for any occasion, and created this incredible Artichoke Cream Sauce to top it all off!
Ingredients
Steak:
2

Tri-Tip Steaks

Chopped Parsley

for garnish
Marinade:
2

tbsp

of Sage Leaves

2

tbsp

of Rosemary Leaves

½

of a White Onion

2

tbsp

of Spicy Mustard

1.5

tbsp

of Red Wine Vinegar

6

Garlic Cloves

2

tsp

of Ground Cumin

1

tsp

of Red Chili Flakes

1

tsp

of Black Pepper

1

tsp

of Sea Salt

1

Lemon

juiced

1

tbsp

of Canola Oil
Spritz:
12

oz

of Beer

2

tsp

of Hot Sauce
Artichoke Cream Sauce:
¼

cup

of Grilled Artichoke Hearts

¼

cup

of Parsley

2.5

tbsp

of Sour Cream

2

tbsp

of Mayonnaise

1.5

tbsp

of Buttermilk

6

Garlic Cloves

1.5

tbsp

of White Wine Vinegar

1

Lemon

juiced

1

tbsp

of Olive Oil
Instructions
Into a blender, add the marinade ingredients and blend until completely smooth. Add your tri-tip steaks to a food-safe bowl or resealable bag along with the marinade. Mix thoroughly and set in the fridge for at least 4 hours but ideally overnight.

The next day, preheat a direct grilling fire (ideally over a Santa Maria-style grill) to a high heat (around 400 degrees F).

Pull out your steaks and discard excess marinade. Add steaks to the hot grill. Using your tongs, sear the steaks for about 2 minutes per side to develop a good crust.

Once a crust is developed, roll up your grill grate from the fire or create a "cooler" portion of the grill to begin slowly cooking the steaks at a lower temperature (around 325 degrees F). Cook for about an hour, or until the steaks reach an internal temperature of 125 degrees F for medium rare.

As the steaks cook, add your beer and hot sauce to a spray bottle. Once the steaks are cooking on the cool part of the grill, begin to spritz them every 5 minutes and then flip over. This will help create a deeper flavor and crust.

Once the steaks are done, pull them off and let them rest for 10-15 minutes.

While the steaks rest, add the artichoke hearts, garlic cloves, white wine vinegar, lemon juice, olive oil, and parsley to a blender and blend till smooth. Add the blended mixture to a bowl along with the sour cream, mayonnaise and buttermilk. Mix until smooth.

Once rested, slice into your steaks and top off with the artichoke cream sauce. Garnish with chopped parsley and enjoy!
Notes
How to Slice a Tri-Tip Steak (Against the Grain!)
When slicing this cut of meat on your cutting board, it is beyond essential to cut your slices against the grain. On a tri-tip steak, the sinewy muscle fiber grain changes directions, so pay close attention while cutting each slice. I usually make a long cut starting at the meat's tip where the grain changes direction and then rotate each half accordingly to slice against the grain.
Nutrition
Serving:
6
oz
|
Calories:
245
kcal
|
Carbohydrates:
11
g
|
Protein:
14
g
|
Fat:
15
g
|
Saturated Fat:
4
g
|
Polyunsaturated Fat:
3
g
|
Monounsaturated Fat:
7
g
|
Trans Fat:
0.02
g
|
Cholesterol:
43
mg
|
Sodium:
637
mg
|
Potassium:
357
mg
|
Fiber:
3
g
|
Sugar:
2
g
|
Vitamin A:
435
IU
|
Vitamin C:
27
mg
|
Calcium:
84
mg
|
Iron:
2
mg