What's better than one tri-tip? How about two tri-tips?! Honestly, I should've cooked three tri-tips, because then we would've had tri tri-tips… Get it? Okay, enough messing around because this recipe is seriously delicious! I love this Grilled Santa Maria Tri-Tip and created this incredible Artichoke Cream Sauce to top it all off! Let me explain how it all went down.
Santa Maria – The Home of the Tri-Tip
It wasn't until the 1950s that the tri-tip began to increase in popularity. A butcher local to Santa Maria, California, started offering the cut in his shop. At the time, very few individuals were custom to this cut of meat, but the butcher introduced it to the area and even explained the best way to cook it. Over time the popularity of the Santa Maria Tri-Tip grew into what it is today.
You can probably guess why it's called a tri-tip. The triangular shape of the meat is responsible for it's naming and makes it an easy cut to distinguish (it's not picanha). Another interesting characteristic about the tri-tip is the change in grain structure around the middle of the chunk of meat.
When slicing this cut of meat, it's extremely important to first start at the tip of the triangle and cut once down the middle of the meat. This is where the grain direction changes. Then you'll rotate each half of the cut to ensure you're cutting against the grain. Remember, this is what allows each bite of meat to be so tender. You don't want to work so hard cooking the steak only to lose it's tenderness by incorrect slicing. If you'd like a visual aid of how I sliced this Santa Maria Tri-Tip, you can watch it on my Facebook page.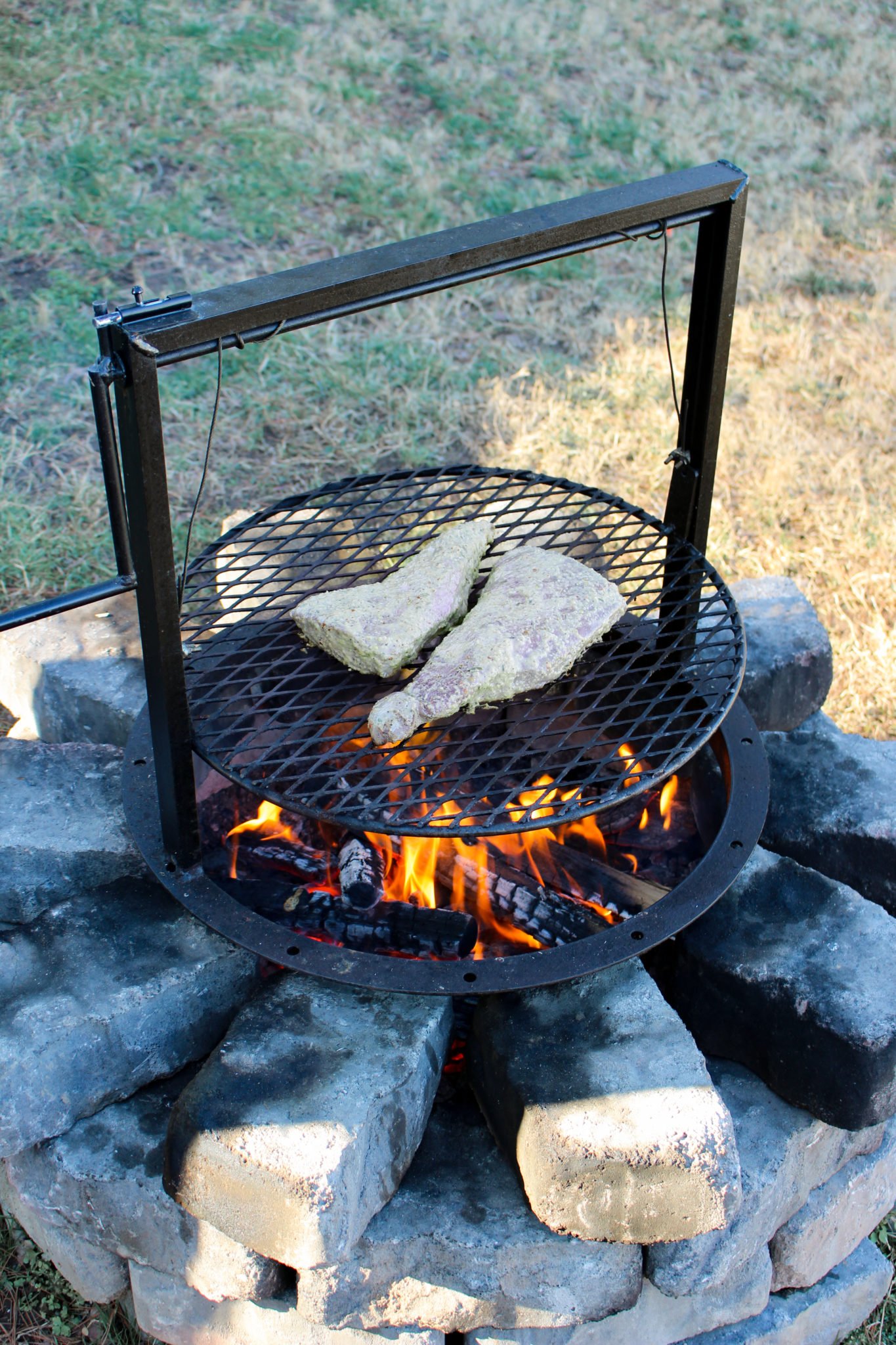 Marinade and Artichoke Cream Sauce
I started this Grilled Santa Maria Tri-Tip recipe the night before with the marinade. Place the tri-tips in a zip lock bag along with the marinade. Make sure the marinade is thoroughly covering the steak and leave in the fridge to rest overnight. The following day, prep your fire and place the steaks on a grill grate directly over the coals. Slowly cook over the heat until it is done to your liking.
You do not want to miss out on this artichoke cream sauce with these Grilled Santa Maria Tri-Tips! While the steaks are resting, let's get to work on it. The first (and main) ingredient are the artichoke hearts. Frankly, artichoke hearts can be a pain in the rear to harvest. If you've ever cooked with them before you already know this, but I love their flavoring so I cook with them anyway.
Since they are only a single ingredient within my sauce, I grabbed some pre-prepared artichoke hearts at the grocery store. They actually had some in the produce section that were already grilled! I tossed the artichoke hearts in the blender along with the garlic, parsley, white wine vinegar, olive oil and lemon juice. Then, I blended them all together until smooth. Next, add the blended ingredients to the sour cream, mayo and buttermilk. I stirred this by hand until it was all evenly mixed.
Let's Eat this Grilled Santa Maria Tri-Tip
Time to slice up that steak! Don't forget about our slicing discussion above and slice with care. I cut up both tri-tips so that I could top them with the artichoke cream sauce! I used a spoon to drizzle a bit over each piece of steak. You'll want a bit of that sauce in each bite. Best enjoyed with friends and family! Cheers!
Grilled Santa Maria Tri-Tip
I love this Grilled Santa Maria Tri-Tip for any occasion, and created this incredible Artichoke Cream Sauce to top it all off!
Ingredients
Steak:
2

Tri-Tip Steaks

Chopped Parsley

for garnish
Marinade:
2

tbsp

of Sage Leaves

2

tbsp

of Rosemary Leaves

½

of a White Onion

2

tbsp

of Spicy Mustard

1.5

tbsp

of Red Wine Vinegar

6

Garlic Cloves

2

tsp

of Ground Cumin

1

tsp

of Red Chili Flakes

1

tsp

of Black Pepper

1

tsp

of Sea Salt

1

Lemon

juiced

1

tbsp

of Canola Oil
Spritz:
12

oz

of Beer

2

tsp

of Hot Sauce
Artichoke Cream Sauce:
¼

cup

of Grilled Artichoke Hearts

¼

cup

of Parsley

2.5

tbsp

of Sour Cream

2

tbsp

of Mayonnaise

1.5

tbsp

of Buttermilk

6

Garlic Cloves

1.5

tbsp

of White Wine Vinegar

1

Lemon

juiced

1

tbsp

of Olive Oil
Instructions
In a blender, add the ingredient for the marinade. Blend until completely smooth. Add your tri-tip to a food safe bowl or bag along with the marinade. Mix together thoroughly and set in the fridge for at least 4 hours but ideally overnight.

The next day, preheat a direct grilling fire (ideally over a santa maria style grill) to high heat (around 400F).

Pull out your steaks and discard excess marinade. Add steaks to the hot grill to cook for about 2 minutes per side in order to develop a good crust. Once a crust is developed, roll up your grill grate from the fire or create a "cooler" portion of the grill to begin slowly cooking the steaks at a medium temperature (around 325F). Cook for about 30-45 minutes until the steaks are 125F internal for medium rare.

As the steaks cook, add your beer and hot sauce to a spray bottle. Once the steaks are cooking on the cool part of the grill, begin to spritz them every 5 minutes and then flip over. This will help create a deeper flavor and crust.

Once the steaks are done, pull them off and let them rest for 10-15 minutes. While resting, add the artichoke hearts, garlic cloves, white wine vinegar, lemon juice, olive oil and parsley to a blender and blend till smooth. Add the blended mixture to a bowl along with the sour cream, mayonnaise and buttermilk. Mix until smooth.

Once rested, slice into your steaks and top off with the artichoke cream sauce. Garnish with chopped parsley and enjoy!