What's on the menu for your Valentine's Day dinner? Why decide between beef or seafood when you can so easily have them both! Surf and turf gives you the best of both worlds, alas my Grilled Steaks and Creamy Chipotle Shrimp recipe was born cooked over hot Cowboy Charcoal! I paired these beautiful NY Strips with some shrimps for the perfect meal that's sure to be a winner for your Valentine's Day celebration!
Creamy Chipotle Shrimp
We'll kick this Grilled Steaks and Creamy Chipotle Shrimp recipe off my cooking up the shrimp. I love cooking shrimp because they're an awesome vehicle for flavor! Don't get me wrong, I enjoy shrimp on their own but I more often have fun getting creative with their seasonings. I knew the cream sauce was going to be the star of the shrimp side of this recipe, but I needed the shrimp to be cooked before adding them to the cream sauce. For that reason I cooked the shrimp with a bit of oil and butter. I also added in some of my Chipotle Garlic seasoning mostly because I just couldn't help myself.
I place the shrimp in a large bowl and set them aside after they have cooked. We'll come back to them later. Now, using the same skillet we cooked the shrimp in, add some white wine. Bring that wine to a simmer and use it to gather some of the butter, oil and seasoning that was left behind from the shrimp. Now, throw all the other cream sauce ingredients except for the parmesan cheese and chipotle purée into the skillet. Mix them together and then move the skillet to the side of the grill. We'll let this sauce simmer and reduce while we begin the work on our grilled steaks to finish out the Grilled Steaks and Creamy Chipotle Shrimp.
The One that Caught my Eye
It's true, when I saw these NY Strips at the store I knew I couldn't leave without them for this Grilled Steaks and Creamy Chipotle Shrimp recipe. They were so bright and had such amazing marbling that I edited this recipe to include these beauts. Then I realized Valentine's Day is right around the corner and thought this was the perfect opportunity to create a recipe that'll be a pleaser for beef and seafood lovers alike. Paired with some high quality Cowboy Charcoal, and things just work out like that!
The wonderful thing about NY Strip steaks is that they're one of the more tender cuts of meat, and the fat within the cut brings some pretty robust flavoring. For this recipe I only seasoned the steaks with salt before placing them over the fire. After the first flip on the steaks, I started brushing them with some melted butter and minced garlic. This is a simple trick that keeps the steak juicy and another way to add simple but delicious flavoring to the steaks. Cook the steaks to your preference then let them rest. Now, back to the creamy chipotle shrimp.
You're the Shrimp to my Grilled Steaks
Now that our cream sauce has reduced a bit, add in the parmesan cheese and chipotle purée. I keep stirring to let the cheese melt. If you like a thicker sauce feel free to add more parmesan cheese. Then, add the cooked shrimp back into the skillet and mix with the creamy chipotle sauce until the shrimp are covered.
Dinner for Two
Slice up those steaks against the grain and place them on one side of the plate. Cowboy Charcoal is a great addition for making that perfect Valentine's Day Dinner. Serve this plate with these Grilled Steaks and Creamy Chipotle Shrimp for the wing. I garnish with parsley at the end! Cheers!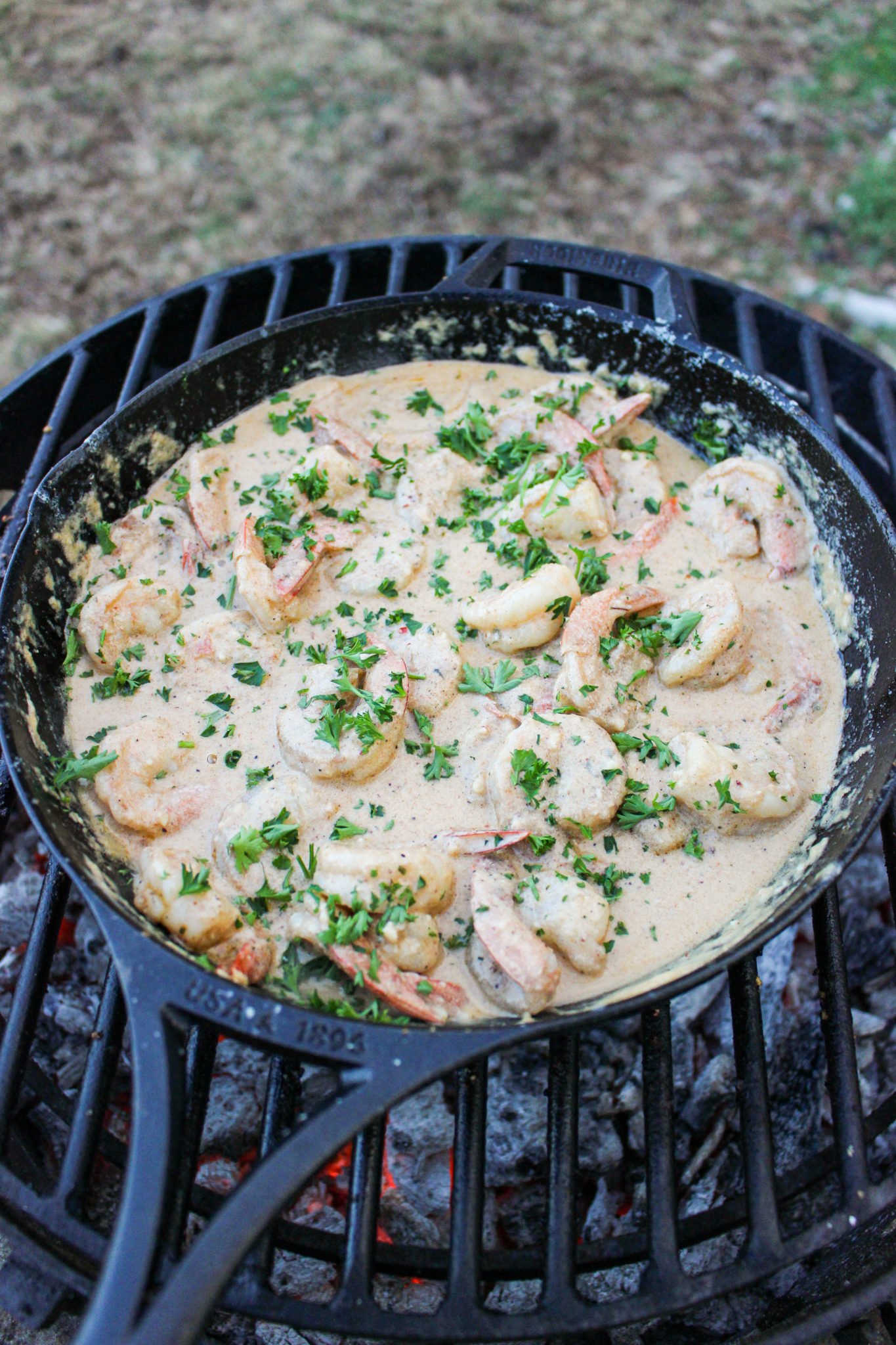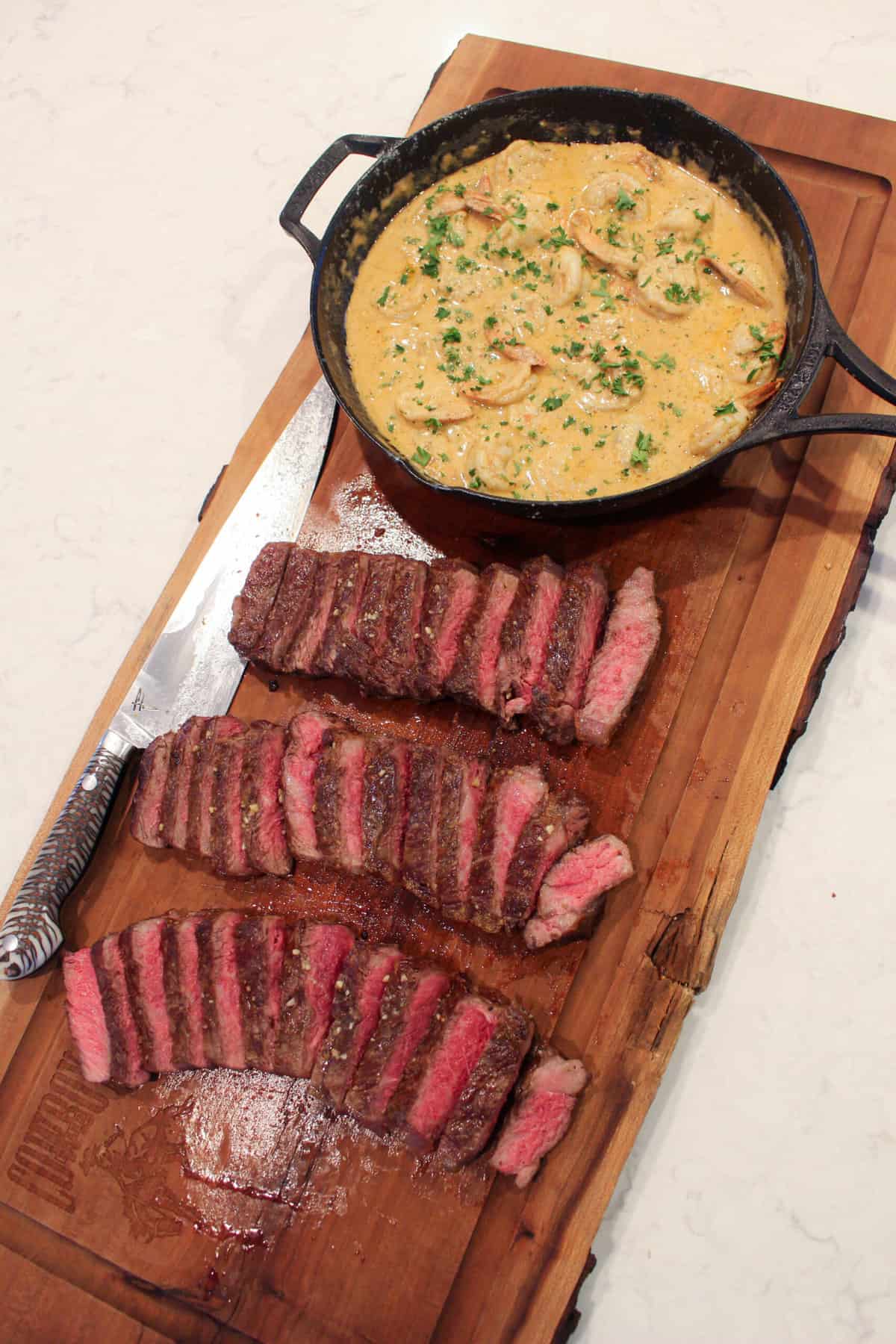 For more delicious (and exclusive) recipes, check out my cookbook Food X Fire!
Needing more spice in your life? My spice line can help with that. Check them out here.
Full Length Recipe Video on YouTube!
Grilled Steaks with Creamy Chipotle Shrimp
Surf and turf gives you the best of both worlds, so try my Grilled Steaks and Creamy Chipotle Shrimp recipe cooked over hot Cowboy Charcoal!
Equipment
Charcoal from Cowboy Charcoal

Grill from Kankay Amara
Ingredients
Steaks:
3

NY Strips

1.5

tbsp

of Sea Salt
Garlic Butter:
2

tbsp

of Butter

8

Garlic Cloves

minced
Shrimp:
1

lbs

of Shrimp

peeled and deveined

1

tbsp

Chipotle Garlic Seasoning

or similar

¼

cup

of Grated Parmesan Cheese

¼

cup

of Heavy Cream

2

tbsp

of White Wine

1

tbsp

of Chipotle Puree

1

tbsp

of Butter

½

of a Lemon

juiced

4

Garlic Cloves

minced

1

tbsp

of Parsley

chopped
Instructions
Preheat your grill using Cowboy Charcoal for medium high temperature direct grilling (around 375F).

Season your steaks with sea salt, then place in the fridge for 10 minutes to rest.

Once the coals are ready, preheat a skillet over the fire for your shrimp. Add a drizzle of oil and butter to your skillet to melt, then add the shrimp and season with my Chipotle Garlic or similar. Cook the shrimp for 3-4 minutes until they are done and a nice "C" shape. Once done, pull off and set shrimp aside.

Deglaze your skillet with white wine and let simmer for 30 seconds. Adding 1 tbsp of butter, let that melt then brown your minced garlic (about 1 minute). Stir in your heavy cream and lemon juice to the skillet, then let it simmer over a medium-low heat for 20 minutes until it thickens. Make sure to stir frequently! As it thickens, start on your steaks.

Pull your steaks out and bring to room temperature. Add them over the hot flame and begin cooking. Preheat a basting skillet and add the ingredients for the garlic butter to melt. Cook your steaks for about 4 minutes per side or until 120F internal for medium rare.

As the steaks are getting close to being done, begin basting in the garlic butter then flipping the steaks over to develop a great crust. Once the steaks are done, pull off and let rest for 5-7 minutes.

Once the steaks are off, the cream sauce should have thickened. Add in your parmesan cheese and chipotle puree. Mix thoroughly, then add the shrimp back along with the chopped parsley. Fully mix and pull off the heat.

Slice into your steaks and serve with the shrimp. Enjoy!
Nutrition
Calories:
1253
kcal
|
Carbohydrates:
11
g
|
Protein:
121
g
|
Fat:
81
g
|
Saturated Fat:
41
g
|
Polyunsaturated Fat:
4
g
|
Monounsaturated Fat:
32
g
|
Trans Fat:
1
g
|
Cholesterol:
666
mg
|
Sodium:
6139
mg
|
Potassium:
1678
mg
|
Fiber:
2
g
|
Sugar:
2
g
|
Vitamin A:
1656
IU
|
Vitamin C:
23
mg
|
Calcium:
388
mg
|
Iron:
8
mg