Grilled Venison Chops topped with a blueberry chipotle sauce is what's for dinner tonight! We're back at that venison game with this recipe and it tastes even better than it looks. Bold coffee flavors for our venison chops with a bit of a cinnamon and chipotle twist in the seasoning. Pair that with a spoonful of blueberry chipotle spice on top and you've got a home run hitter. If you weren't hungry before, you are now!
Grilled Venison Chops
I recently cooked a Venison Rack with Wild Herb Butter recipe that was so delicious it left me craving more venison. Hopefully you feel the same because we're back at it, but this time it's Grilled Venison Chops. It's a relatively easy recipe, so with that let's dive in!
I started this recipe by lathering each venison chop in oil. Then sprinkle the venison seasoning all over that chop. This seasoning mix up contains coffee (for obvious reasons), but also cinnamon and chipotle powder. If you haven't tried a coffee crust on red meat, you need to. I've cooked a couple coffee recipes and I'm always surprised by how much I enjoy them. I threw the cinnamon into the mix to provide a bit of sweetness and balance some of the bitterness from the coffee. Why the chipotle powder? Mostly because I just love chipotle! The hint of spice it brings is nice too. 
Fore more coffee flavorings, check out my Imperial Coffee Stout seasoning!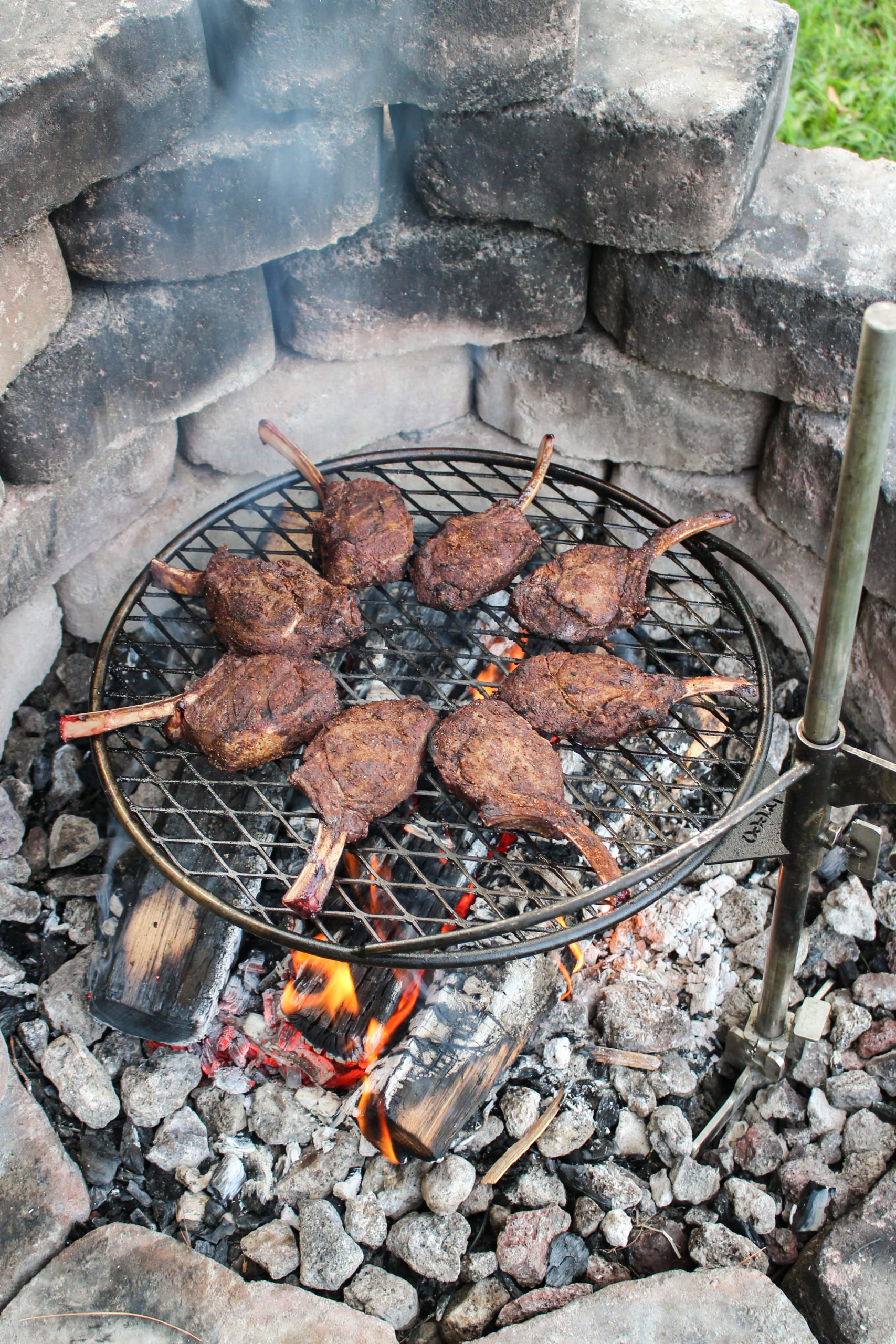 Blueberry Chipotle Sauce 
Have I ever mentioned how much I love a good dipping sauce? Don't get me wrong, the proteins I cook are great on their own. It's just that a sauce can take it to the next level. You can add in a whole new flavor by adding a sauce to a dish. What's even better is creating a sauce that brings out the best in the entrée. Anyway, this blueberry chipotle sauce will be one I make again for other recipes too. It's that good. 
Of course the main ingredients are blueberries and chipotles in adobo. I added some molasses and brown sugar to the mix to help sweeten up the spiciness of the chipotles. Be aware, those chipotles can get spicy! I also used apple cider vinegar because it adds a bit of sour tang. So sweet, so spicy and so yummy! Toss all the ingredients in a blender and blend until smooth. Then set it to the side until our grilled venison is cooked. 
Back to THE Venison Chops
I used my Breeo Outpost to cook these venison chops directly over the flames. I cooked them for a few minutes per side and pulled them from the grill once they reached an internal temperature of 120 degrees Fahrenheit. 
Remember, the longer you cook the venison chops the tougher the meat will get. It's important to note for this Grilled Venison Chops recipe because venison is such a lean cut of meat. At the end of the day, you're cooking for yourself so cook it to your liking. Go in with a game plan of what internal temperature you want your venison to hit. Especially if you're new to cooking with venison, it is a bit different from cooking beef. 
Back to our recipe. Pull the venison from the grill and set them on a serving plate. Now, grab the blueberry chipotle sauce. I placed a spoonful (or two) of the sauce on top of each venison chop. Then I garnished with a couple blueberries and some chopped parsley. Best enjoyed with friends and family. Cheers!
Grilled Venison Chops
Grilled Chops with bold coffee and cinnamon flavors! Top it with some blueberry chipotle sauce for the perfect finishing kick!
Ingredients
Meat:
6-8

Venison Chops or Medallions

Blueberries

for garnish

Chopped Parsley

for garnish
Coffee Rub:
1.5

tbsp

of Ground Coffee

2

tsp

of Kosher Salt

1.5

tsp

of Black Pepper

1.5

tsp

of Chipotle Powder

1.5

tsp

of Garlic Powder

1

tsp

of Onion Powder

1

tsp

of Cinnamon
Blueberry Chipotle Sauce:
¼

cup

of Fresh Blueberries

2.5

tbsp

of Chipotle Puree

1.5

tbsp

of Apple Cider Vinegar

¾

tbsp

of Molasses

5-6

Garlic Cloves

1

tsp

of Brown Sugar

½

tsp

of Kosher Salt

½

tsp

of Black Pepper
Instructions
In a bowl, mix together all the ingredients for the coffee rub. Lather your venison chops with canola oil and season generously on all sides with the coffee crust. Set aside until ready to cook.

Add all the ingredients for the blueberry chipotle sauce to a food processor and blend. Place in a bowl and set in the fridge until ready to use. When you pull out of the fridge, the sauce might be like jelly so feel free to stir around until liquified again.

Preheat a high heat fire for direct grilling (around 400F).

Add your venison to cook for about 1.5 minutes per side or until they are 120F internal. Once the venison is done, pull it off and let rest for 5 minutes.

Garnish your venison chops with the blueberry chipotle sauce, fresh blueberries and chopped parsley. Serve and enjoy!