Would you believe me if I told you that I found a meat that is more flavorful than prime rib? Just imagine the juicy tenderness of the most amazing meat you have ever had melting in your mouth. Now, what is it you ask? Fire cooked Hanging Lamb leg.
For most people, grilling on a Sunday afternoon is a family tradition. We all gather around the fire and make scores of delicious food full of smoke & flavor. This past weekend was no different; except that it was the first time I have ever smoked a hanging lamb leg over the fire!
This was a new experience for me, but one that I've been wanting to try for a long time.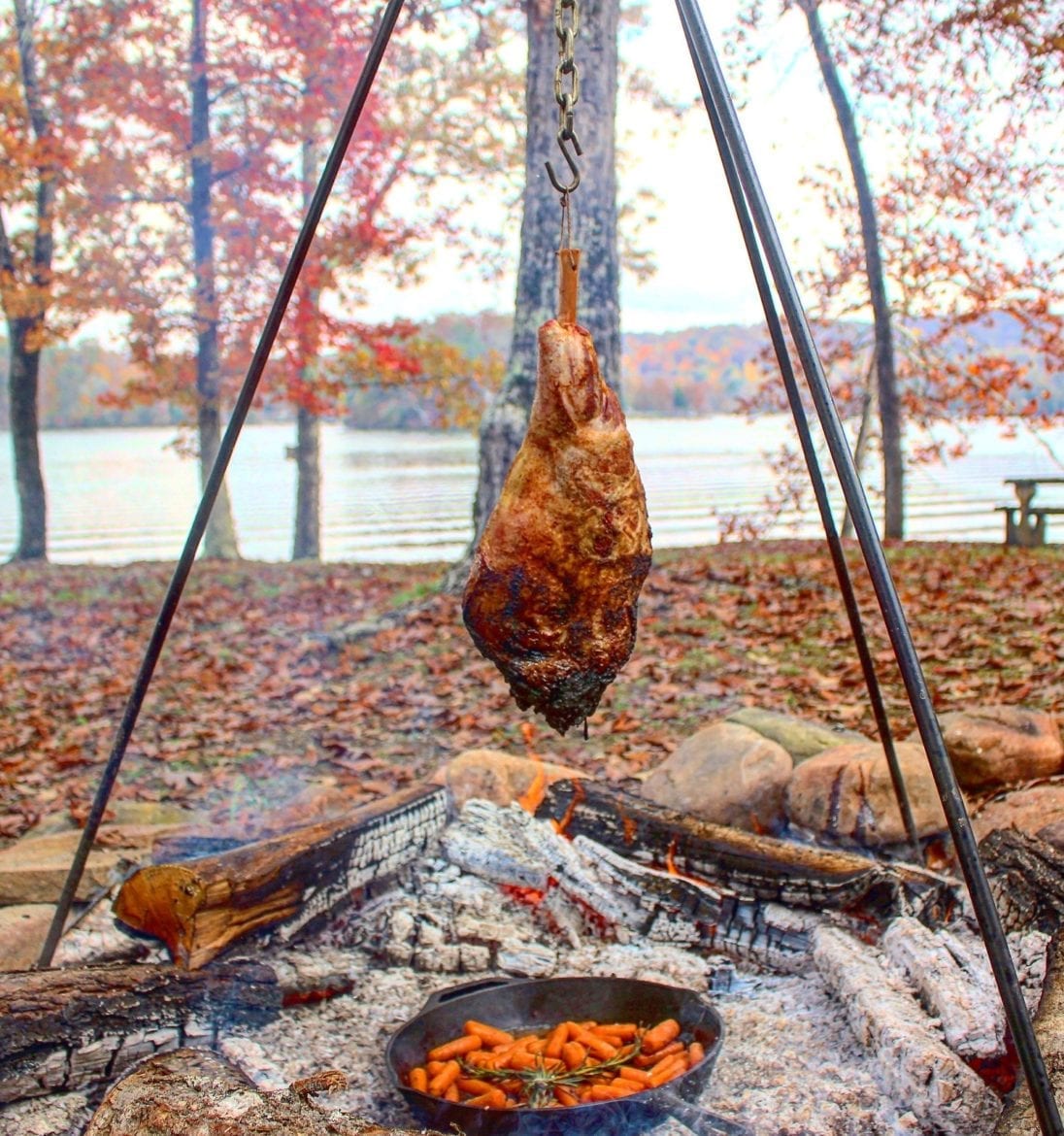 How To Hang the Lamb
My first tip for cooking this baaaaad boy (*see what I did there) is to make sure that the shank bone is still connected. The shank bone is the bone that parallels the leg bone. This provides an easy area to hook the hanging lamb leg over the fire.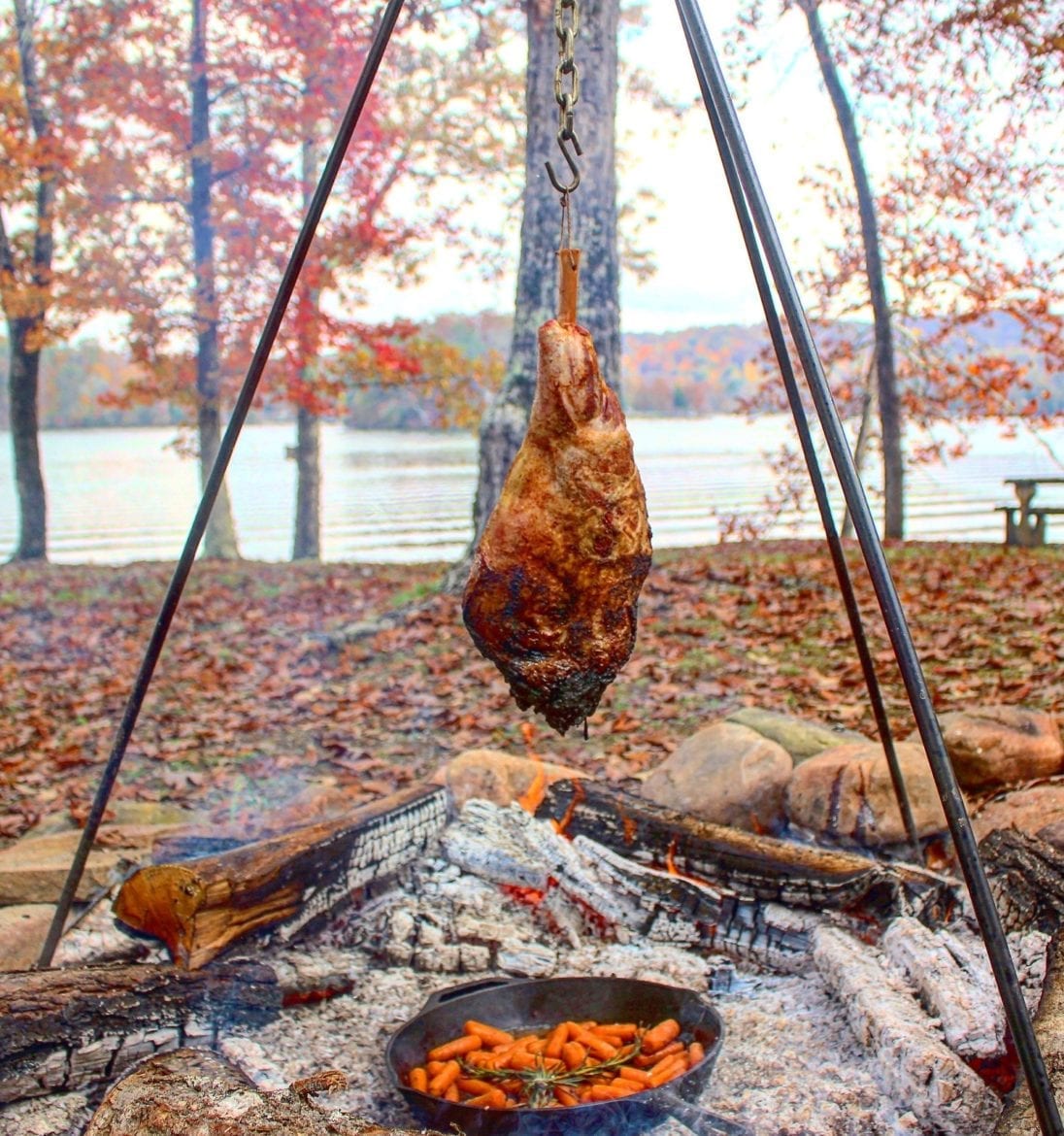 If you do not have a shank bone, then you have two options: get a meat hook or get really creative.
You can use a meat hook by hanging the lamb leg from the actual meat. This is a great way to cook, as it is reliable & easy. However, if you do not have a meat hook then I suggest drilling a hole through the bone and hanging with string/wire. Although this takes more time and energy, it is also reliable and effective!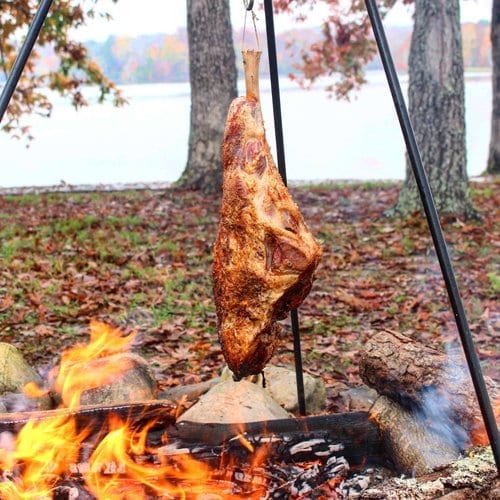 How to Cook the Hanging Lamb Leg
My second tip for cooking a leg of lamb is to create a circular fire ring so that there are multiple angles of heat. When the fire is made into a ring, then you allow the leg to be lowered closer to the ground/fire without the fear of burning it. This makes it easier for higher parts of the leg to cook without having to move or re-position the meat every hour!
If you don't want to hang it, try this delicious smoked leg of lamb recipe.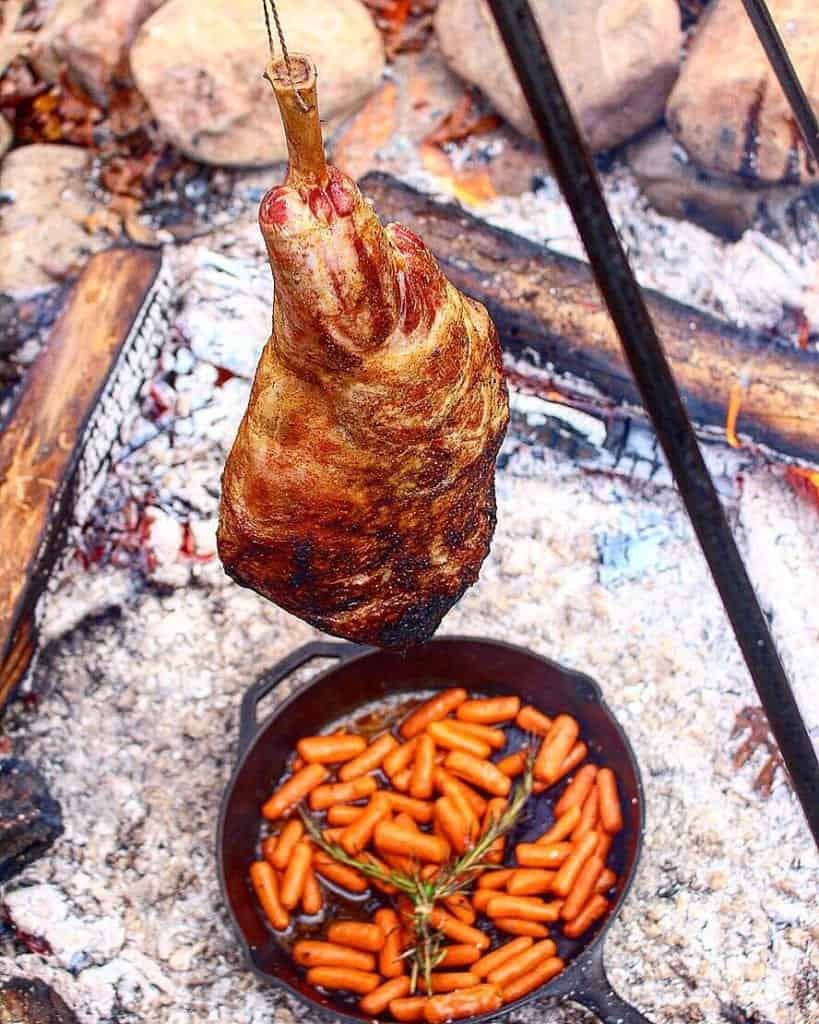 Make sure to throw a skillet of veggies underneath the leg of lamb in the middle of the fire to soak up all the juices while it's cooking. This creates the most amazing smoky veggies you will ever taste.
How to Prevent Burning
Last tip for hanging leg of lamb is to spray the meat with brine every 30 minutes. Everyone likes a good crust on a piece of meat, but not a lot of people love it when its really burnt. When you spray the meat with brine every 30 minutes, this helps to keep it moist and ultimately to prevent burning! Plus, that skillet of veggies will cook in the run-off of that brine which makes everything better.
In the end, I think you should grab yourself some local American made lamb leg and try this out for yourself! Want to know where you can find American lamb? Check out the American Lamb Board for a local farmer near you!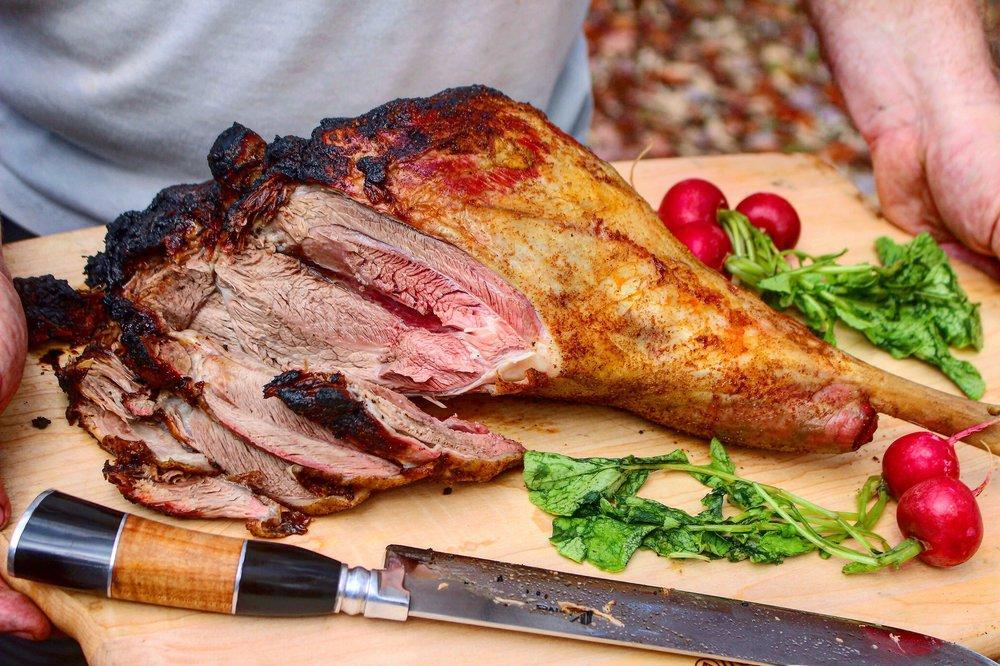 Hanging Lamb Leg
Full lamb leg hung over the fire until it is nice and tender!
Ingredients
Hanging Lamb Leg Ingredients
1

whole American lamb leg

4

tbsp

of olive oil

4

tbsp

of paprika

4

tbsp

of cumin

Salt & pepper
Brine Ingredients
4

cups

of water

6

oz

of red wine vinegar

2

tbsp

paprika

2

tbsp

cumin

2

rosemary sprigs

2

garlic cloves

minced

1

bunch of thyme

Salt & pepper
Instructions
Using hardwoods (oak, hickory, cherry, apple, etc…), build a campfire and allow to breakdown for 30 minutes before cooking.

While fire is burning down, season the American lamb leg with olive oil first, then add paprika, cumin, salt & pepper to taste. Make sure to cover lamb leg thoroughly with seasoning.

In a pot, make brine by boiling water. Once boiled, add all other brine ingredients (listed above) and let simmer for 15 minutes. Pour brine into a bowl or squirt bottle to be used while the lamb leg is cooking.

When fire is broken down, place tri-pod or other hanging device over top. Create a circle with the logs by moving everything out of the center of the fire to the edges. This will allow the heat to cook the lamb leg from all directions.

Hang lamb leg & let cook for 3.5-4 hours or until the internal temperature is around 135F for a medium-rare (125F = Rare & 145F = Medium-Well Done). Continue to maintain heat for the fire at a medium to high intensity throughout the cook. Make sure to spray lamb leg with brine ever 30 minutes to maintain seasoning & prevent burning.

Once the lamb leg is cooked to your liking, pull off the fire and let rest for 30 minutes. The lamb will have various cook temperatures with it becoming more rare near the bone. Serve immediately after resting!
This article does contain affiliate links to products that we personally use and support. Purchasing an affiliate product does make us a small commission at no cost to you. This helps us continue creating for our website. All words and opinions are our own, and we appreciate your support!