Taking our tacos to the next level with this Hatch Chile Mezcal Pork Tacos recipe! Anybody else up for cooking a pile of pork slices on a rotating spit? Me, always! Even if I have to manually rotate my spit. Get those coals burning and let's get this fiesta started!
Hatch Chile Mezcal Pork Marinade
For this recipe, we kicked things off the night before with our pork marinade. I began by throwing a variety of ingredients into the blender, namely some hatched chiles and mezcal. You may or may not be familiar with hatch chiles. If you've cooked with them before, you know just how delicious they are. If you've never had them, let me be the first to introduce you to your new best friend. Hatch chiles are home to New Mexico and are loved for their smoky flavor. They also pack a punch, so be ready for heat. If you don't want the spice, you can simply add less hatch chiles. If you're all about the spice, then have at it! Also, be sure to check out my Southwest Chile Seasoning with Spiceology! I used some in this recipe to really drive home the hatched chile flavor.
Up next, the mezcal and a quick question. If you put a moth larvae in a bottle of alcohol, does it improve the overall taste? I'm not joking, this is the question we've all been asking about mezcal since the 1950s. We'll let you decide your position on larva in mezcal bottles, but regardless we stand by this tasty drink as an ingredient for our marinade. The alcohol helps tenderize the pork slices, making for super juicy and succulent pork. That paired with the smoky flavor it adds to the meat turns this Hatch Chile Mezcal Pork Tacos recipe into the perfect foundation for taco building.
Have you pre-ordered my cookbook Food by Fire?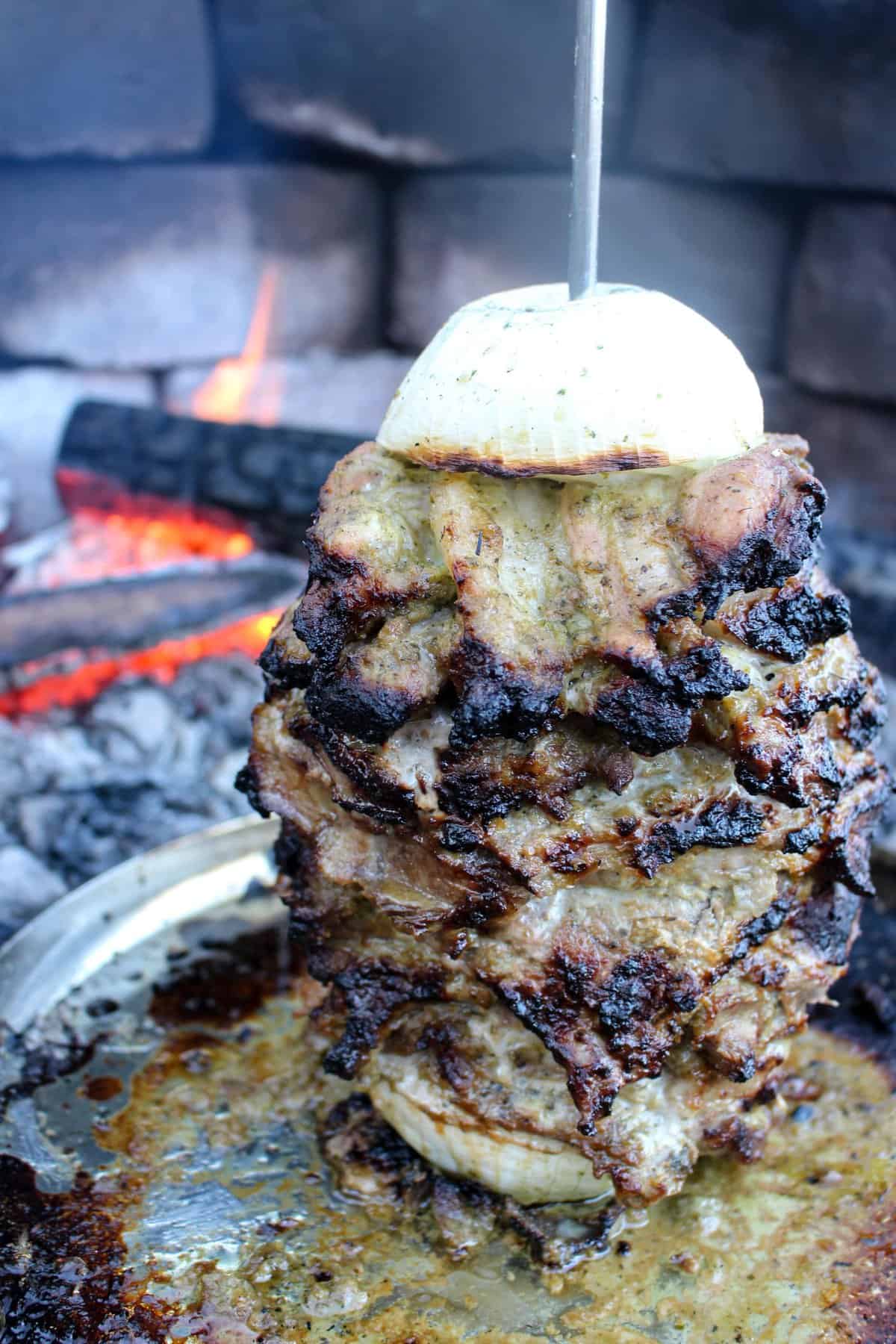 The Hatch Chile Mezcal Pork Tacos Move
The next day, I pulled our marinated pork slices out of the fridge and grabbed my trompo. What's a trompo? It is a vertical spit. Nowadays, they make electronic trompos which automatically rotate the spit so that the meat is cooked on all sides evenly. The one I used is more of the traditional style and requires manual rotation. You know me, always up for a challenge.
I centered each slice of pork and placed it on the trompo. You can double skewer the larger pieces of pork as they arise but try to keep each piece as level possible. Once all the slices are on the trompo, trim any excess meat so that the general shape of the mass is a cylinder. Now you're ready to take it to the fire.
Let's Ta – Co Bout It
There are a couple of different ways you could cook this Hatch Chile Mezcal Pork Tacos recipe. I've done it in a smoker before, but this time I opted for my classic fire pit. I moved some of the cement bricks to create a wall on one side of the ring. Then, I built a fire against the wall and placed the trompo next to the coals. The wall helps reflect heat back to the top of the stacked pork, making it easier to cook the top half of our pork stack. Also, make sure to rotate the trompo as needed until all sides of the pork are cooked.
Finally, once the outside layer of the Hatch Chile Mezcal Pork Tacos are cooked, we can start to assemble our tacos. Take a knife straight to the trompo and slice off the outside layer of pork. Continue to rotate the trompo as you do this because the inside layers of pork will keep cooking. Next, build your tacos with your toppings of choice. I used onions, cilantro, cotija and a few drops of lime juice. Delicious! Best enjoyed with friends and family.
Have you pre-ordered my cookbook Food by Fire?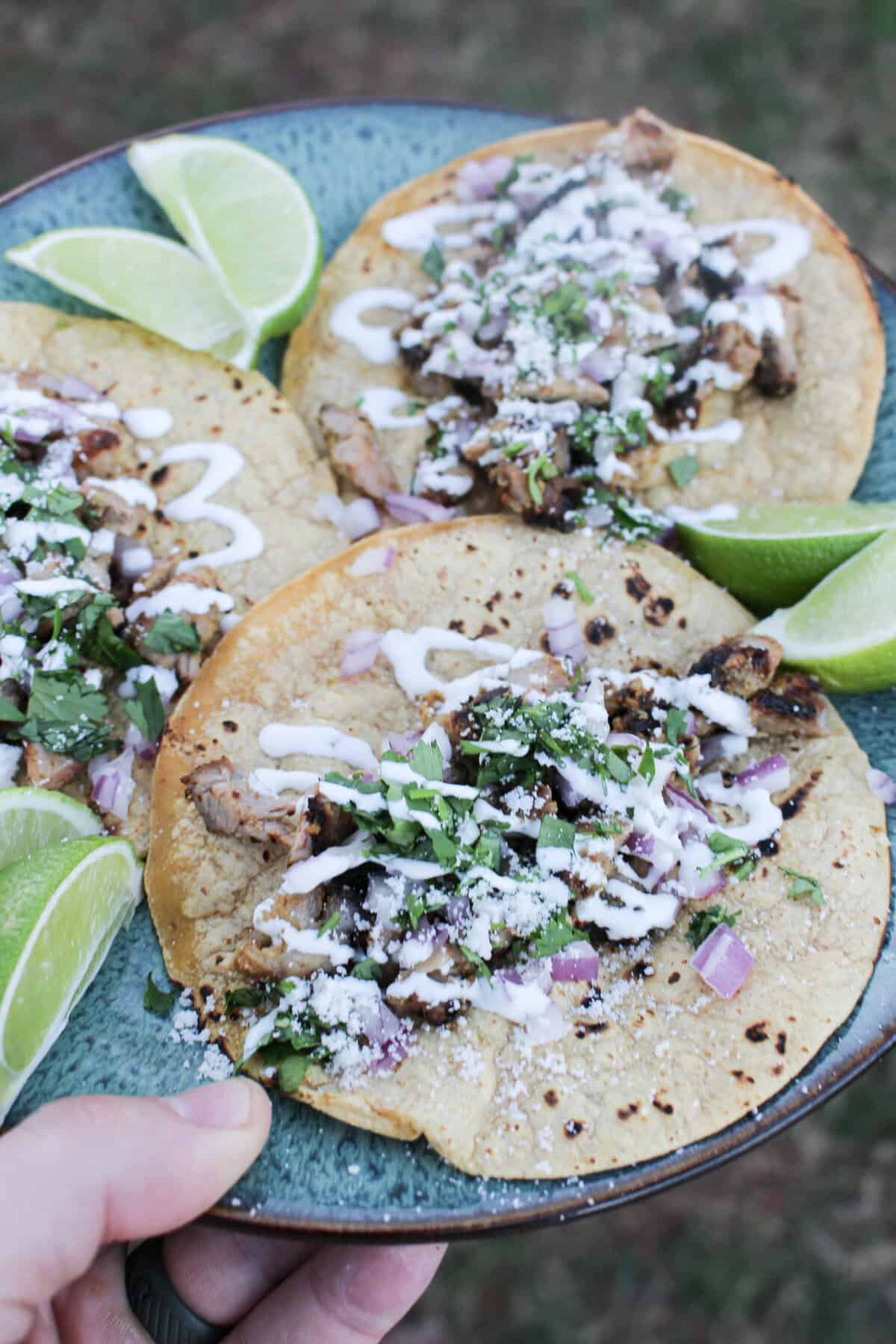 Hatch Chile Mezcal Pork Tacos
Anybody else up for cooking a pile of pork slices on a rotating spit? Taking our tacos to the next level with this Hatch Chile Mezcal Pork Tacos recipe!
Ingredients
Pork:
1

Whole Boneless Pork Butt

thinly sliced to 1/4" thickness

1

Onion

sliced in half
Marinade:
6

oz

of Hatch Chiles

2

tbsp

of Southwest Chile Seasoning or similar

4

oz

of Mezcal

1/8

cup

of Cilantro

1/4

of an Onion

diced

2

tbsp

of Scallions

2

tbsp

of White Vinegar

8

Garlic Cloves

2

Limes

juiced

2

Oranges

juiced

1

tbsp

of Canola Oil
Tacos:
Corn Tortillas

Chopped Cilantro

Chopped Red Onions

Mexican Crema

Cotija Cheese

Lime Juice
Instructions
Add the sliced boneless pork butt to a bowl. In a blender, add all the ingredients for the marinade and mix until smooth. Add the marinade to the pork and mix thoroughly. Cover and place in the fridge for at least 4 hours but ideally overnight.

Next day, preheat your fire for two zone grilling at a medium-high temperature (around 375F).

Add one half of an onion onto the trompo skewer at the base. Layer all the sliced pork onto the skewer and top with the other half of the onion. Using a sharp knife, carefully slice off any loose pieces as to make the pork roast even.

Add the roast to the cooler side of the grill. At this point, decide if you are cooking uncovered (open fire) or covered (in a grill or smoker). Follow below as needed:

If cooking uncovered, cook for about 2.5-3 hours until the outer 2" reaches 165F. Make sure to rotate the skewer 90 degrees every 7-8 minutes to cook it evenly and prevent burning. Once it reaches temp, begin slicing the outside edges that are cooked and set the cooked meat aside while keeping it warm. Keep cooking the roast until the next 2" are 170F and then slice off when ready. Now see step 7!

If cooking covered, cook for about 1-2 hours until the whole roast is 165F. Rotate 90 degrees every 10-15 minutes so to cook evenly and prevent burning. Once done, pull off and rest for 10 minutes. Slice the outside edges and keep warm.

Serve the pork onto warm tortillas topped with chopped cilantro, chopped red onions, Mexican crema, cotija cheese and lime juice. Enjoy!