If you are looking for something epic to cook, then these Epic Chorizo Tacos are it.
They are slammed with tons of flavor, like smoked carnitas tacos they're also grilled over a hot fire and topped with fresh ingredients like homemade guacamole, fresh pineapples, and more. That being said, below are some super simple tips that will help you make these epic chorizo tacos even better.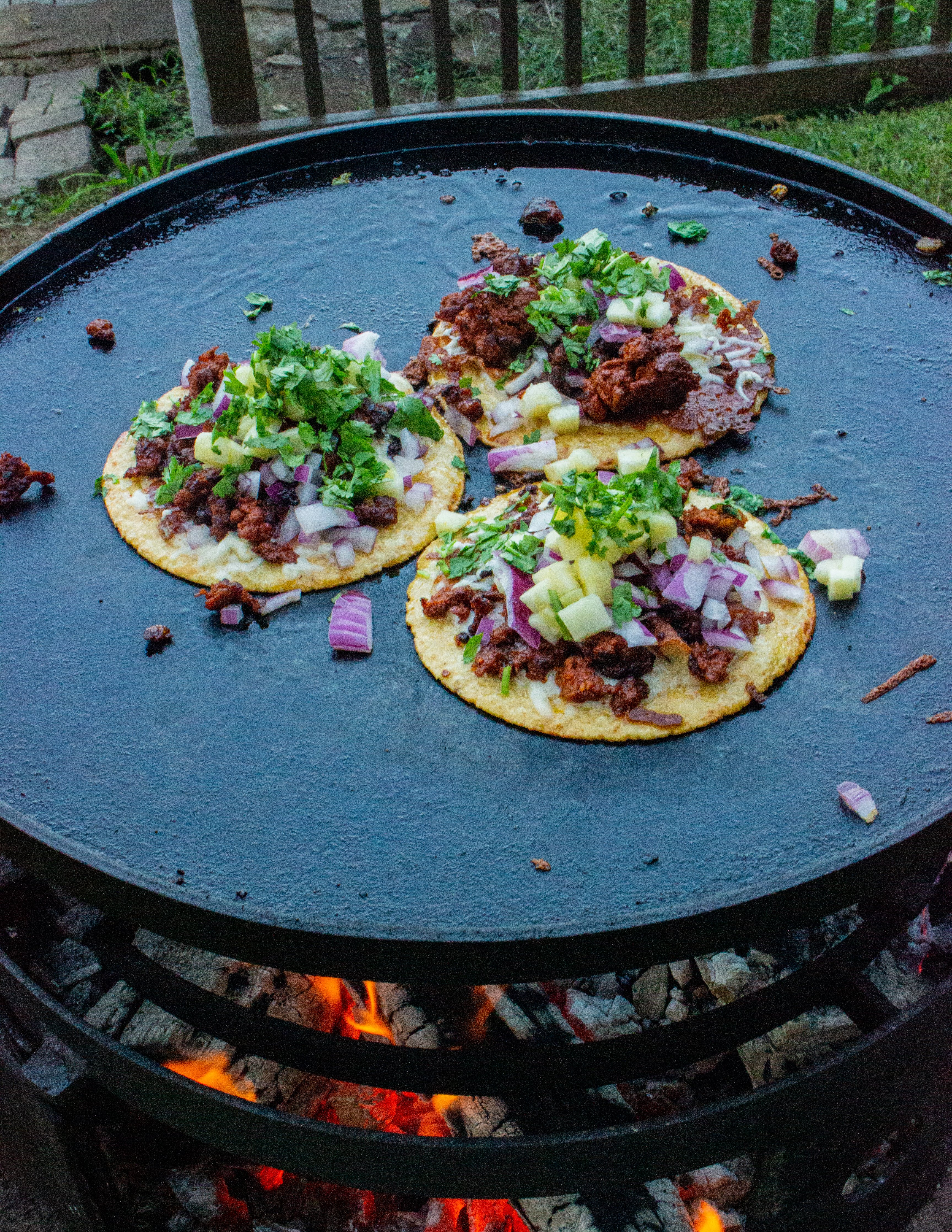 WHY YOU'LL LOVE THIS RECIPE
Packed with bold flavors from spicy chorizo, these Mexican chorizo tacos are perfect for Taco Tuesday or any casual gathering. This Mexican-inspired recipe is also super easy to make with simple ingredients and a homemade touch that elevates the flavor game.
With the perfect balance of heat and your favorite toppings like guacamole and salsa, each bite is a burst of satisfaction. This recipe offers a quick and delicious solution for your taco cravings, you could even meal prep them so you can enjoy them all week long!
Want to try more delicious tacos? Try our Chorizo Smash Tacos, Pulled Pork Elote Tacos, Al Pastor Pork Belly TacosFried Pork Belly Tacos!
INGREDIENTS
TACO INGREDIENTS:
Ground Chorizo – Look for good Mexican chorizo, which is loose, seasoned ground pork and not the links that don't break apart.
Freshly Grated Pepper Jack Cheese
Corn Tortillas – You could also use flour if that's your preference
Limes sliced into wedges – for garnish and a citrus burst of flavor!
Pineapples – Also for a burst of citrus, fruity flavor
Cilantro – for garnish
Red Onion finely diced
Favorite Salsa – because all tacos are better with a fresh salsa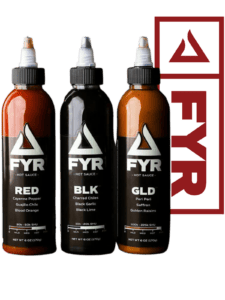 Get stoked for life
This sauce is FYR!
Born from a deep passion for food and flavor. Whether you're grilling in the backyard or live fire cooking around the world, we have what you need to transform every meal into an adventure.
GUACAMOLE INGREDIENTS:
Avocados – it's the key ingredient for a delicious guac
Cilantro finely chopped
Red Onion finely chopped
Sea Salt
Limes juiced
FAVORITE TACO TOPPINGS
To top these epic tacos, we like to gather our favorite taco toppings: Chopped pineapples, fresh cilantro, red onion, and your salsa.
HOW TO MAKE CHORIZO TACOS
Get that fire going, aiming for a medium-high temperature of 375F. Toss your large skillet or plancha on there two minutes before the cooking show begins – we want that baby nice and hot.
Drop the ground chorizo onto the flat top and let it dance for about 8 minutes until it's fully cooked. Give it a good chop into smaller bites because that'll make it more taco friendly. Once it's done, slide it off and let it chill on the side.
Splash a bit of frying oil onto the skillet or plancha because it will help the surface become more "non stick". Then sprinkle a handful of freshly grated cheese on there, matching the size of your tortillas.
Add the tortillas over top and flip the warm tortillas, adding a little more cheese. Top it off with the cooked chorizo, cilantro, red onion, and pineapple. Cook the ensemble for about a minute, then whisk it away.
In a small bowl, whip up the guacamole with all the ingredients. Set it aside.
Lastly, place that fresh guacamole, your favorite salsa, and a spritz of lime juice on top of the taco.
Now, it's time to dive in. Eat up and savor the goodness! Cheers!
Chorizo Tacos EXPERT TIPS & TRICKS
TIP #1: FRESH GUACAMOLE
One of the biggest keys to this delicious Epic Chorizo Taco is not the chorizo but actually the fresh guacamole.
I highly recommend making the guacamole only a couple minutes before you go outside to cook the chorizo. The fresher it is, the creamier the avocado will be.
It also helps when you have some super ripe avocados. Try selecting the avocados by gently squeezing the outside layer of skin between your hands. If the avocado is soft to the touch but a little firmer towards the middle, then you have found the right ones.
Try to avoid overly soft avocados because they will not have the bright green color that you are looking for in these Epic Chorizo Tacos.
TIP #2: FRESHLY GRATED CHEESE
For those who love caramelized cheese, then these Epic Chorizo Tacos are right up your alley.
When you add the cheese directly to the skillet/plancha over some hot Cowboy Charcoal, you end up caramelizing the bottom while still being able to pull it up off the skillet.
This, however, will not happen easily with pre-grated cheese. Most pre-grated cheeses add powders to the cheese so that it does not clump or melt in the bag. This is not what we want on our cheese.
Make sure to grate the cheese yourself, as it will help get a ton of flavor and caramelization on these Epic Chorizo Tacos.
TIP #3: LOTS OF LIME JUICE ON THESE CHORIZO TACOS
When in doubt, these Epic Chorizo Tacos can use more lime juice.
Lime juice is what gives a citrus bite to the taco that easily cuts through the fattiness of the cheese and meat. It will help elevate the flavor profile out of the normal palate so that you can taste more of the citrus, cilantro, and spices.
So just make sure to buy some extra limes as you will use them!
HOW TO STORE LEFTOVERS AND REHEAT
Store leftover taco meat in an airtight container in the fridge for 1-2 days. You can also freeze for up to 3 months.
To reheat:
Grab a skillet and pop the cooked chorizo in the pan.
Heat until warmed and serve with warm corn tortillas and your favorite toppings.
You can also heat up your chorizo in the microwave in 30-second intervals until warmed.
WHAT TO SERVE WITH CHORIZO TACOS
Serve up these delicious tacos with black beans, refried beans, or sweet potatoes for a complete meal!
Epic Chorizo Tacos RECIPE FAQs
Where can I buy chorizo?
You can find ground chorizo in the meat department of the grocery store.
What other toppings can I add to these homemade chorizo tacos?
Some other simple toppings are queso fresco, cotija cheese, sweet corn, sour cream, and salsa verde!
Can I use flour tortillas for this recipe!
Yes! As always, it's up to your preference.
Add flavor to everything you're cooking
shop over the fire spice lines

Chorizo Tacos
Want something epic? These Epic Chorizo Tacos are the ticket for some backyard deliciousness.
Ingredients
Taco Ingredients:
1

lb

of Ground Chorizo

2

cups

of Freshly Grated Pepperjack Cheese

8

Corn Tortillas

2

Limes

sliced into wedges

¼

cup

of Pineapples

finely diced

¼

cup

of Cilantro

finely chopped

¼

cup

of Red Onion

finely diced

Favorite Salsa

for garnish
Guacamole Ingredients:
3

Ripe Avocados

2

tbsp

of Cilantro

finely chopped

2

tbsp

of Red Onion

finely chopped

2

tsp

of Sea Salt

2

Limes

juiced
Instructions
Preheat your fire to a medium-high temperature of 375F. Add your skillet or plancha 2 minutes before cooking to heat up.

Add your ground chorizo to the flat top and cook for about 8 minutes until it is fully cooked. Chop it up into smaller bites in order for it to caramelize. Once done, pull it off and set aside.

Add a dash of frying oil to the skillet or plancha so that it is non-stick.

Add a handful of freshly grated cheese to the skillet the same size as your tortillas.

Place a tortilla over the top of the cheese. As it browns, carefully flip the cheesy tortilla over with the caramelized cheese on it.

Top the cheese with a little more cheese for good measure. Add to the taco the cooked chorizo, cilantro, red onion and pineapple.

Cook for about 1 minute, then pull off.

In a bowl, mix all the ingredients for the guacamole. Set aside.

Top the taco with the fresh guacamole, salsa and lime juice. Eat and enjoy!
Nutrition
Calories:
941
kcal
|
Carbohydrates:
50
g
|
Protein:
37
g
|
Fat:
69
g
|
Saturated Fat:
24
g
|
Polyunsaturated Fat:
4
g
|
Monounsaturated Fat:
20
g
|
Cholesterol:
121
mg
|
Sodium:
2348
mg
|
Potassium:
982
mg
|
Fiber:
16
g
|
Sugar:
5
g
|
Vitamin A:
1384
IU
|
Vitamin C:
41
mg
|
Calcium:
510
mg
|
Iron:
3
mg