This Memorial Day it's time to break out all the stops and make some killer tacos. One of my favorites to make are these Smoked Carnitas Tacos cooked on my grill and aided with Reynolds Wrap® Heavy Duty Aluminum Foil. These super delicious tacos are gonna be smoked, braised and seared over hot charcoal until they are crispy and tender all at the same time. But before you hit up the recipe, check out some of my pro tips for making these tacos excellent.
Sponsored by Reynolds Wrap®
Pro Tips for Making Great Smoked Carnitas Tacos:
1. Marinate Overnight
First pro tip is to marinade your Smoked Carnitas Tacos overnight. A lot of people skip this step because they think they will get the same flavor if they just season the meat and smoke it. While you absolutely will get great tacos that way, the better way is to marinate in a mixture of seasonings and citrus juices. The citrus juices will tenderize the pork butt so that it cooks easier on the smoker. The seasonings will then coat the outside of the meat and hold onto it while it is slowly cooked the next day!
2. Plan time for Smoking
One thing you do not want to do is rush your cooking process. If you do not have your Smoked Carnitas Tacos fully cooked, then you are gonna end up with tough meat that is hard to shred. Make sure to spend 6-8 hours smoking this meat. It will take all of that and then some! Plus use tip 4 for how to cook the tacos later!
3. Wrap your meat in Reynolds Wrap® Heavy Duty
Once the pork butt is fully done at 195F internal, it is ready to be wrapped. I use Reynolds Wrap® Heavy Duty Aluminum Foil because it is produced using food safety and quality standards, and I don't have to worry about it tearing on me on the grill. You need to let the Smoked Carnitas Tacos rest for a bit to redistribute its juices to keep the meat tender. By wrapping your pork in Reynolds Wrap® Heavy Duty Aluminum Foil, you're able to securely heat and capture the juices and that helps to make the meat extra tender.
4. Fry in Pork Fat
Just do this… it is not essential to Smoked Carnitas Tacos, but it's amazing.
Seriously… just do it.
5. Save the Smoked Carnitas Tacos for Later
Last tip: if you are done cooking but do not want to shred the Smoked Carnitas Tacos immediately, then keep it wrapped in foil and shred it later. The Reynolds Wrap® Heavy Duty Aluminum Foil will keep the meat juicy and tender if you place it in a cooler. This is a great option for those that want to cook the food earlier in the day but heat it up for dinner later!
Time to Eat Smoked Carnitas Tacos
So at the end of the day, it's all about making delicious tacos using the best ingredients and products! These Smoked Carnitas Tacos are your ticket to an excellent Memorial Day cooked with fire. Plus, do not forget about the Reynolds Wrap® Heavy Duty Aluminum Foil. This key piece of cooking equipment will come in the clutch to make a great dinner. Cheers!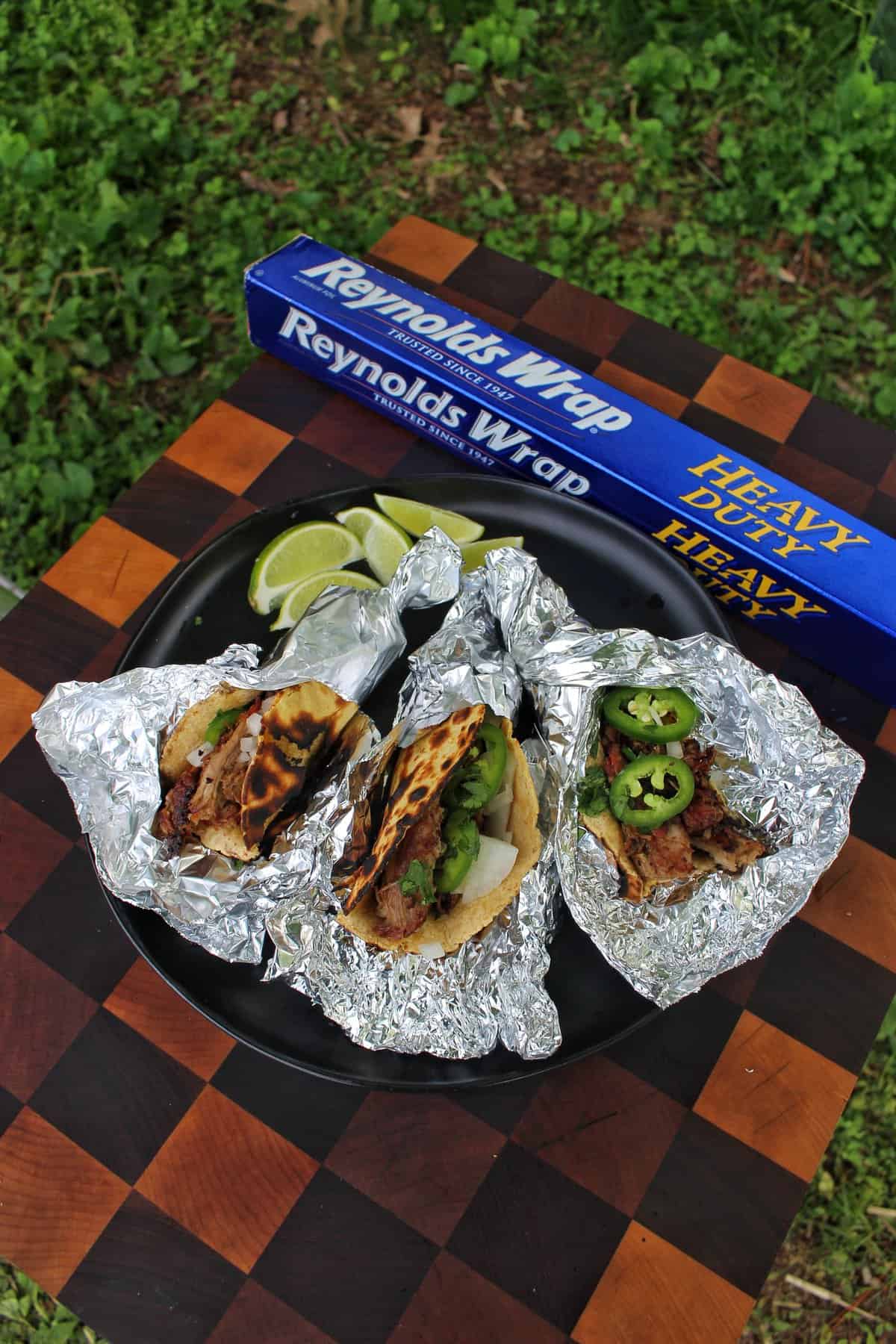 This article does contain affiliate links to products that we personally use and support. Purchasing an affiliate product does make us a small commission at no cost to you. This helps us continue creating for our website. All words and opinions are our own, and we appreciate your support!
Equipment
Reynolds Wrap® Heavy Duty Aluminum Foil
Ingredients
Pork Marinade:
3-4

lbs

Pork Shoulder

1.5

tbsp

of Sea Salt

1.5

tbsp

of Black Pepper

1

tbsp

of Cumin

1

tbsp

of Cinnamon

2

tbsp

of Chipotle Puree

2

Limes

juiced

2

Oranges

juiced

2

tsp

of Olive Oil
Braising Sauce:
2

White Onions

cubed

6

Garlic Cloves

¼

cup

of White Wine Vinegar

2

Oranges

juiced

2

Limes

juiced

1

tsp

of Salt

1

tsp

of Pepper
Searing & Taco Garnishes
2

tbsp

of Pork Fat

Corn Tortillas

White Onion

finely chopped

Cilantro

finely chopped

Jalapeños

finely sliced
Instructions
Score, truss, and season pork with marinade. Cover and place in the fridge for 4+ hours. Ideally overnight.

Heat your grill to 250F. Pull out pork and discard excess marinade. Smoke until internal temperature is 165F (about 4 hours).

In your blender, add all ingredients for braising sauce and blend until fine.

Once at 165F, pull pork off the grill. Heat your grill to 400F and preheat a skillet with some oil. Place the pork back into the skillet and tightly cover with the foil. Close grill lid and braise until completely tender (about 2+ hours) till about 195F internal or when it pulls easily with a fork. Check and move pork around as necessary.

Once tender, pull pork off and wrap tightly in the Reynolds Wrap® Heavy Duty Aluminum Foil for 10 minutes. Shred pork and heat up tortillas. Top tortillas with pork, onion, cilantro, and jalapenos. Wrap in more foil to save for later! Enjoy!