Better than any child's candy, today we're bringing you a Honey Bacon BBQ Chicken Lollipops recipe! A mouthful to say, but packed with flavor in every bite! Bacon, bourbon and barbecue create the perfect trifecta for this recipe! Seasoned with some of Spiceology's Honey Habanero rub and sweetened with some personalized BBQ sauce, this recipe is one you don't want to miss!
Honey Bacon BBQ Chicken Lollipops are an Adult's Playground
Drumsticks and lollipops. I can't help but think of a small child going HAM on a drumset or getting a lollipop after a visit to the bank with mom or dad. BUT who says these things aren't for adults to enjoy as well?! We'll be the ones playing with our food a bit as we transform these regular chicken drumsticks into something worth talking about.
Our recipe begins by prepping the chicken. You'll take a chicken drumstick and cut the meat from the lower fourth of the bone. It might take you a bit to get the first one cleaned, especially if it's your first time doing this. Don't worry, you'll get in the groove and move faster once you get a couple under your belt.
Once the lollipops are ready, dip and cover the meat in your favorite dry BBQ seasoning. I used some of Spiceology's Honey Habanero rub, it's the perfect ratio of spicy and sweet. Then, I wrapped a half slice of bacon around the seasoned chicken lollipop. Just like that, our Honey Bacon BBQ Chicken Lollipops are ready for the smoker.
Have your pre-ordered my cookbook Food by Fire yet??
Wrap the Bones, But Not in Bacon
We all love bacon wrapped anything, but this job calls for foil. Before placing our Honey Bacon BBQ Chicken Lollipops on the smoker, we need to wrap the bone of the drumsticks in foil. This will prevent charring and discoloration of the bones throughout the cooking process.
I also used a chicken wing/leg rack for these Honey Bacon BBQ Chicken Lollipops. It's a stand that can be placed in the smoker and holds the legs while they cook. I found mine on Amazon, but you can find a variety of different types at any grilling store. They're pretty cheap and help the lollipops keep their circular shape while cooking. Definitely not something you need to cook this recipe, but something I used.
Honey, Can You bring Me Some Honey
I've always said cooking with friends and family is the best way to enjoy grilling, so really I'm just practicing what I preach over here! I needed the honey for my personalized BBQ sauce. I made this sauce to dip my lollipops in halfway through their cooking. The sauce consisted of regular BBQ sauce, honey (thanks to my honey), bourbon and habanero sauce. I mixed the ingredients together in a cast iron sauce pan to dip the bacon bbq chicken lollipops. Then I placed it on the smoker to warm the sauce and help it better infuse together.
When the lollipops were almost finished cooking, I dipped each into my BBQ sauce and placed it back on it's stand in the smoker. Once I had dipped each chicken lollipop, I closed the smoker and let them finish cooking. I loved finishing off the Honey Bacon BBQ Chicken Lollipops this way! It intensified their coloring and provided a depth of flavor that was incredible!
Serve Up Those Honey Bacon BBQ Chicken Lollipops
The chicken is done at an internal temperature of 165 degrees Fahrenheit! Pull each lollipop from the smoker and place on a serving platter. No need to wait, serve them right away! As always, best enjoyed with friends and family. Cheers!
Have your pre-ordered my cookbook Food by Fire yet??
Honey Bacon BBQ Chicken Lollipops
Better than any child's candy, today we're bringing you a Honey Bacon BBQ Chicken Lollipops recipe! Sweet and smoky for the perfect bite!
Total Time
2
hours
45
minutes
Ingredients
Chicken:
10-12

Chicken Drumsticks

3

tbsp

of Honey Habanero Seasoning

or your favorite BBQ Seasoning

6-8

Slices

of Bacon

cut in half
BBQ Glaze:
1/2

cup

of your favorite BBQ Sauce

1.5

tbsp

of Honey

1

tbsp

of Bourbon

1

tsp

of Habanero Sauce

or any Hot Sauce
Instructions
Start by making a cut about ⅓ of the way done the drumstick towards the knuckle side. Slice all around the drumstick and pull off the excess meat/skin until the bone is the only thing showing. Trim off any excess tendons, then press the meat down to form your "lollipop." Repeat this step for the rest of the drumsticks.

Add the seasoning into a bowl and thoroughly coat the meat. Once coated, wrap a single slice of bacon around and secure using toothpicks. Set aside until ready to cook.

Preheat your smoker for 275F indirect. Add some additional wood chunks or chips for added flavor.

Add your chicken to the smoker (preferably on a smoker rack) and cook for about 2-2.5 hours until they reach 175F. When the chicken is close to being done, add a sauce pan with all the ingredients for the BBQ Glaze. Warm up for 1-2 minutes. Once warm, pull the saucepan off, stir the mixture and carefully dip each lollipop into the sauce until it is evenly coated. Let the excess sauce drain off and place the chicken back on the smoker rack. Repeat for each lollipop, then let cook for 5 more minutes.

When chicken is done, pull off and rest for 2-3 minutes. Serve and enjoy!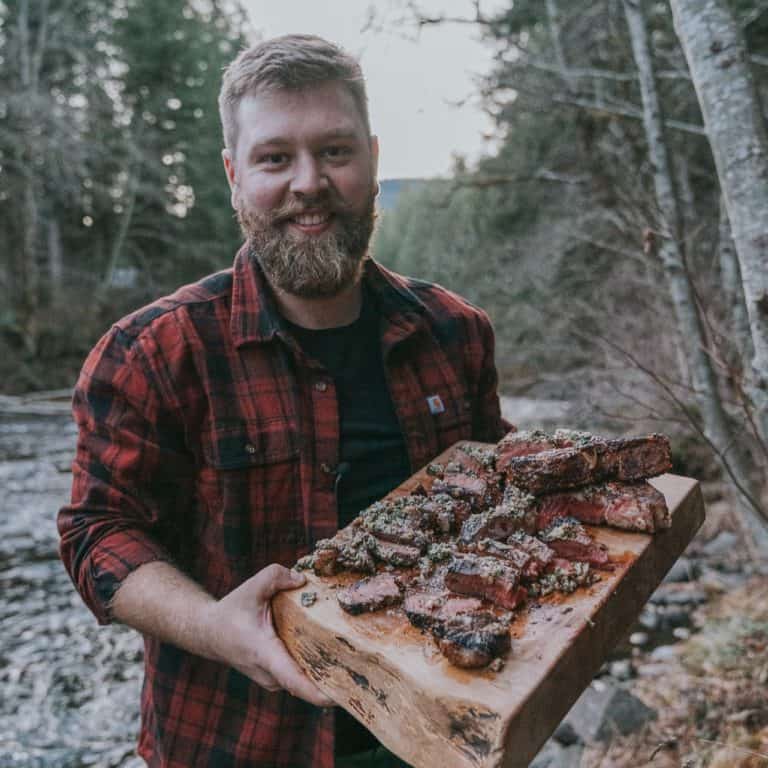 Derek is the driving force behind Over the Fire Cooking. He started cooking with live fire in 2016 and decided to start a social media page so his friends and family could follow the journey. Fast forward to today and Over the Fire Cooking has spread across multiple platforms with millions now following Derek's fire cooking journey. He's a southern fellow who enjoys everything from classic BBQ to Central and South American inspired dishes. Whatever he's cooking up, it's guaranteed to be so freakin' delicious!