After a holiday season full of delicious beef, I thought it was time to throw down some chicken. Have you ever cooked a chicken lollipops recipe before? It's an adult child's perfect mix of a great meal that's also fun! So, with that said, let's jump into this Maple Hot Chicken Lollipops.
Why You'll Love These Amazing Chicken Lollipops
Chicken lollipops actually start out as chicken drumsticks. Fun fact, did you know that the term "drumstick" when referring to turkey and chicken legs dates back all the way to the 16th century? The name comes from the leg's resemblance to a percussion drumstick.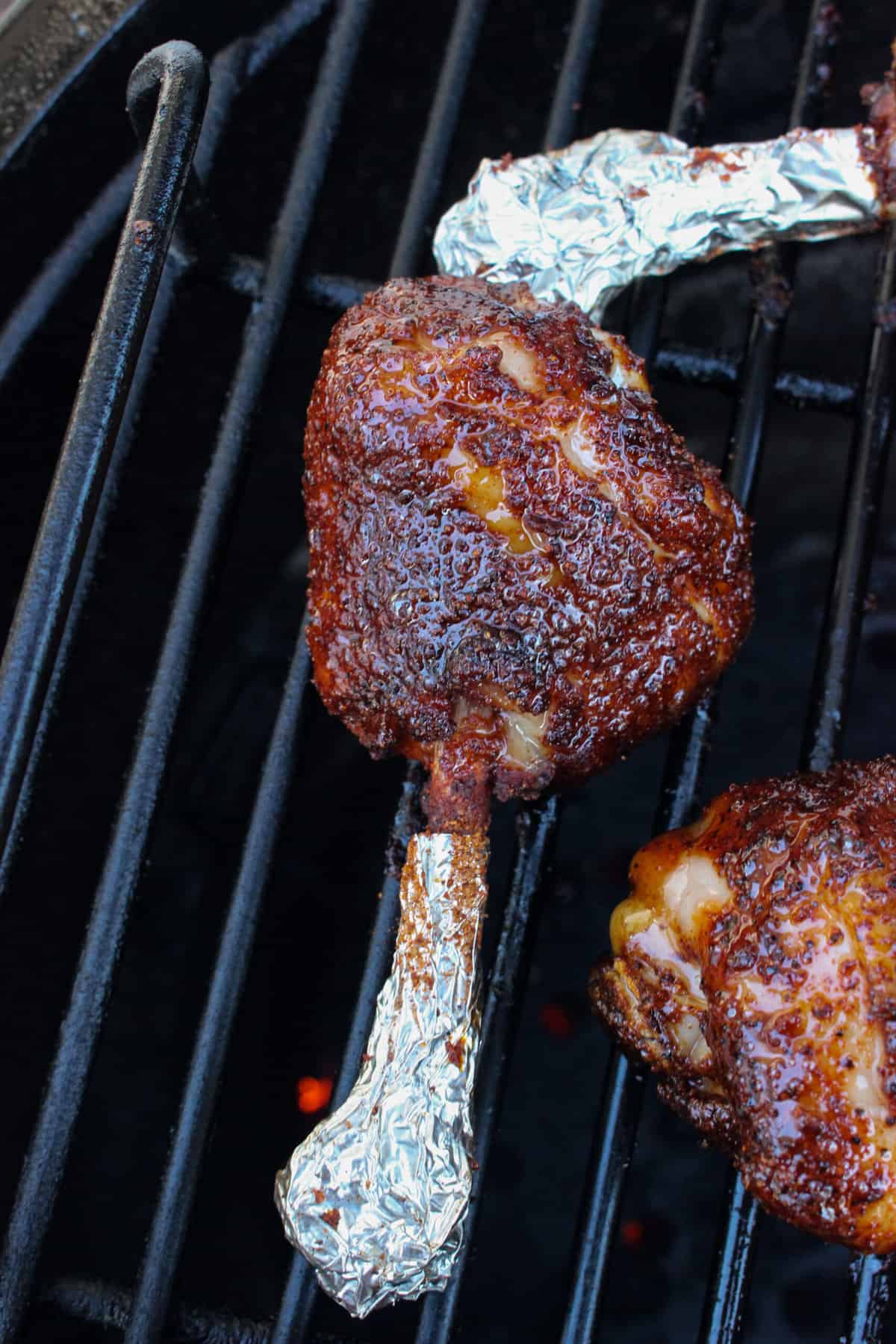 If you love chicken wings with crisp skin and BBQ sauce, these smoked lollipops are one of the best ways to satisfy your craving. I've cooked restaurant style chicken lollipop recipes several times, and I love their versatility. I've grilled them, skewered them, played drums with them (… kidding) and now I'm lollipopping them!
If this is your first time cooking them, don't worry! They're easy yet scrumptious, and they're sure to be an eye-catcher at any family dinner or special occasion.
Ingredients
The cooking process for this chicken lollipop recipe is so simple, which makes them my absolute favorite to cook.
They take 30 minutes to prep and 1.5 hours of cooking. This chicken lollipop recipe serves  4 people, but you can easily multiply it to feed a whole party!
All you need is 12 Chicken Drumsticks, my Nashville Hot Chicken Seasoning, and Maple Syrup and you'll be ready to roll.
Preparing Smoked Chicken Lollipops
I started by using a sharp knife to cut a ring around the bottom third (knuckle side) of the drumstick. I then carefully cut and pulled away the chicken meat, revealing the knuckle bone underneath, forming a lollipop shape.
After pulling that away, I then cut off any of the connective tissue that was exposed and cleaned all of it up.
The next step is seasoning! I haven't done anything with my Nashville Hot Chicken seasoning in a while, so this seemed like the perfect time to break it back out.
I found it was easiest to pour some of the seasoning into a large bowl and then cover the meat so it gets thoroughly coated. Lastly, I covered the exposed bone with aluminum foil to prevent it from blackening during cooking.
Now let's cook these Maple Hot Chicken Lollipops.
For more fire cooking with my Nashville Hot seasoning, check our Nashville Hot Smoke Fried Ribs, Nashville Hot Chicken Wings and Nashville Hot Cast Iron Salmon.
Cooking Chicken Lollipops Recipe
Preheat your smoker for medium-high heat (325F) indirect. Add some additional wood chunks or chips for added flavor. Then add your chicken to the smoker and start cooking for about 1.5 hours.
One of my favorite tricks when cooking anything spicy is to pair it with something sweet. It's a great way to help cut through the harshness of hot, spicy food. While the chicken lollipops are cooking, add some maple syrup to a small saucepan to warm up over the grill. 
For more chicken lollipop recipes, check out my Honey Bacon BBQ Chicken Lollipops, Smoked Chicken Lollipops and Honey Korean BBQ Chicken Lollipops. 
Right before the tender chicken finished cooking, I dipped the drumsticks in the maple syrup, let the extra sauce drip off onto a spare plate with a paper towel on it, and returned them onto the grill to caramelize.
Since this is dark meat, I cooked them until their internal temperature reached 175 degrees F and they looked golden brown.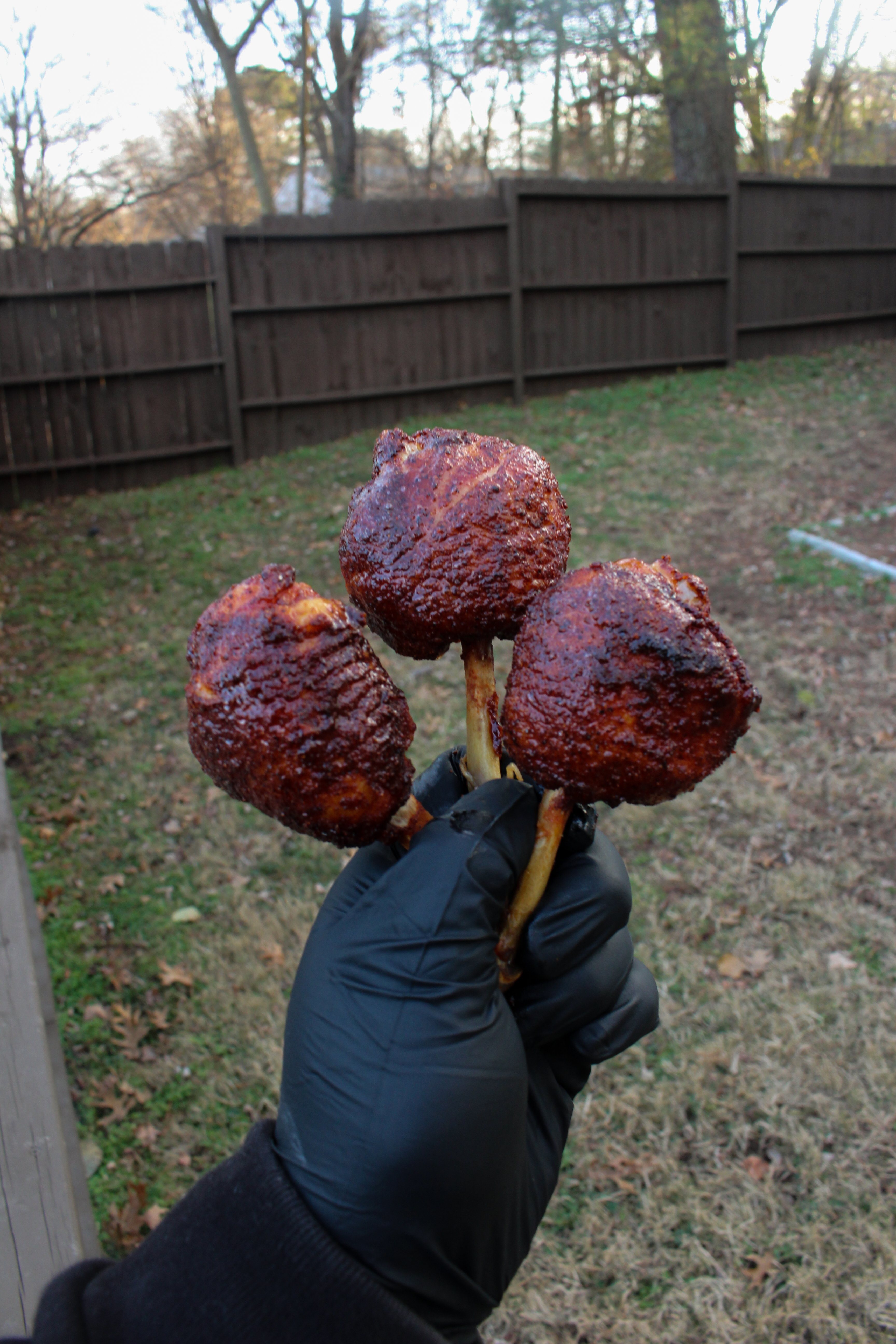 Once our Maple Hot Chicken Lollipops reached temperature, we pulled them off the grill and placed them directly onto a serving platter. Talk about a showstopper! Best enjoyed with friends, family and an ice cold beer. Cheers everyone!
Maple Hot Chicken Lollipops
Have you ever seen chicken lollipops? These Maple Hot Chicken Lollipops are an adult child's perfect mix of a great meal that's also fun!
Instructions
Start by making a cut about ⅓ of the way done the drumstick towards the knuckle side. Slice all around the drumstick and pull off the excess meat/skin until the bone is the only thing showing. Trim off any excess tendons, then press the meat down to form your "lollipop." Repeat this step for the rest of the drumsticks. Add the seasoning into a bowl and thoroughly coat the meat.

Preheat your smoker for 325F indirect. Add some additional wood chunks or chips for added flavor.

Add your chicken to the smoker and cook for about 1.5 hours until they reach 175F. When the chicken is close to being done, add a sauce pan on with the maple syrup. Warm up for 1-2 minutes. Once warm, pull the sauce pan off and carefully dip each lollipop into the syrup until it is evenly coated. Let the excess syrup drain off and place the chicken back on the smoker. Repeat for each lollipop, then let cook for 5 more minutes.

When chicken is done, pull off and rest for 2-3 minutes. Serve and enjoy!
Nutrition
Calories:
564
kcal
|
Carbohydrates:
44
g
|
Protein:
44
g
|
Fat:
26
g
|
Saturated Fat:
7
g
|
Polyunsaturated Fat:
7
g
|
Monounsaturated Fat:
9
g
|
Trans Fat:
0.1
g
|
Cholesterol:
209
mg
|
Sodium:
249
mg
|
Potassium:
1193
mg
|
Fiber:
8
g
|
Sugar:
27
g
|
Vitamin A:
12410
IU
|
Vitamin C:
23
mg
|
Calcium:
110
mg
|
Iron:
4
mg