Honey Gochujang BBQ Wings for something sweet, something salty and we can't forget about the spice. All that flavor delivered to you in the form of one chicken wing! However, if you're like me you'll be enjoying more than just one of these bad boys. These wings were seasoned, smoked, fried and tossed in a Honey Gochujang BBQ Sauce that I made from scratch. Talk about flavor blasted. Let's jump right in.
Honey Gochujang Wing Seasoning
We'll soon talk about seasoning for these wings. However, I felt that I should mention that the first thing I did for this recipe was fire up the smoker. We have a pretty straightforward chicken wing preparation process for this recipe, so it's good to get the smoker preheating now so that it'll be ready to go after we season the wings. I used my offset smoker for this recipe. We're going to make a Honey Gochujang BBQ Sauce in the charcoal chamber later, so this smoker was the perfect fit for this cook.
Want more gochujang? Check out my Garlic Gochujang Shrimp Burgers Recipe here!
Alright, onto the wings. I started by putting all my chicken wings into a large mixing bowl. Then I lathered them with oil and covered them with some Korean BBQ Seasoning. For those unfamiliar, gochujang is a Korean chili paste. It's made with gochugaru, which are Korean red chili flakes that are inherently smoky and spicy. Funny enough, I actually added some gochugaru to the wings after the Korean BBQ Seasoning to really enhance those smoky and spicy flavorings. Now, onto the grill.
I opened the door to my preheated smoker and dumped the wings straight in. From here I spaced them out to make sure none were touching. Then close the lid and let them smoke. We'll leave them here for about an hour to an hour and a half. Up next we've got that Honey Gochujang BBQ Sauce.
Honey Gochujang BBQ Sauce
For this BBQ sauce, I placed a grill grate over the hot coals in my smoker's charcoal chamber. Then, I added a cast iron skillet and let it preheat. From here, I tossed some butter into the skillet and let it melt. Then, we'll add the garlic and sautée it for about a minute. After the garlic has browned, mix the remaining sauce ingredients together in the skillet except for the cornstarch and water.
The cornstarch and water mixture will help thicken the sauce, but before adding it we'll want to let all the other ingredients fuze together. I let mine boil, while stirring it, for a minute or so. Then, add the cornstarch and water. Keep stirring the mixture until it thickens and then remove it from the heat.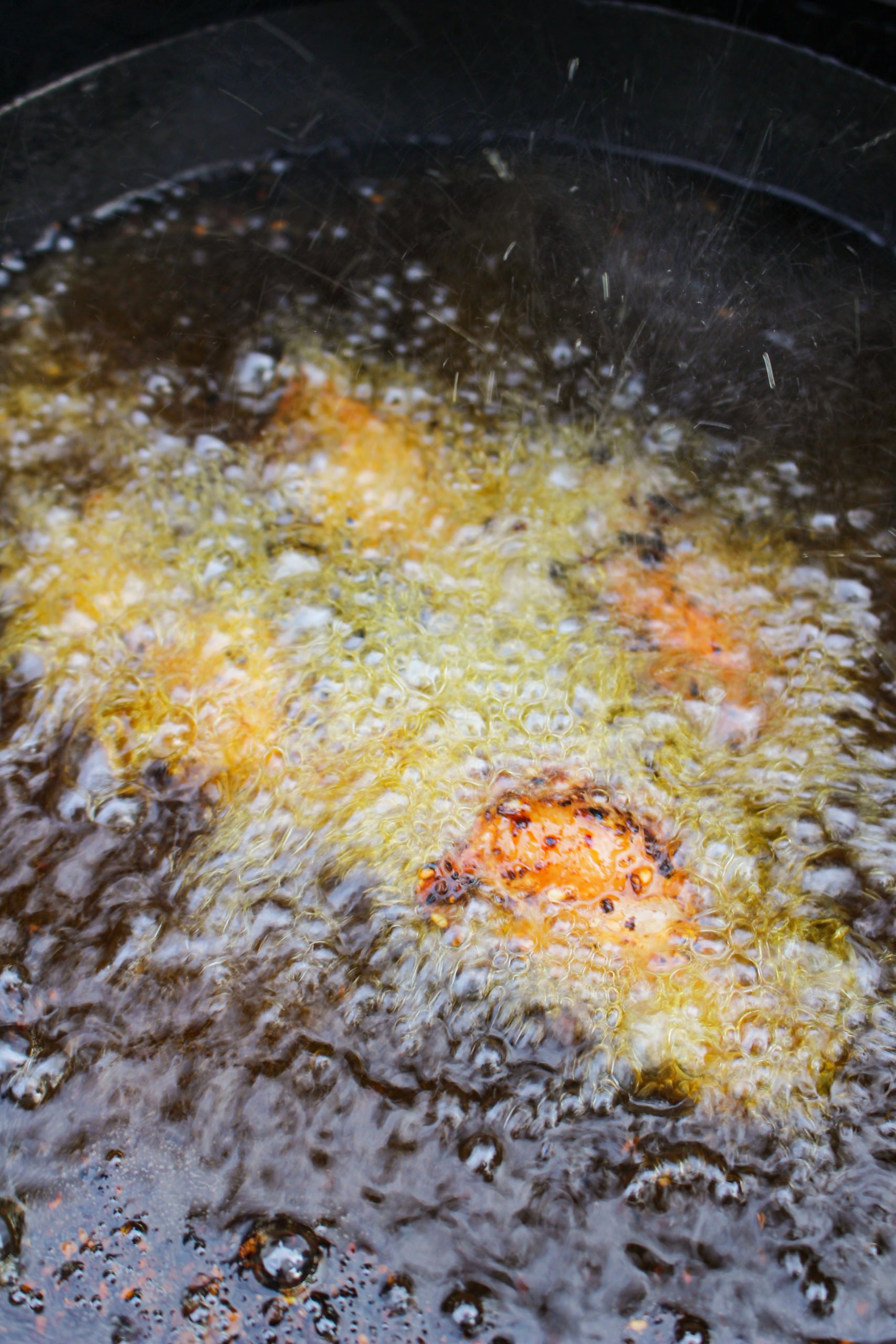 Smoked, Fried and Served
When the Honey Gochujang Wings reach an internal temperature of 165F, they're ready to be fried. I placed a fresh, deep cast iron skillet over the hot coals and filled it halfway with frying oil. After the oil becomes hot, carefully place five to six wings into the skillet. This is just a flash fry, so remove the wings from the oil after about a minute and a half.
You'll likely have to fry the wings in batches, which is fine! As mine finished frying I pulled them from the oil and placed them in a large bowl. Once all the wings are fried and in the bowl, we're ready to add our BBQ Sauce.
Pour the Honey Gochujang BBQ sauce over the wings and give them a toss. Keep tossing until all the wings have an even coating. Then place the wings on a serving plate. I stacked mine on a dish and drizzled them with a gochujang, apple cider vinegar, and honey mixture. Then I finished garnishing them with sesame seeds and chopped scallions. This dish is spicy and it's time to dive it! Best enjoyed with friends and family. Cheers!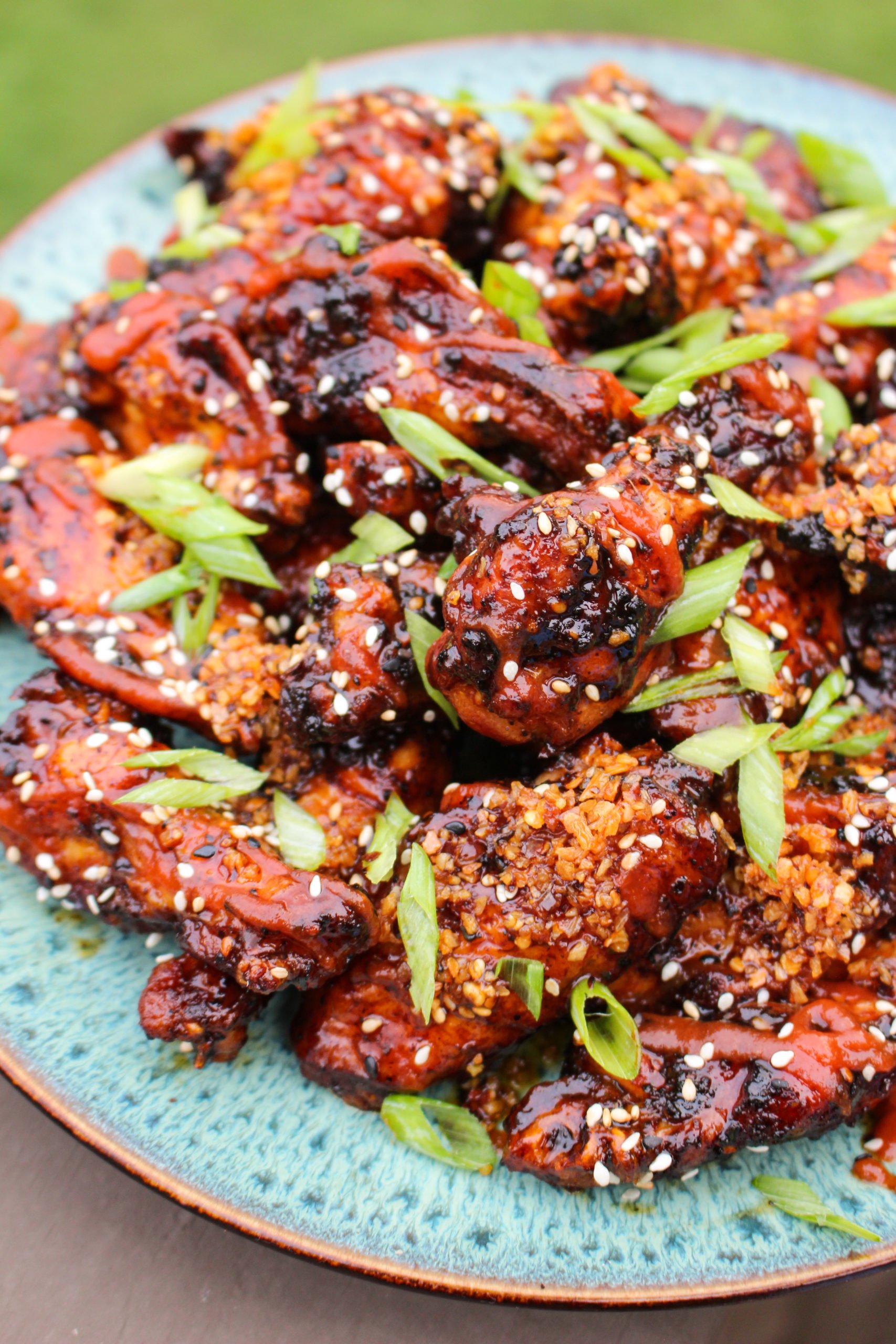 For more delicious recipes, check out my cookbook Food X Fire!
Needing more spice in your life? My spice line can help with that. Check them out here.
Honey Gochujang BBQ Wings
Honey Gochujang BBQ Wings for something sweet, something salty and we can't forget about the spice.
Ingredients
Wings:
2

lbs

of Chicken Wings

2

tbsp

of Spiceology Korean BBQ Seasoning

1

tbsp

of Korean Chili Flakes

1

qt

of Frying Oil
Honey Gochujang BBQ Sauce:
¼

cup

of Soy Sauce

2.5

tbsp

of Rice Wine Vinegar

1.5

tbsp

of Brown Sugar

1.5

tbsp

of Honey

1

tbsp

of Gochujang

1

tsp

of Sesame Oil
Thickening:
3

tbsp

of Water

1.5

tbsp

of Cornstarch
Gochujang Finishing Sauce:
3

tbsp

of Gochujang

1.5

tbsp

of Apple Cider Vinegar

1

tbsp

of Honey
Garnishes:
Sliced Scallions

Chile Crunch

Sesame Seeds
Instructions
Preheat your smoker for indirect cooking around 275F. Add some wood chips or chunks for additional smoke flavor if desired.

In a large bowl, season your chicken wings with the Korean BBQ seasoning and Korean Chili Flakes. Add your wings to the smoker and cook until they are 165F (around 1-1.5 hours). While the wings are finishing, add a cast iron skillet or dutch oven over a high heat fire (around 400F). Add your frying oil to the cast iron and preheat until the oil is 350F. Once the wings have hit 165F internal, carefully add them from the smoker to the hot oil to fry for about 1.5 minutes. Do this in batches until all the wings are done so that you do not over crowd the oil. When done, pull the wings off and keep warm.

Pull the skillet with oil off the fire carefully, and then preheat a smaller skillet over the fire. Melt your butter in the skillet then add the minced garlic to cook for 1 minute. When the garlic is browned, add the rest of the Honey Gochujang BBQ Sauce. Mix thoroughly. Let simmer for 2-3 minutes, then combine your water & cornstarch and mix into the sauce. Let simmer for 1-2 more minutes until thickened and then pull off.

Add your wings to a bowl and cover in the sauce. Toss them until they are thoroughly coated. In a bottle, mix your Gochujang Finishing Sauce. Serve your wings on a platter garnished with gochujang finishing sauce, sliced scallions, chile crunch and sesame seeds. Enjoy!