Maple Cajun Salmon Pinwheels for a skillet full of deliciousness! What's not to love about a cream cheese filling and maple syrup finishing glaze? Not to mention the bacon bits and diced pimentos within that filling… I seasoned this salmon with cajun blackening seasoning before mixing together that cream cheese filling, slicing it into pinwheels and taking it to the smoker. About an hour later we were treated with some pretty freaking delicious salmon! Keep reading to find out how to make it yours!
Prepping the Salmon Pinwheels
We'll kick this Maple Cajun Salmon Pinwheels recipe off with one salmon filet. When I picked mine up at the grocer, I asked them to remove the scales and skin from the outside of the fillet. You can eat the skin of a salmon, but for this recipe I opted to have it removed. Next, lather the tops side in oil and reach for some cajun blackening seasoning. I coated the top layer of the salmon with the seasoning before flipping it over and repeating the same process on the other side.
Now comes the fun part: the cream cheese filling! This filling is made with one, entire block of cream cheese. From here, mix in the bacon bits, diced pimentos, green onions, garlic, dijon mustard and mayonnaise. This creamy, savory filling pairs perfectly with the spiciness of the cajun salmon. With each bite you'll get a sweet, mild pepper flavoring from the piments. Followed by a kick of salty and savory with the bacon bits and a nice crunch from the green onions. All in all, a ten out of ten!
I used a spoon to dollop and spread a generous amount of the cream cheese filling across the cajun seasoned salmon filet. Now, roll the salmon from the narrow, tail end of the filet up to the wider portion of the filet. I then used a sharp knife to cut three large pinwheels from the rolled filet. Place each pinwheel in a large cast iron skillet and take it out to the smoker.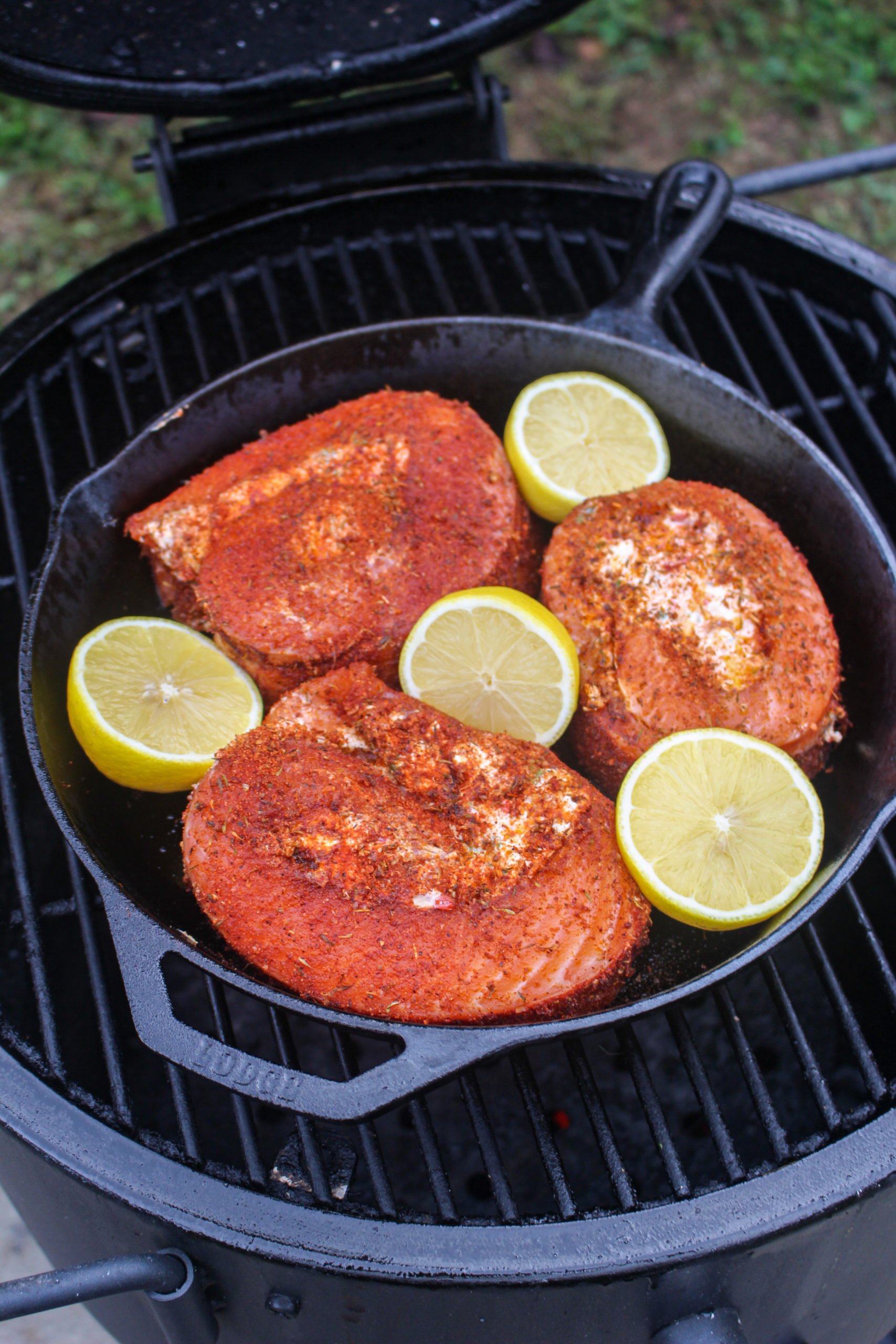 Smoking these Maple Cajun Salmon Pinwheels
Place the skillet onto the preheated smoker. We'll let these salmon pinwheels cook for about 30-40 minutes until it reaches an internal temperature of 135F. Right before the salmon hits that final internal temperature we need to make the maple glaze.
This maple glaze has only three ingredients: melted butter, maple syrup and hot sauce. You know I can't have something too sweet without adding a kick of heat. Mix these three ingredients together and then use a basting brush to spread it across the top of each cajun salmon pinwheels, turning them into Maple Cajun Salmon Pinwheels!

The Salmon is Served
After glazing the pinwheels I closed the lid on the smoker to allow that glaze to caramelize a bit. From here, we're ready to pull the salmon pinwheels from the smoker and serve them! I garnished the pinwheels with some parsley and then served them directly from the cast iron skillet. Best enjoyed with friends and family! Cheers!
For more delicious recipes, check out my cookbook Food X Fire!
Needing more spice in your life? My spice line can help with that. Check them out here.
Print Recipe
Maple Cajun Salmon Pinwheels
Maple Cajun Salmon Pinwheels for a skillet full of deliciousness! What's not to love about a cream cheese filling and maple syrup finishing glaze?
Ingredients
Salmon:
1

Whole Side of Salmon

skin off

2-3

tbsp

of Blackened Cajun Seasoning

1

tbsp

of Canola Oil
Filling:
1

block of Cream Cheese

1

tbsp

of Bacon Bits

1

tbsp

of Diced Pimentos

2

tsp

of Green Onions

sliced

2

tsp

of Mayonnaise

1.5

tsp

of Dijon Mustard

1.5

tsp

of Minced Garlic
Glaze:
2.5

tbsp

of Maple Syrup

2

tbsp

of Melted Butter

1

tsp

of Hot Sauce
Garnish:
Chopped Parsley

for garnish

Sliced Lemons

for the skillet
Instructions
Lay out your salmon with the skin off and trim any excess pieces of fat or meat. Lather in oil and season both sides using your favorite cajun seasoning. Add the cream cheese and all the other ingredients for the filling and mix together. Lather a thin layer over one side of the entire salmon. Beginning at the tail end, roll the salmon into itself all the way in order to create the pinwheel shape. If you want, wrap the salmon in plastic wrap and place in the fridge to set for 30 minutes. Pull the salmon out and slice it to create that classic pinwheel. Season the top side of the salmon with more seasoning, place into a skillet or wood plank along with lemon slices and set in the fridge until ready to use.

Preheat your smoker to 275F to cook indirect. Add some wood chips or wood chunks to the coals for added smoke flavor.

Pull the salmon out and bring to room temperature for 7-8 minutes. Place the skillet into the smoker and let cook for about 30-35 minutes until it reaches 135-140F internal. About 10 minutes before the salmon is done, mix together your glaze and lather on top of the salmon pinwheels. Let finish cooking and then pull off to cool for 5 minutes.

Garnish the salmon with chopped parsley and enjoy!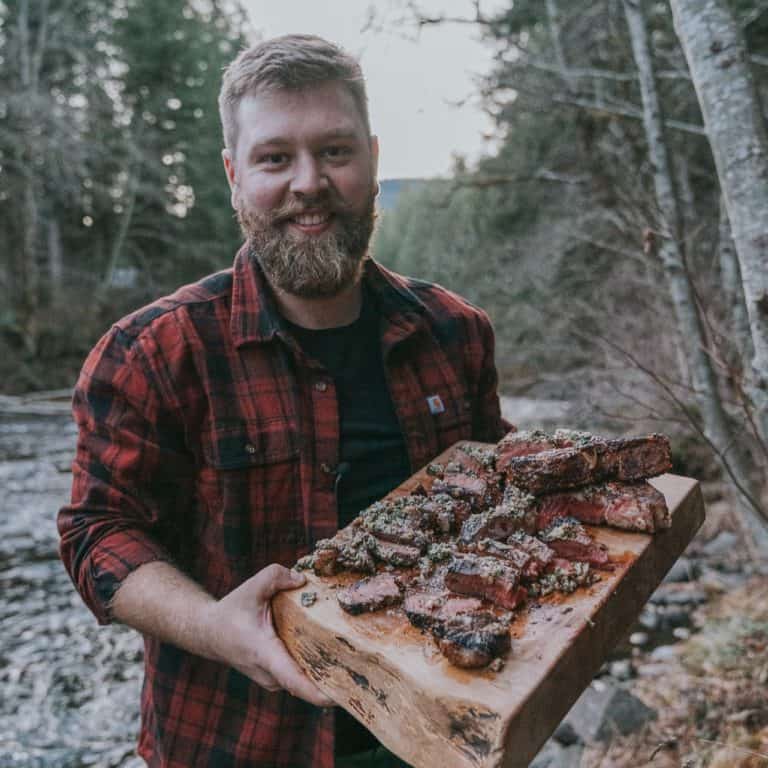 Derek is the driving force behind Over the Fire Cooking. He started cooking with live fire in 2016 and decided to start a social media page so his friends and family could follow the journey. Fast forward to today and Over the Fire Cooking has spread across multiple platforms with millions now following Derek's fire cooking journey. He's a southern fellow who enjoys everything from classic BBQ to Central and South American inspired dishes. Whatever he's cooking up, it's guaranteed to be so freakin' delicious!